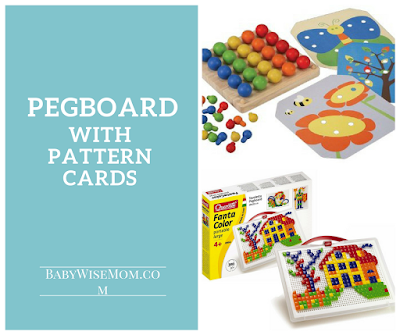 Friday is currently Brinley's least favorite day of the week. Most people love Friday, but for Brinley, it is torture day. It is the day of the week she doesn't get to go anywhere. The other days she has playgroup, dance class, and preschool.
This past Friday, she was bemoaning her fate. I got out a whole bunch of random learning activities I have created or purchased over the years and came across a peg board with pattern cards. This grabbed her interest! She had enough mental challenge before her to get her to be satisfied where she was. This post contains affiliate links.
I bought ours many, many years ago and can't find the same thing on Amazon anymore. We do have this one from Plan Toys which is great for younger little people. It works great for about ages 1-4 or 5.
The one Brinley was playing with was more challenging. This one is similar.
And that same brand has a junior version for smaller children.
Pegboards are great to have around for your child to have something he/she can do independently when you don't have time to prep something amazing. They are highly educational and challenging. They can also be fun for car rides (though you do risk pegs getting lost in the car). They are portable and quiet, so they could be good in a waiting room or at a school presentation–places where your child might not be interested but needs to sit quietly.