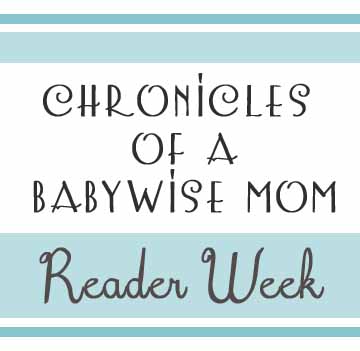 It's here! Reader week! During this week, you readers help contribute to help make this blog an even better resource for parents out there!
Let me start by first offering a thank you to all of you readers. I really enjoy writing this blog. I love hearing from you readers. Thank you for reading and sharing. If you all weren't reading, I would just be writing without an audience and I don't think that would be quite as much fun :).
Here is our schedule for the week:
TUESDAY: READER SAMPLE SCHEDULES DAY
The Readers Sample Schedules posts are some of the most popular and most-visited posts on this blog. I know you love them! So be sure to drop by Tuesday and add your most recent (or any!) schedules. I will have a post up linking you to all of the reader sample schedule posts so you can easily get to your pertinent post.
WEDNESDAY: POLL RESULTS DAY
Poll results can be very helpful to people. It helps someone come see what is "normal" and also see that even though there is a range of "normal" there are also people who fall in a range outside of normal. I have really enjoyed the new format we have started this past year of making them discussions. I think it is helping make the results more meaningful and suiting the purpose of the polls better. If you haven't voted on the current poll, click here to do so: https://www.babywisemom.com/2013/06/poll-discussion-2-1-nap-transitions.html
THURSDAY: READER BLOGS DAY
I will put a post up Thursday that will take you to the various posts where you can share your blog. I have a post for various categories, everything from business blogs to "just-for-fun" blogs. This is fun because it helps keep the Babywise community close.
FRIDAY: READER FAVORITES DAY
I will put up a post Friday to posts where you can comment and share your favorite things. These will include baby products, toys, books, etc.