Simple ideas for a fun Olympic Opening Ceremonies party. Simple food to eat while watching the opening ceremonies.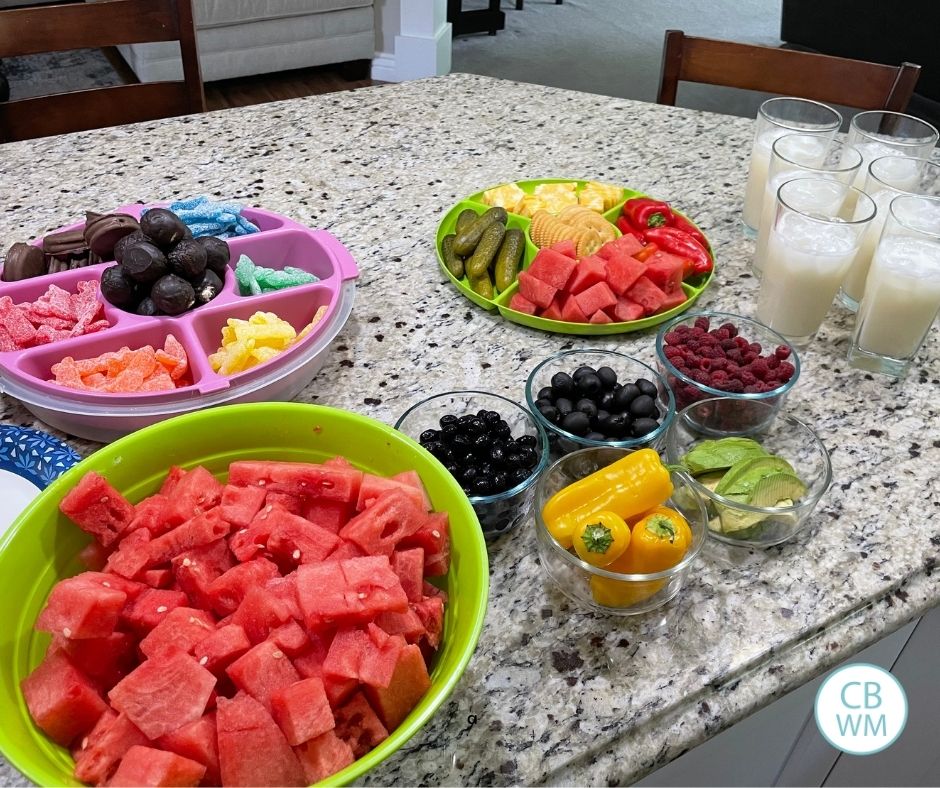 The Olympic opening ceremonies can be long and at times, seem dull to children. You can make it more exciting by throwing a party. You can just do it with your little family or invite some guests.
I love this opportunity to broaden the vision of my children and try to help them grasp how large the world really is.
I love finding fun ideas online! Pinterest is a great way to find fabulous ideas. I love scrolling through Instagram to see what my friends and other people are up to. I love being inspired by them all.
There are some things, however, that just aren't me. I have fully accepted that without guilt. I am not a person who likes to spend money creating cute decorations that will be used for one party.
Not my thing! I don't feel bad about that. It doesn't bother me at all if other people do that. I think they are lovely when I see them and the photos online are beautiful. Still not me. 
So for something like an Olympics viewing party for the Opening Ceremonies at the Olympic games, I am happy to go simple. I focus on the food.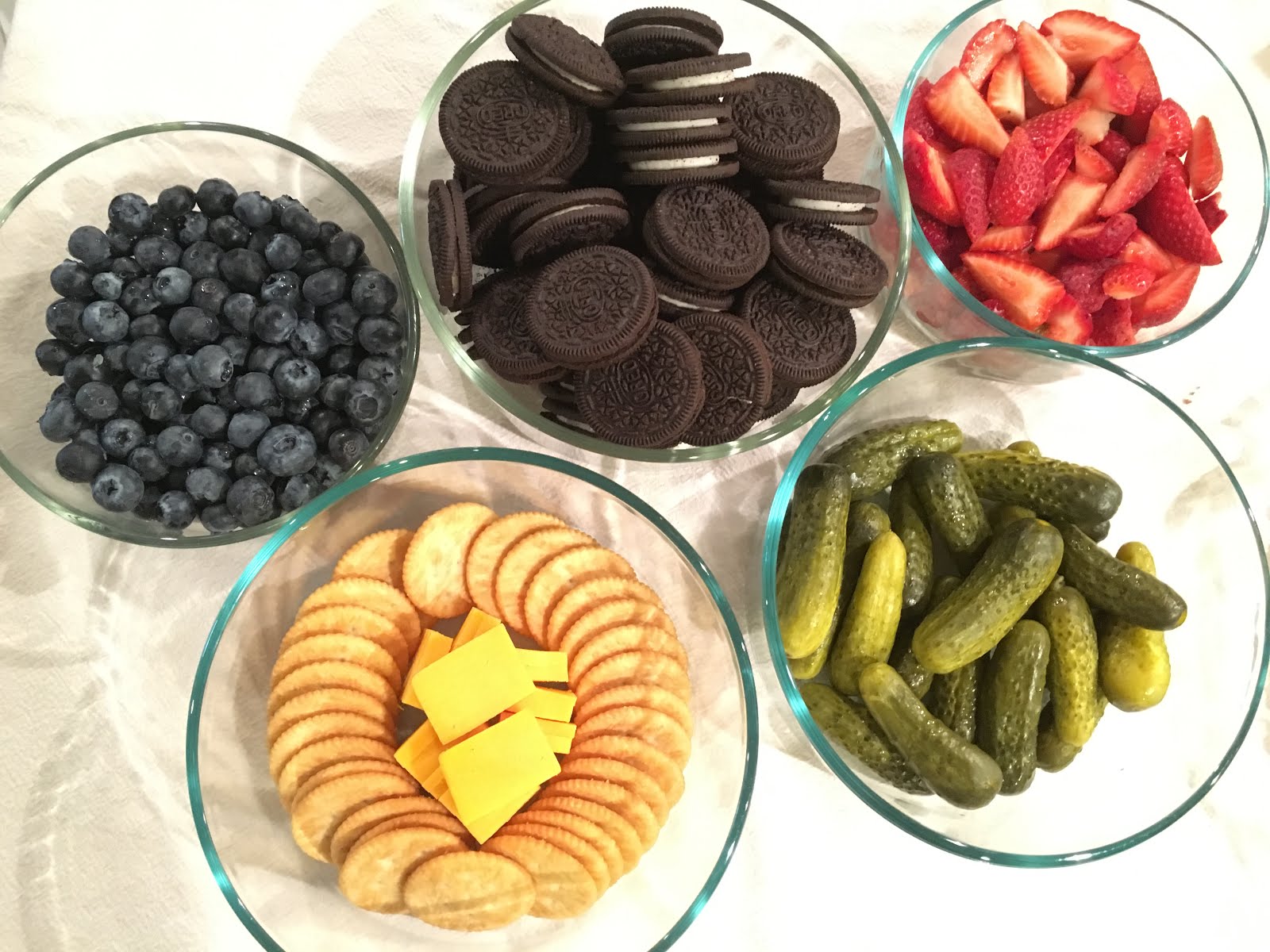 Olympic Opening Ceremonies Party Food
There are a few areas I focus on for creating fords for our Olympic themed party.
I like to do simple foods that can represent the Olympic rings. So I am looking for food that is blue, black, red, yellow, and green.
I also like to have some foods that are from the country or city where the Olympic games are being hosted at the time.
Then I will make a couple of snacks that represent a sport or two in that games. Our favorite for the summer Olympics is blue jello with licorice lane lines and little teddy graham swimmers.
Here are some simple food ideas:
Bowls or Plates of Food: In the photo above, you can see that I simply filled some bowls with foods that are the color of each Olympic ring. For this spread, I did blueberries, OREOS, strawberries, Ritz crackers and cheese, and pickles. You can also do grapes, blackberries, watermelon, pineapple, cookies…sit and ponder a bit and think of things you can serve. I like to go with what is on sale, so different fruits and veggies will be available depending on the time of year. I also like to mix up sweet and savory foods for a variety.
Cupcakes: It is very simple to bake a bunch of cupcakes, frost them blue, black, red, yellow, and green and display them in the Olympic rings. Just divide the frosting into five bowls and dye each bowl in one of the five colors. 
Torches: You can have foods that represent torches, such as an ice cream cone if it is the summer olympics (and you live in the Northern Hemishere), or you could even do Snow Cream Ice Cream Cones for the winter olympics.
Colored Candies: Colored candies are your friend. For the last Olympic games, I used M&Ms and arranged them in Olympic rings on top of Rice Krispie treats. Easy. 
Something from the Host Country: I love to make something that represents the home country. This is simple to find through some Google and Pinterest searching.
Other Favorite Ethnic Foods: You can also do foods from all over the world to celebrate the many different countries competing in the games. For example, back when teh games were in Brazil, we had Brazillian lemonade. Now we can't do an opening ceremonies party without Brazilian lemonade.
You can follow my Pinterest Olympics Board to see what ideas I am finding and liking. There are a lot more ideas out there, including fun decorations and games, that I have pinned but haven't actually tried.
Blue Food Ideas
Some blue food ideas include:
blueberries
blue juice
blue Jell-O
pretzles dipped in white chocolate dyed blue
blue candy
blue macaroons
blue popcorn (popcorn with white chocolate dyed blue)
Black Food Ideas
Some black food ideas include:
Oreos
blackberries
olives
grapes
black beans
chocolate donut holes
black licorice
cheat the color a bit and do dark chocolate or dark grape juice
Red Food Ideas
Some red food ideas include:
strawberries
watermelon
raspberries
apples
cranberries
red cabbage
tomatoes
red Jell-O
red velvet cake
red candy
salsa
red peppers
licorice
Yellow Food Ideas
Some yellow food ideas include:
crackers
cheese
pineapple
yellow carrots
yellow peppers
lemons
potatoes
corn
pasta
lemon drops
eggs
macaroni and cheese
bananas
chips
Green Food Ideas
Some green food ideas include:
pickles
lettuce
spinach or other greens
peas
green beans
green peppers
avocado
broccoli
grapes
celery
kiwi
You can also buy a bag of sour patch kids and get a bunch of the colors from that.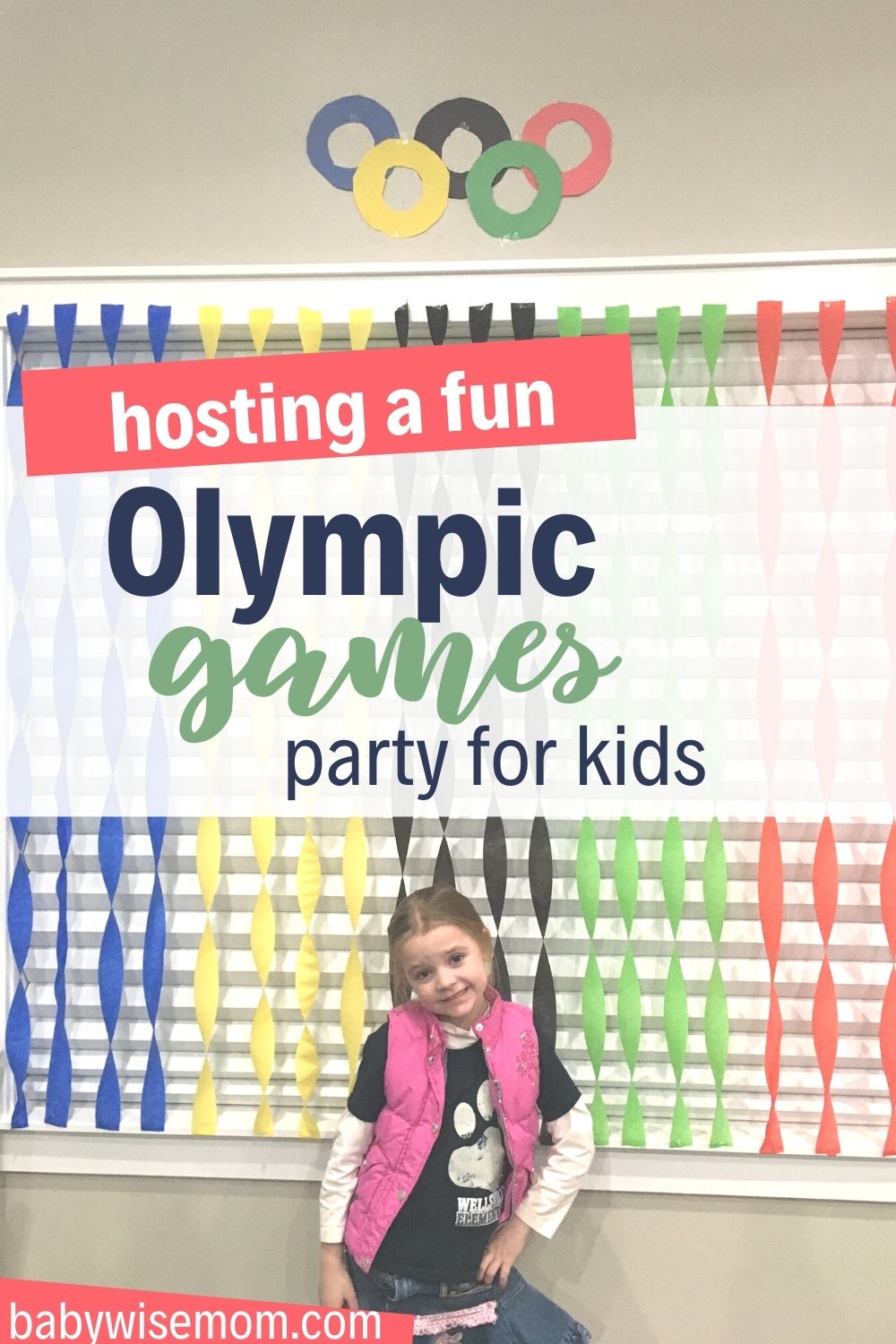 Olympic Party Decorations
You can take it up a notch and still keep it simple. We like to use crepe paper and balloons to make things festive but still inexpensive. We made a crepe paper background with the Olympic ring colors and then cut out the rings from construction paper (see image above).
You can also put up world flags or hold little flags. You could print pictures or even buy some inexpensive banners on Amazon. This one has 200 countries. This one is less expensive with only 50 countries.
Or you can go handheld with these flags.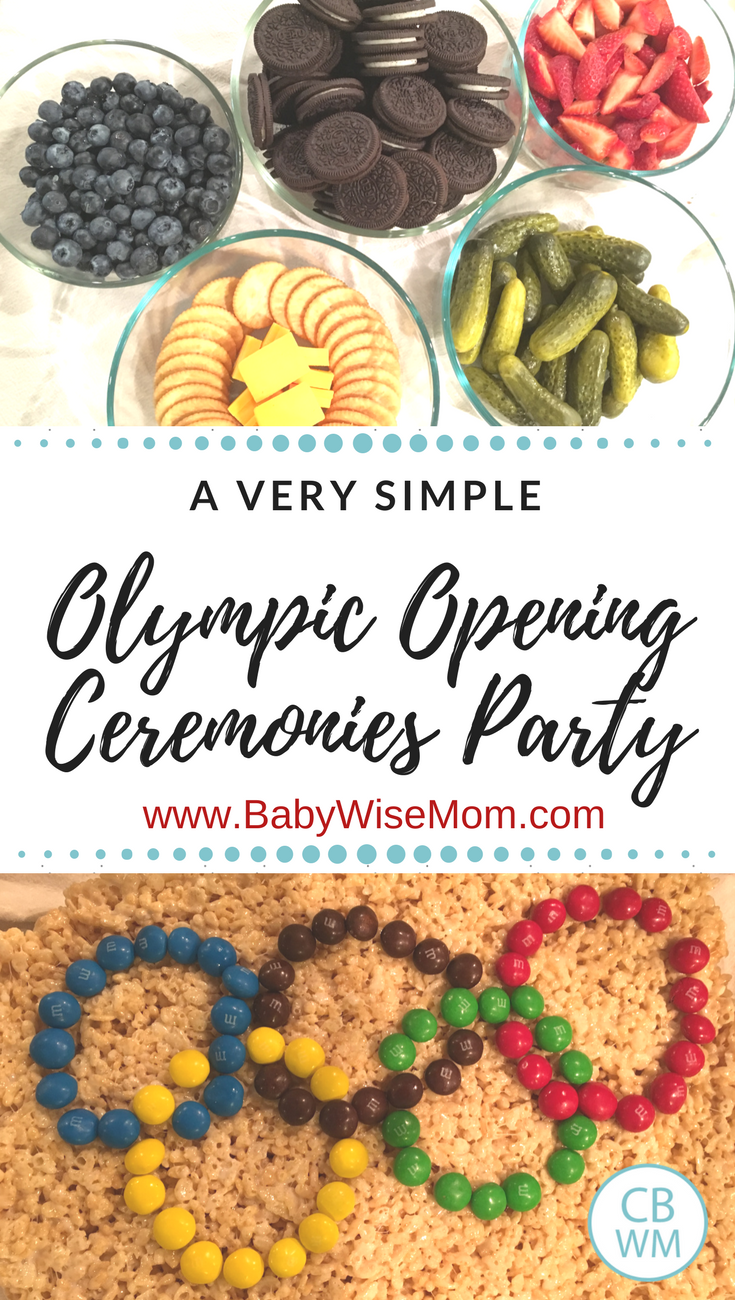 Medal Count Fun
The Olympic Games last a couple of weeks. This gives you plenty of time to get use out of the decorations and food ideas. You can keep the fun going by keeping a medal count or doing something fun when medals are won.
You can create a poster board and graph the medals won by your home country, your favorite athlete, and/or other countries you are keeping an eye on.
You could also have a special treat you eat whenever your favorites win a medal, like a yellow Oreo anytime a gold medal is won.
Conclusion
In the end, I am going for memories and fun with my family. This is a fun way to celebrate. If you love spending time and money on decorations for a party, go for it! If you don't, do not feel bad about it!
After our first time doing this, my kids still talked about the last opening ceremonies several times a month. They loved it, as simple as it was, and look forward to the games next week!
What do you do for the opening ceremonies? I would love to hear it!
Related Posts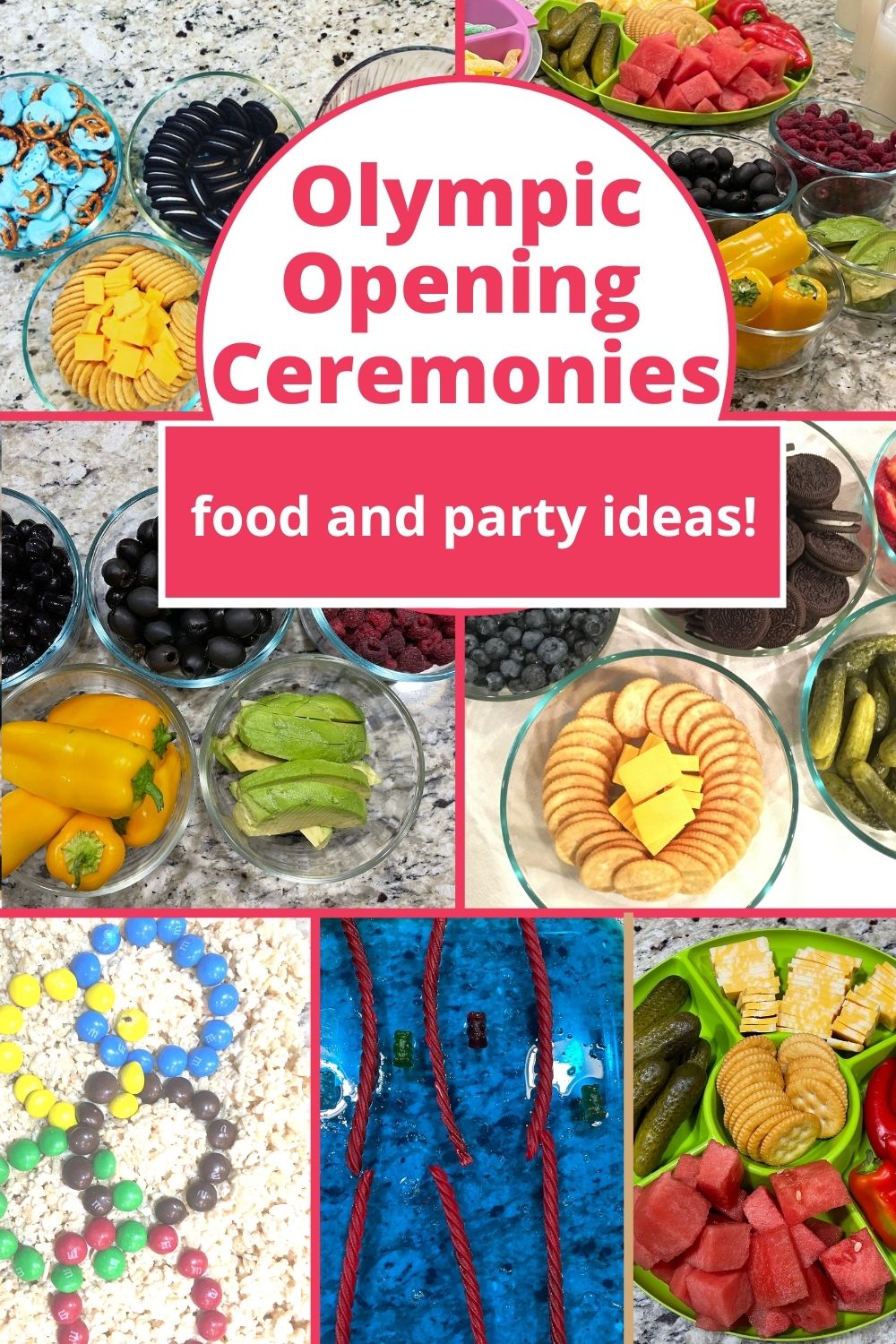 This post originally appeared on this blog February 2018