This summer bucket list is complete with free printables. It covers things to do at home, things to do locally, and things to do away from home. Also, it is organized!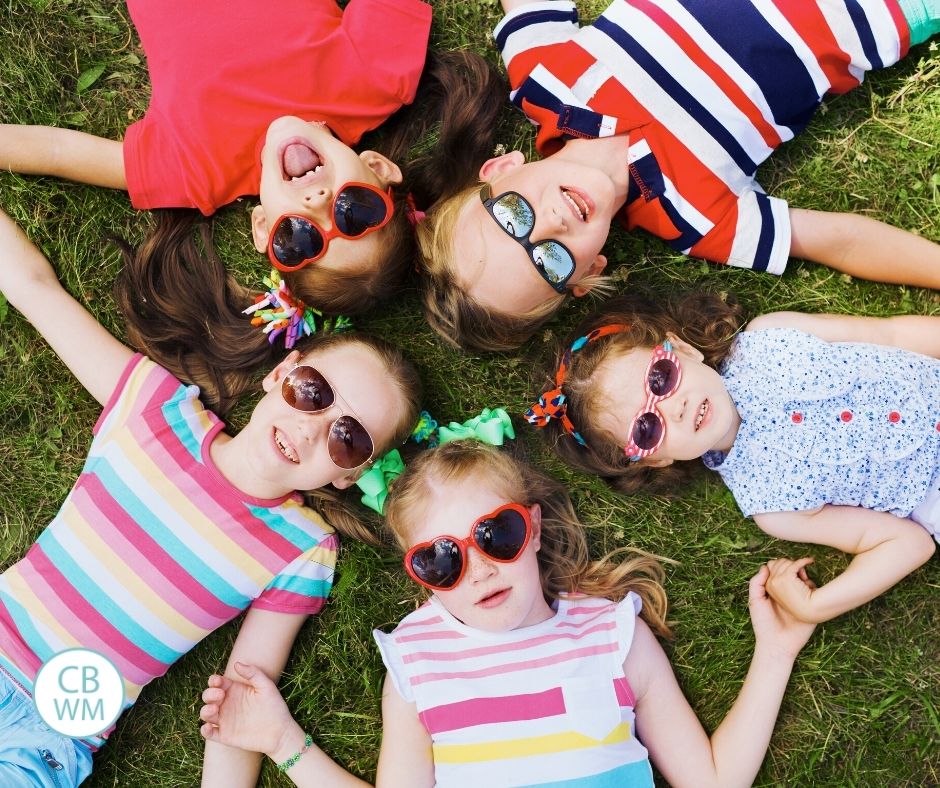 Welcome to summer! After a less than thrilling summer last year, I think we are all looking forward to things actually happening this year.
We all know I am a planner and summer has never been different. Even from the time my kids were little, I made a summer bucket list of things I wanted to make sure we got done that year.
Summer goes by fast.
You think you have months of endless opportunity, but before you know it August is upon you.
If you are not intentional with your time, you will look back on your summer with a bit of regret and realize you didn't get everything done you had hoped.
On top of things really flying by, you find yourself competing with other activities to get your bucket list done.
Reunions and summer camps quickly fill your calendar. As kids get older, you may have sports tournaments and summer jobs limiting your freedom.
Even if you aren't busy with things, you can be lulled into a false sense of security thinking you have all the time in the world and it can get away from you.
If you have any goals for summer at all, you want to write it down and work it in or it just won't happen.
Summer Bucket List Ideas
Do not feel like you need to do it all this summer. You don't.
You have lots of time to do what you want to do. Do not make yourselves busier than you will be happier being.
I think we all look back on our own childhood summers with fondness remembering the simplicity of it all. Remember that when you start to feel guilty for your kids not "having enough events" in the summer.
>>>Read: Why You Should Let Your Child Be Bored This Summer
Here are some ideas of things you can do in the summer. This is intended to be a huge list of things to pick from, not things you must do. This is a springboard.
Here are some bucket list ideas. I will break them down by various categories to help it be less overwhelming.
List of Activities at Home
Here are some ideas of things you could do at home.
Make homemade ice cream
Have a water balloon fight
Paint rocks
Eat root beer floats
Make homemade popsicles
Play a board game
Play card games
Make paper airplanes. Have a competition to see whose goes the furthest
Learn to make friendship bracelets
Draw with sidewalk chalk
Have a hula hoop contest
Have a water fight. Invite friends or neighbors
Have a water gun fight
Have a neighborhood firework party
Eat ice cream or ice cream sundaes
Have a movie marathon
Make a time capsule
Play relay games. Have a sack race, a three-legged race, wheel-barrow race, etc.
Play water-balloon volleyball
Play in the sprinklers
Set up a slip n' slide
Tie-dye shirts
Plant a garden and plant vegetables, fruits, and/or flowers
Have breakfast for dinner
Make homemade pizzas
Blow bubbles
Make a bird feeder
Learn to cook something new
Learn a new skill
Back a backyard picnic
Do arts and crafts
Set up the baby pool or blow up pool in the backyard
Have dinner over a firepit. Make s'mores
Try a new hobby
Play sports at home
Play yard games at home
Rollerblade
Do service for someone
Have friends over
Have a lemonade stand
Build a fort
Watch the sunrise
Watch the sunset
Look at the stars
Have a pillow fight
Have a dance contest
Play hopscotch
Have a pajama day
Have a talent show
Education and Reading
I always love focusing on some learning activities and doing things at home to help prevent summer setback. I am also HUGE on reading, so I keep a focus on reading all summer.
Join a summer reading program. Check your local library or make your own
Read a book from the current bestseller list
Have a book club
Do sustained silent reading through the summer
Visit the library
>>>Read: How To Improve Reading Skills with Sustained Silent Reading
Activities Close to Home
These are activities that you can do close to home. These can be day trips or even just afternoons or evenings.
Go rock hunting
Go berry picking
Make little paper boats and float them down the river
Go to a baseball game
Go to the zoo or aquarium
Go on a scavenger hunt
Ride bikes and go for a family bike ride
Ride a Ferris wheel
Go to your local fair or summer festival
Play mini golf
Go to a firework show
Go to a parade
Go to a water park
Get snow cones
Go to a drive-in movie or make your own cards out of cardboard boxes and have a drive-in movie at home
Visit the ice cream truck
Go swimming
Go to a splash park
Visit different parks in your area
Join an art class
Participate in a summer camp
Take swimming lessons
Go kayaking
Go fishing
Go for a walk
Go to a museum
Catch butterflies
Fly a kite
Go horseback riding
Find out what tourists do in your town and do something you haven't done
Actual Trips and Vacations
Sometimes you want to do something big for summer. Here are some ideas.
Go on a road trip. This can be a planned vacation or a spontaneous road trip
Visit a national monument
Go to the beach. Visit a lake or the ocean. Build a sand castle
Go to a national park
Go to an amusement park
Go camping
>>>Read: Utah National Parks with Kids Travel Tips
>>>Read: Tips for a Successful Camping Trip with Children
Organizing Your Weeks
Some people love to break up their days by focusing on different categories each day. Here is a common set-up
Make it Monday: This is the day you do a craft, bake something, or do art
Take a Trip Tuesday: This is the day you do something away from home. Go on a scavenger hunt, head to the splash pad, check out a new park, go to the lake, etc.
Water Wednesday: This is the day you play in the water. This is your lake day, pool day, or backyard water party
Thinking Thursday: This is the day you focus on learning activities
Fun Friday: Do something super fun this day! Perfect for a backyard drive in or going camping
Super Saturday: Do something fun from your list
Summer Bucket List Printable
I have made a couple different free printables for you to organize your summer bucket list. You can print a more detailed version here. You can print the more simple version here.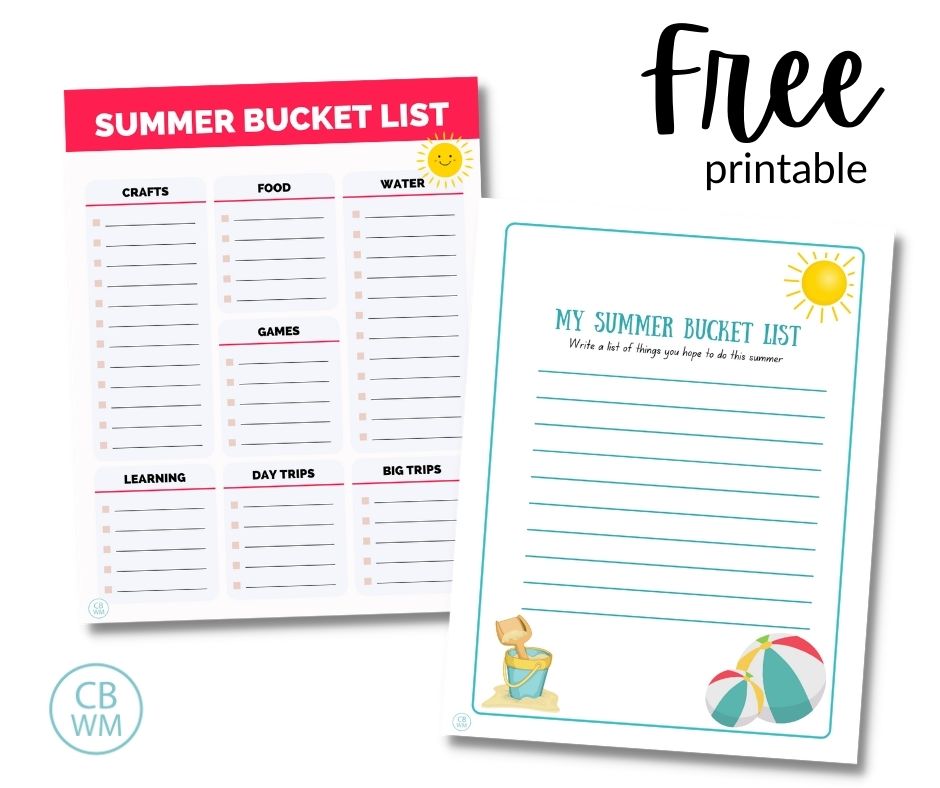 You can have your kids each fill out a simple version then look at those plus my ideas above to compile a master list for your family for summer on the detailed version.
Conclusion
This ultimate summer bucket list for kids should give you lots of ideas of things you can do with your kids this summer. Remember, you do not need to do them all. I don't know if you even could do them all in just one summer. These ideas for kids can be fun. Choose what you want to do and revisit next year. Have a great summer!
Related Posts