Sir Ranulph Fiennes is quoted as saying, "There is no such thing as bad weather, only inappropriate clothing." This quote is also attributed as being a Scandinavian proverb and is sometimes attributed to Roald Amudsen. I don't know who ultimately said it. Amundsen was a Norwegian explorer, so he seems likely.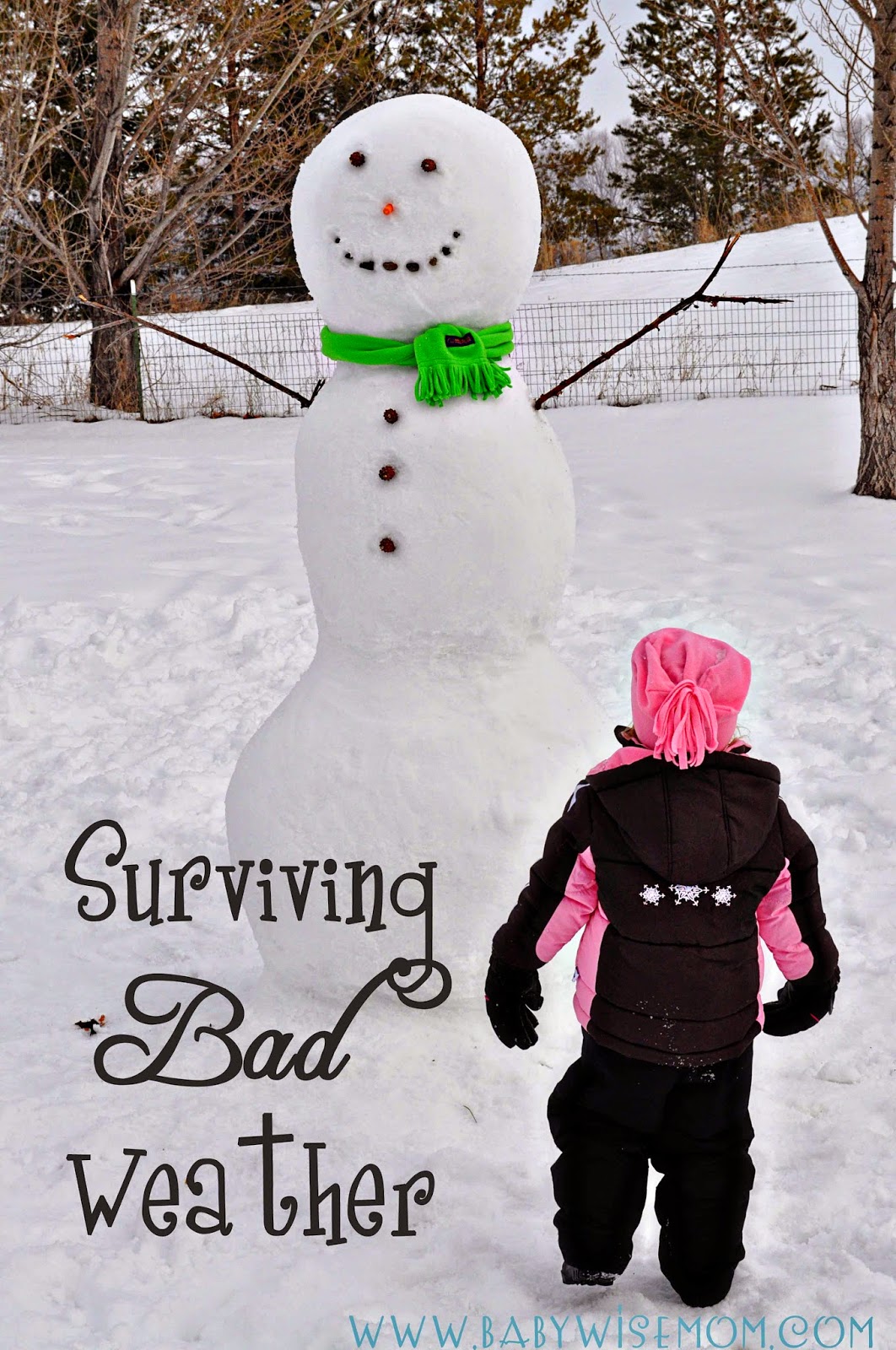 Anyway, from the first time I heard that quote, it has irritated some place in my soul. Sure, in most weather conditions, you can get dressed appropriately enough to go spend 15-30 minutes outside even if it is extreme in either direction. However, 15-30 minutes just isn't enough in the grand scheme of an entire day with children. If we are talking harsh winter, if it is 20 below and your "snow" is actually a sheet of ice, the child might be outside, but he sure isn't running around making himself tired. The same can be said of the other extreme at 110 degrees. Children don't run in the heat. They are smart little creatures.
Because of this, we mothers need some strategies to help us survive that bad weather. And I am not talking, "Oh darn, it is raining. What should we do today?" I am talking, "Crap. The high is -10 degrees Fahrenheit again and has been for the last 3 solid weeks. How am I going to hold together the sanity of this household (primarily mine)?" I asked, you answered. Here are some tips. These can also apply to those random bad weather days as easily as the weeks of bad weather.
Change Play Locations
Kelli said she varies where her kids play in the house. Playing in a different room than normal can spark the imagination in a child. Reading in a different location can be exciting.
Bring Outside Toys Inside
Britney said they bring their outside toys inside for the winter and put them in the basement. These outside toys allow for gross motor work.
Think Gross Motor
Britney also said she let's her kids take the couch cushions off and jump around. We also do this. It is a favorite activity here! My rule is the kids have to clean up when they are done. Think of things your children can do to get that gross motor movement in. Dance to music, find inside toys that provide some exercise. We love Just Dance video game. My kids also enjoy riding the elliptical and jumping on the mini tramp.
Angela said she pulls her car out of her garage and they play in there. She gets out balls and other outside toys.
Find an Indoor Play Area
This is a common one. Tiffany said she takes her kids to the library or mall to play on their play areas. There are a many indoor places you can take your kids to burn some energy. In my area, a group of us get together once a week at the church. We chit chat and let the kids play. At the end, one friend always leads the kids in some races and games to burn some energy.
Have Long Baths
I have had a lot of surprised comments over the years about either how long our baths are or how many bath toys we have. This is all strategic. A long bath is a great way to pass the time when you can't go outside.
Picnics in Sunny Spots
Find a nice place in your home to have a picnic. It is fun to do something off-routine every so often. Britney said her family likes to have picnics in sunny spots.
Crafts
Tiffany said she has a board on Pinterest full of ideas for activities to do inside when there is bad weather. Have some activities ready to go so you can have something new and interesting to do.
There are a lot of interesting ideas out there. Try filling a tote or kiddie pool with snow and bringing it inside. Try having a water table in some water-proof part of your house. There is no limit to the fun ideas out there.
You can find some fun ideas for winter crafts and activities here.
Invite People Over
Have play dates to mix up your days.
Invite Yourself Over
Call up your mom or someone else and go to their house. A lot of times, all we need is a change of scenery.
Still Have Outside Time
Katie said that even when it is 20 below, her kids go out three times a day. Each time isn't for very long, but they do it. So think of ways you can get outside. Angela said she and her kids take walks even in the rain.
Movies and TV
Have some TV time in your day. This is one I prevent adding in for as long into the winter as I can. This comes out at the end of February. I find when kids watch TV, that is all they want to do (at least my kids). If there is no "crutch" of TV for when they are bored, they will be more creative in their play. You could definitely have well defined time for TV and prevent the TV crutch from happening.
Have a Routine
Have regular structure with your days. Include the structured playtime, the free playtime, the independent playtime, the learning time, the nap time, etc. Also, have chores in there.
Mix up the Routine
Have days where the routine goes out the window. Have a pajama day, a princess day, a lazy day, etc. We all need some variety at times.
Run Errands
Remember that first time you go grocery shopping after having a baby and it feels like amazing freedom? Kids feel that way, too, even if they are only getting out to run errands. Go shopping, go to the library, go out to lunch sometimes…get that variety in there.