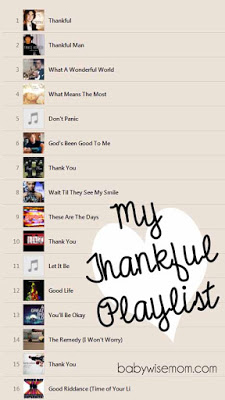 After years of thinking about it, this year I finally compiled a Halloween playlist (My Halloween Playlist). This sparked my thinking. The Halloween list was fun and all, but how much more important would a Thankful playlist be? So I set out to create such thing. Here are 44 songs that I love that talk about being thankful and/or being happy with what life has given you. You can click on any link to hear the song and/or purchase the song from Amazon. This post contains affiliate links.
Thankful by Josh Groban
Thankful Man by Trace Adkins
What a Wonderful World by Louis Armstrong
What Means the Most by Colbie Caillat
Don't Panic by Coldplay
God's Been Good to Me by Keith Urban
Thank You by Boyz II Men
Wait Till You See My Smile by Alicia Keys
These Are the Days by Sugarland
Thank You by Dido
Let It Be by The Beatles
Good Life by OneRepublic
You'll Be Okay by A Great Big World
The Remedy (I Won't Worry) by Jason Mraz
Thank You by Keith Urban
Good Riddance (Time of Your Life) by Green Day
Thank God I Found You by Mariah Carey featuring 98 Degrees
It's a Great Day to Be Alive by Travis Tritt
I Ain't Got It All That Bad by Montgomery Gentry
The Heart of Life by John Mayer
Make Someone Happy by Jimmy Durante
Fire and Rain by James Taylor
Perfect by Sara Evans
Best Day of My Life by American Authors
Perfect Day by Hoku
Stand Still by Phil Vassar
Walking on Sunshine by Katrina & The Waves
All I Can Do Is Write About It by Lynyrd Skynyrd
The Secret of Life by Faith Hill
The Good Stuff by Kenny Chesney
These Are Special Times by Celine Dion
The Time of My Life by David Cook
Happy Girl by Martina McBride
What a Wonderful World by Celine Dion
Keep on the Sunny Side by The Whites
Lucky Man by Montgomery Gentry
Uptight (Everything's Alright) by Stevie Wonder
Thank You (Falettinme Be Mice Elf Agin) by Sly And The Family Stone
Thank God I'm a Country Boy (by Billy Dean)
Thank You for Being a Friend by Andrew Gold
Thank God for Hometowns by Carrie Underwood
How Great Thou Art by Susan Boyle
For The Beauty of the Earth by John Rutter
Come Thou Fount of Every Blessing


Do you have any songs you would use in a Thankful playlist? I would love to hear!