A gratitude pumpkin is a great visual reminder of what we have to be thankful for rather than focusing on what we do not have.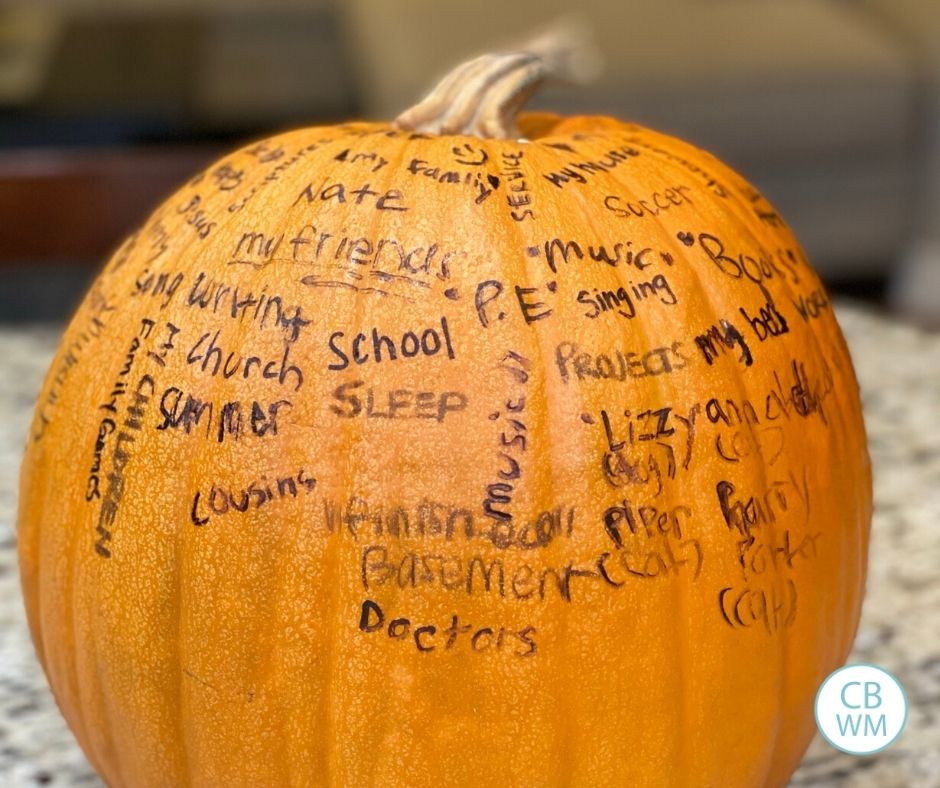 I love to do something each fall to focus on what we are thankful for. It is a time of year when kids are very focused on the upcoming Christmas holiday and all of the things they want.
I want to instill an attitude of gratitude year-round, but this time of year is the perfect time to really put extra effort into focusing on it so we can balance out some of that "I want…"
I want us to focus on our blessings and what we have and not just our deficits and what we do not have but want.
Different Gratitude Traditions
One tradition we had for many years was a Thankful Basket where we wrote down what we were thankful for each day on strips of paper and then read them all at Thanksgiving.
Another effective one is to each keep an individual gratitude journal (or keep one was a family). Write down 3 things you are thankful for each day.
A fun one for little kids is to create the body of the tree on a poster board. Each day, write something you are thankful for on a paper leaf and stick it on the tree.
A simple one is to get corn kernals and go around the dinner table each night and add a corn kernal to a container for each expression of gratitude you share.
Gratitude Pumpkin
Last year, we switched things up and did a Gratitude pumpkin.
It is fun to mix the tradition up slightly every once in a while so we get the attention of everyone again.
You will simply need a pumpkin and a permanent marker.
I set it as the centerpiece on our island counter and asked everyone to each write one thing they were thankful for each day.
At the end, it made a beautiful centerpiece at Thanksgiving! They make great decorations for your Thanksgiving table.
At our house, the Sharpie marker actually died rather quickly. The pumpkin is waxy, so it just made the Sharpie not last.
We then used one of these markers that is typically used in dirty garage work.
They aren't cheap, so you might be better off buying a pack of Sharpies and just accepting that they will not survive the month.
You could mix this idea up and do an indivual small pumpkin for all family members instesad of one big pumpkin.
One note, if you want to do the thankful pumpkin this year, be sure to visit the pumpkin patch or local store before Halloween. Pumpkins are harder to find in November.
If you miss a real pumpkin this year, you can always do a different idea listed above or create a paper pumpkin instead. One benefit of a paper pumpkin version is you can save it if you want to! All you would need is some orange paper, scissors, and something to write with.
Benefits of Gratitude
There have actually been some impressive studies done to show literal health benefits on being grateful.
People who practice gratitude have been proven to be healthier emotionally, socially, and physically.
Being grateful has been shown to make us happier. It even increases our self-esteem!
Brinley is one who shows each emotion in a strong way. When we are doing gratitude-focused activities, she is so much happier. She couldn't help but hug the pumpkin constantly.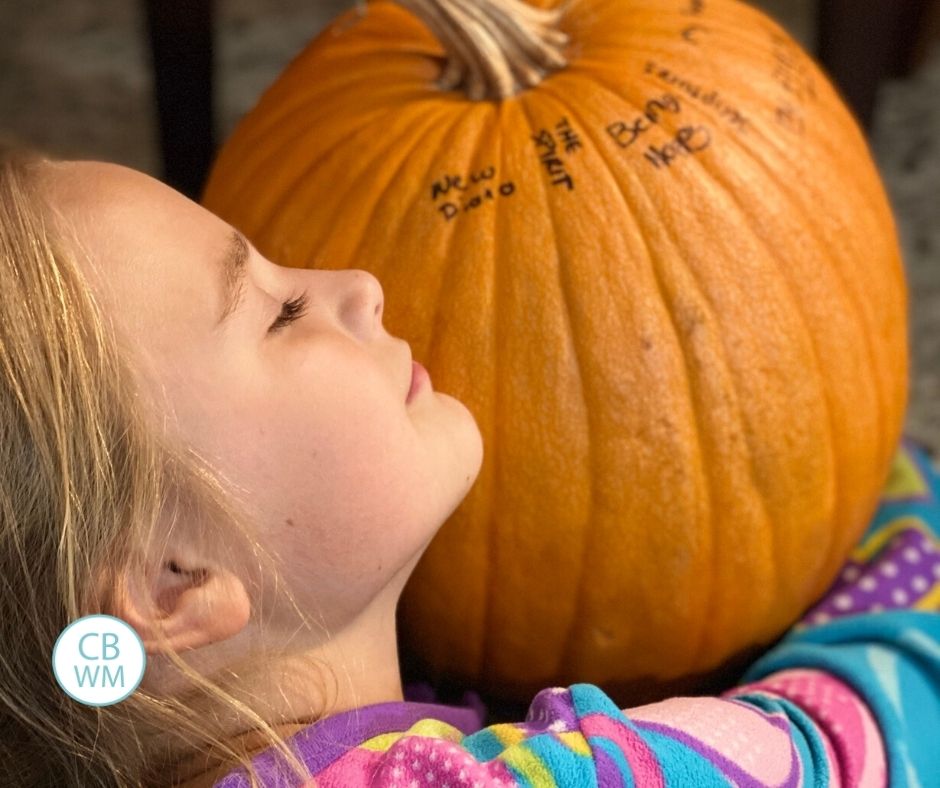 There are a lot of social benefits to being grateful. It is more fun to be around someone who is thankful for all they have rather than complaining about what they don't have. It helps us be more optimistic and more selfless.
We also tend to be less materialistic, which helps with our pocketbook!
It also has been shown to reduce symptoms of depression and lower your blood pressure.
Conclusion
A gratitude pumpkin is a great tradition to focus on this holiday season. You can help bolster the gratitude and thankfulness of your kids and other family members before the craziness of the holidays really sets in. It is a simple and fun way to teach your kids about gratitude! Make your own gratitude pumpkin this year!
The gratitude pumpkin is often credited as being started years ago by Amy Latta from Amy Latta Creations. Read more about it here.
Related Posts