When I started using essential oils, I started off not really knowing how to use them. I didn't know when to use them. As time went by, they became something I used more often and something I turned to before trying medicine in most cases. After a few years of using oils, I was using them. So much so that when we traveled, I would haul ALL of them with me "just in case." We don't usually have space to take everything with us "just in case" when we travel, so I have refined what is really needed in most instances. Here are 6 essential oils to take with you when you travel. This post contains affiliate links.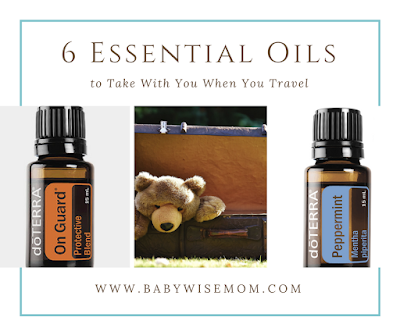 Digestzen
Several of my children get carsick. For that reason, Digestzen is a must in our travels. You can rub it on the tummy, under the nose, and/or behind the ears (in the soft spot behind the ear) to help with nausea. It is also helpful to have it on hand in case of indigestion while traveling and eating out more.
Peppermint
Peppermint can also be used for nausea. It is also useful for headaches and for improving mood. You can diffuse this in the car (they make these cool diffusers for cars!). I also love peppermint for allergies, so if you travel somewhere and find it flares up allergies, you can apply it to the bottoms of feet and/or under your nose. You can also rub peppermint oil diluted in fractionated coconut oil to boost milk supply, so if you are breastfeeding and the traveling is dropping yous supply, give that a try (just be sure it is cleaned off before you feed your baby!).
Melaleuca
Melaleuca, or tea tree oil, is great for sickness. It is great to fight against fungus, which can be a good thing to fight against when you are traveling at times. It is helpful to pair with lavender to put on a cut or wound to clean and disinfect it. It is also helpful for ear infections (oils cannot go in ears! Just around them).
Lavender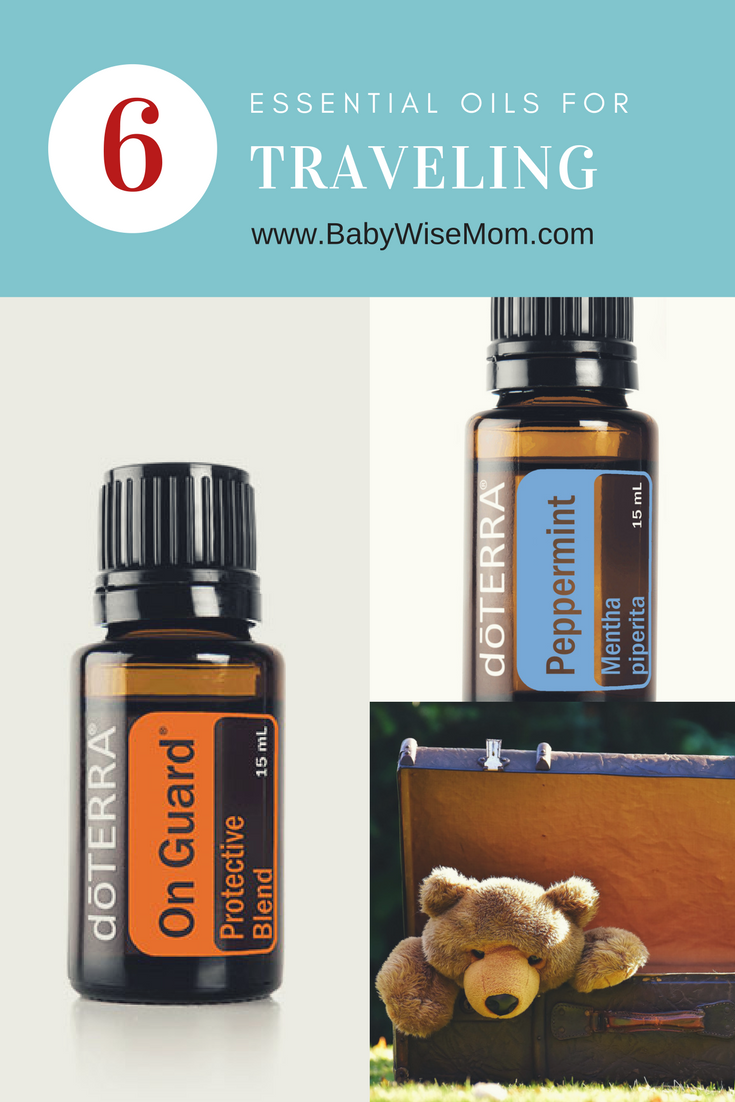 Lavender is a calming oil. This is another one you can diffuse in the car. If everyone is getting edgy or you want to inspire sleepiness, lavender is a great oil to turn to. It can help at night if your child is having a hard time sleeping in a new place (just put on the bottoms of feed or diffuse. You can also put it on your child's hand and have her smell it). You can also put lavender on sunburns to help heal the skin. Lavender is also a good one for allergies–put it under your nose to help. You can also put it in cuts to help disinfect and over blisters to help them heal.
Citrus Bliss
Citrus Bliss is my very favorite smell. It really lifts my mood. This is a great one for helping everyone feel happy and to keep your driver awake. It makes a great air freshener, which we all know the car can use during and after a road trip. Another great one to diffuse. It can be used any day while you are doing things. You can put a drop in your palms and rub them together, then smell them when you need a pick-me-up. You can also put it on palms, under the nose, or on the back of the neck. You can also use this as an antiseptic, so if you aren't sure about a surface, this can be mixed with water and sprayed on the surface.
onGuard
This is one of my very favorite oils. When we are fighting a sickness or if someone just gets sick, we diffuse this through the night. You can also put it on palms, bottoms of feet, or even just smell from the bottle. When you are traveling, you can pick up a bunch of sickness from your activities or from staying in close proximity with lots of people. You can also use this as an antiseptic, so if you aren't sure about a surface, this can be mixed with water and sprayed on the surface. On children, this is one you want to dilute.
How to Transport?
So how do you transport your oils without it taking up a ton of space? I have two different methods. One is a travel oils case.
This one can hold your exact oils as they are.
Here is one for just the 5 ML bottles.

You can also use a keychain case that has small vials that you fill up from your bottles of oils.
I also have this case that holds 16 different bottles, from the 5 ML on up through roll-ons. It zips closed and has a carrying case. It is great if you can't possibly go with just 6 oils. Maybe you want to bring along some Lime for your water or maybe you use Zendocrine oil each day to help with your hormones and want to bring those along. This just allows you to take even more oils than what I listed above.

If you want to buy some essential oils and don't know how to get started, or just want help, please email me at [email protected] and I will help you out! You can also go to my doTERRA store to order oils online.