Baby Whisperer Tips to Get Baby Sleeping Through the Night. What to do to help baby sleep through the night.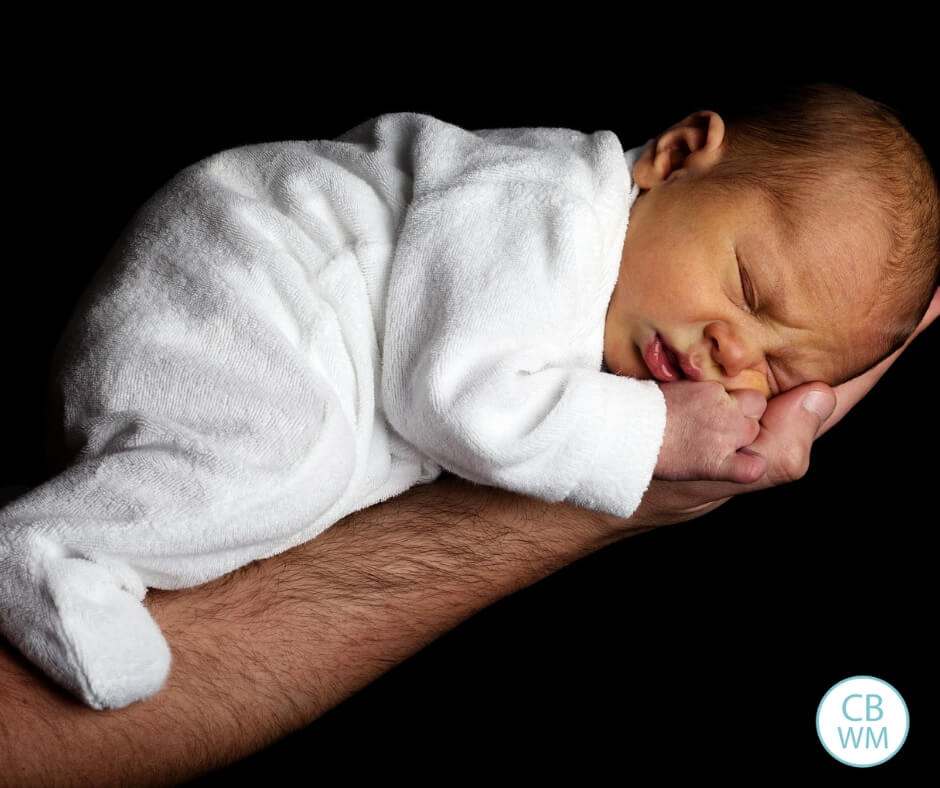 As much as we love our cute babies, we want and really need sleep at night. For this reason, most parents seek out help and tips to be able to get as much sleep at night as possible. One of the best ways is to get baby to sleep longer stretches at night.
Tips to Get Baby Sleeping Through the Night
The Baby Whisperer shares some ideas to get baby sleeping through the night. Starting on page 184, Hogg addresses points to help baby sleep through the night. They are:
Monitor Daytime Sleep
Don't let baby sleep too much in the day. This means you don't let baby sleep something like 6 hours straight in the day. You can let baby take an extra 30 minutes in a nap if needed, but you don't let baby sleep all day.
Be careful you don't swing too far in the other direction and not let baby sleep enough. Read Sleep Begets Sleep for more on this.
Cluster Feeding
Cluster feeding. Hogg suggests starting at 6 weeks you feed every two hours before bedtime and also do a dreamfeed. The cluster feeding thing is necessary for some babies, but not all. I would think if baby got a full feeding, he shouldn't need another one 2 hours later. But I know as a nurser, my milk supply is lower at that time of day, so both of mine needed one two hour interval for a while.
---
Read: How To Use Cluster Feeding to Get Baby Sleeping All Night
---
Hogg defines a dreamfeed as a feed you try to not wake baby for (the late-evening feeding for the BW baby). Kaitlyn would rarely wake up for a dreamfeed, but I was not cautions to not wake her. If she woke, she woke.
Use the Pacifier
Pacifier. Hogg says so long as you don't turn it into a prop, you can use the pacifier to wean baby off the nighttime feed. You basically use the pacifier in place of breast or bottle when they wake, cutting down sucking time each night. See Secrets of the Baby Whisperer for more.
Wait Before Going In
Don't rush in. Babies sleep fitfully. Do not respond to every noise you hear. It took me a long time to learn this with Brayden, and I was really good about it with Kaitlyn and my other girls. Give baby a chance to work things out on her own.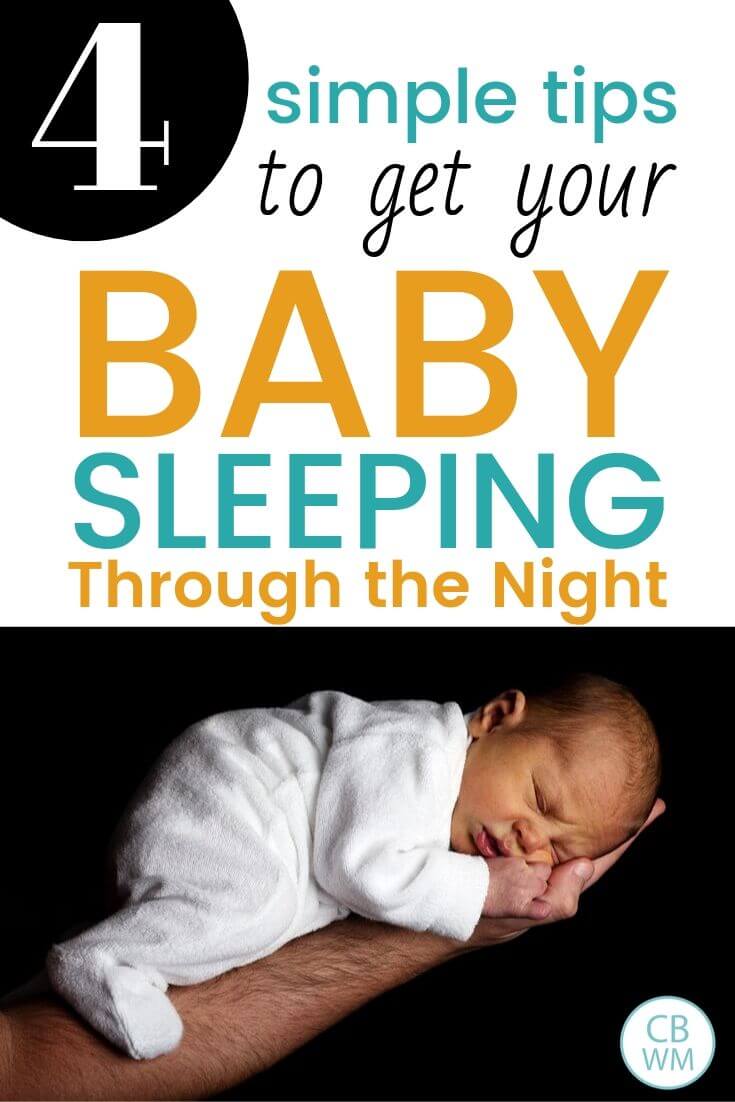 Related Night Sleep Posts
—–>>>Get your copy of The Secrets of the Baby Whisperer here
Reader Night Sleep Comments/Advice
The Grovers said…
Hogg's pacifier suggestion really worked for us. At the time 5-8 weeks, our daughter was sleeping in the bassinet right next to our bed at night. When she would wake up in the night, I would reach over and give the pacifier. If she soothed herself back to sleep, then I knew she was not waking out of hunger. If she couldn't, I would get up and feed her. With this method, she very quickly extended her nighttime sleep and was sleeping through the night by 7.5 weeks and we moved her into her room a few weeks later.
September 23, 2008 6:31 PM
Plowmanators said…
Thanks Grovers–that is good to hear a success story of the method.
September 24, 2008 1:53 PM
Megan 🙂 said…
Hi! We had a very similar success story as the Grovers with the pacifier. 🙂 Now we're working on weaning her off the getting up in the middle of the night for the paci! Not so much fun… anyone have any tips? CIO did NOT work. BUT this method allowed us to go from 11p.m. – 6 a.m. from Week 5! She was never really hungry in the middle of the night and because we used the pacifier, the breast was never a sleep aid… i.e. my sweet hubby can help with the middle of the night wake-ups. Now my three month old sleeps consistently from 8 p.m – 6 a.m. with one 5 second wake up at 4 a.m. for pacifier insertion. Not ideal, but works for us! Thanks for posting this – such an important topic for new moms!
September 24, 2008 3:40 PM
Plowmanators said…
Megan, the only thing I could think of for you would be to give her some time when she wakes to see if she would go back to sleep on her own. I understand the trickiness of the situation. If you don't catch her quickly, she will be fully awake. However, at this point it might be time to do CIO and drop the paci in the night.
September 29, 2008 1:04 PM
Reader Night Sleep Questions:
Volkov Family said…
Advice Please…First off, what is considered sleeping through the night? How many hours and from what hour to what hour? Here is my situation-My son is almost 4 months and we do the eat, wake, sleep, but he rarely sleeps more than 45m-1.5 hrs. which makes it hard to do a straight 3 hr schedule. He wakes in the 5 a.m. hour and I feed him and put him back to sleep. Then he wakes or I wake him at 7:30. He then feeds 10:30, 12:30, 3:30, 6:30 and before bed at about 7:30/8 p.m.(It keeps getting earlier.) I would like to cut out one of his feedings, but I don't know how. I would like him to go past 5 a.m., but he seems pretty insistent on it. If I got him on a true 3 hr. plan, then we would have our last feeding at 7:30 p.m. naturally. But at this point his p.m. feedings are pretty much set in stone. What would you suggest? I would intro a dream feed if I knew it would take him til 6:30/7 a.m.(though so far the times I have tried it, it has made no difference), but I don't want to start another bad habit since he is already waking at 5 a.m. and I want to break him of that. But asking him to go 6:30-6:30 is a bit much and I doubt he would sleep 11 of those 12 hours. Suggestions?
September 23, 2008 9:11 PM
Plowmanators said…
Volkov Family,The definition of true STTN for you will vary. What BW considers to be STTN initially is sleeping 7-8 hours straight. As they get older (about 4ish months), the requirement goes up to about 10 hours straight, eventually baby will sleep anywhere from 10-12 hours straight. I personally in my head don't consider my kids to sleep through the night until they are sleeping about 9-10 hours–if they wake up at all before I want to get up for good, that is night to me.It sounds like he is technically sleeping through the night, and sleeping the right number or hours for the age. I would just hang in there, and in the meantime, see this post:Early Morning Feedings Before Waketime
September 29, 2008 1:02 PM
Mark and Janna said…
My daughter (now 8 weeks) slept through the night a few times starting around 6 weeks. I finally figured out that she was going through a growth spurt during that time, and the extra feeding during the day allowed her to sleep all night, so I decided to add a feeding to her day, which means we are on a 2.5 hour schedule instead of 3. But it worked! She sleeps straight to 7:30 in the morning after her dream feed at 10:30. But now my question is when do I put her back on the 3 hour schedule? She has always eaten every 3 hours since birth, but only now has been sleeping through the night with the 2.5 hour schedule. Should I change it slowly? I don't want to push it because I love that she is sleeping all night, yet I think for her age she should be able to go 3 hours.
September 25, 2008 11:38 AM
Plowmanators said…
Janna, you might have to keep it for a while. Babies her age usually can only do 7-8 hours straight, and she is doing about 9. For that reason, she might need a 2.5 hour schedule where other babies her age would be fine on 3. I would leave her there until she reached the age for 9 hours of sleep at night (see this post: Babywise Milestones) or you are sure she needs to go 3 hours rather than 2.
September 29, 2008 1:07 PM
ange77 said…
Please help!! My baby is now 7 months old and I have been following a Babywise routine since she was a few days old. She was sleeping through the night at 5 weeks (with her last feed sometime around 11pm) but has just started waking in the night again now. I breastfeed her 4 times a day.. at 6am when she wakes naturally, 10am, 2pm and 6pm, with solids offered after each feed. She goes to bed between 7pm to 8pm and up until about a week ago, was sleeping through the night no problem until 6am. She is now waking almost every night, usually only once, but last night, she woke twice. It does not seem to be the same time each night that she wakes. When she wakes, I feed her one side, and she happily goes straight back to sleep again, no problem. I have tried just picking her up to soothe her in the night as I am afraid that if I get in the habit of giving a breastfeed at night, then it will become a habit, but this doesn't work! She just cries louder when I try putting her back down again. I am anxious to get my baby back in to her routine, as we are going on holiday in 2 weeks, and I am leaving her with my mum for 12 days!! Will feel much happier going if she is sleeping through the night again… please help!!! She is teething at the moment, but I don't know if this is causing her to wake, because she goes back to sleep happily after a feed, without requiring any pain medication. Do I need to change my daytime routine.. perhaps go back to 5 feeds? Lately, she tends to wake about half an hour to an hour prior to her next scheduled feed during the day. She is quite happy to wait for her feed, but this means that we are not following the sleep, feed, wake cycle during the day anymore. I have tried extending her waketime but she gets too tired. I have read the Babywise book a couple of times, but can't find an answer to my problem!! Would be grateful for any advice please!!
October 3, 2008 1:39 PM
Plowmanators said…
It definitely could be the teething. I might go back to 5 feeds just to be sure. Also, see this post:5-8 Month Sleep Disruptions
October 6, 2008 3:10 PM