4 month old not sleeping well? Find out resons why this happens and how you can fix those 4 month sleep regression issues. How to Solve Your Baby's 4 Month Sleep Problems. Get your four month old sleeping well.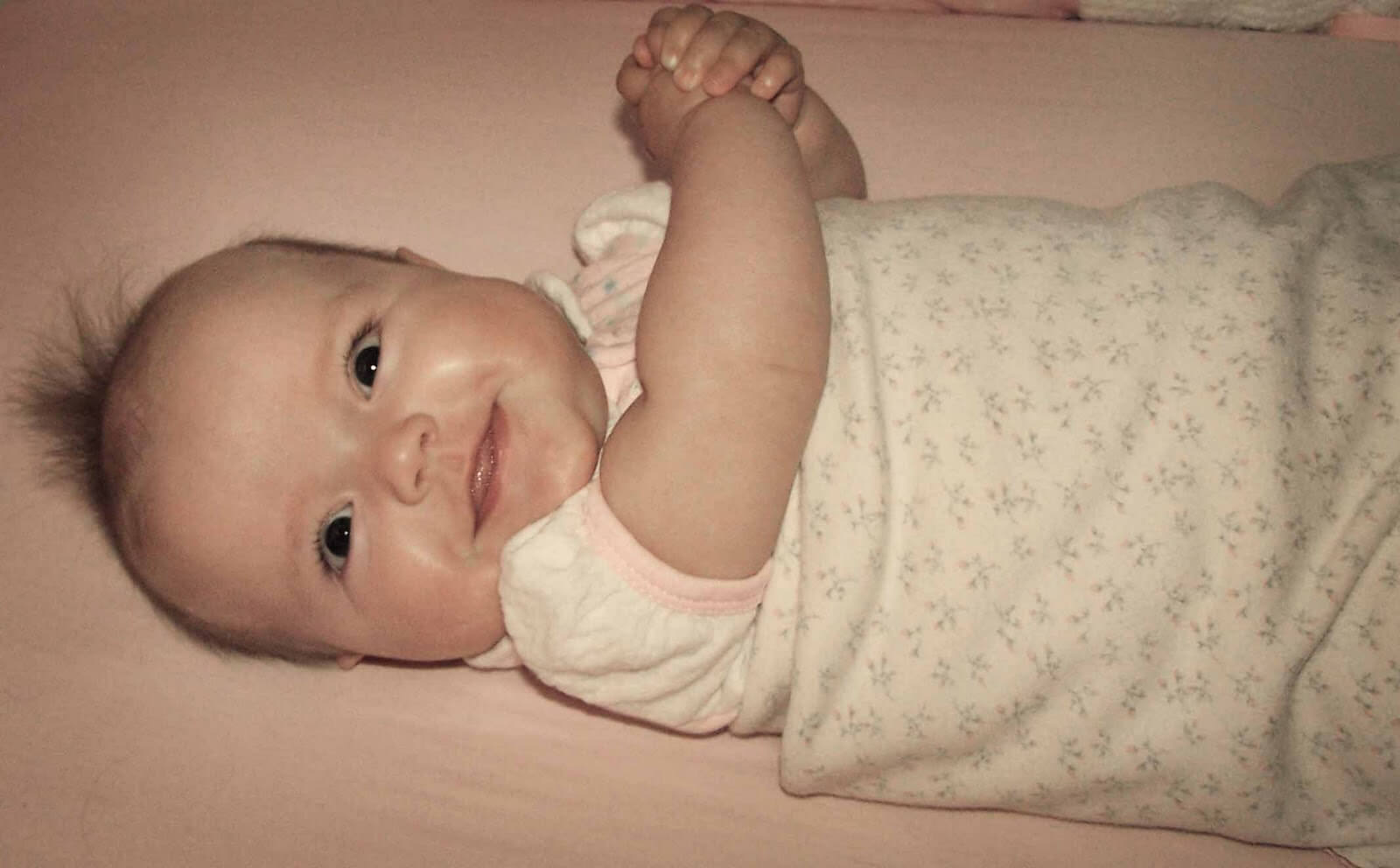 There are many sleep regressions that come up during your baby's first year of life, but none is so common, long, nor frustrating as the four month sleep regression. 4 month sleep troubles are so common that it has long been the number one question I get about sleep on this blog.
In some respects, there really isn't much to say about this sleep regression other than that many moms find there to be some sleep disruptions–either naps, night, or both–that accompany 4 months of age.
4 Month Sleep Regression
Yes, there is a major sleep regression at four months old. You are not losing your mind. Your baby is not backtracking in sleep. This is common and typical. This is just one of the Sleep Disruptions You Will Face as a Babywise Mom. This one is so noticeable because it is so very long.
This regression will start around 14-17 weeks old and lasts anywhere from 20-22 weeks old. That is a very long time to have baby taking short naps and potentially not sleeping as well at night.
This sleep regression is highly tied to your Wonder Week 19. Read all about Wonder Week 19 here to find out what is going on with your baby and how to help your baby through it.
What To Do About the 4 Month Sleep Regression
So how do you solve these sleep problems tied to the 4 month sleep regression?
For many babies, there isn't anything you can to to help nor speed along the regression. It is tied to the wonder week and will end when baby is through making all of the cognitive growth and progress at this time.
Making Schedule Changes During This Regression
I always caution parents to be careful about changing things up at this age when baby isn't sleeping well. If you change waketime length, drop naps, or change up the schedule, you will likely change nothing because those are not the causes of the regression. The wonder week is. So if you change those things, you might actually prolong the sleep disruption because you will have changed what was working.
That doesn't mean you should never change something. If you do, follow these guidelines:
Write down your current schedule before you make changes. You want to be able to go back to the original if the change is not working, and writing it down is the best way to be sure you remember it correctly. Be sure to include waketime lengths.
Make only one change at a time. Drop a nap OR lengthen waketime length. Just change one at a time so you can evaluate what is or isn't working.
Wait a bit of time between changes. Change something, wait 1-3 days, then change another if you think it is a good idea. It can take time to see the full impact of a change.
If a change improves things, keep it! If it doesn't, you might keep it or might go back. If it makes things worse, go back.
Possible Things To Change or Address
Your baby might just be having a wonder week disruption going on, but your baby might need something changed. Here are some ideas of things that might need to change at this age.
Growth spurt, pain, or sickness. Again, always start by assessing if baby is having a growth spurt, teething, is sick, or is in pain of some sort. If you have a baby with reflux, it might be time to adjust medication.
Dropping the 4th nap. The fourth nap is consistently dropped around 4 months old. If your baby is taking four naps, move to three. See the Best Ages for Dropping Naps and Dropping Naps a Quick Guide for more.
Moving to a 4 hour schedule. It might be time to move to a 4 hour schedule. See my post on When To Move to a 4 Hour Schedule for more.
Start solid foods. For some babies, these sleep troubles are caused because baby needs more calories.
I never had sleep troubles at 4 months with my first two chidlren, and in fact, that was the age both of my kids really clicked and things went perfectly. It was a honeymoon age for them. Brayden didn't nap for a long period, but he stopped crying for his naps 4 days before he turned 4 months old. Things just really started clicking for both kids at that age. I start solids at 4 months.
This is only a theory. I haven't done even informal surveys to figure this out. I am not suggesting you start solids at 4 months if you don't want to. It is merely a theory. So I ask these questions of you:
If you had 4 month sleep troubles (either night or naps), did you start solids at 4 months?
If you did not have 4 month sleep troubles, did you start solids at 4 months?
If you are over your sleep troubles, do you have a theory as to why they happened (now, in retrospect)?
Do you think there was anything you did that helped your baby get over the sleep troubles, or do you think he/she just "outgrew" it?
Leave your answers in the comments.
Help Baby Go Back to Sleep
If your baby wakes early during this regression, you might just help baby go back to sleep. First, be sure baby isn't have a growth spurt, isn't hungry, and isn't in some pain or discomfort. If everything checks out, you can try the following to get baby to go back to sleep:
Wait 10 minutes before going in. Many times, baby will go back to sleep if you just wait about ten minutes before responding when baby wakes up mid-nap.
Move baby to a swing, wrap, or rock and play to finish out the nap. This way baby can get a full nap in.
Go in, resettle baby, and put baby back down for the rest of the nap. Some babies will respond well to you letting baby know it is still time for a nap, doing an abbrevaited sleep routine, and put baby back down to sleep.
Do cry it out to get baby to go back to sleep.
You can find many more ideas in my post Stopping the 45 Minute Intruder. You can also find ideas on What To Do When Baby Wakes Early From Naps or Won't Fall Asleep for Naps.
4 Month Sleep Problems Polls
It is good to have a post on it to point that out to moms who don't know. Here are some polls of interest:
With the first poll, 95% of those who responded said they had sleep troubles at 4 months. The second poll had 68% of responders saying they never had troubles. Here is the breakdown:
Poll Results: Did Baby Seem to Experience Any Kind of Sleep Troubles Around 4 Months of Age?
Results:
Yes! Naps!: 23 votes (42%)
Yes! Night!: 9 votes (16%)
Yes! Naps & Night!: 19 votes (35%)
No: 3 votes (5%)
Total of 54 votes
95% of responders experienced sleep problems around 4 months of age.
Poll Results: If your baby experienced sleep troubles around 4 months of age, how long did those last?
Results:
1 week or less: 0 votes
2-3 weeks: 8 votes (25%)
4 weeks: 1 vote (3%)
1-2 months: 5 votes (16%)
2-3 months: 2 votes (6%)
3-4 months: 1 vote (3%)
4 months or longer: 0 votes
Never ended!: 2 votes (6%)
Never had troubles: 12 votes (68%)
Total of 31 votes
There is a large difference in those results as far as number of people with sleep troubles. There weren't a lot of responders for either poll, so I believe I will do the poll again at some point.
If your baby starts to have sleep troubles around this age, I would check out the suggestions listed on these posts:
Once you have worked through these, just hang in there and continue to press forward. Once you have done all you can, try to not stress.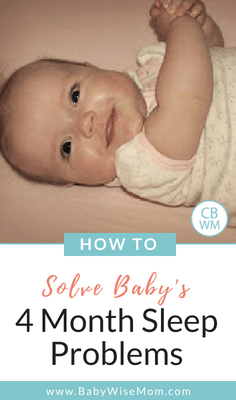 Reader Comments/Advice:
Reader Questions:
Krystal said…
My daughter used to sleep from 9:30pm-7am, w/ no problem, but now (she is a little over 4 mo. and it has been going on for about 6 weeks) she eats at 10pm and can't seem to make it to 7am w/o waking up at least once during the night. I don't feed her-we stopped feeding her in the middle of the night when she was about 8 weeks old. She scoots around in her crib,so during the night at least once she gets herself all crammed into the corner. I always go and move her down at least once, and sometimes she goes right to sleep after that, but sometimes she cries for awhile. If she wakes in the night (because she's in the corner) at 2-3, she will still wake up at 5:30-6:30 and cry until I go get her. If she doen't wake at 2-3, she will still wake 5:30-6:30. Our day doesn't begin until 7:00! If this was just every once in awhile, I would just go w/ the flow, but it is EVERY night! Our days are fine-she takes great napes-anywhere between 1 1/2-2 1/2 hrs. every time. She rarely wakes early out of those. When my son was her age he slept from 8:30-8am. If anyone has any advice for me, that would be great!
February 3, 2008 6:28 AM
Becky said…
I am having the same problem with my 4.5 month old son that Krystal had. How long does it last? Are you "back-sliding" if you feed him? I only feed him if I cannot get him to go back to sleep. This happens maybe just once a week, but he is waking up 1 or 2 times a night just about every day of the week.
April 14, 2008 8:00 AM
Plowmanators said…
I have to appologize to Krystal because I didn't know this comment was here! It is hard to say how long this lasts because it will depend on your baby. For some, it honestly is months. For others, it is only days. I don't think it is backsliding if you feed him. If he is hungry, always feed him. There is a growth spurt at 4 months and a general need for more food. I will do the next poll on this question so you can get an idea of how long it lasted for others.
April 14, 2008 2:09 PM
Becky said…
Thank you very much! After reading your new post on the pacifier, I think that may have alot to do with our sleeping habits as well. Thanks for your response and for the upcoming poll. It will be interesting to see the results! Thanks again!
April 14, 2008 9:37 PM
Plowmanators said…
You are welcome! Some moms find pacifiers to have no negative effects on sleep, while others find it to have a lot of problems.
April 17, 2008 4:47 PM
becca & nathan said…
My son will be 4 months old on the 23rd! His nights vary…he does not sleep through the night yet. I do not do a dreamfeed because I thought when I was doing it that he slept better without it. So his nights have been varying between waking up once (around 2 or 3), or waking twice (last night around 11:30 and then 3:45). My first question is, should I try the dreamfeed again to see if that will cut out the waking? It seems like I always want to try it again, then I try it for one night and it doesn't work, so I go back to normal. Do I need to give it a week to see if it will work? I am also thinking that this is the age he is supposed to drop the dreamfeed, not add it, so I don't know if this is a good idea. We are normally on a 3 hour schedule. Yesterday, however, I decided to let him sleep as long as he wanted for naps because I think he is overtired (lots of crying at bedtime for the past week or so). He slept 3 hours in the morning, 2.5 in the midafternoon, then about 1 hour in the late afternoon. He went to bed with minimal fuss. Should I consider that just a "catch up" day, or should I think about extending his schedule. 1) I know that they are supposed to STTN before doing this. and 2) He only can usually get about 1 hour of waketime still. Sorry for such a long comment…any help is appreciated! Thanks!
May 20, 2008 7:38 AM
Plowmanators said…
Becca,If I were you, I don't think I would try the dreamfeed again. You are right, you are at the age to drop it. I think I would just stick it out.As far as extending schedule, you could try it. It is possible it was just a catch up day. Some moms find their nights get better with extending the schedule. IF your son is waking in the night from hunger, though, then I wouldn't extend your schedule to the point of dropping a feeding. And if it were me, I would try to get down to at most one feeding a night before extending to the point of dropping a day feeding (and in fact I would wait until all night feedings are gone, but like I said, some moms find night feedings stop once a 4 hour schedule starts). You could try a combo schedule (3-3.5 hour schedule) and not drop a day feeding and see how he does consistently.
May 20, 2008 10:58 AM
becca & nathan said…
Thanks, Val. That's really helpful. I am wondering about the combo schedule…Do I have to be consistent about which feedings are 3 and which are 3.5, or can I just be flexible and see which nap he sleeps through? This morning, he woke at 3 hours on the dot for his 10 am feeding, and now it is 1:05 and he is still sleeping. Would it mess things up if I just let him sleep until 1:30 making this a 3.5 cycle…and not necessarily doing it every day? I have read your post about establishing a consistent schedule…still not sure how to plan a combo schedule. thanks again.
May 20, 2008 11:11 AM
Plowmanators said…
Becca, I think that if you took note of when he seemed to be able to go longer, you will see a pattern. I would try to make it the same feedings that have a longer time interval so you can be sure metabolism is stabelized.I would take several days to take notes of when he wakes for feedings and see if you see a pattern. In the case that you asked about…if you normally wanted the feeding to be at 10:30, then the next at 1:30…then he woke at 10:00, I would let him sleep until 1:30 so that you are back on track.
May 21, 2008 11:03 PM
Kate said…
I'm one of the Moms having the 4th month trouble. Before this, she has only woken once during the night since she was 7-8 weeks old and it was always b/c she was hungry. There were a few exceptions but would go right back to sleep if I gave her a pacifier. So, I've never had to do CIO b/c she never cried at night. I tried doing an extra feeding during the night, but she wouldn't really eat. I tried doing an extra feeding during the day, but it was the same thing-she wouldn't eat. So, I know it's not a hunger thing and she won't even take the pacifier. We decided Sunday night to do CIO. I'm not ready for what I know is the best way to do CIO. Instead we've been doing the method where you increase time and go in for a minute and pack their back. I know this method takes longer but it's all we're ready for. However, my sister-in-law just called and she, her husband, and 2 kids (2yr old and baby) will be staying w/ us Thur. and Fri. night. We won't be doing CIO those 2 nights and I guess I will just feed her. Is that going to totally mess my daughter up b/c I plan on going back to letting her cry after they leave? What's the best way to handle this? Thank you
May 20, 2008 10:56 AM
Kate said…
Tried to post this earlier, but can't find it so sorry if this is a repeat. I'm one of the Mom's having the 4 months trouble. My daughter has only woken once during the night since she was 7-8 weeks and it was always when she was hungry. There were a few exceptions but she would go right back to sleep if we gave her the pacifier. I tried giving her an extra feeding during the night-she wouldn't it. Tried an extra feeding during the day-same thing, wouldn't eat. So, I know she's not waking b/c she's hungry. She also won't take the pacifier, so we decided to do CIO. I've never had to do CIO before b/c she's never cried at night before.My sister-in-law just called and she and her family (2yr old and baby) will be staying with us Thur-Sun. I don't want to CIO while there here and keep everyone up. How would you handle this? Should I just feed her while they're here and hope that puts her back to sleep and then start back w/ CIO when they leave? Is that going to totally mess her up?I wonder if I'm having trouble since we never did a dreamfeed. A dreamfeed never worked with her, I tried a few times. But when she was waking once a night the time would vary anywhere from 2-4:30AM. I wonder if since whenever she woke she got fed, now that she is waking up more at night she is having trouble putting herself to sleep. Just a thought.As usual, thank you so much!
May 21, 2008 7:38 AM
Plowmanators said…
Hi Kate, Your other post is on this page :)I might wait to CIO until your sister-in-law is gone. If not, you can certainly to back to it once she is gone, and it is just fine to modify your approach to be courteous to your guests. Your daughter might have a slight regression when you go back to CIO, but she should make up ground faster than she originally made it.There are a lot of moms who don't do a dreamfeed, so I don't know if that is the problem. Good luck with your CIO!
May 21, 2008 10:57 PM
Jessica said…
My daughter, 16 weeks, has just started having trouble, primarily with her naps. She has gone from taking two 2-3 hour naps and one 45 minute nap to only napping for one hour per nap. She has also woke early in the morning once (Praise God only once). I am not 100% sure what is going on. There are so many new things happening with her right now. She is teething, her eat habits have changed (wanting to take only 2oz. at some feedings), she is now sleeping unswaddled and she can turn over.At first I was contributing the sleep disturbance to her being able to turn over (each time I have gone to get her, except once, she has turned herself over). Now, I just don't know. I don't know if I should allow her to CIO and learn to sleep on her back (she is a tummy sleeper). I don't want her to CIO when she is hungry or having teething pain.I have gotten her up at each nap today and this last nap she ate almost 4oz. So, I think she was hungry.
July 17, 2008 2:01 PM
Plowmanators said…
Jessica, This is a hard situation when you have so many factors to work through. I would focus on one at a time. I would first assume it is teething because if it is, it can be easy to fix and is easy to test. I would give her tylenol before her nap (20 minutes before or right before). Then it should be working at the transition time and she can make it through.If not, move on to growth spurt because this is one you don't want to ignore if it is the case. Try feeding her when she wakes early. This age is common for growth spurts.After that, move on to other possible factors. Focus on one at once. It will take some time, but hopefully you can figure it out. Good luck!
July 21, 2008 4:09 PM
benmagmom said…
HELP! My daughter is 4 months old. She had been sleeping through the night (approx. 11 hours) for about 2 months. The last 2 weeks have been a nightmare. She is up at night. I've tried treating it as a feeding issue and tried to let her CIO to no avail. She does eat, but she's up so much it's interfering with her daytime happiness (and my sanity). Plus, she's not eating as much at her first morning feeding. She seems to be awaking relatively regularly at 1:30-2:30 and then again at 5:30-6:30. Our daytime schedule is first feeding at 8 am. (This is because my son's preschool/activities begin at 9 am. So I have to have time to feed her and get him where he needs to be.) Then she sleeps from 9:30-11. I feed her again at 11 (so I can pick him up from activities at noon). She takes about a three hour afternoon nap and a one hour evening nap. These have been varying from day to day no matter how hard I've tried to nail it down. Aft. is either 1-4 with a 5-6 evening OR 2-5 with a 6-7 evening. Then bedtime is either 7 or 8 because of the varying aft/eve naps. I think one of the issues is that she is going to sleep too early to wake up at the appointed time which is 8 am. But I really don't know how to get around it because no matter what we've done, ever since we dropped the late evening feeding she has wanted to go down for the night between 7 and 8. Obviously 13 hours would be a real stretch but so is 12. I've also tried to lengthen time between feedings and alternatively get back on the 3 hour feeding schedule. But she is determined to take the very long aft nap. Even when she was sleeping through the night…it was only until 5:30-6:30 so I would feed her then she would sleep until 8 and feed again to be up for the day. I really need help getting her to sleep through the night again. Additionally, I have added solids since she has been waking during the night because of course I'm thinking it's a hunger issue. I've been giving her cereal around 12:30 (even though BW says to combine it with breastfeeding), but it has really helped to tide her over into her long aft nap and it would be too soon to breastfeed again. Then, I give her solids again before her last feeding of the day. Both of these feedings are not the BW way. I tried to give her solids this morning directly after her 8 am feeding and she wouldn't eat much of anything. Then, I was going to give solids again after her afternoon nap.Please tell me what I should do to improve this situation or improve my schedule. The most important things are being able to drop off my son at 9 am and pick him up at noon. Nothing else is static during the day. Thanks so much! Love your blog!!
July 20, 2008 4:33 PM
Plowmanators said…
benmagmom, So does she insist on the long afternoon nap even if you don't feed solids at 12:30? I would move away from that and get a shorter afternoon nap. 3 hours doesn't really come until they go down to 1 nap a day. She can do 2.5 if needed. Really I would try to get to a 3 hour schedule. Feed at 8, 11, 2, 5, and 8. If she needs to do 2.5 somewhere (like in the evening) and 3.5 somewhere (earlier in the day) that is fine. You can do the combo schedule. I would get those feedings in there and see how that goes. Good luck!
July 21, 2008 4:14 PM
benmagmom said…
Yes, she does want the long afternoon nap even if I don't give her solids. She began taking the afternoon nap before I introduced them. I only introduced solids when she started waking during the night thinking it was a hunger problem.I'll try to do more of a three hour schedule. If you were doing two solid feedings…when would you do them? i switched (tob be more in line with BW) to just after breastfeeding after her morning nap and I was thinking again after her afternoon nap. what do you think?the reason we kind of moved away from the three hour schedule is because she wouldn't take a full feeding…then would want to eat much sooner…like two hours later and got into a snacking pattern.??? I'm so confused!
July 22, 2008 12:01 PM
Plowmanators said…
IF you are breastfeeding, I would do lunchish time (the feeding closest to lunch that you have time to feed solids) and dinnerish. The reason is you have the most milk in the morning. If you are formula feeding, I would do breakfast and dinner. Spread it out. You can also do a combo schedule. I would check out this post: Getting a Consistent Schedule and Combo Schedule is Okay.
July 23, 2008 9:59 PM
Claudia said…
My almost 4month old is always been an angel baby and textbookbaby. We had dropped the 9pm feeding and moved it to 8 or 8:30 pm. Now he wakes up at nine or even 10 to feed. Just as this phase was gone and going back to his 8:30 schedule again. Now he is waking up at 1am or 2am to feed. He has his full feeding. I hve been breastfeeding and last weekend I gave him formula when we went out to see family. He got a little bit of astomach flu as I was told because he started to not have his full feedings and not want my breast. He is better now. I am confused…Should I start the rice cereal in a bottle or spoon? Because he seems hungrier now. He started screaming last night went put to bed for his last nap. When should I extend his waketime could that be it? He still has about 6 naps a day and last from 45min to 1hour. When do I start the 3 naps a day. I have been following his cues that's why I haven't started the 3 naps because he gets sleepy as schedule. He is also still in his 3 hour routine for feedings. Please help! Everything seems to have become a mess.
September 1, 2008 12:07 PM
Plowmanators said…
If he had the flu, my guess is that he lost weight and/or didn't gain the wait he needed during that flu. So, he needs more food right now. I wouldn't start rice for this reason alone because it will take weeks to get to a point where he is eating enough to really make a difference. If you were going to start solids anyway, then go ahead and start trying. I would try to add a feeding during the day or add a dreamfeed to help. You can try a longer waketime at that one naptime, but only extend by about 5 minutes at a time to be sure you don't add too much.
September 5, 2008 2:20 PM
Claudia said…
Thank you so much for your advice. He is back on track. He did need those extra feedings at night. He got used to waking up at 1 or 3 AM, so I would let him talk to himself, he would move around his crib and even screamed a little and would go back to sleep. He is 4 months now so I started the rice cereal with a spoon. He has been doing great but on wednesday he woke up at 5 am. He is a tummy sleeper, he will pull himself to sleep in his tummy but now when he is not wanting to go to sleep he will roll to his back. He is very vocal so he will start babbling really loud! When he sees me he will smile and and laugh loud. I gave him a feeding and made that his first feeding of the day. When do you start the 3 naps? And when do I start the 3 meals? I give him his rice cereal at 8 with his last nursing feeding. I nurse for 20 min give him cereal at the table with his dad's help and back to the breast for 5 min. each breast.
September 12, 2008 10:53 AM
Jessica said…
Claudia -You still start giving your LO 3 meals with rice cereal one week after you started giving him rice cereal for one meal per day. Two weeks after that you can introduce veggies or fruits – whatever you prefer. BWII suggests starting veggies first but I started with fruits.My daughter went to two 2 hour naps and one 30-45 minute nap at around 4 months.Your son sounds much like my daughter with talking to himself and then smiling when you come in – that is her! She woke at 5 a.m. today. Fun!Val has great solid information here Solids Index.
September 12, 2008 11:25 AM
Claudia said…
Jessica,This is so awesome having you and others give advice. Specially when most people I know that have kids have never heard of babywise or read any books or they very stong opinions of babywise and gtell me to burn it! I bought all series of babywise and sheperding a childs heart and I find all of them helpful.I have been feeding him one meal of rice cereal for 2 weeks and today I am starting with 2 meals of rice cereal. I was taking it slow because of his diarrea. I guess tomorrow I will do three!Last week he wasn't eating muchand yesterday he was waking up 30 to45 min into his nap and ready to eat so I am guessing he is getting better.Thanx so much for the advice.
September 22, 2008 11:00 AM
Claudia said…
He sleeps on his tummy but now he rolls to his back and can't get himself to his tummy quite yet but he tries when I don't come to help. It is frustrating! He also has been waking up this past 2 days at dawn. One time at 3am and yesterday at 5am. I was trying to let him CIO but my husband would tell me to feed him because it could be a growth spurt. Since past sunday he has been taking short naps. So unlike him. I thought maybe he is hungrier because he had been feeling bad with vaccines he got fever and diarrhea. I have been monitoring eat. Take my time to feed him when he wakes up earlier to see if he will go back to sleep. If he doesnt I will feed. I monitor his cries. This past few days his baby talk has been more of a wining. So I tried the tylenol but less than the dose needed. He still woke up early from his nap but not wining.At this point I think it is mixture of teething,growth spurt and when I wait to get him he is also more aware of his surroundings so he explores his feet and mobile attached next to the crib.Good luck to both us.! I have decided to treat it as a growth spurt for now give myself a week.
September 24, 2008 12:57 PM
Plowmanators said…
Claudia, you go to two naps possibly as early as 6 months. Most are around 8 months. Some are older (Kaitlyn was 11 months). See: Dropping the 3rd Nap (evening) See this post for three meals: Solids: How to Start? and Feeding Solids on a Babywise Schedule.
October 21, 2008 11:26 AM
Plowmanators said…
Claudia, for rolling, if you are still having problems, see: Nap Disruptions: Rolling, Standing, Crawling, etc
October 21, 2008 11:28 AM
Mom2BoJo said…
My 4 1/2 month old son has been having these same nighttime sleep problems – I'm so tired! He eats during the day at 6:30, 10:30 (with cereal), 2, 6 (with cereal), and 9pm. He was previously sleeping 10-11 hours at night, and now is waking every night between 2:30 and 3. The first couple of nights I just fed him. Last night I let him cry but gave him his paci, patted his back, etc, and he eventually went back to sleep. He is doing a lot of the things that others have mentioned here: scooting around his crib, rolling over, looking up at his mobile, talking to himself, etc. Also, he is drooling and chewing a lot during the day, so maybe teething? I am not sure what I should do next. He is such a sweet and predictable baby, and I am grateful for the Babywise method, as well as this informative blog! Please help with some advice. Thanks!
October 7, 2008 5:53 AM
Plowmanators said…
Mom2BoJo, if you are still having problems, I would move back to three hours a day rather than four hours. If he is having a growth spurt, he needs to eat more often, so adding a feeding to the day will help eliminate the need for night.
October 21, 2008 11:30 AM
Piper said…
I have a question…sorry I don't have time to read through all the other questions to see if this one has been asked. My baby was 16 weeks yesterday. She started sleeping through the night at 6 weeks. We have never had to do CIO at night and only had to do it for 10-15 minutes on occasion during the day (sometimes off and on for 45-60 minutes but I would move her to the swing and this is rare). The last week or so she has started loudly crying when I put her down for a nap. It still does not last more than 10 minutes, but she starts fussing when I walk towards her bed and crying loudly as soon as I put her in bed. She seems a little fussy with nursing and seems to want more but when I offer she doesn't even try to latch on or she does and pulls right off. I am not really sure what a specific question is…more does this seem normal? This is my first baby and I think in the back of my head I am just fearful I am losing my supply. I do 6 feedings (including a dream feed, which I have tried to drop the last two days but am putting it back in tonight because she wakes at 530am instead of 8am without it). Also, she often does not seem hungry at all after 3 hours so I am wondering if this is some of my nursing issues.
October 13, 2008 7:03 PM
Piper said…
I have a follow up to this now. Now my baby is starting to cry incredibly loud as soon as we walk in her room. If we walk out she stops. It's like she knows she is going down to bed. We do other things in her room such as read, change diaper, play with toys, but somehow she seems to know when it is nap time and starts crying as though it is the WORST thing she has ever suffered through. It used to be that we could put her down and hardly hear a fuss but all of a sudden over the last 2 or so weeks she has become so angry when we put her down. This only happens for naps. At night she goes down just fine and still sleeps through the night just fine. In the morning I either get her up at 8 or she wakes about 730 and chats with herself until 8. Sometimes she gets up at 730 ready to start the day, but this is rare. I know BW pays off, but this is starting to make me doubt it because we seem to be going backward.
October 18, 2008 6:38 PM
Plowmanators said…
Piper there is going to be some reason for this. It doesn't seem normal. You are going to have to do some thinking and trouble shooting to figure out the reason for this. Is she teething or sick? It is impossible for me to guess why she suddenly doesn't like naps; you will have to think through possible changes recently that could have made her this way. Perhaps she just needs a longer waketime. Even 5 minutes could do it.
October 21, 2008 11:35 AM
Rachel said…

I;m at my wits end. My daughter is 14 weeks and was taking pretty good naps for the last 7-8 weeks. I feel like we are starting all over again with CIO. She wont go down for her naps without crying and she wakes up about 30-45 minutes in and wont fall back to sleep. She is not sleeping much during the day at all. Maybe about 45 minutes max. She sleeps for about 11 hours at night and is breastfed. Any ideas?

Charlotte said…


My son was doing that as well and when he would cry to go down I would allow him to cry until it got violent. When I would take him out to play by himself lying down he was totally fine until his next feeding time so I thought it couldn't be that he was hungry, however, I thought to give it a try and wouldn't you know that was the answer. I would feed him, wait an hour and feed again so my milk was available. He took full feedings the second time and started going down for naps again without screaming and would sleep until his next feeding. I wouldn't let him fall asleep nursing though.




Rachel,You are right around that time for the four month disruptions. I agree with Charlotte's advice that it is a good chance it is a hunger issue.

Stephanie said…

HELP!!! I'm so frusterated. We have been following bw for my 4 month son whole life and he is not sleeping through the night yet and in fact is starting to wake up more. I'm not sure what we are doing wrong. He was on a 2.5 hour schedule but stop being intersted in eating and so we moved him to a 3 hour schedule which worked better. He goes to bed at 7:30 but then starts waking up1-3 times a night, never a consistent time. We have tried cio but it goes on for 2 hours with no end in sight. Sometime we have tried rocking him, feeding him less and less time and nothing seems to work. What can I do?????Stephanie




Babywise Mom said…Stephanie, Try Nighttime Sleep Issues

Claudia said…  

I am confused. My baby turned 4 months old on Sept the 7th. As far as i knew he has been a textbook baby even an angel baby. From the beggining we started him on babywise. We have never needed to let him CIO (as much).There was always a neede that came with his crying. He was either wet or hungry or needed to be burped and back to sleep for his nap or the night. He did exactly as the book would say. Of course there are the times he would cry as months passed into naps but they were not heartfelt, I probably kept him awake for too long or he just needs to wrestle his sleep a bit and back to his nap.Sept. 16 my husband and I took to the doctor for his second set of vaccines. He was fuzzy,got a light fever the usual after vaccines (so they tell me)but somewhere around the lines things have been changing. Last week he has cried almost everytime before his nap. HE awakes after 30min or 45min. He doesnt go back to sleep as he usually does. He sleeps on his tummy. He flips to his back. He can almost crawl and this friday and Saturday he has cried before his naps but not the light hearted one. No, he cries as if he has been hurt. The type of cry I've only heard him do when something is wrong or scared.Like when he gets his shots type of cry. His lip quivers. Yesterday I picked him up let him know everything was ok. My mom came to visit and helped him to sleep by padding his back and holding his hand. My husband tries by picking him up and padding his back. Me on the other hand try to be tough and check what is the culprit. Could it be he is starting to teeth, he is more aware of surroundings, he might have a growth spurt, maybe is too hot or cold… My mind wonders. I have been checking this last week. Does he need to stay awke longer. It backfires. Maybe less time awake. So I put him in his crib and he cries past his naptime.I go to my husband for support because he is more assertive and stonger but when it comes to our baby he is the biggest softy. last night he looked at me like how could you let him cry like this.I feel alone and confused this is not usual for my baby. And I am sure he will go back to normal after I wite this I hope but I cant help to feel…helpless!This is my first child. The only one doing BW. I am sure I mess up because I don't know it all. I get mad at my husband for not helping more. Like reading this Blog so he can help out with ideas. Ian just woke up. Needs his last feeding; I will pray for wisdom once again tommorrow is another day.!




Babywise Mom said…Claudia, the milestones can be big problems for sleep. See this post: Nap Disruptions: Rolling, Standing, Crawling, etc

Hang in there and keep troubleshooting! Perhaps bring it up with his doctor.

Valerie,My 4 month old has been on a 3 nap schedule for months now. (He never took the 4th nap so we dropped it at almost 2 months) What do you do when he wakes early from his last nap of the day? I would ideally like him to nap from 2-4:30-ish so that he will have 2 hours of waketime before being fed for bedtime at 6:30 p.m. But today, he woke after 45 minutes. I did CIO for 20 minutes to no avail. I went in and changed his diaper, etc and layed him back but he continued to scream. He's now awake and playing in the crib which means his waketime will be really long. I have thought about the 45 min intruder but each time I offer a supplemental bottle of formula after nursing, he's not interested. Would you try to lay him back down for a 4th nap since he didn't really nap well? Thanks…




Babywise Mom said…I would either try for a short catnap or an earlier bedtime. At that age, I think I would shoot for the catnap. I would just be sure to keep it short enough that he will be tired in time for bedtime.

Corzine family said…

Hi Val,I've posted a couple of comments in other areas but haven't received any response so I thought I might try a post here. I know comments were down for a while so hopefully this makes it through. Here is my dilemna. My son is 4 months and used to sleep through the night 10-11 hrs. Around 15 weeks old he started waking early and sometimes after only sleeping 8-9 hrs. I decided to drop his 4th nap and put him down to bed earlier at 7pm hoping he'd tack the nap onto his night sleep and stop NW. It helped for a few days and still does sometimes but most of the time he still wakes between 3 and 5am. Our waketime is 7am. I have been treating like a growth spurt and adding more at his feedings during the day. We've even started solids. I've also been through all your differents posts and lists and I've tried everything but it just isn't happening. The only thing I can think of left is he doesn't eat very much at 6/6:30pm when I feed him before bed. I think because he just ate at 4pm (still on a 3 hr schedule) so he is still kind of full and there isn't much milk in my breasts because he just ate and it is later in the day when there isn't much milk. He seems satisfied after the feeding but I am thinking of offering him a couple of ozs of formula to try and top him off to see if that will help with the NW. At this point I think it is the only option left. I can try and let him CIO but he always seems hungry when I go to check on him but when I do feed him he isn't very hungry for breakfast. What am I doing wrong? I was so confident with BW b/c of how well he has slept since the beginning but now I feel like giving up. If you have any advice I could sure use it right now.




Babywise Mom said…Corzine, I just answered a question of yours somewhere…I am still not getting notified of comments. I am trying to find them the best I can, but I obviously miss many.It is totally normal to have these set backs.One thing, if he isn't eating well at 6:30, can you push him back to 7:00? Also, could you try a dreamfeed? He is at the age they usually drop it, but if it helps him sleep during hours you sleep, it would be worth it.




Corzine family said…Thanks Val, Yeah I saw your other comment and thanks for both! I have tried to push his before bedtime feed at 6:30pm up to 7pm but he is just way too tired by then and won't eat well because of it. His last nap ends at 4pm and he can't make it until 7pm without eating since he is awake and staring at his food source. That's why I feed at 6:30pm and put him down at 7pm. I have started rice cereal and we are up to 2x a day and I've also started giving him a couple of ozs of formula after he nurses before bed. The first night he still woke up around 3am but I thought there is no way he is waking out of hunger given all the extra food he is getting during the day. Now that I feel confident it isn't hunger, cold, hot, etc I've determined it must be a habit that formed (maybe during a GS) that he just couldn't let go of. I let him CIO the first night and after 45 minutes he fell back asleep and stayed asleep until I had to wake him for his first am feed which he ate really well for-finally! Last night was our 2nd night and he didn't wake in the MON and actually made it until 5:30am which was 10.5 hrs. As long as we are back on track with 10-12 hrs I can deal with the early morning wakings it was just the MON wakings that were killing me. Especially when I knew what he was capable of and after he had been doing 10.5 hrs consistently for so long. HOpefully this means we are back on track now. I never anticipated these types of set-backs but I guess my lesson learned here is never get too comfortable! Thanks again Val. Babywise Mom said…Corzine, I am glad you are having some success!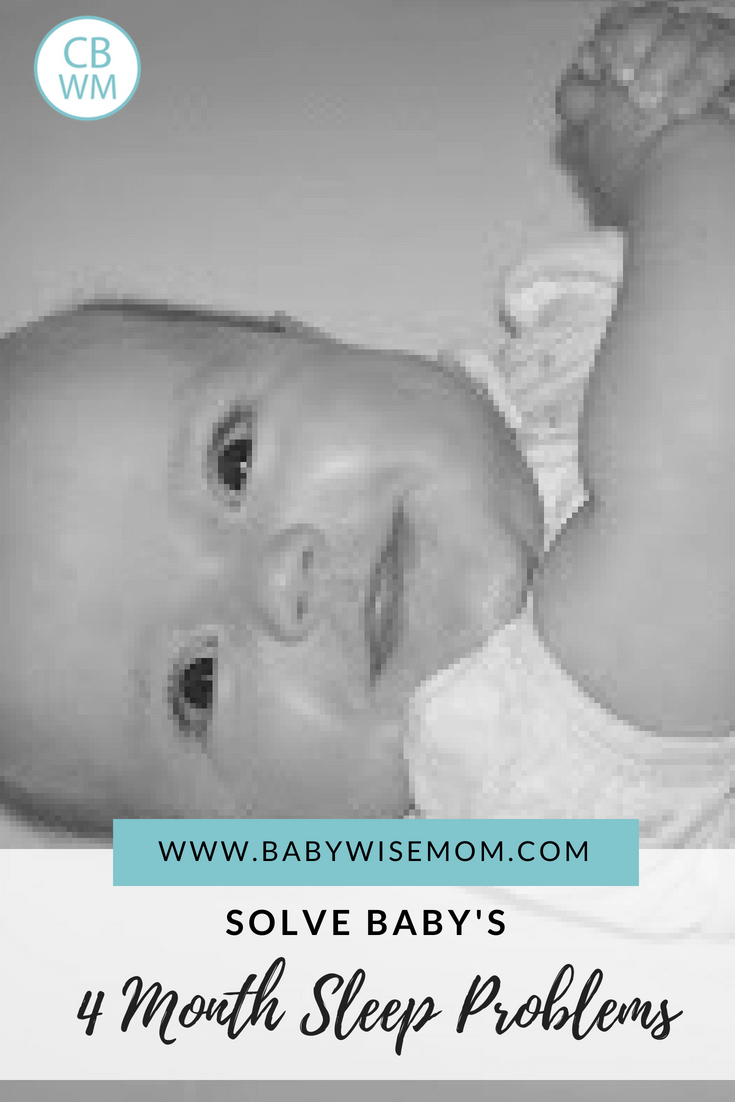 We are sorry that this post was not useful for you!
Let us improve this post!
Tell us how we can improve this post?