4 month old not sleeping well? Find out resons why this happens and how you can fix those 4 month sleep regression issues. How to Solve Your Baby's 4 Month Sleep Problems. Get your four month old sleeping well.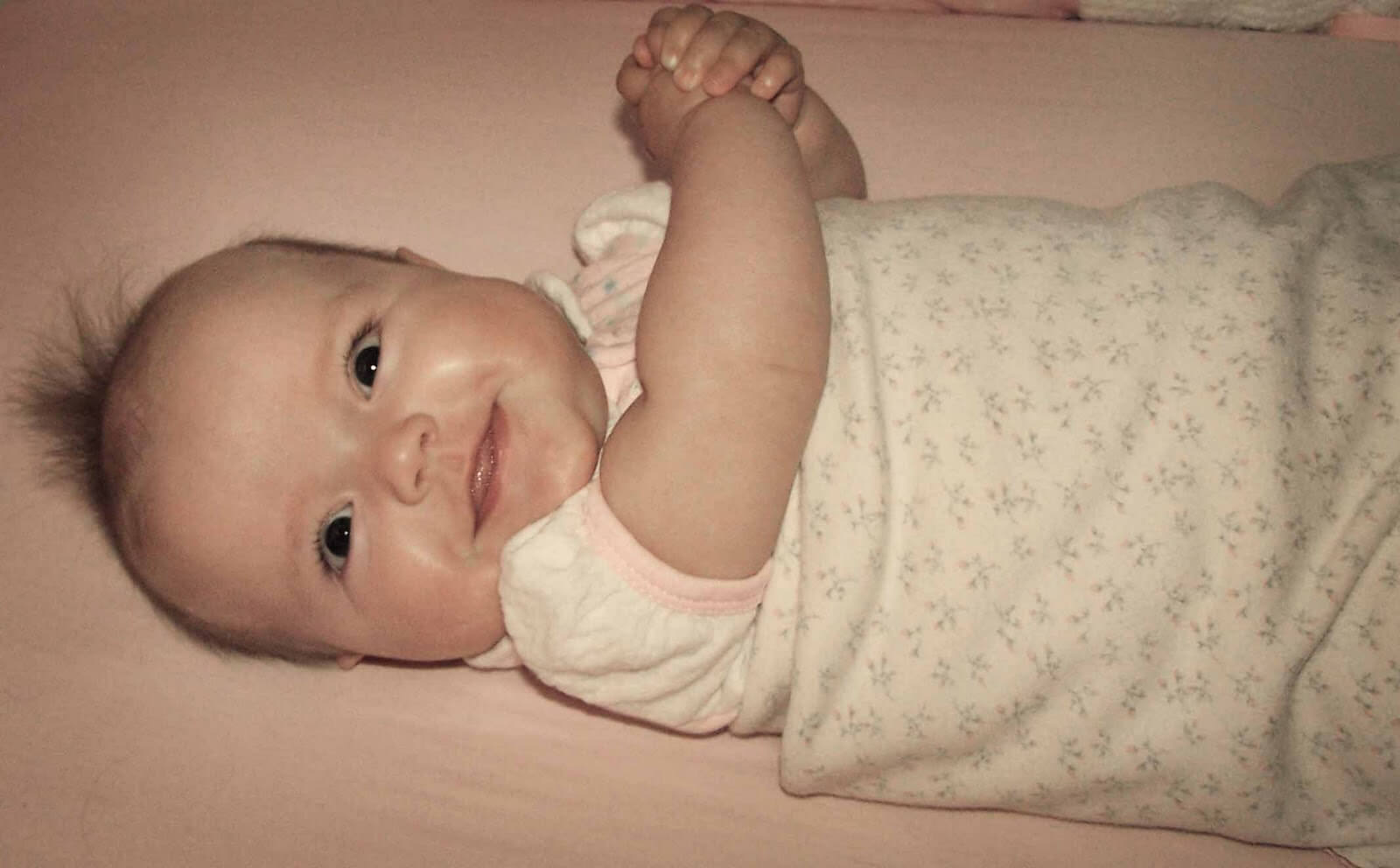 There are many sleep regressions that come up during your baby's first year of life, but none is so common, long, nor frustrating as the four month sleep regression. 4 month sleep troubles are so common that it has long been the number one question I get about sleep on this blog.
In some respects, there really isn't much to say about this sleep regression other than that many moms find there to be some sleep disruptions–either naps, night, or both–that accompany 4 months of age.
4 Month Sleep Regression
Yes, there is a major sleep regression at four months old. You are not losing your mind. Your baby is not backtracking in sleep. This is common and typical. This is just one of the Sleep Disruptions You Will Face as a Babywise Mom. This one is so noticeable because it is so very long.
This regression will start around 14-17 weeks old and lasts anywhere from 20-22 weeks old. That is a very long time to have baby taking short naps and potentially not sleeping as well at night.
This sleep regression is highly tied to your Wonder Week 19. Read all about Wonder Week 19 here to find out what is going on with your baby and how to help your baby through it.
What To Do About the 4 Month Sleep Regression
So how do you solve these sleep problems tied to the 4 month sleep regression?
For many babies, there isn't anything you can to to help nor speed along the regression. It is tied to the wonder week and will end when baby is through making all of the cognitive growth and progress at this time.
Making Schedule Changes During This Regression
I always caution parents to be careful about changing things up at this age when baby isn't sleeping well. If you change waketime length, drop naps, or change up the schedule, you will likely change nothing because those are not the causes of the regression. The wonder week is. So if you change those things, you might actually prolong the sleep disruption because you will have changed what was working.
That doesn't mean you should never change something. If you do, follow these guidelines:
Write down your current schedule before you make changes. You want to be able to go back to the original if the change is not working, and writing it down is the best way to be sure you remember it correctly. Be sure to include waketime lengths.
Make only one change at a time. Drop a nap OR lengthen waketime length. Just change one at a time so you can evaluate what is or isn't working.
Wait a bit of time between changes. Change something, wait 1-3 days, then change another if you think it is a good idea. It can take time to see the full impact of a change.
If a change improves things, keep it! If it doesn't, you might keep it or might go back. If it makes things worse, go back.
Possible Things To Change or Address
Your baby might just be having a wonder week disruption going on, but your baby might need something changed. Here are some ideas of things that might need to change at this age.
Growth spurt, pain, or sickness. Again, always start by assessing if baby is having a growth spurt, teething, is sick, or is in pain of some sort. If you have a baby with reflux, it might be time to adjust medication.
Dropping the 4th nap. The fourth nap is consistently dropped around 4 months old. If your baby is taking four naps, move to three. See the Best Ages for Dropping Naps and Dropping Naps a Quick Guide for more.
Moving to a 4 hour schedule. It might be time to move to a 4 hour schedule. See my post on When To Move to a 4 Hour Schedule for more.
Start solid foods. For some babies, these sleep troubles are caused because baby needs more calories.
I never had sleep troubles at 4 months with my first two chidlren, and in fact, that was the age both of my kids really clicked and things went perfectly. It was a honeymoon age for them. Brayden didn't nap for a long period, but he stopped crying for his naps 4 days before he turned 4 months old. Things just really started clicking for both kids at that age. I start solids at 4 months.
This is only a theory. I haven't done even informal surveys to figure this out. I am not suggesting you start solids at 4 months if you don't want to. It is merely a theory. So I ask these questions of you:
If you had 4 month sleep troubles (either night or naps), did you start solids at 4 months?
If you did not have 4 month sleep troubles, did you start solids at 4 months?
If you are over your sleep troubles, do you have a theory as to why they happened (now, in retrospect)?
Do you think there was anything you did that helped your baby get over the sleep troubles, or do you think he/she just "outgrew" it?
Leave your answers in the comments.
Help Baby Go Back to Sleep
If your baby wakes early during this regression, you might just help baby go back to sleep. First, be sure baby isn't have a growth spurt, isn't hungry, and isn't in some pain or discomfort. If everything checks out, you can try the following to get baby to go back to sleep:
Wait 10 minutes before going in. Many times, baby will go back to sleep if you just wait about ten minutes before responding when baby wakes up mid-nap.
Move baby to a swing, wrap, or rock and play to finish out the nap. This way baby can get a full nap in.
Go in, resettle baby, and put baby back down for the rest of the nap. Some babies will respond well to you letting baby know it is still time for a nap, doing an abbrevaited sleep routine, and put baby back down to sleep.
Do cry it out to get baby to go back to sleep.
You can find many more ideas in my post Stopping the 45 Minute Intruder. You can also find ideas on What To Do When Baby Wakes Early From Naps or Won't Fall Asleep for Naps.
4 Month Sleep Problems Polls
It is good to have a post on it to point that out to moms who don't know. Here are some polls of interest:
With the first poll, 95% of those who responded said they had sleep troubles at 4 months. The second poll had 68% of responders saying they never had troubles. Here is the breakdown:
Poll Results: Did Baby Seem to Experience Any Kind of Sleep Troubles Around 4 Months of Age?
Results:
Yes! Naps!: 23 votes (42%)
Yes! Night!: 9 votes (16%)
Yes! Naps & Night!: 19 votes (35%)
No: 3 votes (5%)
Total of 54 votes
95% of responders experienced sleep problems around 4 months of age.
Poll Results: If your baby experienced sleep troubles around 4 months of age, how long did those last?
Results:
1 week or less: 0 votes
2-3 weeks: 8 votes (25%)
4 weeks: 1 vote (3%)
1-2 months: 5 votes (16%)
2-3 months: 2 votes (6%)
3-4 months: 1 vote (3%)
4 months or longer: 0 votes
Never ended!: 2 votes (6%)
Never had troubles: 12 votes (68%)
Total of 31 votes
There is a large difference in those results as far as number of people with sleep troubles. There weren't a lot of responders for either poll, so I believe I will do the poll again at some point.
If your baby starts to have sleep troubles around this age, I would check out the suggestions listed on these posts:
Once you have worked through these, just hang in there and continue to press forward. Once you have done all you can, try to not stress.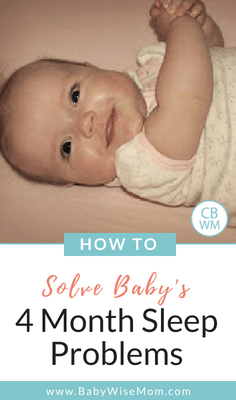 Reader Comments/Advice:
Reader Questions: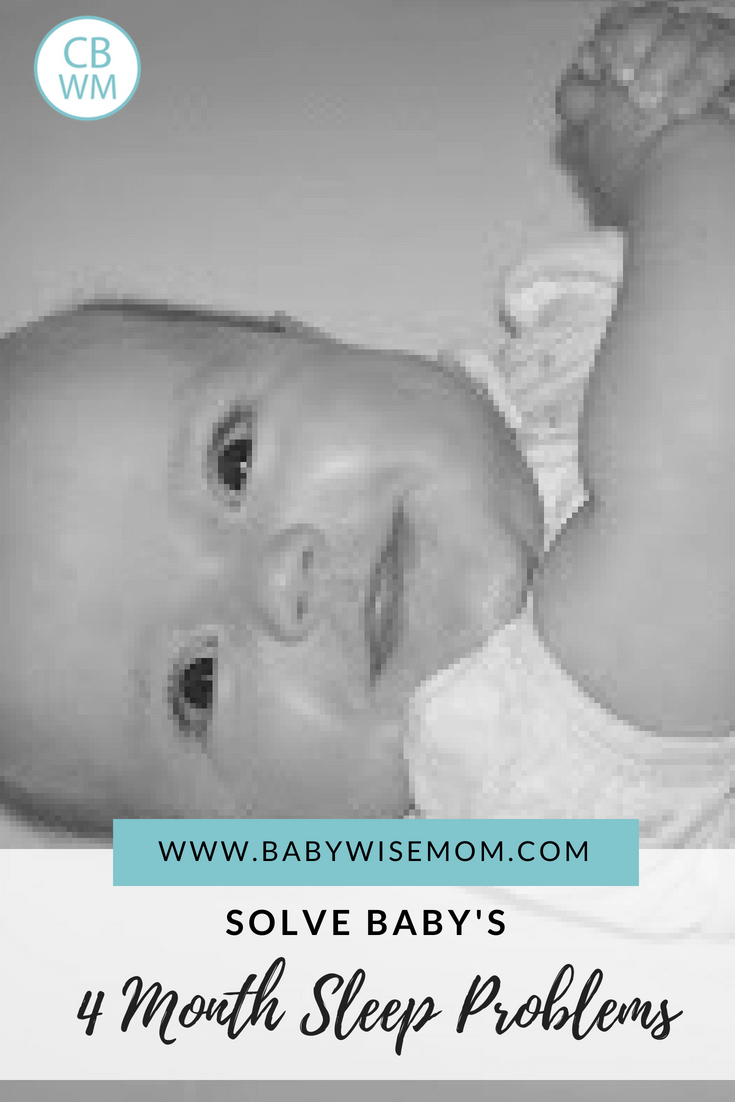 We are sorry that this post was not useful for you!
Let us improve this post!
Tell us how we can improve this post?