Babywise Milestones you can expect in the first two years when you follow On Becoming Babywise. When to expect sleeping through the night, naps dropped, a four hour schedule, and other milestones.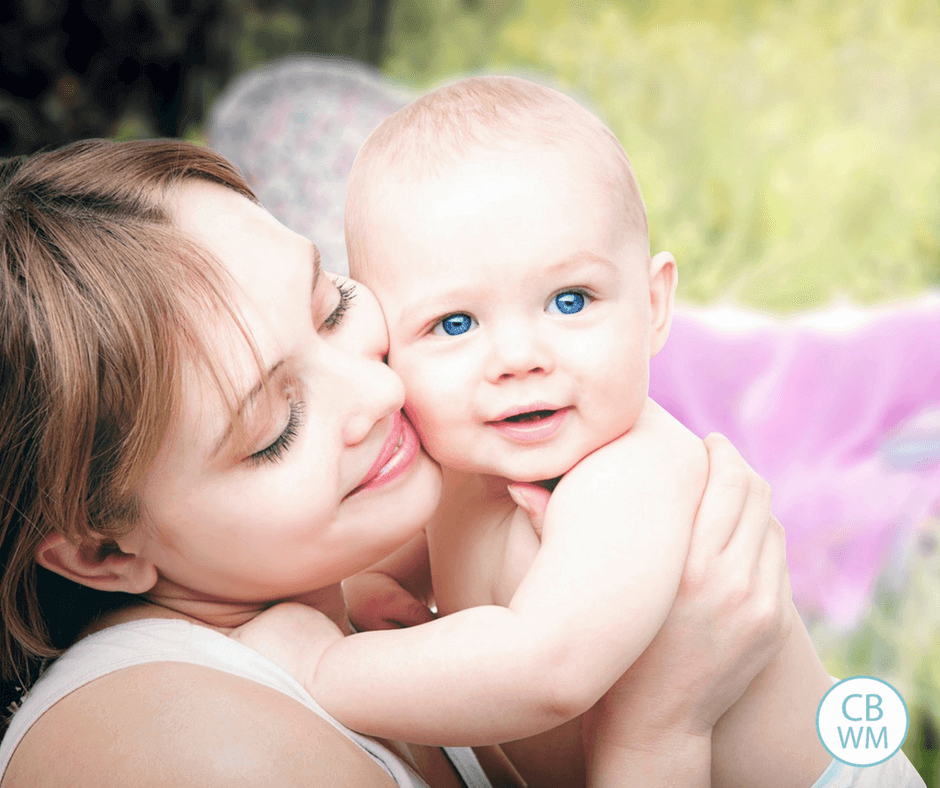 In this post, I list the different "milestones" you can reach through using On Becoming Babywise. I list this with the caution that many of these are averages. To create an average, you add together a lot of numbers. The average is a number that was created out of smaller and larger numbers. That means your baby might fall on the larger size of average. Do not be discouraged if that is the case nor think something is wrong. Remember, you are the parent. Look at the averages and assess where your baby falls in the spectrum of expectations. She may be higher and she may be lower.
I also want to remind you that these are numbers based on babies who did Babywise from birth. If you started late, you might be behind on some for a while (see my Starting Babywise Late Guide for more on this). I started late with my oldest, Brayden. I was behind with Brayden until he was 6 months old (we started at 9 weeks).
Also, if you don't follow all Babywise principles, you might not receive all Babywise benefits. You are the parent, so you get to decide what to do, but don't expect all benefits unless you practice all principles.
On to the milestones.
Babywise Milestones for the First Two Years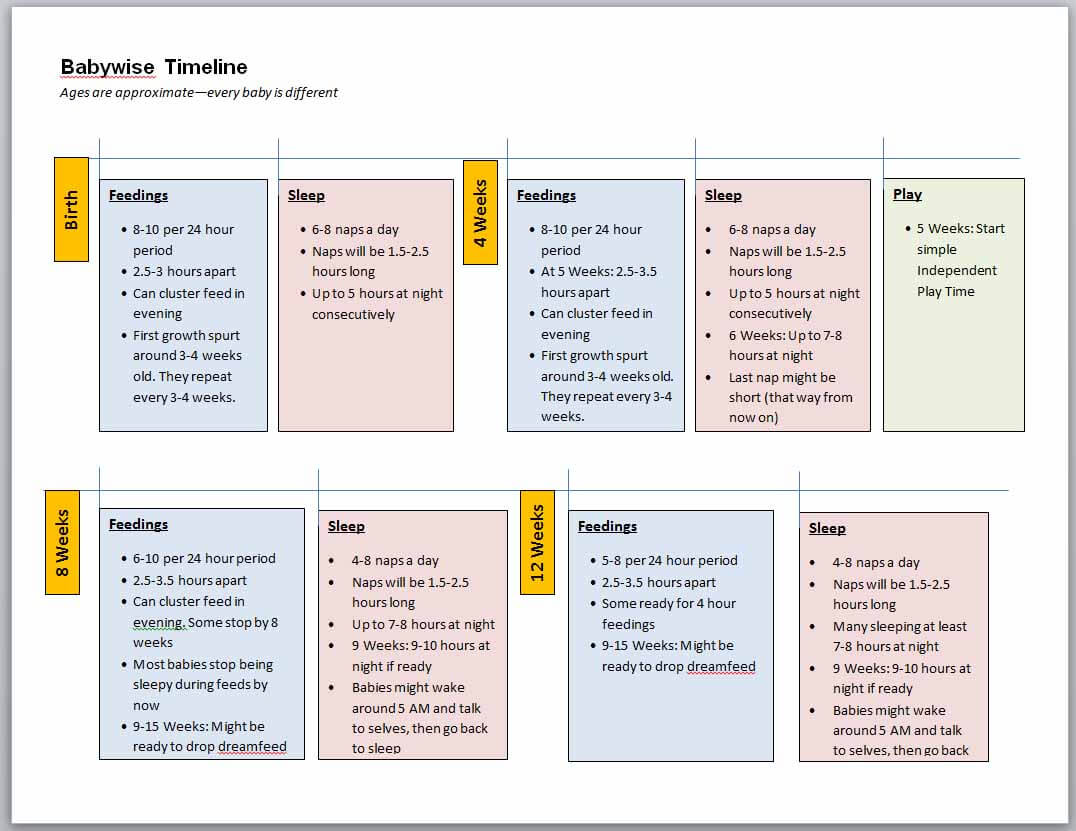 BIRTH TO 8 WEEKS
This is called the stabilization period. I found that to be so true with Kaitlyn. One night when she was 8-9 weeks old, I told my husband that she seemed to just be in her niche, and that it seemed she was just stabilized. Then it hit me that the time period had already been dubbed as stabilization. Also, many things need to be followed closely in this period, such as feeding intervals and number of feedings.
Feed every 2.5-3 hours
Have 8-10 feedings in a 24 hour period
Do not let baby sleep more than 5 hours if you are breastfeeding until 5 weeks of age
There will be about 6-8 naps a day, depending on the number of feedings
Naps will be 1-1.5 hours long
Between weeks 5-8, your baby might be ready to eat every 2.5-3.5 hours
Between weeks 5-8, your baby might be able to go down to 7 feedings in a 24 hour period (but only after she starts sleeping 7-8 hours at night)
By 8 weeks old, your baby most likely will be sleeping 7-8 hours consistently
15% of babies don't start sleeping 7-8 hours until they are 10-12 weeks old
After 8 weeks old, your baby might be able to move to 6 feedings in 24 hours
WEEKS 9-15
Baby can gradually move to 9-10 hours of continuous sleep if breastfed, 11 hours if bottlefed
Remember that 15% of BW babies don't start sleeping 7-8 hours until they are 10-12 weeks old
Baby's naps should be about 1.5 hours long
Most babies drop the late night feeding in this period (aka Dreamfeed)
Between weeks 12-15, your baby might be able to move to a combination 3-4 hour schedule
Starting at 13 weeks, your baby should be at 5-7 feedings a day
This is also the age where many babies begin their early morning talking (waking in 5 or 6 AM hour). This can last longer than one month. See page 132 in Babywise for more information.
WEEKS 16-24
4-6 liquid feedings a day
Baby moves to 10-12 hours at night
Baby will need 3 naps of 1.5-2 hours in length–but remember that some will take a 45 minute nap for the 3rd, and that is just fine
WEEKS 25-52 (6 months to 1 year)
Feedings stay pretty close to the same as they are at 24 weeks (6 months), assuming you were eating 4-5 times a day
You want 4-5 nursings
By the end of this time period, you move to 3 feedings, with the exception of 4th and maybe 5th nursings to maintain milk supply
Naps are 1.5-2.5 hours long
By 6 months, Babywise says most babies can drop that third nap. Babywise II says a 6 month old will need 2 naps and a catnap (short nap). I have found Babywise II to be more accurate for my children
Both Babywise II and Toddlerwise say that by 8 months, most babies will be able to drop that 3rd nap (catnap). Remember, you are the parent. If you have a big sleeper and she is still sleeping well at night, you don't need to eliminate that nap. At nearly 10 months old, Kaitlyn still needs it some nights
Once the third nap is dropped, waketime increases, and often the length of the other two naps increase also. Instead, you might increase nighttime sleep if baby wasn't sleeping 12 hours. Decide what is best for your baby
16-20 MONTHS
Babywise says the morning nap will be dropped between 16-20 months old. Babywise II says between 18-20 months old the morning nap will be dropped
Toddlerwise describes our nap change experience better. Between 16-18 months old, the two naps get shorter. I believe Brayden was 15 months old when it began for him. Then between 18-20 months, you transition to one longer afternoon nap. We made the move at 17 months old.
Toddlerwise says that the crib to bed transition typically happens between the ages of 18-24 months old.
Hopefully this quick reference can aid you when you want to know what you can expect your baby to be ready for in the near future.
For a free printable of Babywise Milestones, see my post Your Babywise Baby First Year Overview.
Get the whole series here
Related Babywise Posts: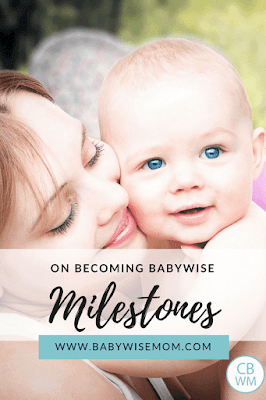 Reader Babywise Questions:
Reader Thanks