Get ten actionable tips for how to be successful with Babywise when you are a working mom. You can work outside the home and do Babywise!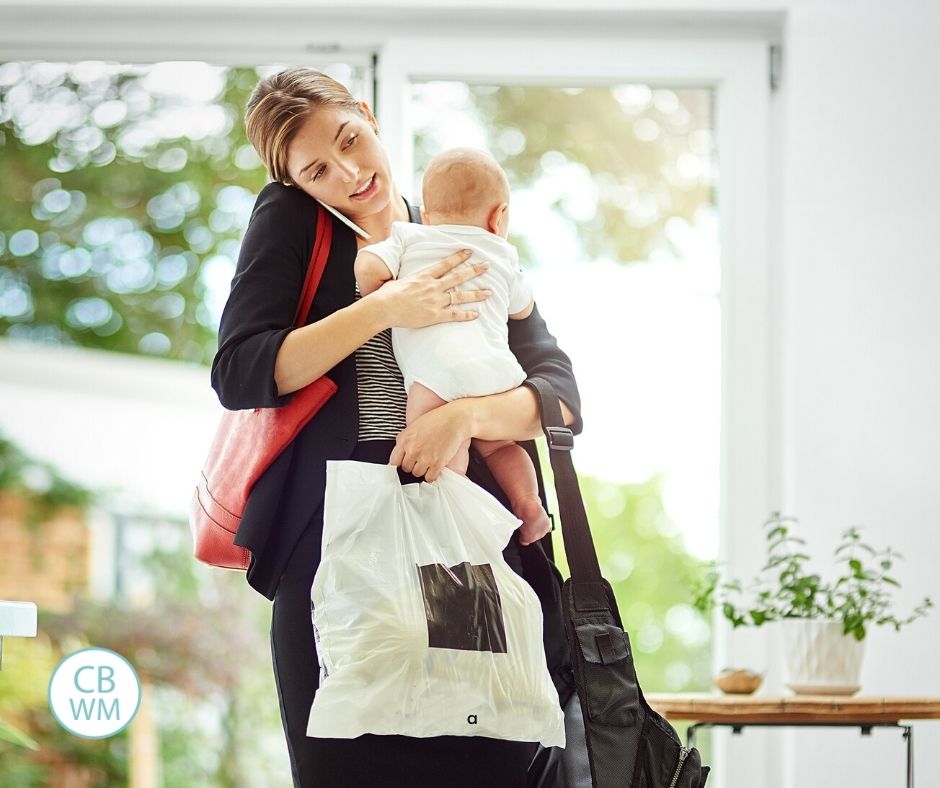 by Bethany Lynch from The Graceful Mom
I read Babywise while pregnant with my first child. It just jived with our natural parenting philosophy and gave us structure for how to start. I think that is what I love most about Babywise…the "start as you mean to go on" mentality. We parent very similarly to this day as we did over 4 years ago. We do not change our tactics after they sleep through the night, or walk, or start preschool.
What I was unprepared for was losing much of the structure when I returned to work. I was heartbroken at the thought of daycare changing everything I had worked on the previous 3 months. It took a lot of trial and error and a few tears to figure out how to keep our parenting goals and philosophies when we were not always physically there.
While our goals may not match everyone's goals, I think there are quite a few things that are applicable to many working moms and dads. Here are my favorite aspects of babywise that make a huge difference in our satisfaction and ability to be very involved while we are at work:
Find a mutual caregiver. If daycare is not working, find something else. If your family member refuses to work with you, consider daycare. For us, a nanny was the best solution. We still evaluate it every 6 months or so. Being happy with our caregiver was probably one of the biggest factors in my peace and happiness while away at work.
Use a log just like daycare even if your mom or best friend is watching your children. Sometimes just knowing if they ate or slept is extremely helpful. Down the road, you can use it to look for structure, potty training, time outs, funny stories.
Don't be afraid of structure when you are home. For awhile, I thought that I needed to be fun and carefree on my days off or the weekends. My kids really do like predictability, and they need to know the rules and reasons are still the same.
Don't be afraid of flexibility. Yes, I know I just mentioned structure. I also tend to be overbearing or overstructured as a working mom at times. Recently I decided to start waking my son up 40 min early when my work schedule changed. It was much more important to cuddle with him and start his day early than to deal with the attitude from missing me.
Take your children on dates. I think this is important if you stay at home or work outside the home, but I think it is crucial for working parents to provide that extra special attention. I have even taken personal days specifically for taking a child on a special date. My kids need one-on-one time on a regular basis. We often run errands with one child, and not for ease but for special time. Make sure that dates are dates, and not errands, though.
Aim to stay on the same page as your spouse, especially with obedience and discipline. My husband backs me up 100% as a mother and validates almost all of my parenting decisions. We regularly take time to discuss discipline strategy, sleep needs, education, childcare. While this tip is not unique to being a working mom, I am absolutely certain that I would not be the mother that I am without the support of my husband.
Find unique ways to implement structured activities like room time and couch time. We still make a point for our children to observe us in conversation without interruption each evening. It may be while we fix supper, while we sit in the backyard, or while the kids finish eating those last 3 bites. Roomtime comes and goes. I wish I could do it every day but it depends on our nanny and how often I have errands on my days off. As they get older, it gets easier, and I try to do it even for 15-30 most days. Some of my favorite moments have been listening to them play together nicely and use their imagination by themselves.
Give your children (and yourself) the gift of sleep. I work with so many parents that feel guilty about missed time and let their kids stay up late every single night. We have certainly made exceptions but consistently teaching our children to sleep well has been one of the best things we did. Bedtime is usually without exception. We also started sleep training from birth. Our kids slept through the night around 4 months of age, for the most part, and I could not imagine working full-time more than a couple of weeks without a full night's sleep.
Don't over-commit your family time. As a working mom, I feel like I need to have the same attention to detail and opportunities as moms that work in the home. Soccer, classroom volunteer, playgroups. Sometimes it just isn't possible, and the most important thing is that our family gets enough time together even if that means cutting out other obligations.
Don't wish for what isn't. I love the structure and parent-directed emphasis of Babywise. I love the results of sleep training. I hate that I am not here all day to implement my dream routine. I hate that I feel like I have to compromise with caregivers. I hate that I often wonder "what if." The best tip I could ever give another working mom (or dad) is to value what you have. Value what you can do, the values you can instill, the time you can structure…and those sweet grubby hands.
Bethany Lynch is a full-time mother of a two young children, a son and daughter. She also works as a full-time NICU pharmacist. Frustrated with the lack of resources for Christian working moms, she decided to start her own inspirational blog. She is very passionate about encouraging other mothers balancing work and family.
Related Posts