There are many great reasons to have your child play independently each day. Come find out why independent playtime is so beneficial to your child!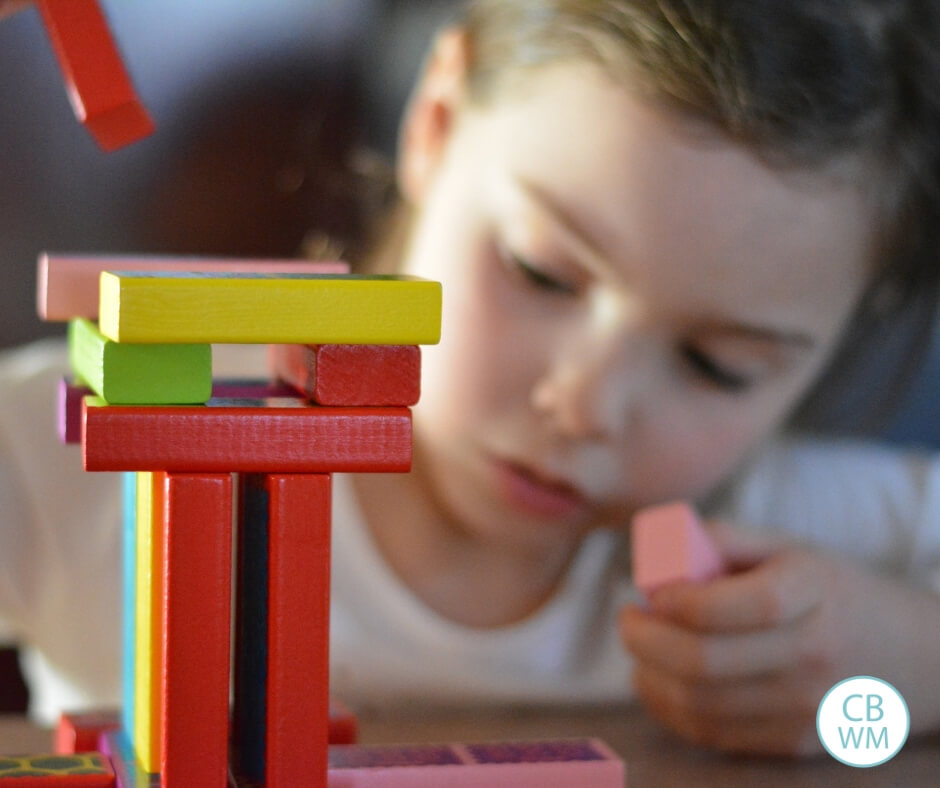 I have said it many times, and I will say it many more. If there were just one principle I could take from Babywise, it would be independent play.
Benefits of Independent Playtime
There are so many benefits. On Becoming Babywise II lists several of these benefits on page 73:
Mental Focusing Skills
Sustained Attention Span
Creativity
Self-Play Adeptness
Orderliness
I have definitely seen all of these benefits in my children. People around me have seen it, too. I get a lot of questions that basically ask, "What do you do?" I will explain things. The most intriguing to people is the independent playtime. "Do you think I could get my six year old to do that? She won't leave my side."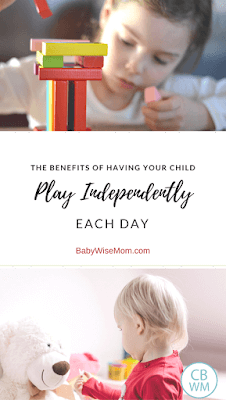 The focusing skills and sustained attention span are strikingly apparent. My children will play with one toy for a really long time. Kaitlyn, at not even age 2, will play with one toy longer than it takes the average four year old to go through an entire backpack of toys–twice.
---
Read: How To Get Your Child to Happily Play Alone
---
Both children are and have always been this way. I get a lot of comments about, especially from women I know who are elementary school teachers. They know the benefit of this ability and are impressed by it in children so young.
This is such a nice ability to have when you are out in public. You can bring a few toys to entertain your child, rather than half of the toy room :).
If you are a mom who hovers, you will also see many benefits from independent play. I am a mom who hovers. I interfere too much and too quickly. I don't let the child figure things out on their own.
I have gotten a lot better over the years, but I still have to remind myself to hold back. With independent play, my children are able to work on things without mom hovering and fixing all of their difficulties for them.
There is also something about independent play that just creates a happier, more obedient child. When Brayden doesn't get his independent play, he is more emotional and more likely to disobey.
One of my best friends also follows Babywise and has a son about 9 months younger than Brayden. We will often get together for playdates, but we both always say we need to do it after independent play so our sons will be on their best behavior.
---
Read: Independent Playtime Lengths
---
After independent play, we clean up the toys. This has helped my children to see that everything has a place and helps them to know where things go. They also can see the benefits from cleaning up. Things feel more peaceful and relaxing when they are orderly, and I think the children come to see that as they routinely clean up toys.
Both of my children will even clean up toys before they get new ones out during independent play at times. Brayden (3.5) will often clean up all of his toys before I go get him (he can read clocks–he knows the times that are pertinent to his life).
Independent Playtime Benefits for Mom
Beyond all of the benefits for the child, there are benefits for Mom. You don't need to feel guilty about having benefits. We already know there are great benefits for the child.
When the child has independent play, you have time to get things done you need to. It also gives both of you a break from each other. As much as you both love each other, it is good to take breathers.
When you as the mom are able to get things done you need to, you can then dedicate one-on-one time to your child fully. You are also more refreshed, less stressed, and able to enjoy your children more.
Conclusion
I hope you can see that there are many great benefits to independent play. It can seem like an unlikely skill if your child is older, but you can do it. If your child is a baby, work on it and maintain your consistency. This will not be a skill you live to regret teaching. It is well worth your time and effort.
Related Posts:
Affiliate link:
We are sorry that this post was not useful for you!
Let us improve this post!
Tell us how we can improve this post?