Independent playtime has such value to your child. Your child will learn to focus, build a longer attention span, gain creativity, become adept at self-play, and be more orderly. It is so very worth the effort it can take to get started with independent play. You might be wondering which toys are best for your child to play independently. Are some better than others? Here is a list of my favorite toys for independent play to get the most out of the time spent. This post contains affiliate links.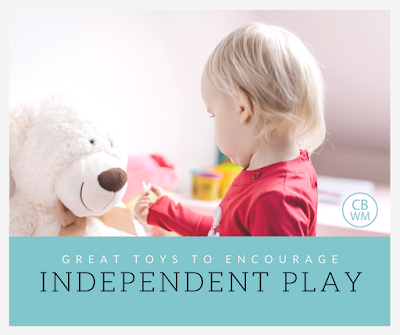 Toys that Require Imagination
I want my children to gain that benefit of gaining creativity, so I like toys that require some imagination. These can be building toys, like LEGOs. They can also be figurines, stuffed animals, or baby dolls. For figurines, I ideally prefer toys that are not based on a movie or television show. My children have some of those, but what I want is imagination happening. If the toys are based on something the child is familiar with, the characters and personalities are already created. Here are some good options. Click on the image to learn more about each toy:
Toys that Mimic Real Life
Another great category of toys to go for with independent playtime are toys that help the child mimic real life. This is a huge benefit of playing in general, and will really help your child gain orderly skills (as will requiring your child help clean up at the end). Dress up clothes. Toy kitchen and accessories. Doctor set. Vet set. Note on the dress up. If you hit the Halloween stores and sections at stores the day after Halloween, you can find some good deals on some dress up clothes.
Toys that are Hard
Some toys are difficult for the child to play with. What happens when the child plays with that toy with you around? He/she asks you to do it or to help. When the child is in independent play, he/she has to do it herself. This helps with attention span and being able to play alone. Do not overwhelm your child with difficult toys. Do not leave your child alone with toys that are too hard and not developmentally appropriate. You don't wan to to completely frustrate your child. Puzzles, magnet dolls, geomags, train sets, and nesting cups are all good examples of hard toys.
Musical Toys
I also love some musical toys going on. I am very musical and love to foster that in my children. I think it helps them with their creativity and attention span.
Books
Books are a fantastic item to have with your child during independnet play. I have a lot of posts on best books by age. Here are some. One I always loved for independent play with my little ones are the VTech books. They read to the child. I also like soft books.
Toys for Baby
When baby is doing independent play, you want toys that won't frustrate but will be entertaining. Some toys have been mentioned, such as books, nesting cups, and the music table. Be sure toy you leave with baby are safe for baby to have unsupervised. With babies who can't sit up independently, an activity gym is perfect. For babies who can sit up, they love to either empty items or fill them back up (depending on the age). A bucket of some sort full of toys that can be emptied then refilled will b be a big hit. Here are more ideas:
Conclusion
My children play independently, without me, daily. For help on getting this started with your children, see Roomtime–Your Invitation and Starting Independent Playtime Late.
Related Posts: