What to do When Your Child Resists Independent Playtime. How to get your child back to playing independently without tears.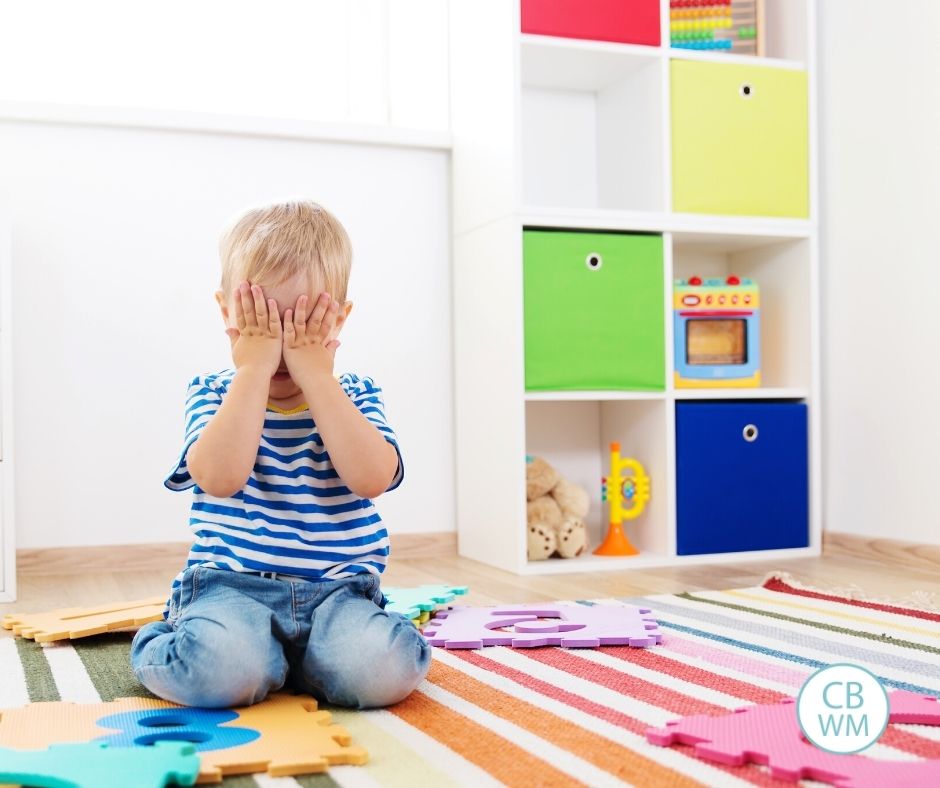 Brayden was doing so great with independent playtime. He was up to about 30-40 minutes. We had worked to get there. He didn't love it initially. But I had persevered, and he was up to 30-40 minutes quite happily. Then around 7-8 months, he started standing up in the play yard and for some reason that set him off and he hated independent playtime again.
My reaction wasn't necessarily the best. I just didn't do solo playtime for a few months. Every now and then I would try it, but he would still scream, so I just put it off until he was old enough for roomtime.
Now that I am wiser and more experienced, I would stick with it. I would be consistent–do it every day. If all you can get is 5 minutes, take it. Work your way back up to your optimal length.
If your baby is old enough and you feel comfortable with it, you can also start to have some roomtime. The hard thing with roomtime is that it takes a long time (for me) to work up to it. I sat with Brayden for weeks and slowly became less interactive. I also watched him carefully to be sure the room was totally baby-safe. I am lucky that we have the space that I can make a room baby-safe like that.
I really think oldest children are often the hardest to get solo playtime going well. Younger children get it from birth just because mom can't pay all of her attention to every child. The oldest is accustomed to mom doting over every little chirp, while younger children share mom's time with siblings. Despite the difficulty, independent playtime is definitely worth the effort.
If you could make sure you had a safe room, you could put a baby gate in the doorway so you could hear better, or a monitor in the room, and let her play in there. I would work up to it slowly again.
Brayden now does really well with independent play, and has since he was 14ish months old. He loves it. He tells me he wants to play longer when I go to get him. So if your child starts to protest independent playtime, don't fret. You can get back to where you are.
Kaitlyn has never resisted it. She has always been just fine, and at 14 months, we have never had a crying session in conjunction with independent playtime. I attribute that to a couple of things. One is that she is not the oldest. Another is that I started having her have forms of independent playtime from birth really. It has always been a part of her life.
Here are the other posts on independent play: