The Best Age for a Child's First Disney Trip. What age is best age for the first visit to Disney? Factors to consider when deciding when to take your child for the first time.
by Emily Parker
A commonly debated topic among parents who are considering a trip to Disney World (or Disneyland) is: what is the best age for a first Disney visit?
Disney is expensive. It's not an easy-to-plan trip and it's also not a relaxing vacation by any means. A trip to Disney will leave you broke and exhausted and feeling like you need a vacation after your vacation! But it will also leave you with magical moments to literally last a lifetime.
---
Read Disneyland and California Adventure Tips
---
Walt Disney created the Disney theme parks with families in mind. He wanted a place where children and parents could have meaningful experiences together and he pulled it off so beautifully that adults truly are able to feel like children again while visiting Disney.
As a hardcore Disney lover myself, I personally feel like every family should try to visit a Disney theme park at least once while they have children living at home. While it is a costly trip, there are ways to make it more affordable (you can read how our family affords Disney here!).
Whether you plan on just one visit or many visits to Disney the first visit is one that will always be so special and timing it right with your child's age really does make a difference in the memories that are made. Here are things to consider when deciding when to take the first trip:
Expense of Disney:
When planning any sort of family travel, expense is always something to consider. But especially when planning a trip as costly as a Disney trip. A big way to save costs on a Disney vacation is to take a child when they are under the age of three.
Up until age 3 children enter FREE into the Disney theme parks. They also eat for free at any of the pre-paid Disney meals (such as buffets and character dining experiences). This is a HUGE savings.
If you're child is already over the age of three then the other age to keep in mind is age 10. Once a child turns 10 they are considered an adult at Disney. Adult ticket prices, adult meal pricing for the set priced meals. This is a large added expense so if you're unable to visit the parks before your child turns 3, be sure to make their first visit prior to age 10!
Disney Ride Height/Age Requirements:
Majority of the rides and experiences at Disney theme parks do not have any age or height restrictions. However, if your child is old enough to enjoy thrill rides it may be worth waiting for their first visit until they are tall enough for the rides that do have height restrictions.
You can see a list of all the attractions and their height requirements for Walt Disney World in Florida here.
You can also see the same list for Disneyland in California here.
Something to also consider are the age limitations when it comes to experiences. Children must be accompanied by someone age 14 and older to ride any attraction and must be over age 7 to sit solo on attractions (such as a single rider line for thrill rides or sit in a separate seat area without someone age 14 or older).
While this isn't really a concern when you only have one child, if you're taking multiple children to Disney it can be tricky when several may be under age seven. In our family we have only one child over age 7 so that child is always having to ride solo for attractions. While he doesn't mind riding solo, it does take away from the family experience since neither parent is able to sit with him because we have to be sitting with the other younger children.
Ease and Flexibility for Travel:
Parents have differing opinions on what ages are the easiest for traveling. When considering specially traveling to Disney it's important to keep in mind how well the child can handle being pushed for a full day at the theme parks. If they are able to be flexible with bedtimes and nap times or able to skip naps etc.
It's also important to consider smaller details like potty training: Do you want to be changing diapers at the parks? Having to take frequent potty breaks?
And to consider walking abilities: Is your child small enough to still be in a stroller? Are they old enough/capable of walking and keeping up with a full day of walking all over the theme parks?
Truly consider YOUR child and what will make the most sense for their travel needs before deciding on when to take them for their first visit.
Believing the Magic:
I'm a 33 year old adult and I still get downright giddy about meeting Mickey Mouse. But realistically there is a shift in children at a certain point. Where they stop believing that it is Mickey Mouse and start more potential eye rolling and less fun interactions when it comes to characters.
As a parent there is nothing more magical at Disney than seeing that pure joy in your child's eyes. Watching them soak in all the details of the parks and to truly believe with all of their hearts in all the little elements that make Disney so special.
You don't want to miss that window. More than anything else to consider when it's time to decide when to take that first visit…this is the most important. What's a trip to Disney if the magic isn't there?
Don't get me wrong…older children still LOVE Disney and I still make many magical memories with my nine year old son. But it is just different then when he was 4 and would hug characters like he never wanted to let go.
Remembering the Moments:
A common thing that people say when deciding the right age for a Disney trip is "I want my kids to remember it."
I don't agree with this line of thinking. I don't think a trip should revolve around knowing your child will remember.
Instead, consider your memories. No, your child may not remember their first visit. Either because they are too young or simply because the human mind is a tricky thing and who knows why our minds hang on to certain memories and let go of others.
But you? You will remember. And that's enough. The moments of watching your child experience the magic of Disney for the first time is incredible and something you will never forget. And through your memories, your child will also remember.
You can show them the photos, the videos. Purchase special souvenirs to help remind them. Talk about special moments often to keep them fresh in their minds. Purchase photo books for them to keep and look over. There are many ways to help imprint those memories on their minds, but even if they do forget with time, you will still always have those memories to hold onto and enjoy!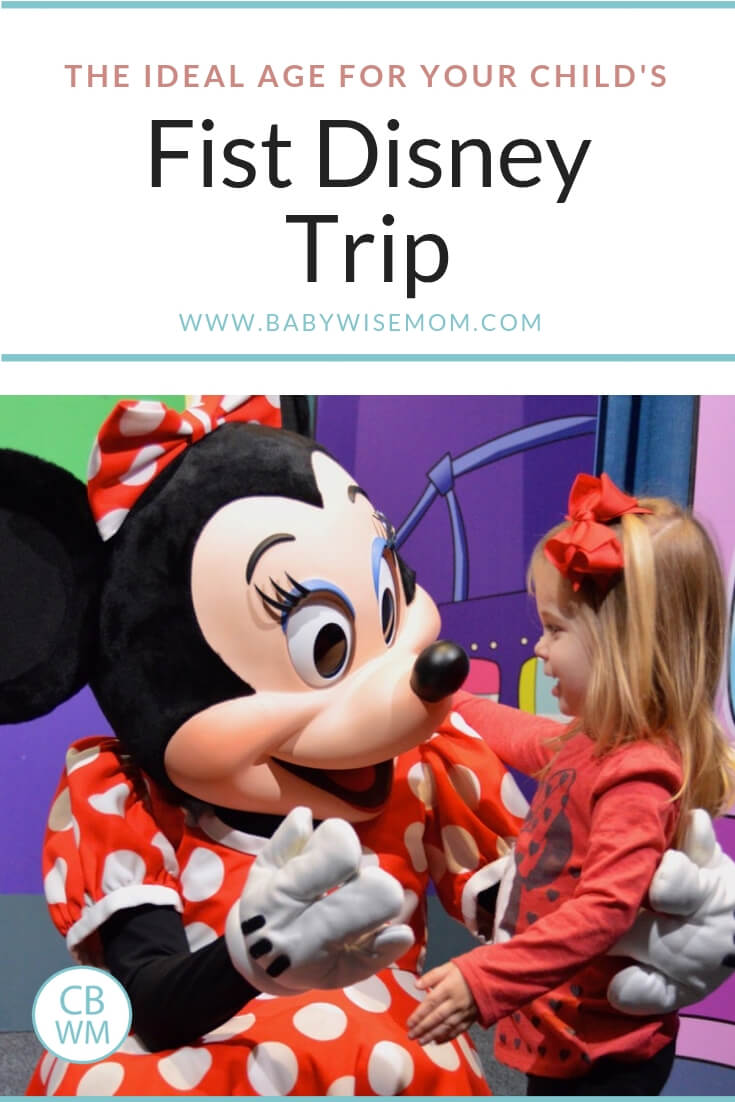 Personal Opinion:
Everyone has their own opinions regarding that ideal first visit age. For our family, I knew we'd have more than one visit to the parks so I was able to base the age of my children's first visits off of just that one visit and didn't have to consider it being an only visit or a rare visit since I knew we'd visit yearly!
In my personal opinion I found 2 ½ to be the perfect first visit age for our children. I potty train my children young (you can read my posts on potty training here!) and at 2 ½ they are fully trained and able to hold it long enough to not have to make mad dashes to the potty or be overly worried about accidents.
At 2 ½ they also fully believe in ALL the magic. They sit well in a stroller. They are old enough to be flexible, but we are still mindful in our daily planning to either have a nap with a late night or skip nap and have early nights.
At 2 ½ they are also FREE to get into Disney and to eat at the character dining and buffet experiences. I feel like as close to the age of three as possible is really ideal to take full advantage of that savings!
There is no one "best age" to visit Disney for the first time. Many factors play into that decision and it varies by each family, your priorities, and your plans!
Planning a trip to Disney World in Florida? My family recently purchased a 6 bedroom, 4.5 bathroom home less than 3 miles from Walt Disney World and offer a significant discount for blog readers. You can see more about the home and how to book with the discount here!
---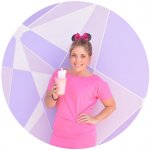 Emily is a mother of four and blogs at www.journeyofparenthood.com. She considers Disney World her happiest place and visits as often as possible! Be sure to follow all of their family adventures on Instagram.
---
Related Posts