Baby schedule for baby's 16th week. Baby schedule and routine for the sixteenth week of life. 15 week old baby routine and daily life. Find out what to do with a 3 month old all day, feeding intervals, and playtime activities.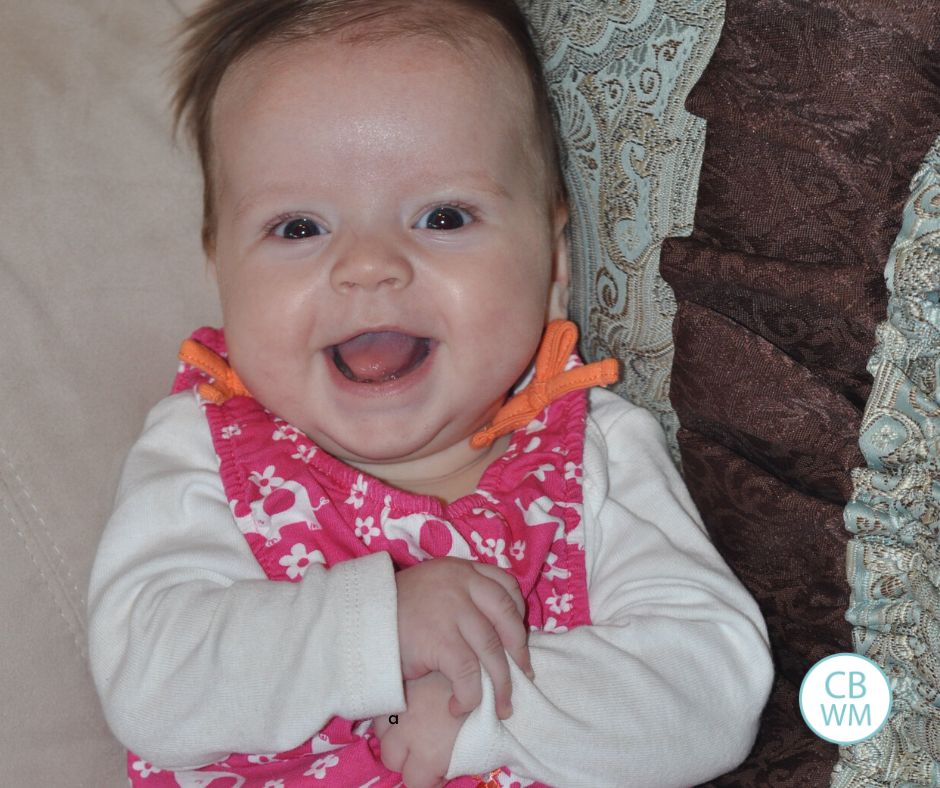 This is a summary for Brinley's 16th week. She was 15 weeks old.
EATING
Brinley continued to get faster with eating and much more, um, obvious about when she was done. By obvious I mean she arches her back away from me if I try to get her to re-latch once she is done.
It is hard to tell when she is for sure done until that point. She will unlatch and look around, talk, stare at nothing, and then get back to eating, so merely unlatching doesn't mean she is done. 
GROWTH SPURT
I think she had a growth spurt. She had a day of eating every two hours and added a feeding into her day. The next day was normal.
>>>Read: Baby Growth Spurts: Everything You Need To Know 
BABY NAPS
I have in my notes (yes, I have to take notes or I won't remember much beyond what happened yesterday), "Starting to get upset with naps." I am not exactly sure what I meant by that.
Maybe that day she cried a bit at the beginning of naps? Whatever it was, it wasn't long enough and significant enough for me to imprint it on my memory. So there you have it…sort of…
>>>Get my Chronicles of a Babywise Mom Log eBook here
SHORT NAP
It is totally normal for baby to have a short nap each day. Often, this nap is the nap right before bed, so for Brinley that would be the 4th nap. However, she is usually the third nap–the one right before the last nap.
This started at the time change. It is like she stuck to the same time of day with the short nap, but it is the third since our time has changed. Interesting right?
WITCHING HOUR
This week I decided that witching hour seems to be gone. Hurray! So exciting to have that behind us.
ACIDOPHILUS
I started taking acidophilus this week just to make sure yeast stayed away from me. Apparently many moms give this right to their baby. I haven't looked into it, but it can possibly help with reflux? If you give your baby acidophilus, please share what you give, which brand, and why. Thanks!
ECZEMA SPOT
Brinley has a spot of eczema on her forehead. I put a tiny bit of hydrocortisone cream on it this week and it went away. I have to put it on every 2-3 days. McKenna had eczema so I recognized this. If you want to know more about eczema, I have posts on it on the blog here: How to Heal Your Child's Eczema.
DIAPERS AT DREAMFEED
This week, I noticed something. If I changed Brinley's diaper at the dreamfeed, she would wake up 10-20 minutes early the next morning. If I didn't, she slept until I woke her or right until it was time to get up.
The dreamfeed can be a touchy thing. You need to get the timing just right and you need to pay attention to what works best for your baby. Diaper change? Do you unswaddle? And the answers to these can and will change with time.
The older your baby gets, the more touchy it will be because you risk causing more disruptions to sleep than you help sleep with the dreamfeed. 
Brinley is waaaaayyyy past the signs of when dropping the dreamfeed is often recommended. However, as I have said before, I feel more comfortable waiting until she is 4 months old to drop it. We will be dropping it sometime in December. That is the plan anyway. 
>>>Read: Dropping the DREAM FEED Ultimate Guide
WONDER WEEK
The "beloved" wonder week 19 still had the moments of disruptions to her this week. I can tell when it is going to hit. She gets this look in her eye.
I guess we can look at the bright side of baby learning so many wonderful and fun things during this time period. With the poor naps and sometimes fussiness comes a more capable and interactive baby. 
>>>Read: Everything You Need To Know About Wonder Week 19
BABY SCHEDULE
This is our daily schedule.
7:30–feed
8:30–nap
11:00–feed
12:00–nap
2:00 or 2:30–feed
3:00–nap (one hour after waking)
5:00 or 5:30–feed
6:30–nap (one hour after waking–sometimes she does one hour ten minutes here)
7:30–feed, then bedtime
9:45–dreamfeed
HELPFUL BOOKS
RELATED POSTS