Everything you need to know about dropping the dreamfeed. The ultimate list of information on dream feed for baby.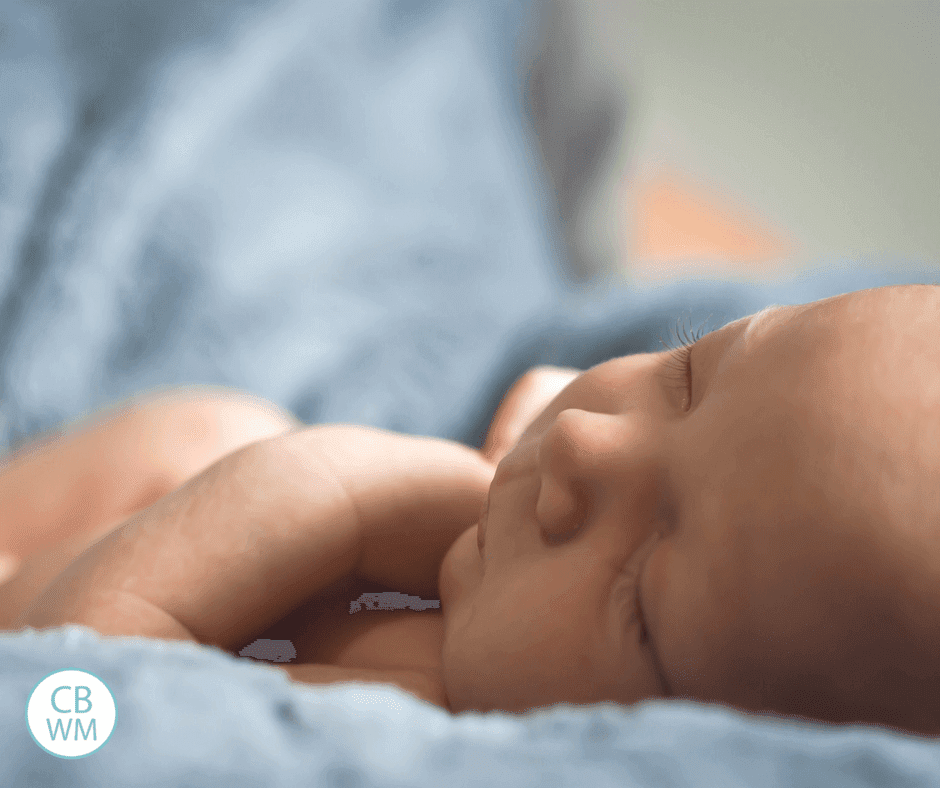 The dream feed is that feeding that happens around 10-11 PM. You get baby up, feed him, and put him back down. He often doesn't even wake up for it! This is a great strategy to help your infant sleep through the night.
Dream feeds are helpful for getting your little one to sleep longer through your night so your night sleep is less disrupted. For more on what a Dreamfeed is, see Dreamfeed Frequently Asked Questions.
Dreamfeed is a term found in the Baby Whisperer books. This is the feeding that is often called the "late evening feeding" in Babywise books.
When To Drop the

Dream Feed
You might be wondering when to stop dream feeding baby. You know it is safe to drop the dream feed when the following are true of your little one:
Baby is sleeping through the night (STTN) consistently
By that I mean that he is staying asleep from the dream feed until your desired waketime in the morning.
Many babies start doing this, then wake in the night, then back to sleeping through, back and forth. My babies ALL did this.
Wait to drop the dream feed until the baby is sleeping through so consistently that you would be surprised for baby to wake early in the morning.
Once you drop the dream feed, you don't want to wonder if baby is waking early because he needs the dream feed or because it was just "one of those days."
You want baby sleep patterns to be consistent before dropping the dreamfeed.
If baby wakes early, you do not want "is it because we dropped the dreamfeed" to be on a long list of possible causes for the sleep disruption. You want it to be on a short list.
Baby has been

STTN

consistently for 2-4 weeks
This is for your own confidence. If baby has shown that STTN is his thing now, you will have a solid foundation if you need to problem-solve after dropping the dreamfeed.
Baby doesn't wake up for the

dream feed

anymore
Not all babies wake up for the dreamfeed, but if yours did and has stopped, it might be time to drop it.
Your baby might be ready to drop the dreamfeed if you have to wake baby up every night.
Note that this is just one of the signs. If your baby does this but does not sleep through the night, it does not mean baby is ready.
Baby is old enough that the appropriate number of feedings will still be met if you drop the

dream feed
You don't want to drop the dreamfeed if that means baby won't be getting enough feedings for his age in a 24 hour period after you do so. See this post to know how many feedings your baby should get right now.
The age of your baby can really vary. With my own kids, Kaitlyn was 7 months old, McKenna was 28-29 weeks old, and Brinley was 18-19 weeks old. So there was a wide variation among my own kids.
The dreamfeed is interfering with baby's night sleep
This is not super common, but there are instances when the dreamfeed actually interferes with baby's night sleep and leads baby to wake in the night.
This happened with Brinley and is the reason she dropped the dreamfeed so young. She started waking in the night after sleeping through the night consistently for a long time.
We tried some other things first, but settled on thinking she was waking from the dreamfeed. So we dropped it and it fixed her night sleep. Read more about that here.
>>>Read more at When To Stop the Dreamfeed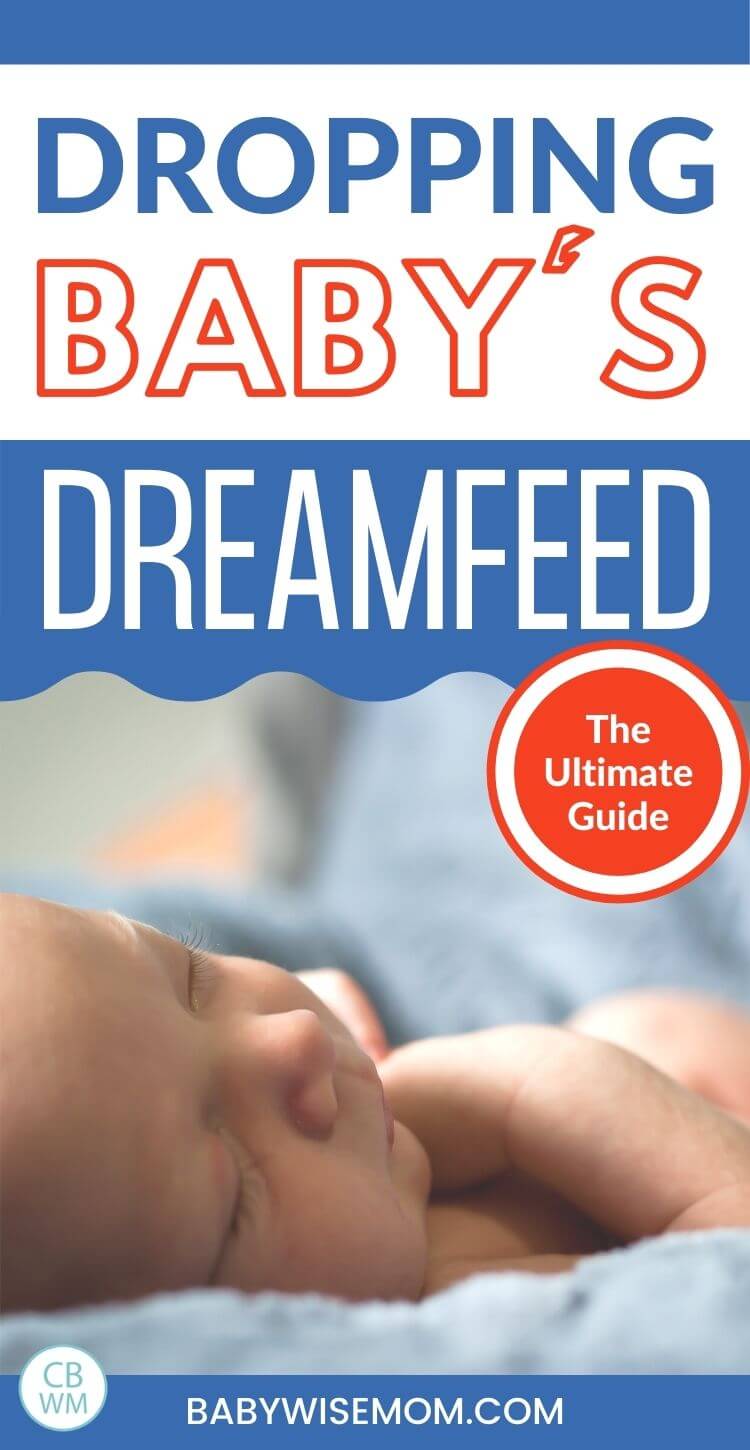 Strategies for Dropping the

Dream Feed
Here are a few strategies for dropping the dreamfeed when baby is ready.
Move the time for the

dream feed

back by 10-15 minutes slowly
This could be each day, every couple of days, etc. Decide what is best for your baby.
Move it back until you are too close to the evening feeding to warrant doing both feedings.
So if you dream feed at 10 and the evening feeding is at 7, move it back until you reach 9, then drop it altogether.
Drop it cold turkey
Just don't get baby up and see what happens. If baby wakes up in the night, then you can add the dreamfeed back in and try again later. It doesn't hurt to try.
Sometimes cold turkey can be rough even if baby IS ready. I prefer the slow methods because it lets baby adjust.
So be aware that if baby doesn't respond well after a cold turkey approach, it doesn't definitely mean baby is not ready to drop the dreamfeed. But it does mean baby might not be ready.
Slowly decrease the amount eaten at the

dream feed
Slowly adjust how much your baby eats at the dreamfeed, either by fewer ounces or less time nursing. Decrease amount daily or every couple of days.
This allows your baby's metabolism to slowly adjust to needing to eat more at other feedings to make up for the lost calories during the dreamfeed.
Which method is best?
Any one or combination of the three ideas can work. You can first decrease the amount eaten, then move the time back, or decrease the amount eaten then drop it cold turkey. You decide.
Your baby's age will likely be a factor in how you go about it.
I personally like the strategy to decrease the amount eaten over time best. I breastfed my babies, so to decrease it means my body adjusted to the amount eaten slowly.
Then I had a better chance of sleeping well myself because I wasn't waking up at 5 AM engorged.
But again, Brinley needed to drop the dreamfeed because it was interfering with her night sleep. She dropped it cold turkey.
Adjusting Baby's Schedule
When you drop the dream feed, you might need to adjust your baby's schedule during the day.
When dropping the dream feed, you need to be sure your last feeding of the day is about 12 hours before your baby's morning wake up time.
So if you wake at 7 AM, start the last feeding anywhere from 6-7, depending on your baby's needed sleep at night and how long baby can go between feedings. You could even do 7:30. Just be sure it is late enough baby won't get hungry in the night.
You might also need to increase ounces at other feedings of the day. Your baby won't necessarily drop the ounces taken in during the 24 hour period–your baby will just be rearranging the number of ounces in each feeding.
Conclusion
Dropping the dreamfeed can be scary. If you are considering it, then you most likely have a baby sleeping really well at night. No one wants to mess that up!
Just be sure your baby is ready to drop. You might be wrong, but be as sure as you can.
And remember, you can always return to the dreamfeed if you try to drop it and it doesn't work out.
Related Dreamfeed Posts
This post originally appeared on this blog January 2008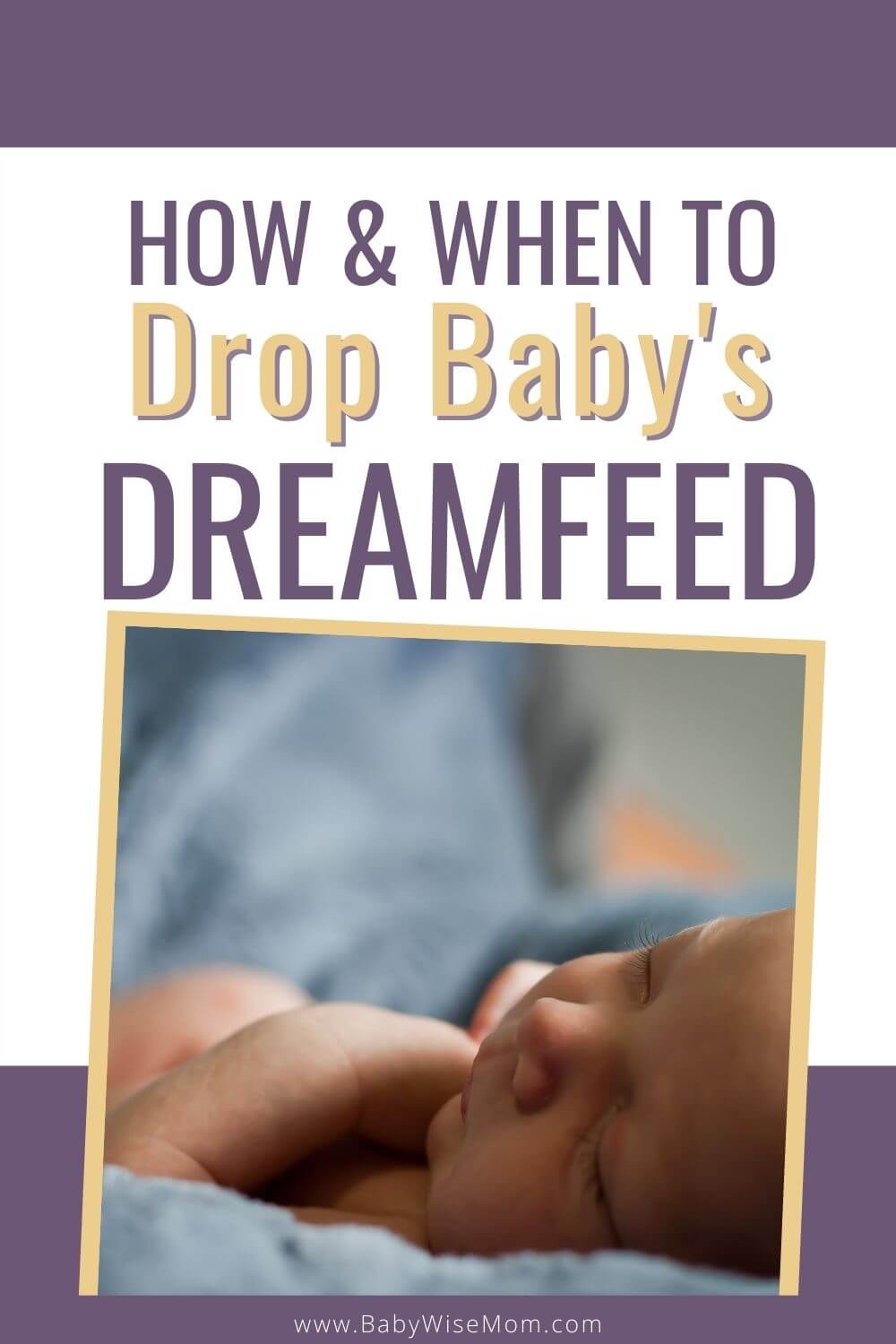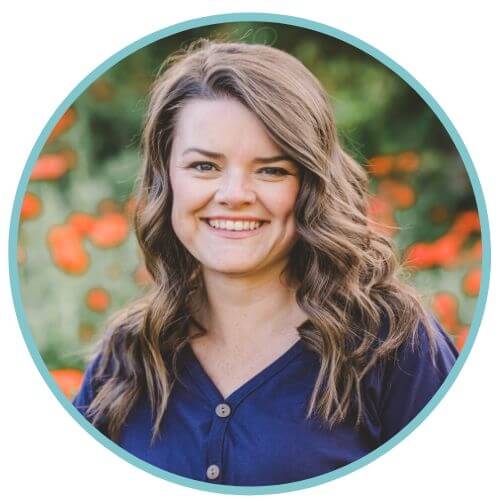 Follow me on YouTube to view videos of all of your most pressing parenting questions!
Reader Dreamfeed Questions: