Find out what the book Emotional Intensity in Gifted Students is about and if it is worth the read or not.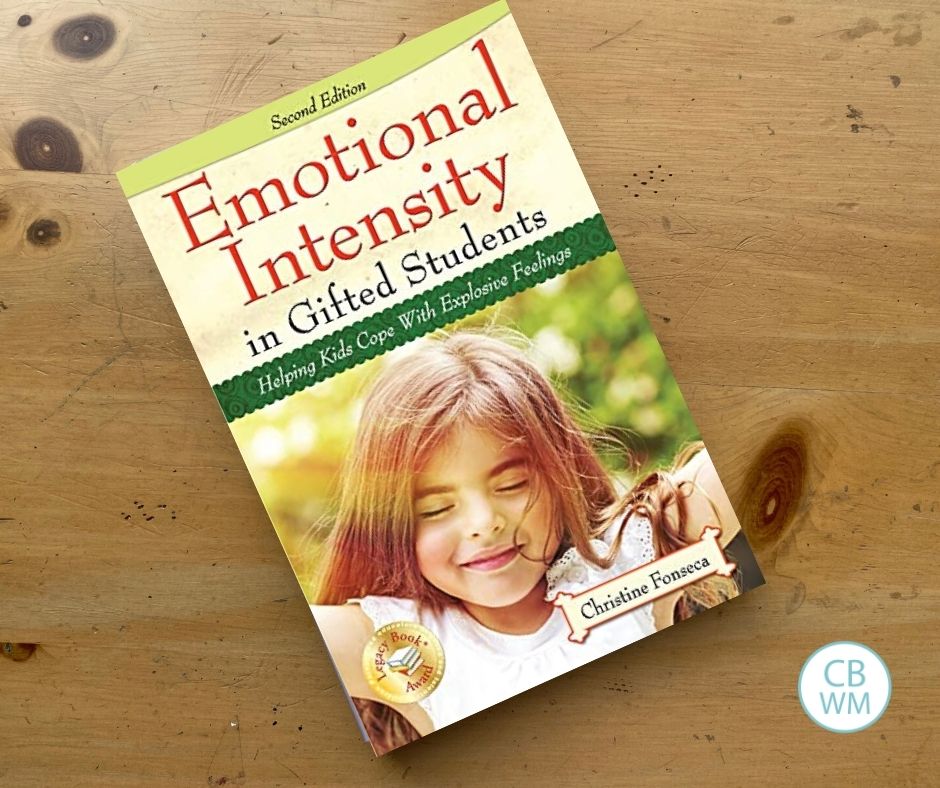 Having a child that is emotionally intense is…intense.
You are often left wondering how you should best handle the situation. You don't want to stifle your child's emotions, but you are also aware that people have to learn to handle their emotions.
You can't just lash out at people because you feel like it. You have to learn how to respond appropriately.
For me, having a child who is emotionally intense feels like an extra challenge because I am just not an emotional person. I can't even relate to the emotions, much less the outbursts that accompany them.
When the world shut down two years ago, it was very hard on Brinley. It became clear that if our family was going to survive being isolated in our home together for an extended time, we really needed to be able to help her understand and express her emotions.
So I headed to Amazon and purchased several books on emotionally intense children.
The last two years have been hard on everyone and have led to a lot of children really not having coping skills for processing intense emotions.
Emotional Intensity in Gifted Students
The first book I will review on the topic is Emotional Intensity in Gifted Students: Helping Kids Cope with Explosive Feelings by Christine Fonseca.
This was a very informative book with a lot of solid information. It also has a lot of practical information and tips for you to use in practice. It walks you through cases studies and demonstrates how to respond and how to not respond.
This book also provides information and case studies for teachers, which is helpful to be able to apply these skills to the classroom.
Here are some of the key things I found helpful in this book.
Emotional Intensity Defined
If a child is emotionally intense, you will probably think of the child as emotional, sensitive, and maybe even volatile.
"Emotional intensity refers to a gifted child's deep, often overwhelming, emotional sensitivity to themselves and the world around them."

page 17
You could also call it overexcitability.
Your child will have intense highs, get feelings hurt easily, be self-critical, and get upset if she believes she has hurt another person emotionally.
You will find your child really wants to be perfect with academic performance.
You might see explosive outbursts. Your child might often cry. Your child might have anxiety or fears that interfere with everyday life.
Transitions can be difficult for a child who is highly emotional.
Of course, intense emotions don't only happen with "negative" emotions. Your child can also be very giddy, laugh a lot, and be intensely happy.
In general, a child who is gifted will develop in an area or areas at a rate faster than is typical for children their age.
For a gifted child with emotional intensity, they often develop complex emotions at a younger age than typical. It can be hard for them to manage emotions that are too mature for them.
Book Review
This book is definitely worth your time to read it if you have an emotionally intense child. It is a valuable resource to parents and educators that will help bring understanding to what is going on in the child's life.
The book is broken up into three parts.
What it really means to be gifted
Putting the infomration into practice
How to coach your child through the emotions
Each of these parts has 4-5 chapters that go deeper on the section.
There are many role-plays throughout the book so you can see what each tip might look like in practice. It presents situations in a variety of contexts to help you understand it.
It is helpful for you to understand the emotional needs of your child and help you avoid assumptions. This can avoid frustration for both you and your child.
The book was not a fast read for me. It isn't difficult to read, but it took me a while because I needed to read small sections at a time so I could process what I had read before moving on.
I am glad I purchased it so I could take my time (rather than worry about getting it back to the library) and I am also glad that I got it in hard copy (rather than Kindle). I like to highlight and write in reference books like this.
There are a lot of specific strategies throughout the book, making it great resource parents can turn to. I feel like it will help me to have more patience and compassion when there are emotional situations.
Some of my favorite parts of the book are the discussions on the false assumptions surrounding gifted children, the information on temperament and how various things affect personality development. Some of my favorite in this is the discussion around introverts and extroverts.
I love the specific tips offered to help parents help with the intensity and how to help children learn to manage the intensity. There is help on how to handle explosions and how to help your children through the various difficulties of life.
Conclusion
This book will help with kids of young ages all the way up to teens. This is a wonderful tool to help you raise these incredible kids and aid in their emotional development. The already difficult job of parenting can be made easier with this useful guide.
Related Posts