BBQ Chicken sandwiches made in the slowcooker. These are simple and perfect for busy nights with your family.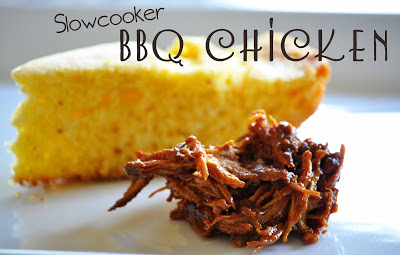 After my post on Managing Dinner Prep Time earlier this week, a reader requested that I share quick and easy recipes I use. So this is the beginning of a new series–Feed Me Friday!
This is a recipe we have used for as long as we have been married. Every one of our kids loves this meal. It is a meal I often take to people when I am taking them dinner. Just this week, I took this meal to a family who just had a new baby (number 8!). It is easy enough to make for two families! 
SLOWCOOKER BBQ CHICKEN
Here are the ingredients you need for this recipe.
4-6 Boneless Chicken Breasts
1 bottle (about 16 ounces) of your favorite BBQ sauce. Our go-to is KC Masterpiece brand, but last time we used Famous Daves and liked that too.
Grease your slowcooker. Put your chicken in there. Pour the BBQ sauce over the top. Cover. Cook on low heat for 8-10 hours (I have always found it to be closer to 8) or high heat for 4-6 hours (I have always found it to be closer to 4).
Alternatively, you can put the chicken in the slowcooker with a 4 cups of water, onions, salt, and pepper and then cook it. Then you remove the chicken and shred it. Then add the BBQ sauce.
You can save the liquid to use as chicken broth in a different recipe.
If you put more chicken in your slowcooker than this calls for, you will need to increase your cooking time.
When it is done, shred the chicken. Serve on hamburger buns for a delicious BBQ Chicken Sandwich.
NOTE–if you don't want to turn it into sandwiches, you could just do whatever chicken you want and slowcook it and eat it!
Camping Note: We have used this recipe camping in our Dutch oven.
SERVE WITH
I love to get side dish ideas with recipes, so here are mine for this one.
Coleslaw
Coleslaw is delicious on top of the chicken in your sandwich.
Cornbread
I always serve this with cornbread whether summer, spring, fall, or winter because we really like cornbread. Cornbread is super easy to make from scratch. I usually us my recipe in my Better Homes and Gardens Cook Book. 
Fruit
I also add fruit. I just do what is seasonal. Something fast and simple is a watermelon. In fall or winter, some cooked cinnamon apples are good with BBQ.
Vegetable
I typically serve corn with this meal. If corn on the cob is in season, I do that. If not, I use freezer corn we freeze from our garden. Green beans also go well. You can also just do some carrots with ranch dip.
Baked Beans
Baked beans are a staple with BBQ meals.
Related Posts