This is another slowcooker recipe. I find slowcooker meals to be the easiest for me to do. This recipe is adapted from 101 More Things To Do With a Slowcooker.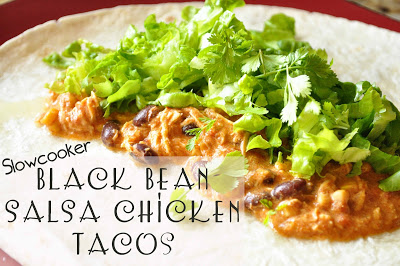 This is a super simple recipe that is perfect for busy nights. Start this in the morning and have it ready to go for a fast dinner.
BLACK BEAN SALSA CHICKEN TACOS
2-4 boneless, skinless chicken breasts
1 cup chicken broth
1 cup salsa
1 can corn, drained (I actually use freezer corn)
1 can black beans, rinsed and drained
1 pkg taco seasoning
1/2 cup sour cream
1 cup grated cheese
Grease your slowcooker. Add chicken. Pour in broth, salsa, corn, beans, and taco seasoning. Stir a bit as you can. Cover. Cook on low heat 6-8 hours or high heat 3-4 hours. When done, remove chicken with a slotted spoon. Stir in sour cream and cheese. Replace chicken. Shred chicken and stir.
Serve on warmed tortillas. I like to add in some fresh cilantro and lime juice (did you know they sell dried cilantro? Great to have on hand in the winter when you want some cilantro flavor. Look for it in your spices section). You can also add some diced tomatoes and some lettuce.
*The original recipe is not a taco recipe. It is just the chicken served whole. You can do that and shred leftovers for Tacos.
SERVE WITH
You don't really need anything on the side of this if you don't want to. You have a full meal in the taco itself. However, rice can be a good way to serve more people with one meal.
Rice
You can do Spanish Rice (see a recipe from Our Best Bites here or another kind here).
My favorite rice to have with meals like this is Lime-Cilantro Rice from Our Best Bites. Super simple to make!
Chips and Salsa
You will have leftover salsa from cooking this. You can use that to have some chips and salsa with the meal.
Related Posts