Four simple things you can do with your preschooler today to help her be ready to learn to read when she gets in Kindergarten.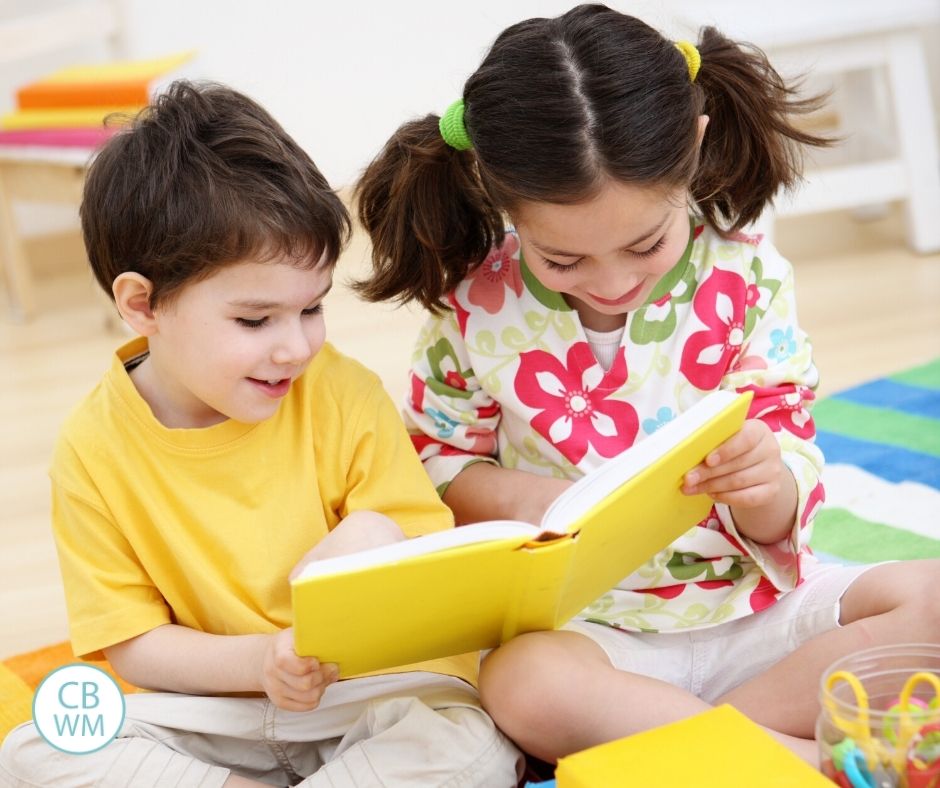 Helping children love to read is one of my favorite topics.
On Becoming Preschool Wise:  has a few simple ways to help prepare your preschooler for learning to read as a Kindergartener. 
We aren't trying to get our preschoolers to read, we are just prepping them to have success when it is time to read.
Develop a Love of Books
I have written about this often and will continue to do so I am sure. Help your children to learn to love books.
Read to your children. Have books in your home (whether your own or from the library).
Read each day. Have fun with reading. Cuddle while reading. Make reading time enjoyable. Read a variety of books. 
I have mentioned this before, but when I give gifts, I make sure at least one book is always included in the package (so for Christmas or Birthdays).
I want my children know that books are very valuable–valuable enough that we give them a book for a gift without fail.
We choose a book very current to their specific passion at the time. For example, Brayden is very interested in Legos right now. For his last birthday a few months ago, we included an ultimate Lego book–which he loves.
When you go to the library, let your child choose at least one book to bring home, even if you think it looks silly. Do what you can to foster a love of books. If you love something, you will be willing to take the time to learn how to utilize it more (like reading with books).
Play with Puzzles
Perhaps a surprising activity to do to help your child learn to read is to play with puzzles.
"Puzzles develop a child's ability to see how one part fits into the whole picture".

(page 122)
I thought this was a very interesting point that many people don't think about when it comes to developing a love of learning.
Puzzles are often associated with mathematical skills, not language arts.
I have written a post on puzzles. Beyond buying puzzles, you can also make puzzles. One example is this Alphabet Puzzle. You can also print a picture, laminate (if desired), then cut it out to create a puzzle.
>>>Read: 8 Different Styles of Puzzles You Should Get for Kids
Practice Sequencing 
Have some sequencing in your daily play to help your preschooler prepare to learn to read.
"Sequencing cards help children develop a sense of the beginning, middle, and end of a story".

(page 122)
You can buy sequencing cards ( Sequencing Cards on Amazon), but can also easily make them at home.
You can do cards or print out coloring pictures of an activity of interest to your child. For example, you can color pictures of the life cycle of a caterpillar.
Or you can color pictures of the steps to making a cake. Kaitlyn recently did sequencing pictures at preschool on Johnny Appleseed planting, harvesting, and eating apples.
Once you color, cut out and then either paste in the right order onto a sheet of paper or put in the right order but leave loose for future play.
Learning the Alphabet
If you are going to learn to read, you will need to know what the alphabet letters are.
You can read alphabet books, sing the ABCs, play with toys that have letters (like blocks and foam letters), have a letter of the week, point out what letter starts with words, etc.
Conclusion
These are all simple things you can do to help your preshooler be ready to learn how to read. You will foster a love for reading and an ability to understand stories. Understanding what you read is such a key element in reading. If comprehension isn't taking place, there isn't much point in reading. 
Related Posts