8 styles of puzzles to get to help teach your child different types of skills. Learn the benefits of doing puzzles and get ideas for good puzzles for kids.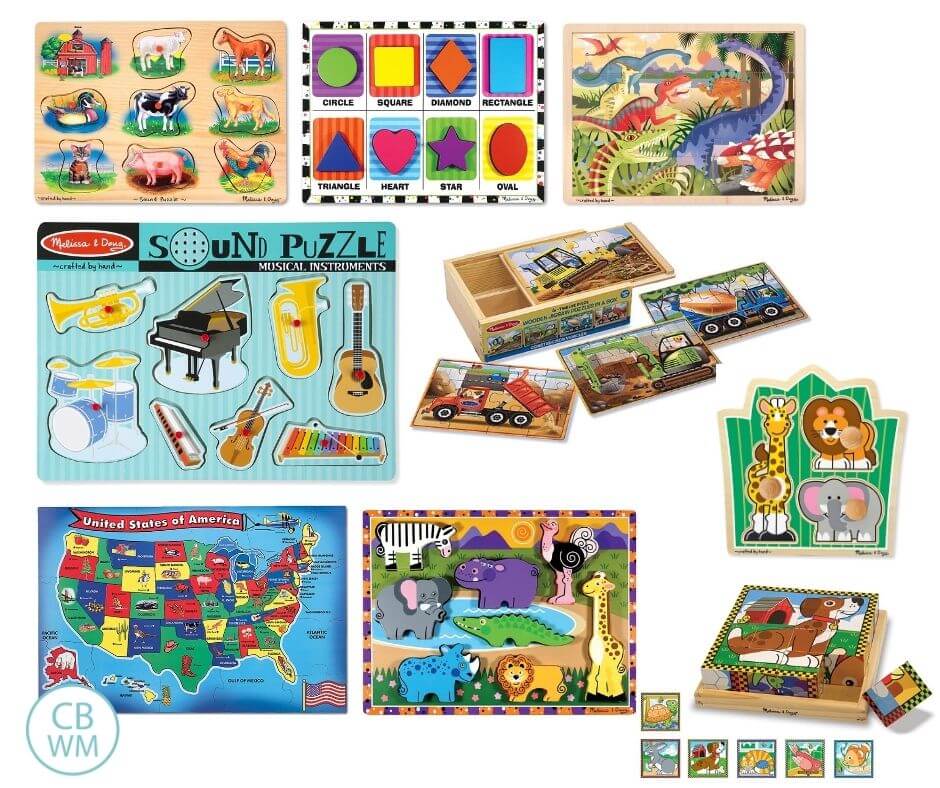 Puzzles are a great educational toy. They are a great mental exercise and make a great rainy day activity when you are stuck inside.
They help with spatial awareness, concentration, and shape recognition.
They help you improve your memory and learn to pay attention to details. They can even increase your IQ!
There are a lot of different types of puzzles.
Each style offers a different learning aspect to it. These different puzzles just add even more benefits to doing puzzles.
Here are some that we have.
Peg Puzzles
Peg puzzles are great for young little fingers. Here are some of my favorite peg puzzles.
This is a great one for the younger crowd. The knobs on this puzzle are very large (relative to pegs), which makes it easy for little hands to grasp.

I would highly recommend this for children 18 months and younger. Melissa and Doug make these puzzles with barn animals, vehicles, shapes, water animals, pets, etc.
Peg puzzles are great for young children. These peg puzzles are great for your child as soon as she develops her pincher grasp.
You can find these puzzles from all sorts of companies and with all sorts of themes.
Something fun about this one from Melissa and Doug is that when you put the animal in the right spot, it makes the appropriate animal noise.
Chunky Puzzles
Chunky puzzles are also great for little hands. The pieces are very easy to pick up since they are so dimensional.
The fun thing about these puzzles is that the animals can stand on their own for further play. I will let you know how the kids like it; I think it will be a hit.
Touch and Feel Puzzles
Children love touch and feel books and I love how Melissa and Doug have created this touch and feel puzzle. This brings a lot of sensory play into your puzzle time.
Learning Puzzles
You can find all sorts of puzzles to promote letter learning, numbers, shapes, hands, feet, etc.
We have alphabet puzzles, number puzzles, shape puzzles….
You can also get these in chunk and peg puzzles.
As your kids get older, there are puzzles with maps.
Here is a three pack with all of your basics.
Sound Puzzles
Melissa and Doug also make a lot of sound puzzles. We have several sound puzzles. There are lots of different kinds to fit the interests of your children.
Cube Puzzles
I really like these puzzles. They don't require fine motor skills so much as analytical skills. You can make several different pictures with the one puzzle.
Your child has to look at small details to figure out which side of the cube goes to the puzzle he is trying to complete, and then where it goes.
These cube puzzles are great through many ages of children.
Jigsaw Puzzles
This puzzle comes with four puzzles in one. The pieces all fit in the box and you can complete the puzzle on the lid.
This is a great puzzle to take with you when you travel. We took ours with us one time when we went camping this summer, and I was glad we did. It rained and rained one morning and the kids did puzzles.
Each picture has a certain shape on the back of its pieces, so you know which pieces go with which picture.
A nice thing about this type of 24 piece puzzle by Melissa and Doug is that it has a border around the edge. It is a great beginning jigsaw for your child. You can also get this style in 48 pieces.
My kids love to use these to race each other to see who can finish a puzzle the fastest.
Floor Puzzles
Floor puzzles are another fun aspect to puzzles. They are really large and add in gross motor movement into your puzzle time.
Related Posts