Grand Canyon Travel Tips for Families. How long to go, what to do, where to stay, what to pack, and what to know.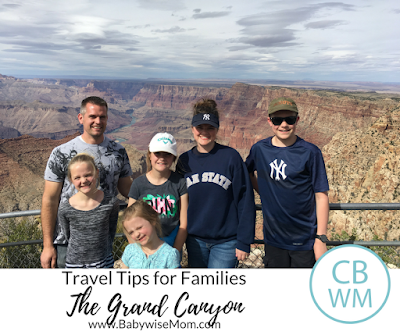 The Grand Canyon is a majestic and magnificent location. We had looked at pictures and watched documentaries before we left, but it still shocked each of us to see the magnitude of the Grand Canyon in person. There were audible gasps as we saw it for the first time. It is absolutely a destination worth putting on your list of places to visit. A perk of traveling is getting to know yourself and your family better. Something we learned about Brayden on this trip is how much he loves landscapes. Of all of our family vacations so far, the Grand Canyon was his favorite trip. It also happened to be one of the least expensive! Living in the West, we have easy access to a lot of National Parks and Grand Canyon is definitely a favorite.
The Grand Canyon is very easy to navigate and get your footing under you, but there are also a lot of things that are good to know before you go. In accordance with my methods for planing a family vacation, I had done my due diligence in researching the Grand Canyon and read all I could find on tips for traveling there. Even so, there were things we were surprised by when we got there. My husband and I had both been there as children, but you can only remember so much. Here are some key points to know when planning a vacation in the Grand Canyon.
How Long Should You Plan to Spend in the Grand Canyon
Two to three days is the perfect length to spend in the South Rim and see it all. If you are taking a road trip and driving by the Grand Canyon and wonder if you could drop in, you could definitely spend just one day there and enjoy it. In many respects, it is all very similar looking.
They even have a little sheet you can get at the entrance gates with information on what to focus on if you have a few hours, a half day, or a full day. If you want to go to every designated point and take your time walking the Rim Trail, you will want 2-3 days there. We spent three full day in the park and felt like it was the perfect length of time to see it all, do lots of walking, and take our time with both the walking and taking in the views.
North Rim and South Rim
The Grand Canyon runs east to west, so the viewing areas of the park are on the south side of that or the north side of that. The South Rim is open year round. The North Rim is a much higher elevation and therefore closes down during winter months. The North Rim is only open May through October. The North Rim is where I went as a child. I have vague memories of it. It is more forest-like while the South Rim is more desert-like.
The South Rim is far more visited than the North Rim. They are both worth visiting as you get different perspectives since you are at such different elevations. While you can easily see the other side while in the park, it takes about four hours to drive to the other side just because you have to drive all the way around it. So you may want to choose one site and stick with it. If not, I think you could comfortably do two days in the South Rim and one day in the North Rim. You would just be a bit more rushed in each location. We went in April, so the North Rim was not open.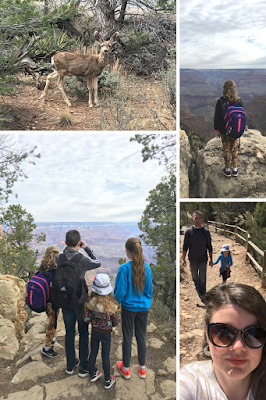 What Time of Year Should You Visit the Grand Canyon
Your timing of your trip will obviously be impacted by days off of school and when you can get work off. We went in early April and it was perfect. The weather was, for the most part, comfortably warm (the mornings could be chilly). The days were warm and sunny but not so hot that we were uncomfortable as we walked around.
I intentionally planned the trip so it was not summer for two reasons. One is the heat. I wanted to avoid going when it was very hot. Another was crowds. National Parks get much busier during summer months, so it is much nicer to go in an off season. We went over our Spring Break. If school wasn't a factor, I would probably go in May once the North Rim was open or in September or October before it closed.
The Grand Canyon is in Arizona, so you might think it is warm and super hot basically year round, but the Grand Canyon is about 7,000 feet elevation, which means it is much cooler. Now, it is much warmer than 7,000 feet is in Northern Utah where I live, but also much cooler than Phoenix. They do have four seasons. Going in the winter wouldn't be pleasant and warm.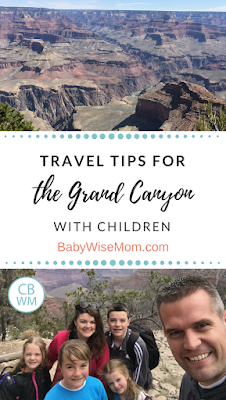 I did not realize how high the Gran Canyon was in elevation. After our first day, we all had some sun on our faces and I realized then we must be pretty high elevation. Because it was so warm, I figured we were around 5,000ish feet. But at 7,000 feet, you are very close to the sun and will need sunscreen no matter the time of year.
I would recommend going in April-May or September-October if possible, If not, as early in June as possible just to beat the heat and the huge crowds.
Grand Canyon South Rim Loops
The South Rim of the Grand Canyon has different loops the shuttle buses drive. You can see the pocket map here. Note that it isn't to scale. If you get on a shuttle bus for the blue route (or Village Route), it will only stop at blue route stops. There are some connecting stops, but very few.
Since we were there three days, I broke things up into three sections. The first section was Hermits Rest, or the Red, Route. This one is the longest route and was also our very favorite. We walked over half of it. It is about 8 miles total. We were very tired after it was all done! But it was so neat to walk the trails. If you are in a hurry, you will want to shuttle for the most part, but I would highly recommend walking at least a small section. The shuttle bus stops at each point, so you can even just walk one mile, then hop on the next shuttle.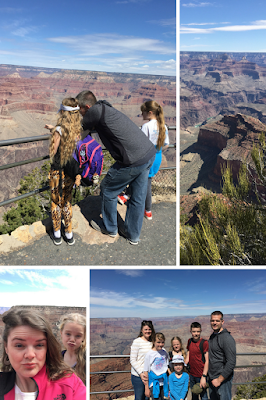 On the Red Route, we saw the grandest views and the most wildlife. This is a good one to plan on walking because you can't drive March-November. Only shuttles can get up there. If you have several days to spend in the canyon, or at least two, then I would plan on this route being one full day. Take your time and walk, then hop on the shuttle when you need a break. Our favorite stops on this path were Hopi and Mohave. If you look at the map, you will see that these two points both stick out into the canyon. We soon realized we liked the points that went out into the canyon rather than the ones in the concave ones. The concave is where we started, and it was impressive, but when we got out the ones that stuck out, they were hands down the most impressive.
Most of the Red Route is paved, but parts are gravel and parts are just natural. We walked all of the paved and part of the gravel, but the gravel starts to get more natural and more scary with little ones for the mama heart. We had also walked many miles by that point and went to the shuttle.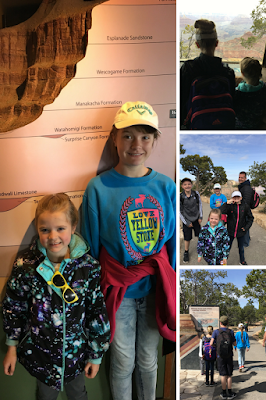 Our second breakdown was between the Bright Angel Trailhead and Yavapai Point. This is not a shuttle trail. We started this at Yavapai Point and Geology Museum, then walked to Bright Angel. This is another very impressive stretch of views. It is more commercialized. This path has the hotels and lodges on it, so you will see a lot more people on this trail than others. It also in general has more built-in safety features along the rim of the Grand Canyon than the Red Trail had. This was only about three miles. It includes the Trail of Time, which is Geology exhibits that show the different types of stone found in the Grand Canyon.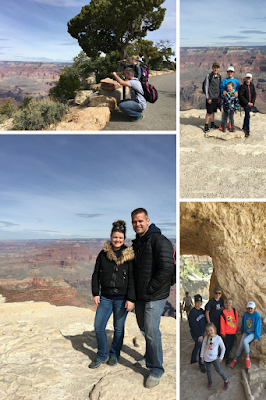 I would highly recommend you start at Yavapai Point and Geology Museum your first day. There is a lot of information and great views. It is a great place to get some knowledge about the place before you step out into it. The walk between Yavapai and Bright Angel is easy and quite safe. It is fascinating to see the layers of stone found in the canyon. A bonus is the museum is out of the weather. That morning for us, it was biting cold with the wind, and by the time we were out of the museum, it was much nicer. If you are going on weekdays and weekend, I would choose this walk for one of the weekdays. Since it is busier, it will be less crowded Monday through Friday.
Once we got to Bright Angel, we ate lunch and then hiked down the trail a bit. They have different points to get to on that trail so you can gauge how far you want to take it. It is a great way to get a better feel for the size of the Grand Canyon, and you can basically choose your own adventure. You can also ride mules down the trail. Kaitlyn so wished we could do that. It would have been so neat! But we have a 5 year old who I wasn't sticking on a mule for a long ride down the canyon.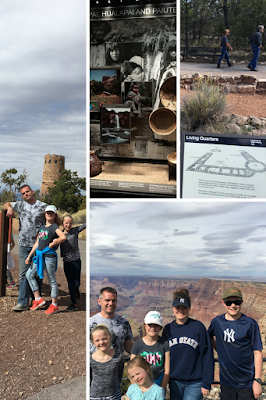 That same day, the next thing we did was drive to the East side of the park to visit the points that shuttles don't visit. We added this to our second day, but it could also easily be added to the Orange Trail day. It was nice to spend some time driving after our walking, especially day two. This is a great thing to do in the afternoon, also, when the weather is hotter. Then you spend time in your vehicle with air conditioning.
We drove all the way out to the Tusayan Museum and Ruin. They had some Native American Artifacts and ruins of a Kiva. That was neat to see. Then we drove on to the Desert View Watch Tower and hit each point on our way back. This is a method we do in Yellowstone; things are so busy in Yellowstone that you strategically want to be turning right as much as possible. Left-hand turns can take you forever. We would have been fine turning left at the time of year we went, but it is just our National Park strategy.
Our third day, we went to the Yavapai Point again and walked from the museum east along the Kaibab/Rim, or Orange, Route. This trail takes you through Mather Point, which is a very beautiful spot. It also takes you through more forest-like conditions so you can't see the canyon as much. There is also some parts of burnt-down forest from a controlled fire gone wrong. This path was overall the least impressive of the paths we took, but we really enjoy hiking in general as a family, so walking through the trees was novel and felt a bit like home. I could recommend this path for day one since it is the least impressive, and you want to save the best for last, but it could also be frustrating on day one because you would just want to see the canyon and you would be unable to.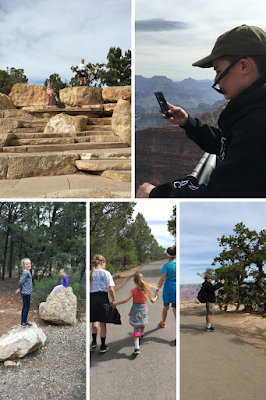 We were done with that trial by lunch that day. After we ate, we headed back to the campsite and played games and relaxed. We debated driving to a town in Arizona, but cell coverage was so spotty I wasn't sure where it would be best to go. Our kids love to camp, so we decided hanging out at the campsite would be fun and they loved it!
So we enjoyed that third day and having it end relaxing. It was nice to help us not be so exhausted when we got home. But you could definitely squeeze what we did into two days if needed. What we did was a nice comfortable pace, so you would be exhausted by the end of the day. As it was, we were all in bed and asleep by 8-9 PM each night.
Safety in the Grand Canyon
One of the most shocking things for us when we visited the Grand Canyon was the lack of safety rails and signs warning you to be careful. We don't think there needs to be any of that; it is pretty obvious that you should be careful. But in Yellowstone, there are signs and warnings everywhere. You are only allowed on the marked paths and things are pretty strict and tight. The Grand Canyon is very loose and self-governing.
There are times in the Grand Canyon you are walking along and there are just inches between you and a sheer drop-off. There are times there are fences, but most of the time there are not. If you stay on the trails, it is safe. With little children, it can be stressful because kids can easily get distracted by a literal squirrel and mis-step. They say only 8-10 people die there each year, but I don't want my people to be one of that group!
If you go with children, I recommend being sure your child listens to you well. This is a place where you want first time obedience and following instructions to be a real thing. I would do "Ask and Tell" before you go and each morning. Set rules and enforce them.
We had rules about staying on the paths, not running along the paths (there are times there is a turn at the bottom of a hill, and if you don't make the turn, you go right off the edge), and holding a parents hand when going off the path. We let Brayden (12) and Kaitlyn (10) walk about without holding hands, but required McKenna (just turned 9) and Brinley (5) to hold our hands if we left the paths. They also needed permission to leave the path.
A big concern for many people going to the Grand Canyon is a fear of heights. Brinley has a real phobia, and she did great. She had moments of fear, but for the most part she was okay. The canyon is so incredibly deep that you brain can't even comprehend it enough to be scared or nervous.
Shuttle Buses in the Grand Canyon
When we first talked about visiting the Grand Canyon, we toyed with the idea of renting a motorhome. Then we decided that would be annoying and cumbersome to drive it around the canyon. It turns out, there is a great free shuttle system in Grand Canyon National Park. You can take shuttles from your camp ground or you can go to designated parking lots and park there and shuttle from there.
There are some points you can't get to without your own transportation. The shuttle can also take a long time and can be quite full of people. I hate to say it, but most of the shuttle bus drivers were just down right rude. We had a couple of nice ones over the course of three days, but most were impatient and unkind.
I get that it must be frustrating to deal with people who don't know the processes and rules of riding the shuttle buses in Grand Canyon day in and day out, but you also can't expect people to just know. We had one driver who would tell those in line to approach the front of the bus, then as soon as people stepped toward the bus, she would yell at us everyone to step back until she said to go forward…so…we didn't love riding the shuttle most of the time.
With that said, I do love that they have the shuttle system. It keeps things much less congested on the roads. Anyone who has been to Yellowstone lately knows what a nightmare parking and traffic can be in a National Park with no shuttle system. So It is great they have shuttles available.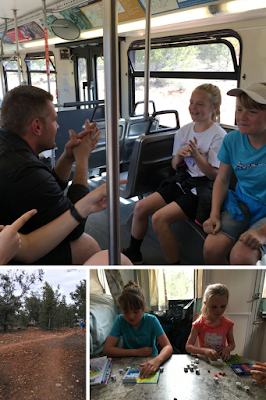 Camping Tips and Information for Camping in the Grand Canyon
You can camp in the Grand Canyon, stay in hotels, or stay in towns outside of the park. We decided to camp, so I will discuss that aspect.
We stayed at Mather Campground. It was a really nice campground! It is the nicest campground we have been in in any of the national parks. There were trees and the campsites were not so on top of each other like other campgrounds we have been in.
Something to know is that you need to book far in advance. You book on this site. For peak seasons, they recommend booking 6 months in advance. They don't have any "walk-ins." We booked 4 months ahead and went in April, which is busier than winter, but not as busy as summer. Here are some key things to know:
Bring your own firewood. You aren't allowed to gather wood in the national parks (at least the ones I have been in). You can buy firewood there, but it is super, super expensive.
They have showers. Showers cost $2 for 8 minutes.
There are flushing toilets and running water. Yay!
There is potable water. You can fill up your water at designated pumps in the campground. These are popular spots for the wildlife to gather, especially at dawn and dusk.
There is shade in the non hook-up campground, but not RV campground. Nate thought it was important for people to know that the RV campground has full hook-ups, but it basically looks like a parking lot and doesn't have the trees and privacy the non-hook-up area.
There was a fire pit and a picnic table at each site.
Dumpsters marked "recycling can have garbage in them. We learned this on the last day as we pulled out. Ha!
Drinking Water in the Grand Canyon
As I said above, there are drinking water spigots in the campgrounds. They also have many water refill stations in the park along the rim trail. You will need to have water bottles. The water is not often enough that you could make it between stops without drinking your own water.
Services in the Grand Canyon
Here are some things to know about the Grand Canyon.
There is no gas station in the park. There is one way on the east side near the entrance. There is a town just south of the park, Tusayan, that has gas stations. Prices are very high. If you are driving to the park, I recommend topping off your tank in a town far enough away that prices aren't so high.
There is a store and market. If you forget things, you can get them at the market. The prices are extremely high, but you the items are there.
There was very limited cell phone service for me. I think this was true for most people because I rarely saw people on their phones, which is rare these days. I actually love this about camping. I love going places where I have no service so I have to disconnect. It is something to be aware of, though, because I planned on being able to look things up on my phone. Make sure you have the info you will need printed or written down in hard copy or saved as screen shots into your images on your phone.
There are Restaurants. I didn't realize this about the Grand Canyon until were there. They have restaurants you can eat at in the actual park.
Sunrise and Sunset in the Grand Canyon
The sunrise and sunset can be quite spectacular in the Grand Canyon. There are several great spots–there probably aren't bad spots–but there are some really good ones for sun watching.
Mather Point is great for the sunrise. You don't need to take the shuttle to get there. Just park at the visitors center (Lot 1 is the closest to Mather Point) and walk there.
Stops on the Red Route are great for the sunset. Hopi Point or Mohave Point are both good ones.
A note I would give about the sunrise. The sky can really light up with colors. The colors come long before sunrise happens. So don't aim to be there just before the sun rises. Aim for 20-30 minutes before the sun will rise so you can enjoy the colors. It is early, especially in the summer because Arizona doesn't practice Daylight Savings. So you are running on Pacific time in the Mountain Time Zone.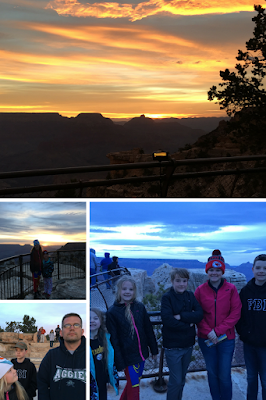 Also, I would go to the sunrise your first morning and plan on maybe needing to go every morning. We were up then the first morning, but we had planned to go the next day. We could see the spectacular colors in the sky, though not over the canyon. The second day, we were up and present…and the sun produced no color that day. It was cloudy and we didn't even see the sun come up. Fail. So we went back the next day and saw a beautiful sunrise. So if I had it to do again, I would aim for going the first morning just in case we had to go every day to really see the beautiful sunrise. You can see in the pics above the day that had no color versus the day with color.
Things to Pack for the Grand Canyon
There are a few things you want to be sure to pack:
Sunscreen
Binoculars
Snacks (snacks keep kids happy while walking long distances. So can gum!)
Water bottles
Backpack to keep things in, including your snacks, water, and jackets.
Food–pack a lunch and take it with you on your walks and hikes. They have picnic tables every so often, and if there isn't one available, you can always find a nice little spot to sit and eat.
Rain gear. Rain can come up unexpectedly. Have umbrellas and/or rain jackets in case you get caught in a storm.
Related Travel Posts on this Blog