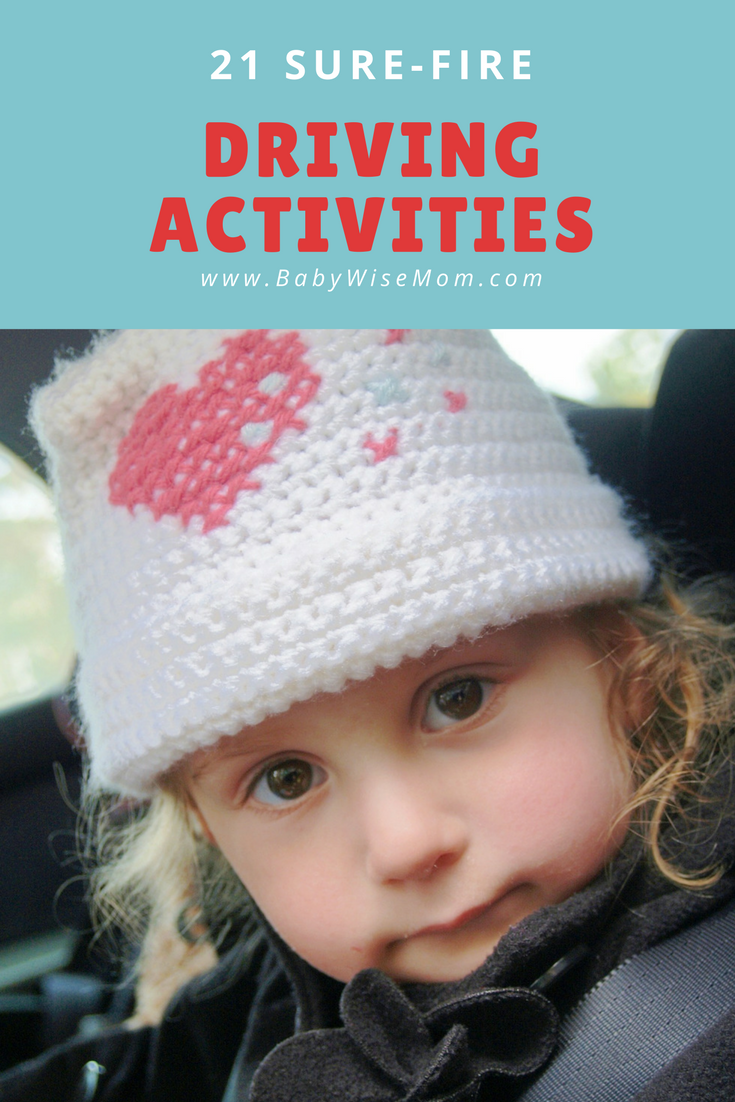 Having activities for your children to do can really help make the trip more enjoyable for everyone.
For older children, you usually don't need a lot. Children who read (and don't get carsick) can read a book. When I was growing up, we regularly drove a four hour drive one way to visit grandparents. I don't remember my mom doing anything special for the drive (other than one time when we lived a bit further away and had to drive 10-12 hours instead. That time my parents put a box of presents between my sister and I so we couldn't fight. Ah memories).
We also drove around the entire Western United States as we traveled from horse show to horse show. I remember the drive to Helena and back…that was a long one. We never had TV or video games. "Back in my day" we got by on our imaginations. We talked. Our best inside jokes as a family happened on the road.
So I am not huge into plugging my children in as we drive along. I want them to enjoy the beauty of the country. I want to foster those same memories I was able to develop. However, I am not against doing some plugging. And let's face it; when I was a child, people didn't do car seats for the most part. There were not seat belt laws even. When my sister and I were really young, my mom made a nice cozy "bed" for us in the back seat and we slept for the four hour drive. I remember when seatbelt laws were passed and my parents started buckling us in. How uncomfortable that was! But a seatbelt is nothing compared to a five point harness that doesn't even allow you to shift your weight. So young children can't get comfortable for a nice long nap, and they benefit from distractions so they don't go stir crazy.
And thus, I have compiled a list of things to do in the car with young children. Here we go:
Movies: For long drives, we always do movies. I refuse to do a movie for a drive less than an hour, and my husband has to insist for me to agree to anything less than two hours. I typically set a rule that you can't start watching movies until X amount of time has passed (depending on the drive length), and I only allow it for son long on the drive. Again, I want my children to take in the landscape. Call me old fashioned. That's fine.
Handheld Video Games: We will also allow some Nintendo DS time on long drives. Same electronic rules apply, and my time allotment for movies transfers into time allotment for electronics. How you choose to spend your time is up to you.
Music: This is one of my favorite memories from childhood. Singing along to classic rock as we drove and drove. I remember one road trip to Denver. We were going to watch the Yankees beat the Rockies and were in a caravan with uncles, cousins, and grandpa. This was before cell phones, so we had walkie talkies to talk to each other. We played "Name that tune" over the walkie talkie. For 8 hours. Fabulous. These are the memories you cherish.
Singing: Sing songs together!
Books: I probably did more reading in cars than anything else. I know my mom read like crazy on car rides. If you have children who can read and/or like to look at books, bring several books along.
Books on "tape": I seriously love books on tape. This isn't something we did growing up, but it is soemthign my children will sure remember when they are adults. We do lots of books on tape on long drives. Also on short drives. I pretty much always have a book on "tape" (CD, iPod, whatever) going on in the vehicle.
Coloring Books: This will be made easier if you have something like a carseat tray. We have this one Star Kids Snack and Play Travel Tray:

but this one is the same price and looks great too Deluxe Snack & Play Kids Travel Tray:

Kids can color, put their food on it, do puzzles…it helps with activities. But you can also bring along a cookie sheet if you are on a budget. You could even get one from the dollar store. Now, coloring, try colored pencils and/or Color Wonders. Crayons are okay, but if you forget them or miss one when cleaning up on a warm summer day…yes, melted crayon all over. Yes, it has happened to me, and yes, within the last six months. Color wonders even has travel kits: Crayola Color Wonder Travel Tote (colors & styles may vary)
Magna Doodle: Another way to get drawing in there is to use a magna doodle Fisher-Price Kid-Tough Classic Doodler with 2 Stampers – Red:

Aqua Doodle: Aquadoodle Travel N' Doodle I am so glad I wrote this post becuase I remember now this needs to be on my kids' Christmas list! We have played with friends' aquadoodles and always have fun. I love how mess-free it is.

Puzzles: Melissa and Doug makes the best puzzles for traveling. It is the Melissa & Doug Deluxe Vehicles in a Box Jigsaw Puzzles. There are four puzzles that fit in one little box. You can create the puzzle on the lid to the box. Fabulous. This is a jigsaw puzzle, though, so not good for little ones. I think the Melissa & Doug Farm Wooden Chunky Puzzle is really cute and fun because you can play with the pieces.

Home made learning toys: There are so many of these ideas on the Internet. One fun idea is to give your child pipe cleaners and an empty water bottle. Cut the pipe cleaners so they just fit inside. Then your child can have fun dumping them out, putting them in, out, in….We have a few In the Car ideas on the learning blog. And while I am thinking about it, be sure to check out this post by Raegan for helping children remain more patient while driving long distances.
Flashcards: My children all love holding cards and flipping through them. You can take flash cards for fun or take them to really work on something. One idea I had for the car was piano note flash cards for Brayden since he is taking piano.
Magnets on Cookie Sheet: magnets are fun for all ages. I recently discovered these: Bingo Magnetic Wand with 100 Chips – Red. Seriously fun.

Flashlight: Kids love flashlights. If your driver can drive okay with your kids having flashlights, your children will have a grand time.
Cars: Bring along little matchbox cars, trains, trucks…This tutorial might make it even more fun: http://homemadebyjill.blogspot.com/2009/12/cozy-car-caddy-tutorial.html.
Other toys: Kaitlyn loves My Little Ponies. McKenna loves baby dolls.
Lacing Cards: Melissa & Doug Lace and Trace Pets. You could buy them or even make your own. If you made your own, you could do some that were special to where you were traveling to.
Puppets and finger puppets.
Magnetic Dolls: Melissa & Doug Deluxe 27-Piece Nina Ballerina Magnetic Dress-Up We love these dolls. You could also make "paper" dolls from felt or make real paper dolls. Here is a link to some free paper doll printables: http://cor104.deviantart.com/art/Retro-Paper-Doll-Rapunzel-173113101
Travel Car games: Travel games
Car Games: For the older children, don't forget those fun car games! The liscence plate game, the alphabet game…those fun classics.
That is my list I have compiled over time! Please share activities you have found and love for the drive!
Related Posts/Blog Labels:
We are sorry that this post was not useful for you!
Let us improve this post!
Tell us how we can improve this post?