Babywise mom June 2018 family recap.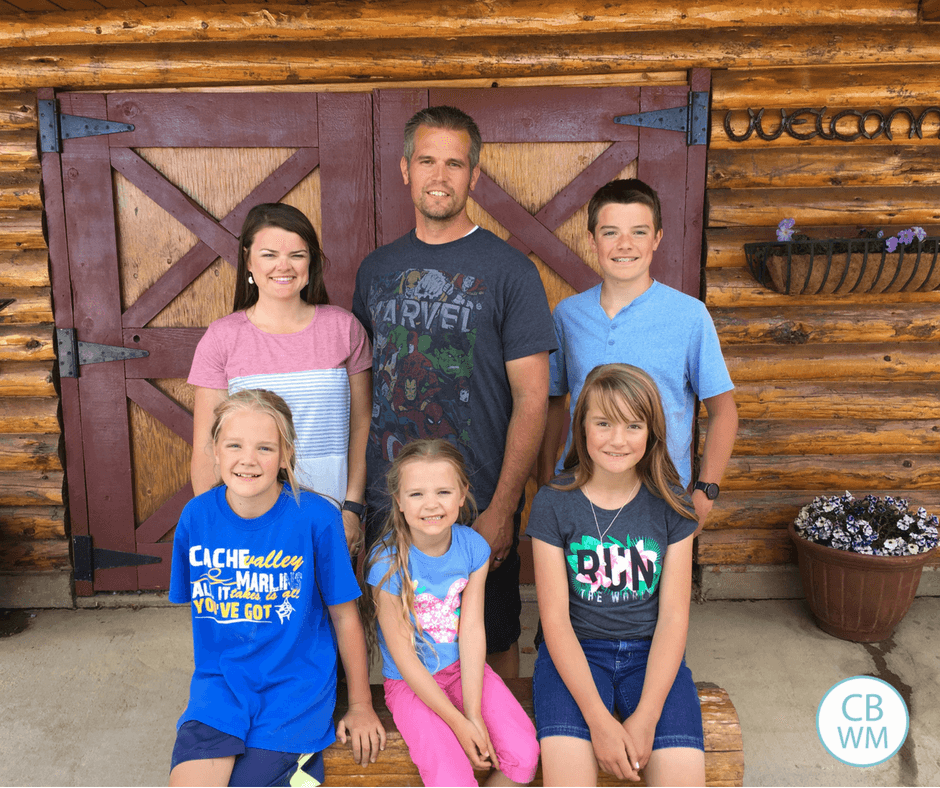 I was recently visiting with the ladies of the Babywise Friendly Blog Network. As we chatted, they really encouraged me to share more details about our days. While I am great at writing instructions and information, I am not a story teller.
As I thought about it, I realized Kaitlyn is a great story teller! This was intended to be a summer summary, but after she was done with June, we realized June was long enough by itself. Continue reading to get a June summary from the perspective of Kaitlyn (currently 11 years old).
by Kaitlyn Plowman
Summer was here, finally, after nine months of school we had three months to ourselves, with no teacher to give a worksheet of complicated math to finish. No, it was summer! The last day of school, we took tons of pictures before we left for school. School was quick, and fun. All we pretty much did was yearbook signing and goodbyes. Then the bell rang early and school was out for the summer! We hurried home and were welcomed home by our parents.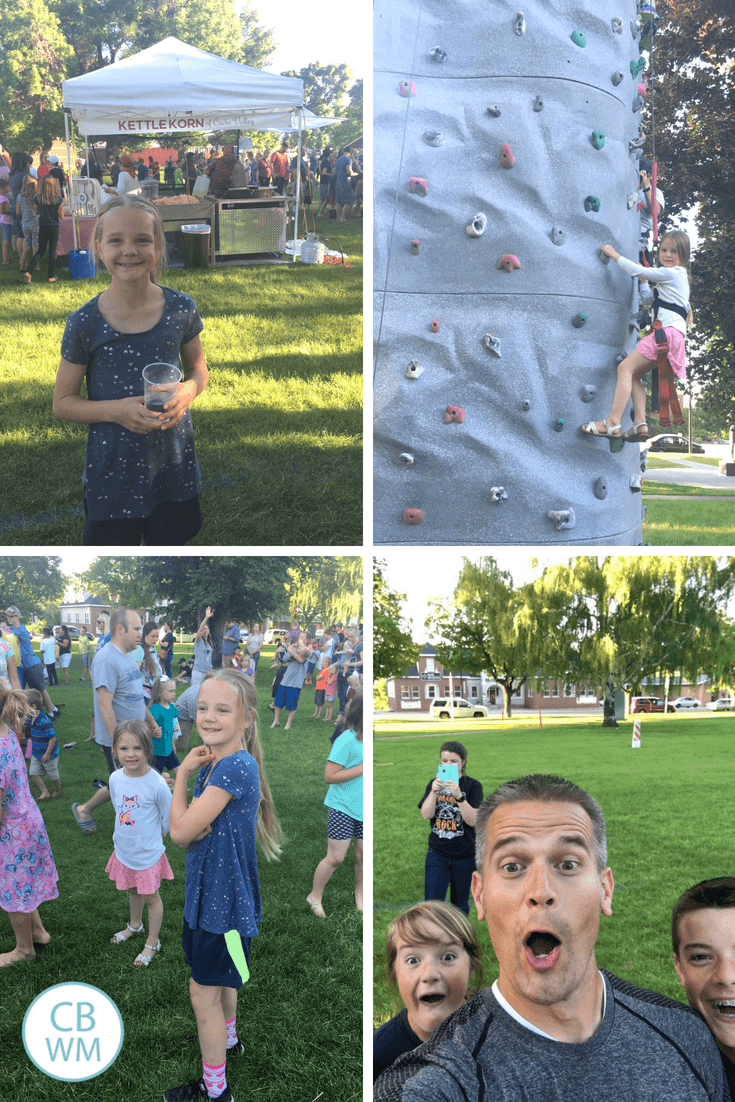 One of the first things we did in the 2018 summer was a party. The Hyrum Library was hosting a summer party, where you could do things for free. My mom had to help out, so she went early and her job was to pass out cotton candy. As soon as we pulled into the place where we parked, we jumped out and ran to a pavilion. The place we had the party was across from the Hyrum Library. There were things like free cotton candy, free otter pops, and free kettle corn.
There were also things to do like bounce houses, a obstacle bounce house, and a climbing wall. Brinley played in the bounce house, and my friend Caroline was there as well. McKenna climbed the rock wall to the top, and Brinley tried the rock wall but didn't quite make it. Then we got some caramel popcorn and ate as much as we could, and eventually left to go home.
When we got home we sat in the living room and mom explained something called the summer basket. It was a little something she'd put together, so we got presents at the end of the school year. Some things included in the basket: each kid got a journal to write down the things that happened during the summer so we could look back in them and remember things. Another thing each kid got was a mother-daughter, (or for Brayden mother-son) journal to write to each other during the summer.
We were all finished with that when Brinley and McKenna disappeared outside for awhile, and then came in and announced that they had created a summer party and would be hosting it outside. We all followed them outside, and when we arrived they took us to one corner of the yard where we played pin the tail on the dragon. After we finished that we moved onto a pinata. The girls had a plastic bat and a pinata that hung from a tree. When you broke it open shredded paper fell everywhere! Then, we played dragon vs panda tag. There were six sticks with pictures on the top. Dragons were the it people, and pandas were running away. Dragons tagged, then they switched sticks, became a panda, and ran.
A dance party finished it off. Then next up, more dance! Brinley had a dance recital on the first Saturday of the summer. We had lots of fun, and when it was over we hurried home. Then, some exciting news! We got a new pet! McKenna had been awaiting her pet bunny from the neighbors every since they promised it to her for her birthday in March! It was finally old enough to come home! McKenna named it Starflight after her favorite book character from the Wings of Fire series.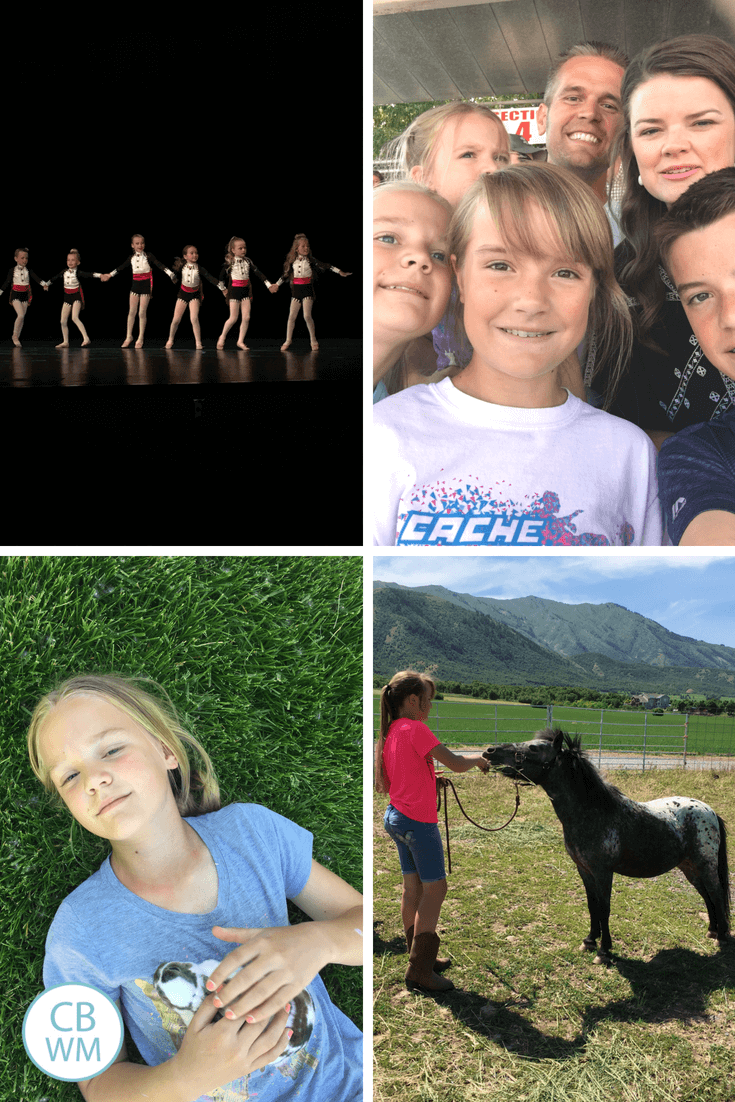 A new big change swung in after that! Swimming lessons had begun for McKenna and me! Brinley had been doing them through the school year, but it was new for us this summer! We got in the pool and loved it. We work out with our swim teacher since we have passed everything off. It was pretty complicated at first, but over time our brains woke back up to the pool and we figured out what we were doing. We had fun in the pool, mom began to make videos of us jumping off the diving board, but make them backwards!
We went to a circus for our first time after that. It was great. There were things like tiger tamers, and people that did tricks with horses, and people that rode motorcycles in a big ball all at the same time. There were three. It was cool after seeing the "Greatest Showman" and we all liked it a lot!
We three girls did a rock climbing camp and had fun with that. There were punk teenage boys who played on their phones most of the time, and that was annoying, but McKenna wasn't afraid to tell them to knock it off.
Another big change of this summer; miniature horse shows. Our Nana always owned miniature horses, quite a few, actually, and had shown them for quite some years. My mom showed horses too. This year, we were beginning our first year of showing! We selected three geldings to show. A palomino dun called Renegade, a buckskin appy called Streaker, and a blue roan appaloosa called Fire. Fire had been shown tons of times before; he was 18! He was excited when we began to train with him.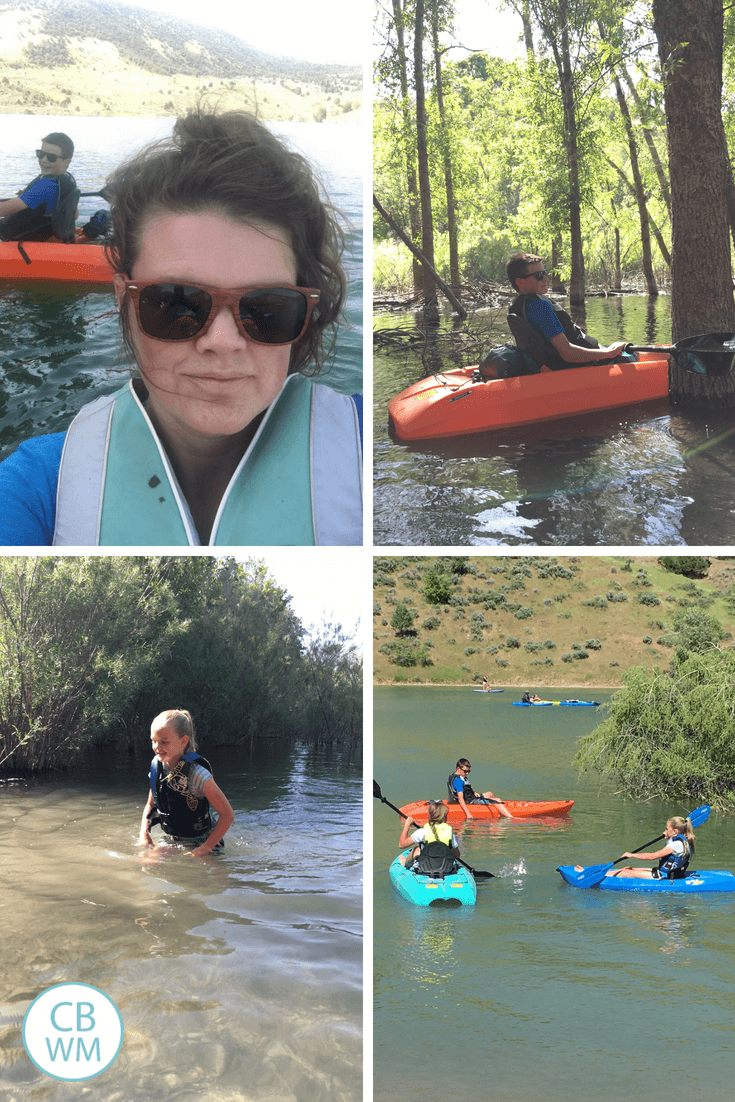 Then we went kayaking at porcupine dam. We kayaked from one side and back, and then went back home. It was fun kayaking as a family. On one side we stopped. Brinley and McKenna hopped out and touched the bottom of the lake. A bunch of trees were in the water so it was really cool.
Another cool thing we did as a family was family sports. We played baseball with wiffle balls as a family. We did our own way because we didn't have enough players to play team on team, so we did where everyone was outfield except for one person, and that one person would hit the ball. Then a different person from the outfield would try to hit the ball and so on. If you got out then you became part of the outfield again.
Brayden did golf camp during the summer, at nine in the morning. He loved it! Meanwhile, we girls were making bracelets! We had leather string, and a leather cord. We watched a video on a lap-top that told us how to do it. It was loads of fun! Also, it was very, very stressful. Mom was hustling around trying to help us get our things and figure out how to glue them together… it was still fun though after it was all done.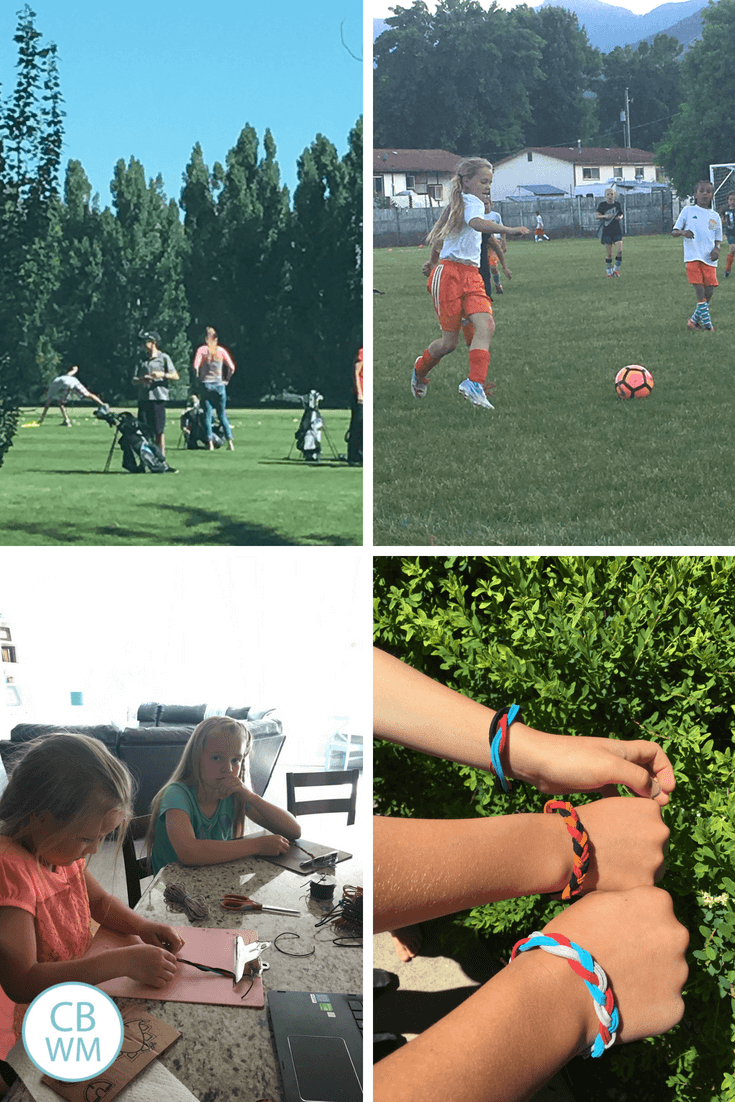 McKenna had soccer scrimmages throughout the summer, Brayden was the ref for some, making it seem more official for the girls. Brayden, instead of the soccer, was doing swim team meets! He races against people from 13-18, so Brayden was the youngest. It was a big change for him from being the biggest of them all and pretty much winning every one of his races, to being the youngest again.
Fathers Day was finally here for dad! We kids love having mothers day or fathers day, because we get to give them gifts instead of the other way around! Paper letters, and stuffed animals that would eventually make their way back us, that was pretty high on the list of things we gave. Oh, wait. That was pretty much the only thing we gave.
Then we went to the Logan Aquatic Center with neighbors, and there was pretty much nobody there. We had fun; we played a game called murder ball. It sounds terrible, I know! We played it in the deeper area of the pool. It is like the game 500, but you have a small ball that will skim across the water. You throw it in the pool, and before you throw it you yell how many points you are giving. Then people practically attack each other trying to get the ball. The first person to hold it up in the air is the winner, and gets the points.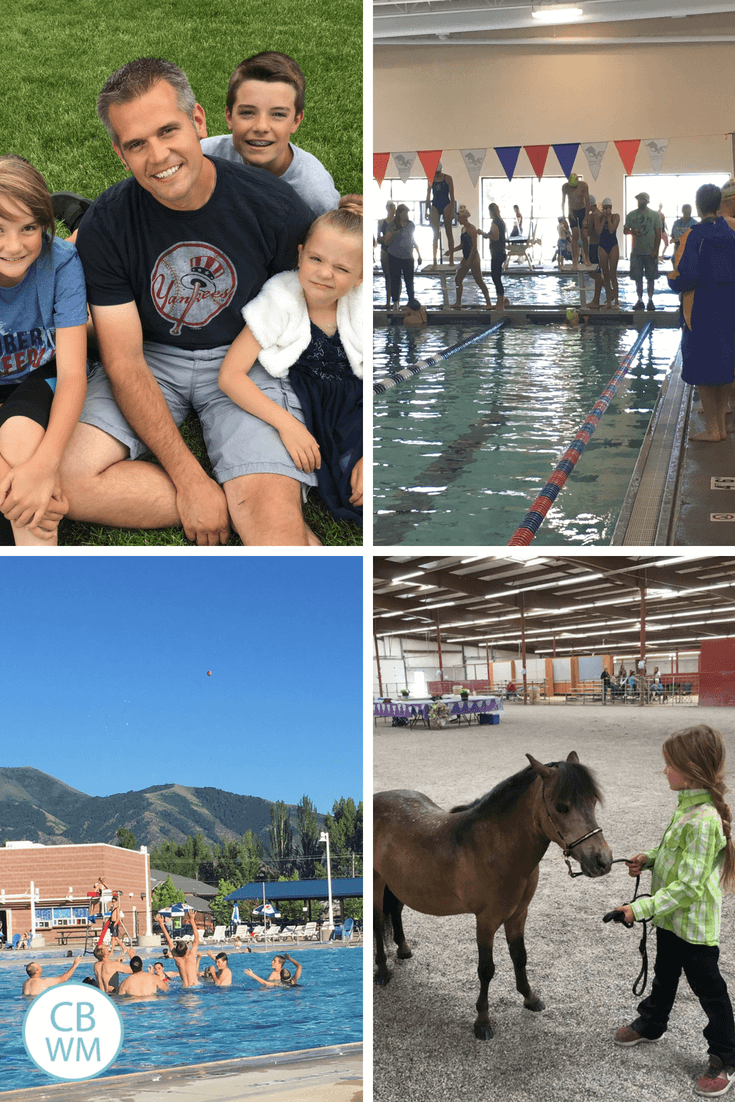 Mom is the girls camp director. She went to girls camp and slept for about four hours a night, and we finally went to our first horse show in Blackfoot, Idaho!
The horse show was fun. We got ready by bathing the horses at home, the day before, cleaning them up for the horse show. Then we practiced a little more, and went to bed at Nana's house. We slept there and woke up bright and early in the morning. Blackfoot is about a two hours away from here when you're pulling a horse trailer. We hurried and loaded the horses up and left in the horse trailer.
Papa pulled the trailer, and we followed him with a different car. We stopped at a burger king and got breakfast, and headed out of Utah, and into Idaho. We got there and unloaded everything, putting the three geldings in their stalls for the next day. Then we stayed in a hotel for the night, and arrived at the horse show. We spent a day of busily showing and bringing horses to and fro, then the day was over.
We stayed in the hotel one last night, checked out from the hotel and began to show our second and last day. That was when I realized that I couldn't fit my foot in my boot! I had stubbed it the night before in the pool the hotel had, and hoped that is was no problem. I realized that there was no way I was going to show that day. My toe was hurt to bad, and we assumed I definitely sprained it, possibly broke it. I had a hard time walking that day. Then, after all the showing was over we packed things back up and hurried on home. It was late when we got home, around 10:00 p.m!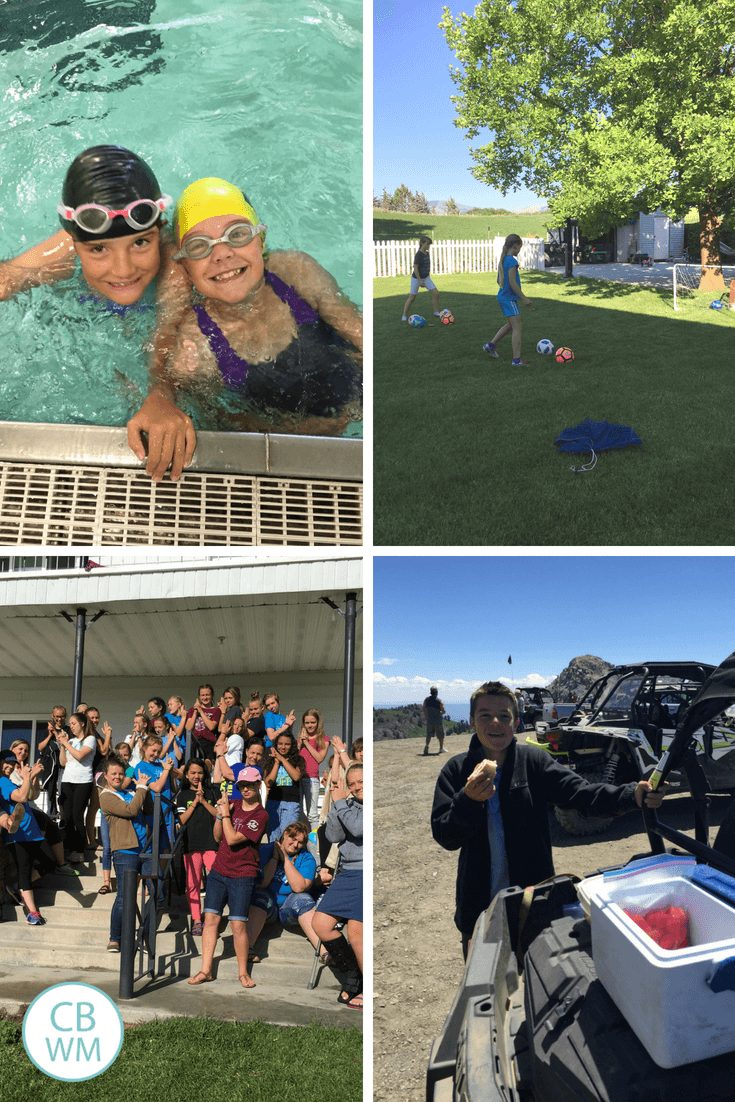 Then, we got ready to go to our family reunion on Dad's side. It was at Bear Lake this year, and we were pretty excited. Then we realized that we forgot sand toys! We hurried and stopped at a store on the way there and grabbed a big thing of toys, bought it, and ran back out. Then, we were off! When we got there, we saw our cabin. It was a huge cabin! As usual, we were the first ones there.
Grandma and Grandpa were there second there were in charge of this family trip. Then all the cousins arrived and it was officially a family reunion! We had pizza for dinner and Grandma and Grandpa showed a journal that Grandpa kept when he was younger. Grandma said we would be doing the same thing. I was put in charge of the writing for the journal. At the end of each day I had to write a journal entry to go in the journal.
We went to sleep. The four oldest grandchildren got to sleep with Grandma and Grandpa! I am the fourth grandchild, so I qualified. We slept well that night, until Grandpa came in who snored sooooo loud! Then I fell asleep, finally. The next day we went to Bear Lake. It was great! We played in the freezing water, on a 69 degree day! Great, right? It really was great. Just it was kinda cold. Really cold, actually.
We played that for awhile, then a friendly game of family soccer. When I say friendly, it really means super, super competitive. We're family, right? Gotta show who's the best! Then we went back to the Lake and stayed there until we got bored. Then, believe it or not, we got in a pool. Yes, a pool instead of Bear Lake. It was lots warmer, though!
We went to bed. That night was pretty similar to the first night for me, sort of sleeping, Grandpa comes in, not so good sleeping, and then I fell asleep. McKenna slept with two other cousins her age, and Brinley slept with mom and dad. The next day, Saturday, we did this thing where each family chose a movie they liked, and chose a scene from the movie.
You prepared something to act out for the movie and then showed it to everyone else. The other families had to guess what movie it was. Our family did Princess Bride, the marriage scene. It was awesome! Mom was the priest with the weird lisp type thing, dad was Prince Humperdink, Brinley was the Princess Buttercup, Brayden was all the soldiers, especially the main one, I was Inigo Montoya, and McKenna was Fezzik.
Everyone knew what it was as soon as we began to set up. We made a Wesley out of towels, put cloths on him and called it good. Since he was limp in the scene, he was on my back and I was Inigo Montoya, and Weslye. I would speak what he said in the movie.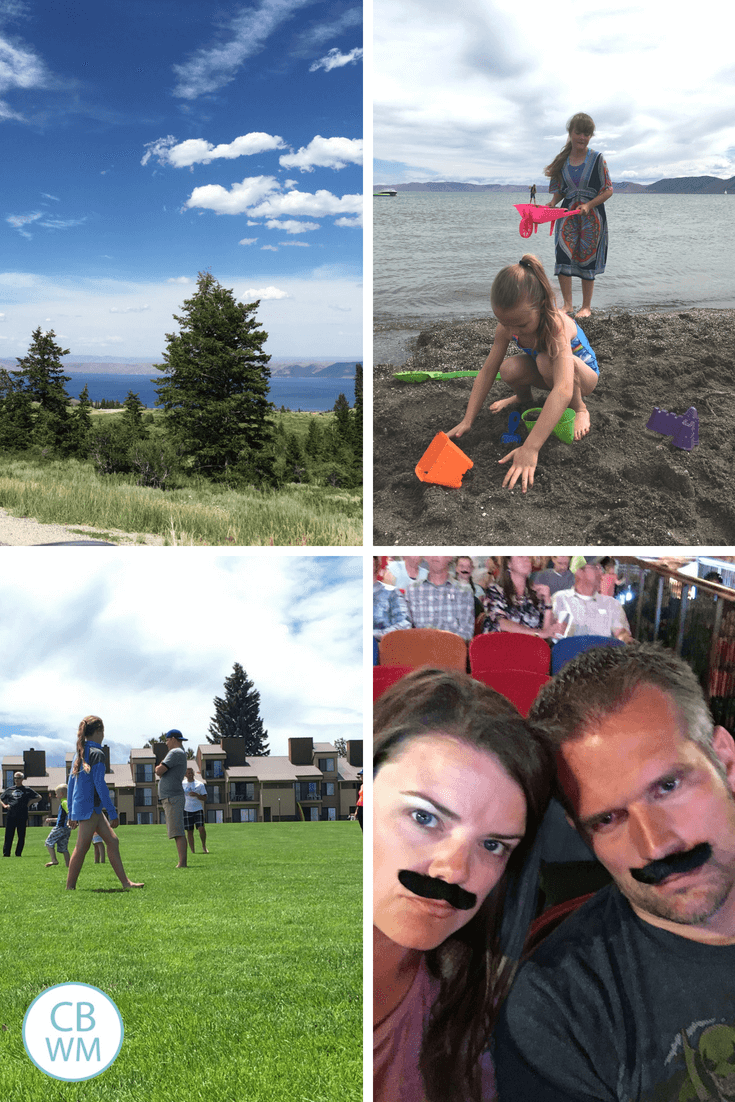 Then, maybe the best part of the entire trip was that we went to the Pickleville Playhouse, and watched a musicale, Juanito Bandito. It was so so so so so so funny!!! Dad loved it probably most of all. He said that he laughed pretty much the entire time. The person who directs it plays Juanito Bandito, and he also writes the entire play. He writes a new one every year, and one for Christmas.
Before the show started, they gave out stick on mustaches. The musical was one of the best musicals that I have ever seen! The actors were all great, and they had all sorts of talent. Afterward, there was a dinner that came with it. You had to have your ticket and you went and ate great stuff! The musical was so awesome that I think I want to see one every year.
After we got home from the Pickleville Playhouse, we got ready for bed and went to bed. The next day we woke up and everyone got ready to go. We cleaned the cabin we stayed in (which had gotten quite dirty!) and people began to leave. We had a great time at the family reunion!
We packed things into the car and got in early before lunch. We drove from the cabin to the church, which had tons of people in it. There were so many people that they had the chapel and gym filled all the way up, and then they put TVs in other rooms like the young men's rooms, and we sat in one of those rooms. Our family sat on the back row of the small room. Brayden and I sat together and looked out of the room.
When we did there were a bunch of people- Brayden called it a herd- who were passing the sacrament came by. It was crazy! They needed so many because of how many people there were in the church. After church we made our way out of the swarm of people and got to the car, said bye to our cousins and headed home. When we finally got home it was lunch time and we ate. Our day was good from there. It was a great day.
That was our June!