Find out what you REALLY need to get to be prepared for your newborn baby to come home from the hospital. These are items you will actually use.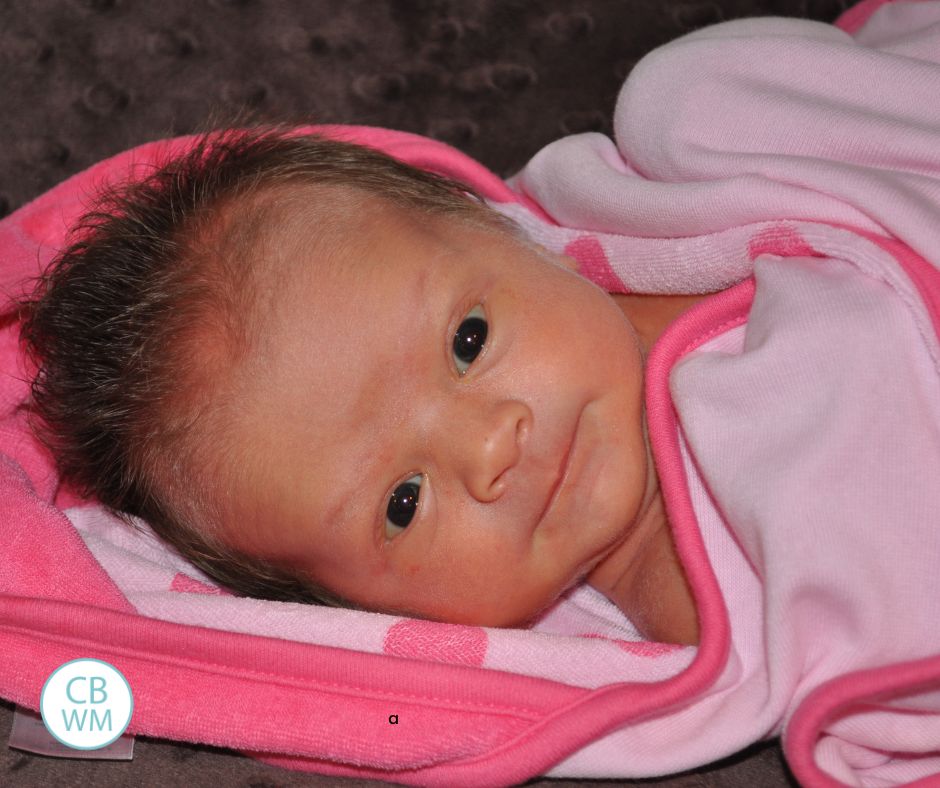 As I was prepping for Brinley, I wanted to make sure I had everything I needed on hand for the early days so we wouldn't have to go to the store a million times after she was born.
There are a lot of lists out there of what you need, but what do you really use? Of course, what you use will vary some from baby to baby. What you use will also vary from mom to mom. Hopefully this list can give you a better idea of what you might actually need and use in that first month with baby. Hopefully I can remember it all!
Newborn Products for Feeding
Your first step in your routine is feeding baby. This is what I used while feeding Brinley in the first month.
Nursing Pillow: I love having a nursing pillow. It seems like when Brayden was a baby, the Boppy (or generic versions that were the same thing) was the one option for nursing pillows. Now there is My Breast Friend, Mombo, and much more. What will you like best? I don't know. I have tried the Boppy and the Mombo. I like both. I find the Boppy better for sitting on softer surfaces, like my bed or my couch, and the Mombo better for sitting on harder surfaces, like my computer chair. What is your favorite?
Milkies Milk-Saver: This is cool. The Milkies Milk Saver is a relatively new product. This is something you put at your breast to collect the milk that drips out during let down. I think the company's product description is slightly misleading. They say it "
allows you to breastfeed anywhere without worrying about embarrassing leaks or uncomfortable nursing pads The Milk Saver is easy to use simply slip into your bra cup on the non nursing side before you breastfeed. " 
This product is rather bulky and large. It is not discrete. So it isn't like I am going to be bringing this to church with me to "slip" into my bra before I feed my baby. It is definitely much larger and more noticable not only to the touch but to the eye than a simple nursing pad. However, it is great for collecting the letdown. Then the milk does not go into your nursing pad, which means you change those less frequently and leak through them less (I haven't at all). It also means you collect extra milk. This is milk you can freeze and store. My question with that milk is do you use it to give baby a full bottle? I don't know. I would use it for sure to mix in with cereal or pureed food when solids time comes along. The thing I worry about with the milk is the foremilk/hindmilk balance. If you have a bottle full of the milk that comes out during letdown, there will be a lot more foremilk than hindmilk, which can lead to digestive issues for baby according to breastfeeding information. Perhaps this would not be a problem for the occasional bottle every so often? I am not sure.
Lansinoh HPA Lanolin: I love Lansinoh for preventing dry and cracked nipples. I use this a whole lot in the early days. 
Newman's Nipple Cream: This is a prescription item. I LOVE this stuff. It helps ease pain, heal nipples, and prevent bacteria from spreading from baby to mom. I used this time and did not get mastitis in my first month for the first time.
Lansinoh Disposable Nursing Pads: These are my favorite nursing pads. They can hold so much liquid! Just be careful you change often enough so you don't build up yeast.
Cotton Nursing Pads: I also have cotton nursing pads I use during the day. I do not at night because I leak milk in the night enough that cotton would not contain it.
Bravado Nursing Bra: This is what I used with McKenna, also. I like this because it has a liner in the bra that has some padding so you can't see your nipples through the bra. What nursing bra do you like?
Nursing Nightgown: I got a nursing nightgown from motherhood maternity when Brayden was a baby from my mother-in-law. I love having it. I like that I don't have to lift a shirt up and hold it up in the night. I eventually move to my normal t-shirt for sleeping, but in the early days, I stick to the nursing nightgown.
Robe: I put this on in the night when I get up to do night feedings. I find I get cold since I am often wet from all of the sweating (I hate the sweating!).
Ice Cube Trays: I use these to freeze my breastmilk into cubes for easy storage.
Nursing App: I asked on Facebook what everyone uses and loves. I ended up going with Total Baby. I like it, but I am not necessarily in love with it. There are a lot of things I would change…maybe someday I just will make an app that I would love!
Burp Cloth: She isn't a huge spitter, but I keep one nearby because it does happen sometimes.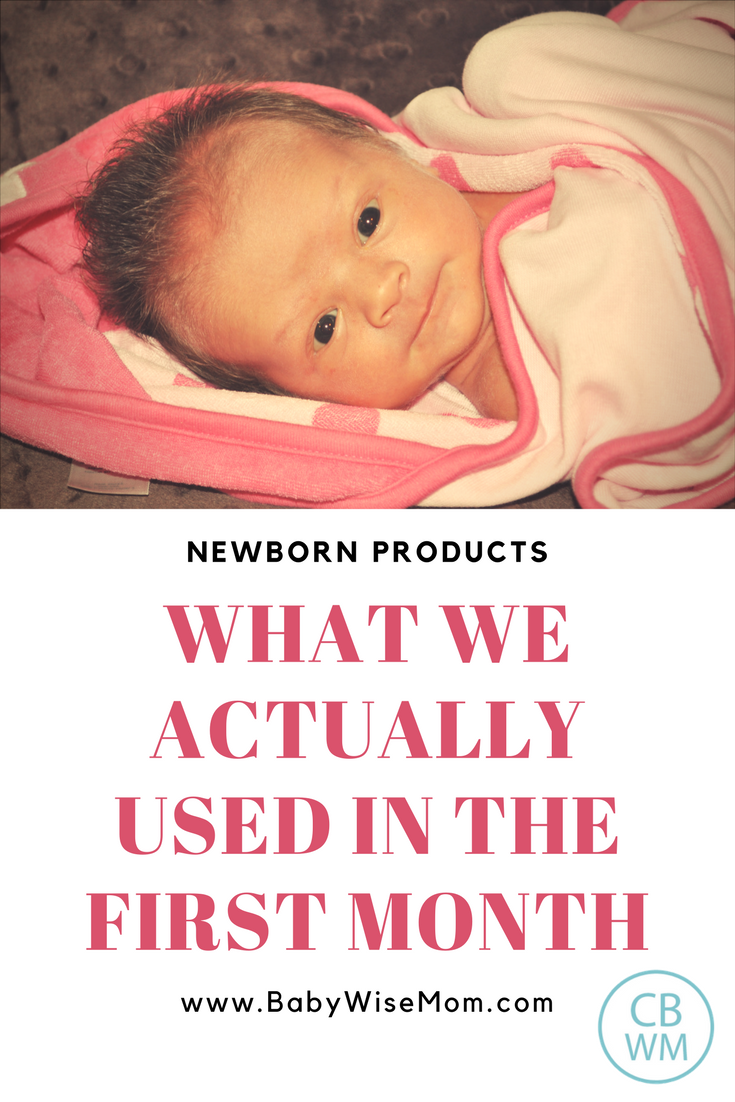 Newborn Products for Playtime
Here are the products we used during playtime. For more ideas, see Best Toys for Baby: Ages 0-3 Months.
Gym: We got the 
Tiny Love Super Deluxe Gymini Activity Gym for Brinley and I am super happy with it so far. It is great for independent play and tummy time. It also folds up easily, so I can put it away when she is done playing. I LOVE that feature. Oh, you could also hang any hanging toy you have from it, so you can change up the toys that are on the gym, which I think is nice for baby.
Bouncer: We just have the same bouncer we bought when Brayden was a baby. Nothing spectacular. Made by Fisher Price. We are obviously happy enough with it to not want to replace it. I think this is close to what we have (I don't think they make the one we have anymore): Blanket: Just a plain old blanket. This works great for tummy time and just laying and observing the room.
Books: I also read her a book each day. We have a lot of baby books at this point in child-rearing. The one I have read the most to her is 
That's Not My Puppy.
Newborn Cleaning/Hygeine Products
Diapers: We use Huggies Little Snugglers Diapers. You can figure on using at least 8 diapers a day, but oftentimes more. 
Diaper Cream: We use 
Aveeno Diaper Rash Cream
Wet Wipes: We use Huggies Natural Care Baby Wipes
Fingernail clippers: We use Fold-up Baby Nail Clipper from Safety 1st
Comb: I just use what the hospital gave us
Shampoo/soap: We used Johnson's Baby Wash because the hospital gave us some for free so we are just using it up.
Towel
Washcloth
Bathtub: We got this tub for Brinley: The First Year's Infant To Toddler Tub We really like it. We like that it has the sling for holding the baby in. We have never had that before and have always had a squirmy newborn in the water. With the sling, I have two free hands instead of one. We also turn a space heater on in the bathroom before we bath her because the sling keeps baby above water–not as warm overall.
Newborn Sleeping Products
Bassinet: So far, she has only been sleeping in her bassinet. I put it in her crib (we took it off of the base). I have tried one nap in the crib and she didn't sleep as well. It could have been a coincidence, but I am fine with the bassinet so far. It is cozier for a tiny thing.
SnuggleU: She sleeps with her SnuggleU in her bassinet with her. I really love this for helping baby stay cozy while sleeping. 
Microfleece Swaddleme: She sleeps with her Swaddleme. Since she likes to be so warm, we use the microfleece right now. 
Newborn Gear and Safety
Carseat: of course you need a carseat. I asked for favorites on Facebook and came up with three carseats. One from Graco, one from Britax, and one from Chicco. It was a HARD decision! I spent so much time mulling this over. In the end, I went with Graco. That is what we had for the older three and we had no complaints about it, so it was familiar and comfortable for us. With the older three, we had the smallest Snugride. This time, we went with the Graco SnugRide 30 Infant Car Seat. This has the ability to adjust straps from the front still (the newer snugrides in the smallest size does not have this feature anymore, which would infinitely drive me insane). It also has the newborn insert, so the baby is much more snug and comfortable. Fabulous feature.
Diaper Bag: I get a new diaper bag with each baby. I just want to. I once again asked on Facebook for favorites. There are many, many options out there. I settled on Skip Hop Studio Diaper Bag Tote Bag. I am very happy with it. It is not too big–perfect for one baby. I like that it looks nice–it could just be a purse. It has lots of pockets for organizing. The quality is fabulous.
Changing Table: I am a changing table person. I like them.
Glider Rocker: We have a glider in Brinley's room. This is where I do night feedings and the dreamfeed. We got it from Target 5.5 years ago. It is comfortable.
Video Monitor: This is amazing. You can use a 
Foscam Camera and hook it up to your home network. Then you can buy an app and see your baby on your phone anytime, anywhere. My husband can see her while he is at work. I can have a video monitor with me at all times without hauling something extra around. The Foscam Camera is used for home surveillance systems. You can snap pictures of your baby sleeping with the camera, too. Love it.
Audio Monitor: We got a new audio monitor for Brinley. After browsing Amazon, we went with 
VTech Communications Safe & Sound Digital Audio Monitor. It is a nice monitor–it does not pick up background noise, so you don't have the "shhhhhhhhhhhhhh" going on all the time, which is nice since we have an audio monitor for all of our kids. Three different monitor background noises can get old.
>>>Read: Invidyo Video Baby Monitor Review
Newborn Clothing
Socks–and they sell some socks that are cute and look more like little booties or shoes than socks. I like those for going out. I want comfort first, and my newborns spend time in socks (unless they are Kaitlyn and hate socks).
Onesies
Shirts/outfits
Dresses
Sleeping nightgowns: I have my newborns sleep in Newborn Gowns and socks for the first while. I like how easy it is to do diaper changes with these. 
Bows and bracelets, too 🙂
Newborn Medications
Conclusion
These items are what we actually used with our newborn baby in her first month. These are the things I would recommend getting for that first month.