Best Toys for Baby: Ages 0-3 Months. Best toys and activities for newborn babies ages 0-3 months old. Ideas for waketime with your baby.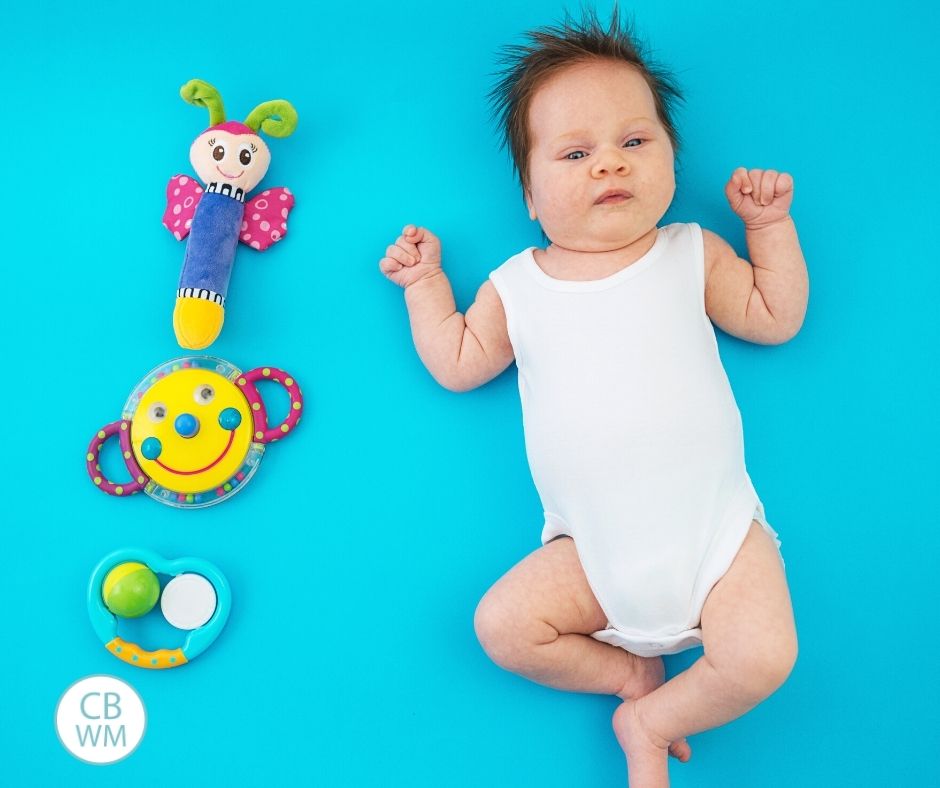 I had a request for a series of favorite toys for each age range of baby. I can share my ideas and then you all can share yours.
o-3 months is a time when your baby doesn't really play with toys. When you consider Hogg's Learning Triangle for Babies and Ezzo's funnel, you want to be careful about what you try to have your child play with.
This doesn't mean your newborn needs to sit in a state of boredom. For one thing, everything is new and interesting to your newborn; she can easily become overstimulated if you take things to far (which I think is very common for the first time mother, at least it was for me). For another, there are some things I think are good for the newborn.
Remember the baby doesn't usually get the ability to grab a toy until 3 months, some closer to 4 months. So we are talking about the newborn who can't move herself or purposefully grab something and hold it.
Blanket: A blanket can be a good "toy" for a newborn. You can do tummy time or lay your newborn on her back to just observe what is going on around her.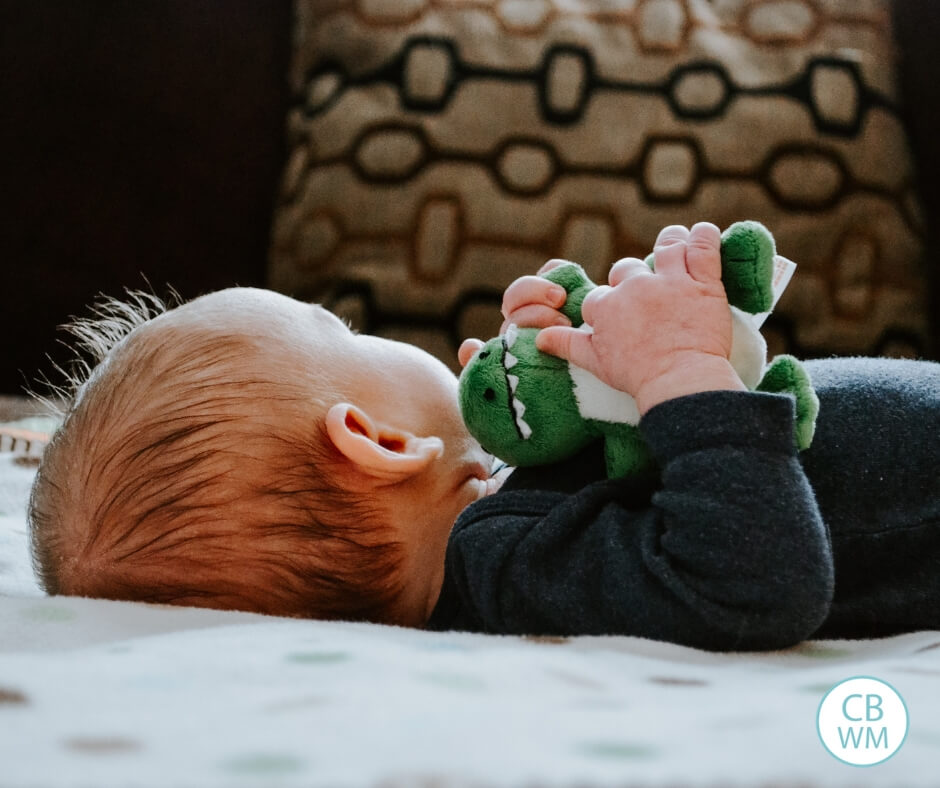 Playpen: A playpen can be used instead of a blanket, or in addition to a blanket. You could put mobile on the playpen (mobiles are discussed below) a stuffed animal in your baby's view, or even the gym in the playpen and the baby at the playpen. I find this nice if baby has older siblings that aren't quite aware of how to handle baby yet.
For example, Brayden was 22 months old when Kaitlyn was born. He has always been a cautious person and was never too rough with her, but I wasn't about to leave them in the room alone together or leave her in his reach without my supervision. Putting her in the playpen offered a buffer for me to be sure she was safe. Our playard is a Graco brand, but there are lots of brands out there: Playards
Bath: Once the umbilical cord has fallen off, you can bath your baby as a good "toy" for this age if she enjoys it. Before that, just a sponge bath. See this post for my favorite bath items along with many ideas from readers: Baby Stuff I Love: Bathtime
Massage: Your baby might enjoy an infant massage. Tracy Hogg, author of Secrets of the Baby Whisperer, recommends infant massage as an activity.
Benefits are that it can speed the development of the brain and nervous system, improve circulation, tone muscles, and reduce stress and irritability (found in premature babies–full term babies benefit too).
Hogg says three months is an optimal time, but she has seen moms start earlier. I also know many moms who start with newborns. She has a section on how to do massage in her book. You also might be able to find a class near you. I know my hospital teaches an infant massage class.
Hogg says,
"…massage can raise their stimulation threshold, allowing the tolerance to build gradually."
This is especially helpful for touchy babies. I did massage with Brayden, and I found it to be one of the only things that would keep him still before I started Babywise. I would definitely recommend you learn to massage your baby if you feel so inclined.
Parent's Voice: your voice can be interesting for your baby. Think back to those nursery songs and sing them to your baby, but be sure you don't take it too far or for too long. Some of my kids favorite songs were The Wheels on the Bus (doing actions of the bus with baby's body, so for wipers, I would take their hands and swish them back and forth), 10 Little Monkeys (my fingers were the monkeys), and the Itsy Bitsy Spider (me doing actions).
Puppets: Your newborn might enjoy looking at a hand or finger puppet on your hand. Be mindful that you don't get too crazy with it. For the older newborn, she might enjoy if the puppet tickles her or kisses her. These are great toys because they can grow with your child. Your child enjoys watching them more as she grows, then she enjoys putting them on her hands, then she can do puppet shows. I have found finger puppets to be especially nice at church. Hand Puppets
and Finger Puppets
Simple Pictures: You can draw a big black circle on a white piece of paper and set it somewhere for your baby to look at. Not very exciting to the adult, but stimulating to the baby.
If you don't want to make your own pictures, this is a great board book of high-contrast images for babies.
Gym: A baby gym is a great place for a newborn to play. It is a great "medium" for independent playtime (see Independent Playtimel). At first, she just lays there and looks at the things around her (be sure you don't leave her there too long and overstimulate her). Between 1-2 months, she might start trying to grab or kick the items she is looking at. She also might coo at it. As she approaches 3 months, she will at first accidentally grab an item, then start to move more purposefully in trying to grasp those toys. Many baby gyms are designed to grow with your child. Baby Gym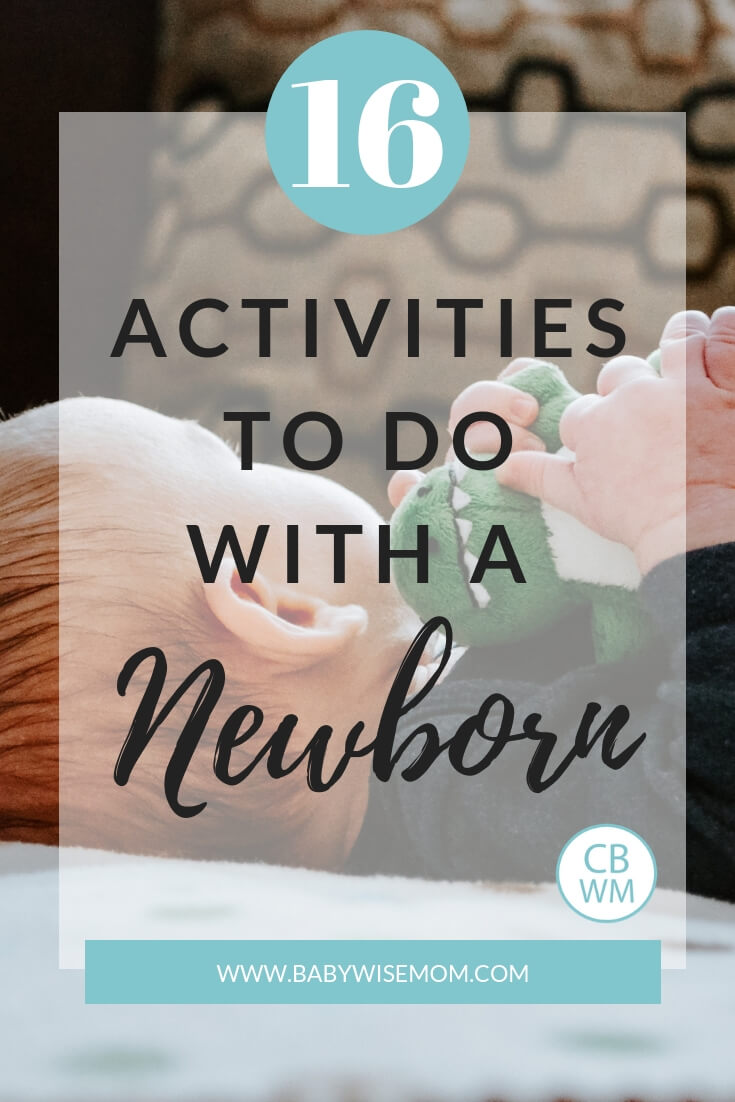 Mirror: A baby safe mirror can be fun for your baby. Your baby will enjoy looking at herself. You can get a crib mirror and have her lay in the crib or playpen and look at herself or get a car mirror and use just in the car or move it back and forth. Be sure if you put it in the crib that you take it out for naptime or she might admire herself rather than sleep. I highly, highly recommend a mirror in the car. It was an absolute must with Brayden. For Kaitlyn it wasn't as necessary, she was more interested in looking at Brayden, but she still enjoyed it. Baby Mirror
Mobile: The only mobile we have ever had is a simple mobile with three bears hanging from it (it came with our playard). They don't have music and don't move or anything. This sounds really boring, but for the newborn baby, it is fascinating. Brayden was always really active, even as a newborn. He was standing (supported by us) before two months old. He wanted to move. When it came to these bears, however, he would just lay and watch them. I had them by his changing table. He would watch them while I changed his diaper and then want to lay there some more to continue to watch. They are also the first things he ever talked to. He talked and talked to them. Baby Mobiles
Bouncer: A baby Bouncer is another good "medium" for independent play in those early months for Independent Playtime). It is also a nice place for baby to be while you fix dinner or something. As your baby starts to develop some head control, the bouncer can be a fun toy. There is no shortage of different bouncers out there, so find one you think you will like. Ours is a kick and play where things happen when baby kicks. It was fun for teaching cause/effect. Here is the one we have, but there are lots of fun options out there
Swing: I love the swing. Brayden wasn't ever one to sleep in it, but he would sit and have some playtime in it each day. The lifesaver of the swing came with Kaitlyn. For one thing, she had reflux and there were times she needed to sleep in the swing. It was also a good place to put her to sleep if she had been up too long and overstimulated while she was sleep training instead of the crib (like when she was at church).
It also helped train her through the short naps (see What to Do When Baby Wakes Early from Naps or Won't Fall Asleep for Naps). Another reason it was great is when you have two children (or more), you can't always give your full attention to the baby, so it is a nice place to put baby for a few minutes if she wakes early and the older kids are in need of something (say it is their naptime). The current hot swing out there is the Fisher Price Sweet Snugapuppy.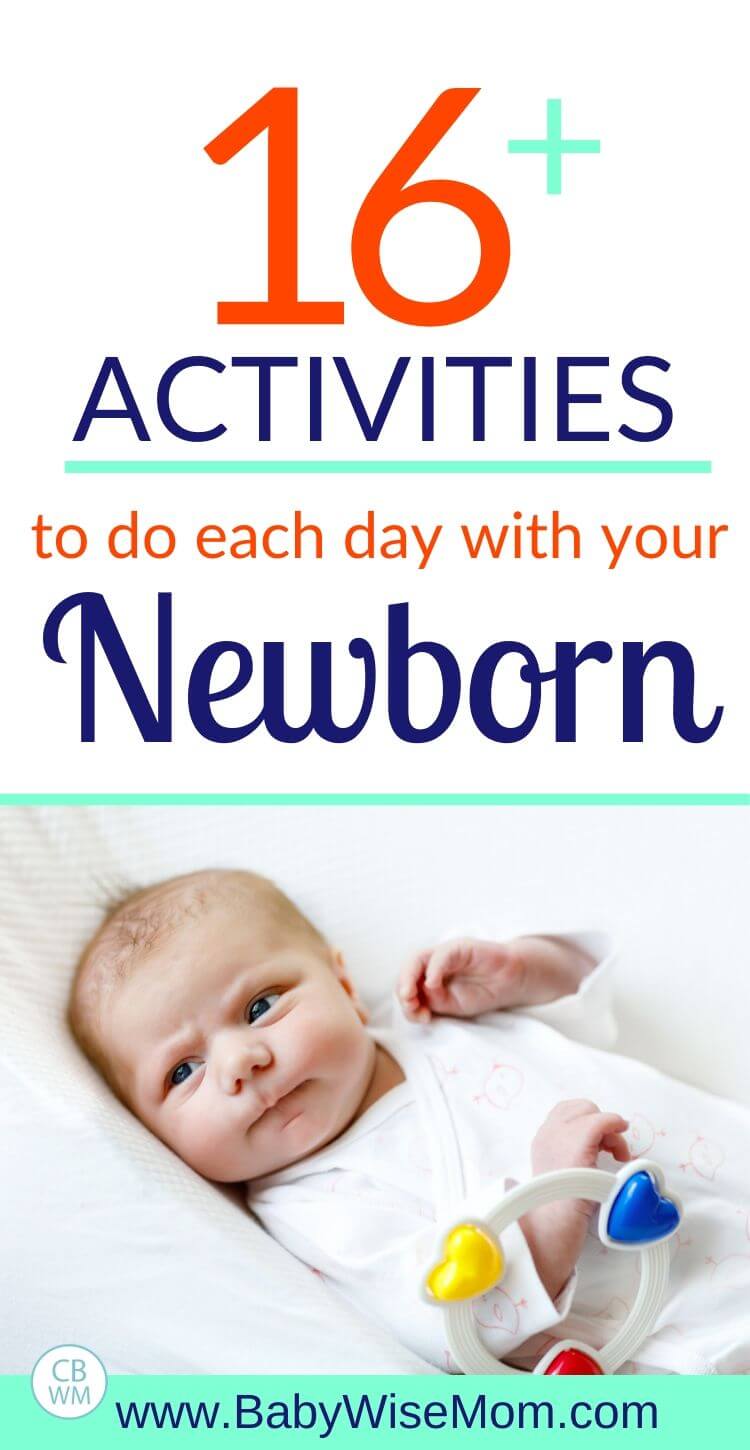 Books: It is no secret that I love books (see The Value of Reading Aloud to Your Children). I plan to do a Baby Stuff I Love post on books that I love, but I will also include books especially good for each age group in this post series. For this age you are really going for books to look at and books with fun rhymes. Your baby won't be touching on purpose yet, so I won't list touch and feel for this age.
If you are interested in good touch and feel books, I will list them in the 3-6 month post. Books that are excellent for words are the Baby Einstein books. I especially like the bath books for this age and older. The older newborn is accidentally grabbing stuff, or perhaps trying and getting it by chance. These books are basically indestructible. Baby can slobber all over them without problem.
When baby gets older, they can go in the bath with her. The first four books on this page are the bath books we have: Baby Einstein Bath Books
. I also recommend any Baby Einstein book really, but one I would find especially good for this age is the Mirror Me Board Book. It has mirrors on each page along with a fun character. It can be a fun book for baby to see herself: Baby Einstein: Mirror Me! (Baby Einstein)
. Another type of book I would recommend for this age is the cloth book. They are soft and safe. Baby Cloth Books
. One in particular my children both liked is Circus McGurkus 1, 2, 3! (Dr. Seuss Nursery Collection)
. The text is in rhymes and each page has something fun for baby. For example, on page has a rattle.
For a full list of my favorite board books, see my post Best Board Books to Own.
Other toys you can move: You can get toys that your baby can't hold or play with yet to entertain with (like a rattle). Just be sure you don't overstimulate and you don't become baby's primary source of entertainment. For a list on toys like this that I recommend, see the 3-6 month age post.
Stroller: I felt comfortable taking both of my children on walks once they were 6 weeks old. Brayden's birth took me a long time to heal, so that is part of the reason he was that old. I could have done Kaitlyn earlier, but we had a double stroller that wasn't as good for a newborn as our single stroller, so at 6 weeks I thought she was strong enough to sit in it. Also, for many babies that is the youngest they can be and stay awake long enough to eat, change diaper, and go for a walk. If you want to take baby for a walk (for your sanity as well as theirs), one tip is to have the stroller and everything ready to go while baby is napping. Then you can feed, change diaper, dress appropriately, and take off.
For a single baby, I really like our Graco stroller. It has several reclining positions, all the way to fully laying down. It is really easy to push; you hardly feel the weight at all. You can maneuver it with one hand. It is bulky, but where I live and walk that isn't a problem at all. Our double stroller is the Jeep Wrangler Twin Sport All-weather Umbrella Stroller. Both seats recline and it is really small for a double stroller. It isn't as easy to push as our solo Graco, but I didn't like how long or wide double strollers could be. Also, I don't think any double stroller is as easy to maneuver as a solo stroller. I wanted a stroller they were sitting next to each other but could still realistically fit in normal places. Strollers
Whoozit Activity Spiral: This is something I got for Kaitlyn and I love it. It can go on a car seat, stroller…pretty much anywhere you can get it to go around. It is an award-winning toy that is fun through many ages: Whoozit Activity Spiral
In no way are all of these things necessary, but they are all ideas for you and your newborn. Please share any great toys you have found for babies ages 0-3 months old.
Related Posts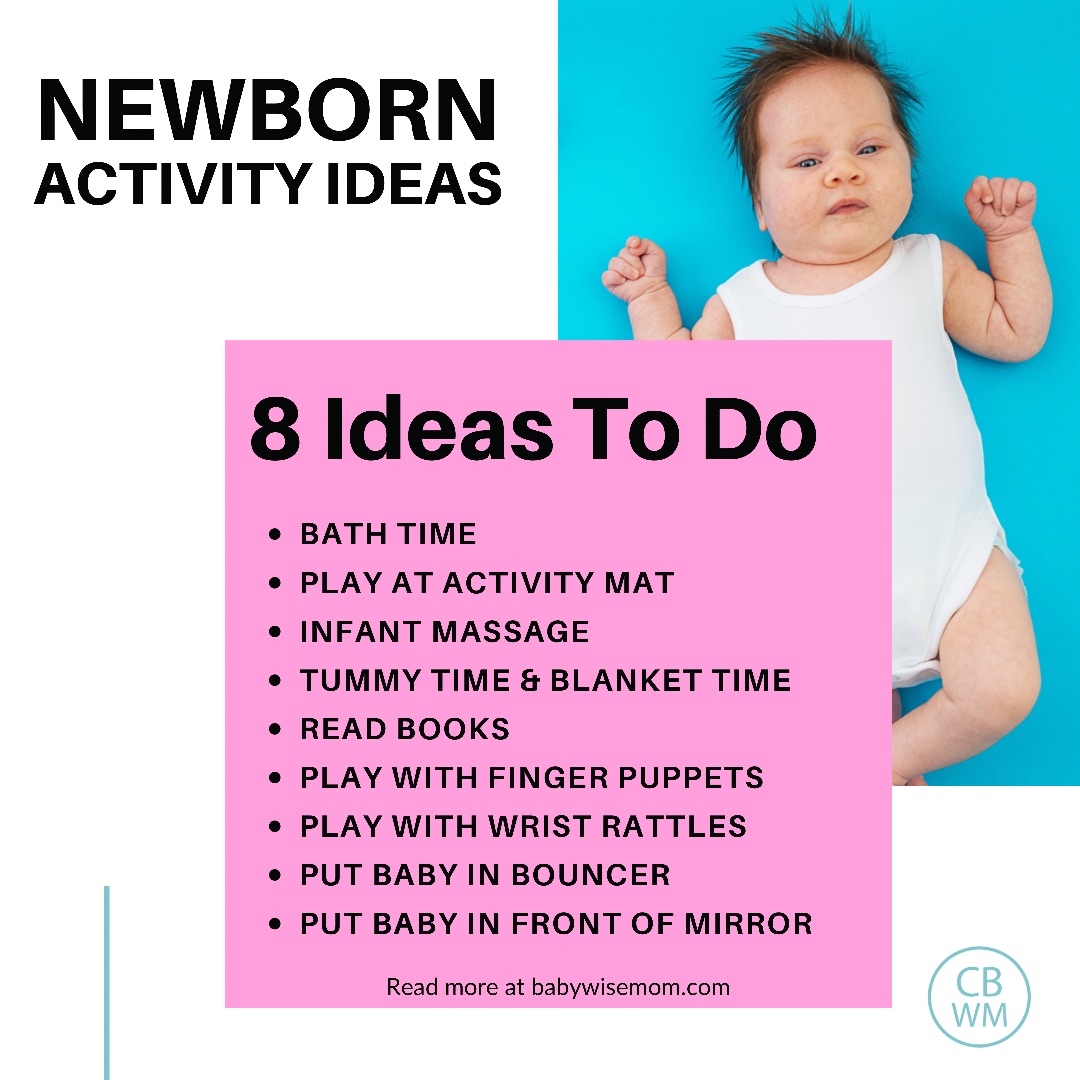 Reader Advice
Elizabeth said…
Our 2 month old daughter loves her toys that have faces far better than any others. She loves to sit and stare at them, talk to them, and smile back at them. She wants nothing to do with the ones that don't have faces for her to look at!
December 1, 2008 7:36 AM
Plowmanators said…
Thanks Elizabeth!
December 2, 2008 2:10 PM
Rachel Stella said…
One of my son's favorite things to do at this age was lying down on his back on my lap with his legs facing me. He couldn't get enough of this!
December 2, 2008 11:14 AM
Plowmanators said…
Thanks Rachel. Those simple things are very common "toys" for babies this age.
December 2, 2008 2:11 PM
Find the best toys for your child's age or for a specific occasion or location.