No Use Crying Over Spilled Milk…Or Is There? Why I actually do get after my kids for spilling milk. Not every time–but there are moments.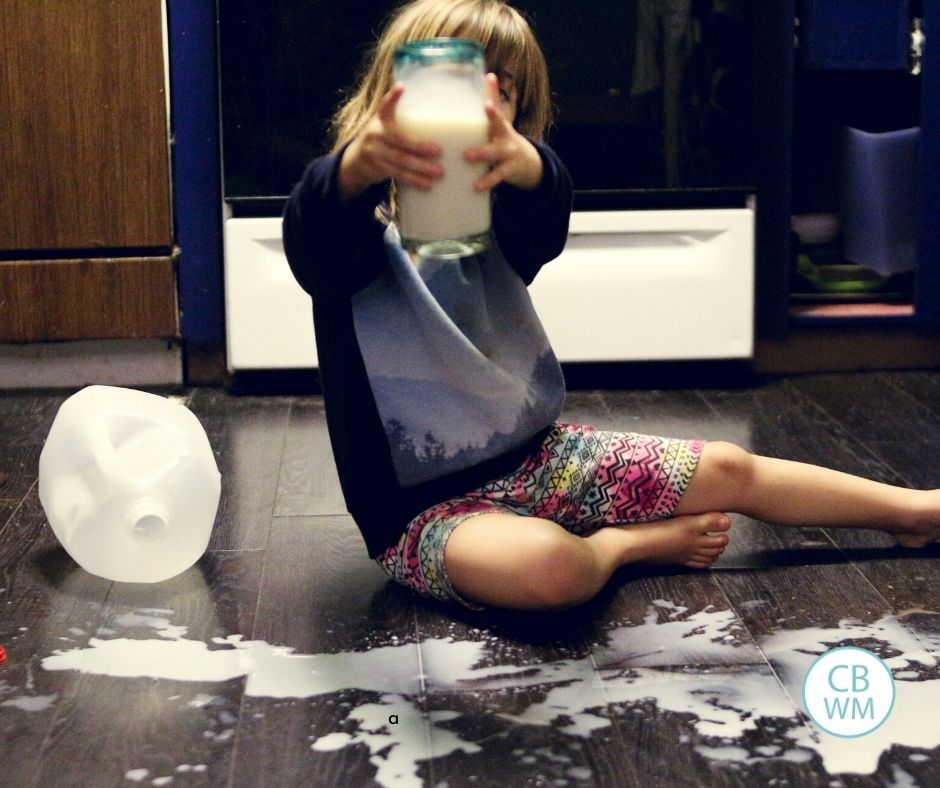 I am typically a very calm, patient person. I have excellent control over my emotions on every level–few people on earth have seen me cry.
You know the phrase "no use crying over spilled milk"? I took that to heart. I have always been very patient with spilled milk, even when the spill came due to carelessness or goofing off.
Brayden and Kaitlyn both quickly became children who rarely spilled. I just gave a gentle reminder about being careful or not goofing around…
McKenna came along and she is decidedly less careful about such things. She is so happy in life that something like spilling milk all over herself isn't annoying at all.
Sure, a nice quality to be happy. Not an inexpensive quality–especially when you get your milk from the local dairy–but it's not about the money (money, money…). I maintained my patience with her.
Then came this glorious April day when I did lose my patience.
Here I am, getting ready to go help in Brayden's class. I needed to have myself ready, Brayden ready, and Kaitlyn ready by 8:40 AM.
McKenna did not have to be ready, which is nice since she sleeps until 8-8:30 AM. I know some of you are ready and out the door daily much earlier and might laugh at this being a struggle for me, but you do have to understand that with being pregnant and needing to sit still for at least 30 minutes after I eat breakfast or I will puke all over, it cuts into my abilities.
So the scene is that I had five minutes before I needed to be out the door and I hadn't even touched my hair or make-up yet.
I was in my room, not far from the kitchen, while McKenna ate breakfast. She called to me requesting more milk. I hurried out there because she is extremely independent and I knew she would get it herself if I didn't do it.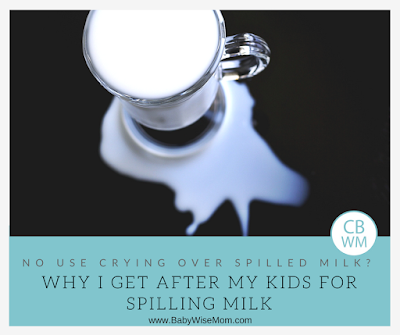 Despite my hurry, when I arrived on the scene she had successfully spilled the entire half gallon of milk all over the bar, floor, chairs, herself….it was everywhere.
I maintained my cool (outwardly). I cleaned this huge mess up. Just as I wiped the last bit of milk, she was doing some dance and her hands came down and spilled the milk in her cup. 
At that moment, all patience left me.
I literally thought about the advice "no use crying over spilled milk" and decided that is silly advice anyway.
At least once a day, I was cleaning up a mess of spilled milk from McKenna and this was getting really old.
I got her down from her chair, wiped her up, and informed her that she was done eating breakfast. Just then, my dad walked in the house (he was there to watch McKenna while I was gone), took one look at me and offered to clean the mess up for me. It is amazing how even in my 30s my parents can sometimes just save the day for me sometimes. Aren't parents great?
About a week later, a friend and I were talking about cleaning up milk spills and how old it gets when it hit me.
McKenna hadn't spilled milk since that day.
It was, in fact, over a month and a half later before she spilled anything again.
I realized something: sometimes there is use crying over spilled milk.
Sometimes being unendingly patient about it just gives the child no reason to try not to spill it. She was obviously being careless before and had obviously put effort into not spilling.
So I  have a new policy. I don't get upset over accidents–and I think that is partially what the old phrase is trying to teach us. Accidents happen, there is nothing we can do about it, and there is no use making a big fuss over a genuine accident. Even adults spill things sometimes.
There is no use in crying over what you can't change. You can't change behavior that is purely accidental.
I do, however, get upset over things getting spilled due to carelessness or general goofing around at the table.
There will be a consequence for it. It might be as simple as a reminder to be more careful and that we don't play at mealtimes (we can visit, we can enjoy each other's company, but we don't tickle or try to grab each other's stuff).
It might be that the child needs to have water to drink instead of milk so that the clean-up for carelessness is easy. Maybe the child needs to be done altogether–it is all case by case and moment by moment. And in these cases, crying over the spilled milk, so to speak, leads to behavior change.
So sometimes you do cry over spilled milk. Sometimes crying once over spilled milk can move the milk from being spilled at least daily to once a month at most. That is useful in my book.
Related Posts