If you do not yet have a child old enough to whine, let me assure you it is one of the most frustrating habits a child can pick up. I have a few posts on how to handle whining once it is a problem, but as in all things, preventing bad habits is easier in the long run than trying to fix bad habits.
On Becoming Babywise Book Two discusses how to work toward the prevention of whining, starting on page 49. "[Whining] can happen as soon as your child begins to communicate ideas" (page 49).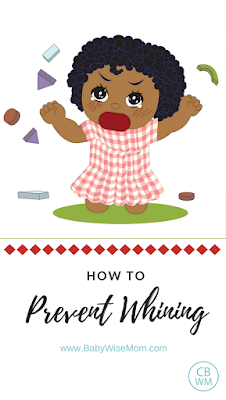 The authors point out that initially, whining is half-hearted and not done out of rebellion. They do caution, however, that it can become a habit and become a method used to get what the child wants.
Whining prior to 15 months is usually due to a limited vocabulary. I would add there will be children out there who still have vocabulary limitations beyond 15 months.
I think just about everyone, parent or not, can answer this question correctly: How to you prevent (or stop) whining from becoming a habit?
Think. Answer.
Did you say something like, "Don't give into it?" Sure. We all know that on an intellectual level. The trick is stopping ourselves from giving into it–we often do without realizing it.
Your 10 month old wants more food, but can't talk, so she whines for some. Her intentions are not bad–she just wants more food and is doing what she thinks will be the most effective way to let you know. If, however, you respond by giving her more food (her motives are innocent after all), you are teaching her that whining works. Whining is effective. You are giving in to her whining. If you don't think she is smart enough to catalog this in her brain, you greatly underestimate her intelligence.
So what do you do? You work to give her ways to communicate without whining. A very effective way to do this is sign language. I love the tool of sign language. A 10 month old is more than capable of signing simple signs to you. "More," "Please," "Thank you" etc.
If you have a younger baby, start signing to your baby now. With Brayden, I didn't worry too much about signing. He started talking around 7-8 months old, so I felt signs weren't necessary for him. However, at 14 months old I introduced some signs and it really helped in a lot of situations. Because of that, I started showing signs to Kaitlyn at 5 months old. She was even more verbal than Brayden, but started signing to me around 7-8 months old. She even would sign "all done" when nursing. I loved that. With McKenna, we also did signs.
Signs are valuable no matter the age or verbal abilities of your child. I encourage you to use them to help prevent whining, whether at the table or at play.
For more on signing and more on how signing helped us, see
We are sorry that this post was not useful for you!
Let us improve this post!
Tell us how we can improve this post?