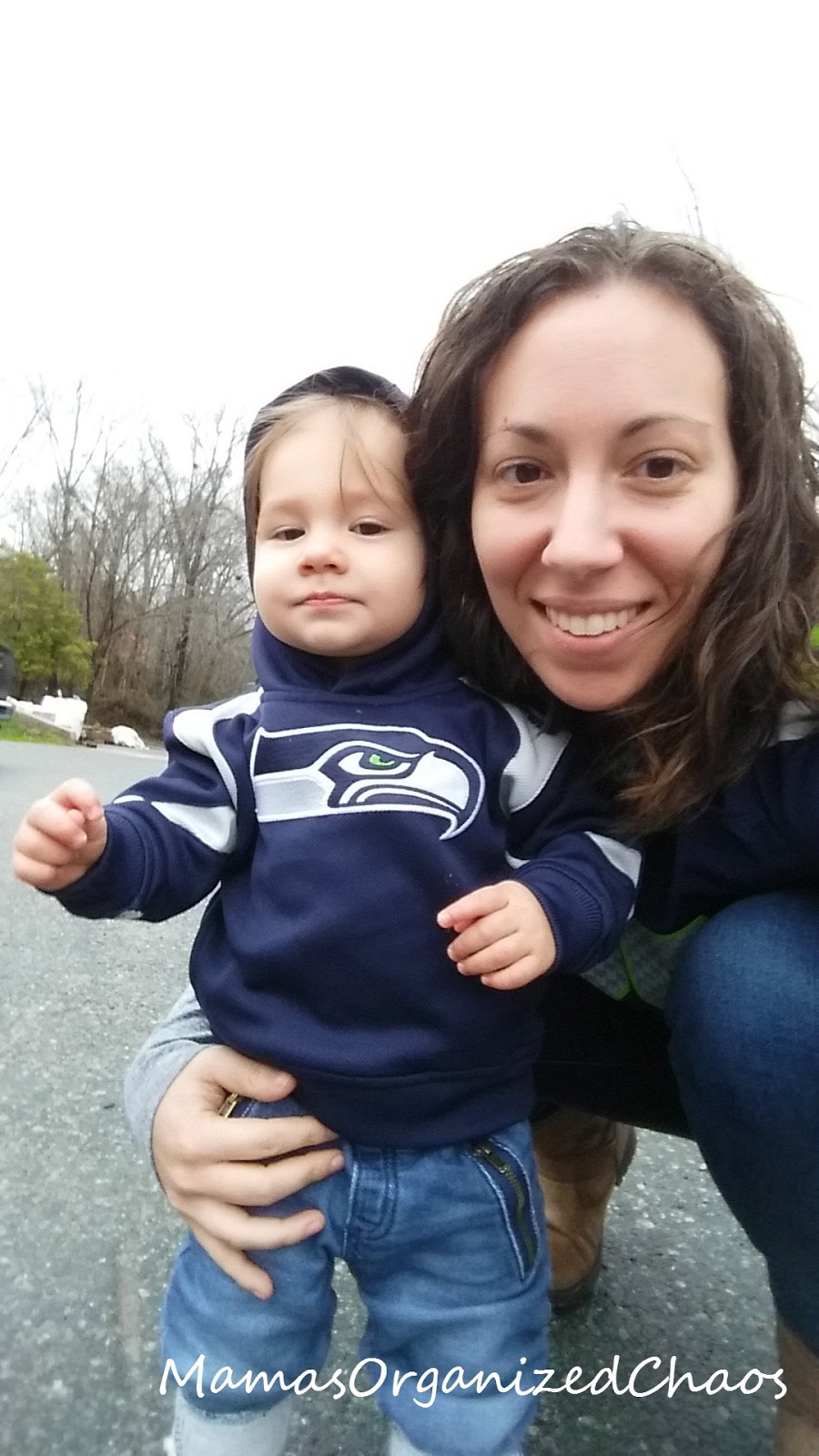 by Katrina Villegas
Hi Everyone! I am the newest member of the Babywise Friendly Blog Network, and I'd like to take a minute to introduce myself. My name is Katrina Villegas, and I am a former engineer and chemistry teacher. My daughter, Caroline, was born in November of 2014. I am now a stay at home mom, and I am organizing my chaos one babywise step at a time!
I am applying all of my engineering, teaching, and life experiences to making my new job go as smoothly as possible. My new career as a stay at home mom is challenging and so rewarding. I am constantly tweaking things and trying new things to give Caroline the best experiences. Sometimes (a lot of the time) it is trial and error and a whole lot of research and trust. As an engineer, I always said "Don't reinvent the wheel" and "Share best practices". That's the idea of my blog… every post is to share my best practices (or share my "oops" moments) so that you might not have to reinvent! There's also no getting around the fact that we somehow all have mama brain now…so I want to make sure that I remember my own best practices for baby number two someday! 🙂
PLAY IDEAS & OUTINGS FOR A 1 YEAR OLD
From day 1, Caroline left the house as much as possible. We started with weekly trips to the store and have worked our way up to daily outings. As Caroline gets older, it is even more important that we have a variety of outings throughout the week. The outings provide her with a chance to socialize with adults and children (Some she knows, and others she is just meeting). She is able to explore new areas, learn about new things, and get lots of energy out. It is equally important for me to get out of the house. As a stay at home mom, it can be tough being in the house all the time. The outings are a great way to keep me sane. Plus, it can be fairly difficult to entertain a 1 year old in the same environment day in and day out. She gets bored with her toys and likes to see and do new things.
We have come up with several experiences that we like to rotate into our schedule. Most of them are FREE! Here are some fun outings to try out:
1. Playdates at someone's house– This is a great option and easy to do. It is, of course, free. Once you have met a couple of moms with kids around the same age, you can rotate whose house you are at.
2. Playdates at the library- The libraries in the county I live in have what is called a "discovery room". They are free to reserve and have toys in them! We go weekly and meet up with other moms and children for some free fun.
3. Walks and outdoor exploring- This is always our go to activity if Caroline is bored. She loves being outside. We walk, we go to the park, we sit in the grass, and we simply explore. She could do this for days. Unfortunately, with the weather getting colder, this will become more and more difficult to do. We'll still bundle up and go outside, but just for a short time.
4. Trampoline park- We just discovered these! There is a place around here called SkyZone that has a toddler time twice a week. It is very inexpensive and SO MUCH FUN. Now that Caroline is walking, we decided to give this a shot. She walked on the trampoline, ran around, fell into a foam pit and had a blast. This is most likely being added into our weekly rotation! I am so glad we finally went and gave this a shot- I had been waiting, thinking that Caroline was still too young.
5. Indoor playground– Unfortunately, this is one of the things that my area simply doesn't have. I have been to a great one in Atlanta, and many cities have them. The only ones we have around here are the bounce house type places. We will probably eventually go, but perhaps when Caroline is a little older. For now, our only indoor playgrounds are the tiny ones in the mall. LOL!
6. Community programs– Churches and community centers often have free play times set up. We go to one that is at a local church every week. They literally open up the gym and have some balls, tunnels, and hula hoops set out for the kids to play with. This has been a great way for Caroline to get some energy out.
7. Storytimes– Libraries have free storytimes! We go to several libraries in the area, so there is usually one going on every week. They sing songs, read books, say rhymes, and even have some wiggle time.
8. Aquarium/Zoo– These aren't cheap, unless you get to go to the zoo for free like we do in D.C. The family memberships are the way to go, however (as long as you go frequently enough for it to pay for itself and then some). This is easy to do when you have a little one in tow! It is such a nice option to be able to switch things up a bit. The aquarium adventures will be perfect for winter weather!
9. Petting zoo– While these are all closed for the winter, they are something that we will continue to do when the weather gets nicer. This is much cheaper than going to the zoo or the aquarium, and much more interactive as well.
10. Shopping places– When all else fails, we go to the mall, to Target, or to the grocery store. At the mall we do laps with the stroller. Caroline walks with me now, and then we head down to the play area for a bit. At Target, I try not to buy things, and Caroline pushes the cart and explores the aisles. We always need things at the grocery store, so even if we only need milk, we turn it into an outing!
11. Classes– Recreation centers and community centers have great toddler classes. We haven't signed up for one yet, but plan to in the future. They have music classes, intro to sports, and even rhyme times for the little tots.
We rarely have a day that we stay at home. Even if it is just a quick outing to the store, we take the outing. Caroline and I both love to get out and do things, and I think we would go stir crazy if we didn't. It makes us appreciate the days in and really enjoy them. If you have any more ideas for creative playtime and fun outings, let us know!
Find Katrina here at Mama's Organized Chaos.