This post is in partnership with Baby Fans.
Choosing the ideal present for parents-to-be can be a challenge. They already may have received necessities like a bassinet, diapers, bottles, a diaper bag, and more. You want to get them something meaningful that reflects your forethought and caring for them and their new addition.
Rather than relegate your selection to baby wares found in big box stores or department retailers, you may find the ideal present for the new baby when you shop online. The specialty infant site sells baby sports apparel, Green Bay Packers clothing, bibs, hats, and other gear emblazoned with the parents' or family's favorite team's logos, colors, and mascots.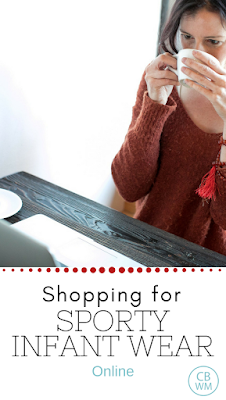 Wide Array of Teams
The website specializes in selling apparel for babies like onesies, bibs, tee shirts, pants, and other clothing. While you can find a host of apparel decorated with the logos and colors of NFL teams, you can also discover clothing emblazoned with team names and more from the NBA, NCAA, NHL, MLB, and other sports leagues.
This variety can come in useful if the parents of the newcomer are fans of more than one sport. For example, they may love the Packers from August through February but also love the Cubs from April until the playoffs or World Series.
As such, they may want to dress their little one in clothing that shows their love and devotion to their favorite teams across the board and in every season. You can provide them with clothing for their baby to wear throughout the year. Their new son or daughter will always be dressed in the favorite team's apparel regardless of the season.
Variety of Sizes
It can be difficult to keep a baby dressed in sports gear all year long if you only select clothing in newborn sizes. Babies grow out of their clothing rapidly and may only wear a certain size for a few weeks if that.
You can keep the baby dressed in style by selecting apparel in all of the sizes found on the website. For example, if the baby is born during football season, you can buy newborn onesies and shirts in the family's favorite NFL team logos.
By baseball season, however, the baby may need to be moved up to a six to nine-month wardrobe. You can show forethought by shopping for apparel that the baby can wear now and well into the next year.
You can also keep the baby's wardrobe filled by shopping ahead and buying 1, 2, and 3T clothing. These sizes are typically worn by one, two, and three-year olds. You can also show your love for the baby's older siblings by selecting sports gear to give them during the baby shower as well.
Along with shopping for primary clothing like shirts and pants for Baby, you can also find accessory items like bibs and hats. These extras complete the baby's look and make for a fun way to dress the newcomer.
Many parents like to dress up their babies in the family's favorite sports apparel. You can give a unique and meaningful present to the new addition by shopping online. The website sells apparel for babies in a variety of sizes. The clothing is also decorated with the colors, logos, and mascots of teams in the most popular leagues and sports that are played in the U.S. today.