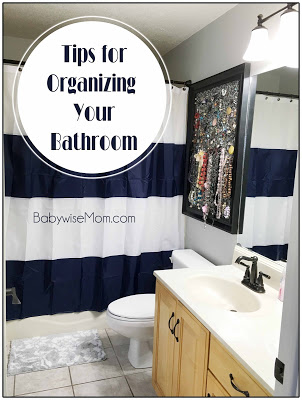 My master bathroom is small. It isn't just small by today's modern construction standards (hello bathrooms that are as big as my bedroom); it is small by the 1920s "We should carve out some space from this house for some indoor plumbing" standards.
Having a small bathroom means I need it to be organized. I made a resolution this year to majorly declutter my house and I have been through my bathroom. Here are some tips for getting your bathroom organized. This post contains affiliate links. This does not increase your cost.
Remove Everything
I say it every time that I talk about organizing. I say it every time because it is the number one and best way to make sure things get organized and that you only keep what is necessary. If you love the way things are arranged now and worry you won't remember how to get them back in the same spots, take a picture of it before you begin. However, I will say that I find when I am putting stuff back, I always have a slight tweak to how it was before so that it is better than it was. So don't be afraid to approach your current setup differently.
When I am removing things, I work on one section at a time. I don't remove everything from the entire bathroom. I will remove everything from one shelf or from one drawer. I do this so the project remains manageable. I have kids. I am likely to get interrupted a few times during the process. I don't want stuff scattered everywhere for hours or even into the next day. I work on one small section at a time so I can get it put back together.
Wipe It Down
The bathroom is just a dirty place. It gets dusty. It gets hair all over the place–even when you clean regularly. Hairspray and other hair products get sprayed in there. We painted a few rooms over Christmas break, including our master bathroom. Before we painted, we cleaned the walls and base moldings well. The rooms were quick and easy. The bathroom was the smallest of the rooms (by far) and took the longest to prep (by far). You need to clean each shelf or each drawer well once it is empty.
Throw Away Expired Medicine and Products
When my mom was my age, I was a young teenager. I remember looking through her make-up and perfumes and being horrified to know she had stuff that had been around as long as I had!!! It seemed like an eternity to me an I couldn't imagine having things that long.
Fast forward to me being the same age and I totally get it. Time flies. It gets faster as you get older and it gets faster as you have kids. One of the last things on your list of things to worry about is, "How old is that eye shadow?"
The reality is that if it is makeup you like and use consistently, you aren't going to run into it being too old. So if you do have old makeup, ask yourself if you really are going to use it and if you need to hang onto this makeup that is perhaps older than your children…
The same can be applied to lotions, perfumes, hair products…try the items and smell them. Ditch them if they feel, look, or smell funky.
Throw away old medicine that is expired. They have expiration dates on them.
Keep Only What Fits
You don't want your shelves or drawers overflowing. Keep what you use and what you need.
Use Drawer Organizers
I talk about this often, too. Drawer organizers! I use these drawer organizers in our bathroom and I LOVE them. I can take them out and wash them in the dishwasher every so often to keep them clean. They help keep the brushes out of your toothbrushes (we keep ours in drawers because I once read that germs from flushing the toilet go in the air and can land on toothbrushes if they are on the counter. For the same reason, we close the lid to the toilet before flushing). It keeps the hair elastics, finger nail clippers, bobby pins, etc. together.
Use Storage Cabinets if Needed
Our master bathroom has minimal storage built into it. It has a single vanity with one drawer, one cupboard under that drawer, and the space under the sink. A couple of years ago, we headed to Lowe's and got an upright cabinet for the bathroom. It is a similar idea to this Pantry Cabinet. I could sing the praises of this thing all day long! It is fantastic. amazon has a wide selection of sizes and styles if you just look here: Storage Cabinets
. If you order online, just read dimensions carefully and measure that out at home so you are sure you are getting the size you want to get.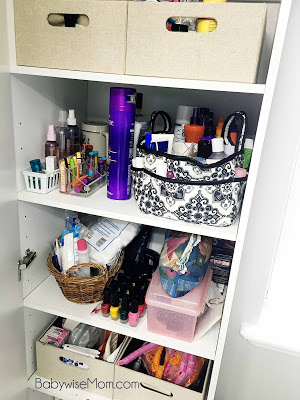 inside my cabinet
Use Storage Containers
I got a few storage containers at Lowe's, also, that I use to hold things that are similar to each other. I keep them in my cabinet. I keep my monthly feminine products in one. I keep all of our medicine in another. I keep hair products in another. The final has some random things–hair removal, extra contacts, extra make-up…
I also use a basket for storing nail stuff in. I also have my Storage Caddy that I used when Brinley was a baby as a breastfeeding supply storage solution and now use to hold my hair products and facial cleansing products.
Be Creative With Other Storage
If you are looking for ways to store things, you can "Pinterest with purpose" and search for specific storage solutions. I have this cute jewelry holder my husband made for me hanging in by bathroom. It is very handy! I love being able to see it all at once.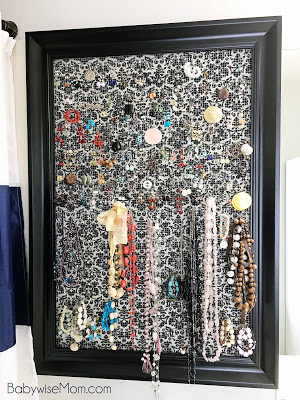 Bath Towels
Side note, since I am talking bathrooms. I recently purchased some bath towels at SAMs Club. They are fantastic. Hands down, they are the best towels I have owned. You can buy them on Amazon (100% Cotton Luxury Bath Towel), but they are cheaper at SAMs.
Lightbulbs
Another side note, Daylight LED Light Bulbs are amazing. They really do look like daylight. We put these in our bedroom and bathroom at the end of December and I will be buying them for all lights in the house as we need to change them out. It has been so nice during this winter–we have had a few weeks with only a couple of days with a little sunshine. The light bulbs have kept me on the right side of sane.
Related Post: