Organize your breastfeeding supplies to make this feeding time easier! You do not want to have to round up supplies AND worry about your hungry baby.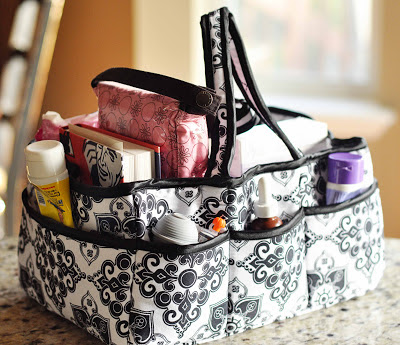 I have to tell you about this storage caddy. This is one of my favorite new things I did with Brinley.
I got this before Brinley was born. It is a Trend Lab Storage Caddy. I went in search of it because with my other children, my strategy had been to buy a couple of everything I needed for breastfeeding or to only breastfeed in the exact same place every time.
I didn't want to do either of those this time. I wanted to be able to nurse in multiple locations and be able to easily carry everything I needed with me.
So I looked around on Amazon and settled on this one from Trend Lab. It has lots of pockets so it can hold anything I want it to. I can put my Milkie in there when I am done.
It holds diapers, wipes, a book, lansinoh, nursing pads, gas drops, diaper cream, bulb syringe, water bottle…It carries it all. I love knowing where things will be–I don't set it down randomly somewhere and have to hunt it down. I am thinking that when I am done breastfeeding, I will use it for holding crafty items.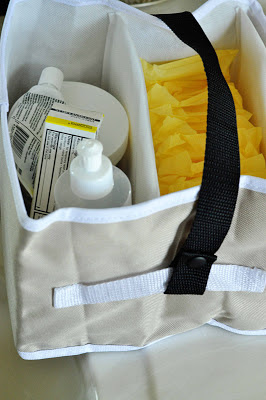 Then at the hospital, they gave me this one pictured above. Definitely not as good of quality, but I decided to put all of my bathroom items in it for post-baby.
This was super handy! I could have all of my stuff out on the counter and easily accessible and have it still be together and organized. I also sometimes showered in a different bathroom soon after Brinley was born, so I was able to just pick this up and take it with me one-handed.
I now have it under my sink full of nursing pads. I will definitely hang on to this for holding those feminine hygiene items.
So have you tried this? Or something similar?
Related Posts