Babywise Schedule with Two Children. Sample Babywise schedules, tips for life with two children, and tips for doing bedtime alone with two children.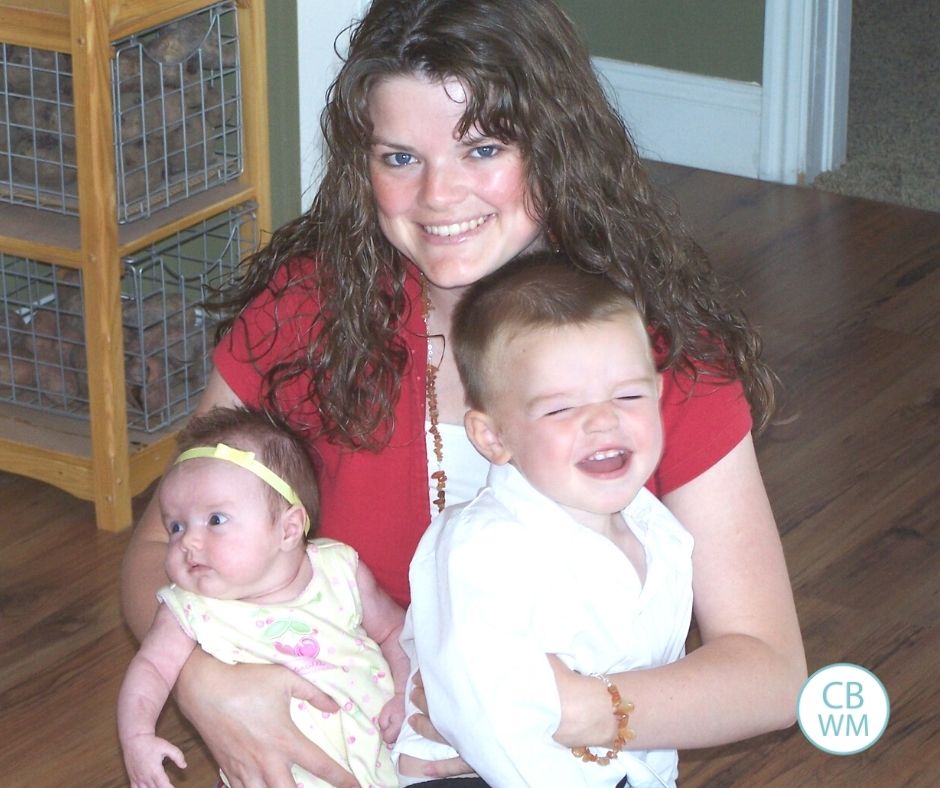 I honestly was a bit concerned to bring another baby into our home when I was pregnant with my second child.
I wanted another child, but the actual practice made me a bit nervous.
How could I do two?
How would baby's frequent feeding schedule work out with my not-yet-two-year-old's schedule?
When I came home from the hospital with Kaitlyn, my second, I was actually quite surprised at how easily it all came together. I had been stressed about making a schedule work, but I wondered how a mom could do it with two kids without a schedule!
Brayden's day was set–we had it down like clockwork. All I had to do was figure out how to work Kaitlyn's day in with Brayden's so we could have a calm routine.
Bonus number one with the schedule for me was that I had very few nursings where Brayden was able to wander the house on his own.
He is a smart boy, and I knew he would quickly figure out that when I was nursing, I was a bit tied down.
While he is an oldest child and as is typical, has always been quite obedient, I didn't want to give him the opportunity to seize the day and go find mischief.
I also wanted to be able to focus on Kaitlyn while breasteeding and not be distracted by a toddler. We all know newborns are sleepy and require a lot of attention to get a full feed.
Brayden was not accustomed to sharing his Mommy's attention for extended periods of time every day.
When we got home from the hospital, I wrote out Brayden's daily schedule.
I then wrote out a few different scenarios for Kaitlyn's schedule to see how I could get them to work together.
I thought it through and picked the schedule for Kaitlyn I thought would work best for the family.
When I have my third and fourth babies, I definitely did this writing and thinking before the baby was born, not after. I definitely recommend having a plan before baby comes if possible.
Back to Kaitlyn. I then tried the schedule out and made adjustments where necessary.
Sometimes things look good on paper, but don't work out in reality. You will need to tweak things.
In the end, this was what we came up with:
Babywise Schedule with Two Children
7:00 AM: Brayden woke up. He and I ate breakfast together and then cleaned up breakfast.
7:30 AM: I woke Kaitlyn up. She nursed. While she nursed, Brayden had TV time. He also liked to play with toys while "watching" TV. We kept a tote of toys in the family room. I would dump his tote out. Between the toys and the TV, he didn't get into mischief. Kaitlyn took about 20 minutes to nurse as a newborn. I then bathed her when necessary (or sponge bath in the early days) and got her dressed for the day. A lot of times, Brayden would join me for getting Kaitlyn ready. He was very curious about her.
8:30 AM: Kaitlyn went down for her morning nap. Brayden took a bath. After his bath was done and he was ready for the day, he had solo playtime (independent playtime).
10:00 AM: Kaitlyn woke up and nursed. While she was nursing, Brayden was still in independent playtime. After she was done eating, we went and got Brayden out of solo playtime. We would all "play" until Kaitlyn's naptime.
11:00 AM: Kaitlyn went down for nap #2. Brayden and I ate lunch. At the time, it was summer so after lunch we went outside to play. I would just take my monitor out. It was nice for me to not worry about Brayden waking her up.
1:00 PM: Brayden went down for his nap. I usually put him in bed by 12:50. I would then get Kaitlyn up at 1:00 and nurse her. Then she and I could have some one-on-one time together.
2:00 PM: Kaitlyn went down for her afternoon nap. I also took a nap until Kaitlyn was 4-6 weeks old.
4:00 PM: Kaitlyn woke up to eat. I nursed her. My husband got home by 4:20 each day. When he got home, he would get Brayden up from his nap.
5:00 PM: Kaitlyn took her evening nap. I got dinner ready and Nate and Brayden played together. We then ate dinner and cleaned up.
6:30 PM: Kaitlyn woke up and nursed.
7:30 PM: Kaitlyn went down for a short nap and Nate and I got Brayden ready for bed. He was in bed by 8:00.
8:30 or 9:00: Kaitlyn woke up to eat. She ate and then soon went back to bed. This was our dreamfeed at the time because she absolutely would not wake up after that until late in the night–no matter what I did. As she got older, this feeding moved back to a more normal dreamfeed time.
As you can see, the daily schedule really worked out well.
I was able to have one on one time with each child, we had family time, we had Mommy with the children time, we all got naps…it just worked out really well.
Something we weren't good about in the beginning was Kaitlyn and Daddy time. We got better about it once we realized Kaitlyn was becoming very much a "Mammas Girl." It was easy for Nate to take Brayden and me to take Kaitlyn. And that was really okay for the beginning, but we soon realized we should have started Daddy time for Kaitlyn younger than we did. She is okay now, though.
>>>Are you looking for sample newborn schedules? See my sample schedules for 0-4 week olds here.
As we all know, the baby's schedule changes very frequently as feedings are dropped. You just have to be flexible.
The good news for me was that Brayden's schedule has been essentially the same for Kaitlyn's first year of life.
By the time Kaitlyn was 10 months old, Kaitlyn ate four times a day. Our schedule looked like this:
7:15 AM: I woke Brayden up to eat (he would sleep a little later in the winter).
7:40 AM: I woke Kaitlyn up to eat. Brayden still had TV time while I breastfed and feed her. I then bathed Kaitlyn. I woke up before the kids and shower. I did my hair and make-up in the bathroom with them while they took baths between playing and washing.
8:30 AM: Kaitlyn was dressed and had her first independent playtime. While she had independent playtime, Brayden took a bath. Brayden never really took long baths, and if Kaitlyn did have a problem during independent play, I could easily get Brayden out of the tub while I went to check on her.
9:15 AM: Brayden was out of the tub by this time and dressed and ready to go. Kaitlyn was done with independent play by this time and ready for her morning nap.
9:30 AM: Brayden started independent playtime.
11:00 AM: Brayden and I had lesson time. Read what that looked like in How To Do a Learning Activity of the Day. During this time we did art, music, math, reading, etc.
11:30 AM: We got Kaitlyn up. I breastfed her, feed her lunch, and then got lunch ready for Brayden and me. For Brayden, he often has his Nintendo time.
12:00 PM: lunch for Brayden and me. Kaitlyn would sit in her highchair with us and eat finger foods and play.
12:30 PM: Sibling playtime. Supervised. I tried to back off as much as possible so it is the two of them, but Brayden was too young to leave him alone with Kaitlyn. Sometimes I would go in the next room, listening.
1:00 PM: Naptime for both Brayden and Kaitlyn.
3:30 PM: Kaitlyn woke up and nursed. Following her nursing, she had independent playtime. I then start dinner. Brayden got up between 4:00-4:30.
4:40 PM: Kaitlyn ate finger foods while I continued to get dinner ready. Nate and Brayden had playtime together. For them, "playtime" was often doing little odds and ends, and during winter often involved shoveling snow.
5:30 PM: This was usually the time we ate dinner. Sometimes closer to 5, sometimes closer to 6, but usually 5:30. We ate and then cleaned up.
6:00 PM: This was usually when Kaitlyn required her catnap. Some days she would go without it.
7:00 PM: I woke Kaitlyn up and nursed her, then fed her dinner, then got her ready for bed and read a story. Then bedtime.
7:30 PM: Brayden started the bedtime process.
8:00 PM: Brayden was in bed by this time.
That's the end for the kids.
This is what has worked for us. I soon intend to get Kaitlyn and Brayden starting the day at the same time, but not until she is a year old.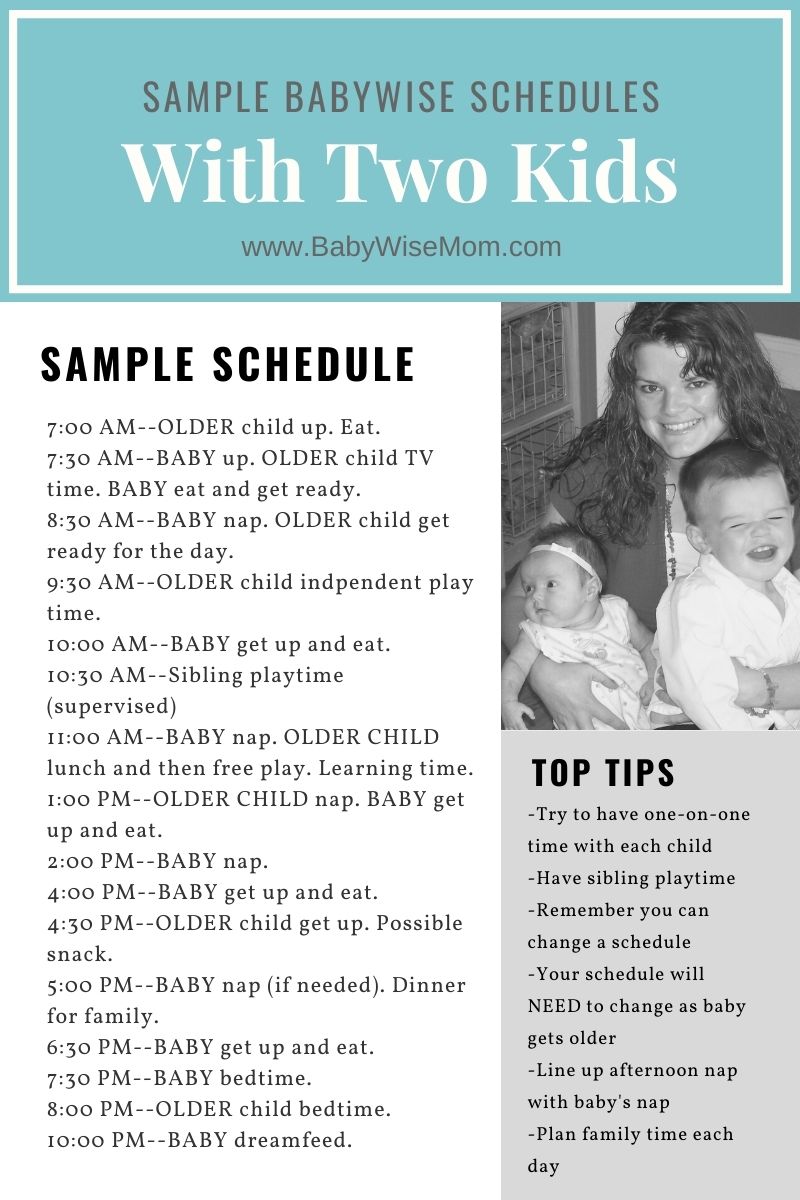 Babywise with Two Children Tips
It can be hard to juggle more than one schedule. Here are some tips to help.
Work in one-on-one time with each parent and each child. One way we do this was alternating who feds Kaitlyn dinner and got her ready for bed and who got Brayden ready for bed.
In other words, you alternate who does bedtime routines with each child. One parent puts baby to bed on Monday, the other puts baby to bed on Tuesday, etc.
One reason I very much recommend this one-on-one time is that it helps your children feel loved. This will mean they are less likely to try to get into attention-seeking behavior.
It also shows your kids that each child is important and valued by the parents and the world does not revolve around just one child.
Have sibling playtime for the kids once they are old enough. It made a huge difference in Brayden's feelings toward Kaitlyn. He saw her more as fun and someone he could enjoy rather than just the thing that took up Mommy's time.
Set the schedule up so you have the least amount of stress. Try to make sure your oldest child is well-occupied as you feed baby and during baby's wake time. You need to be able to watch your baby for sleep cues.
If your older child has a hard time while you are feeding baby, you can think of activities to do together while baby is nursing.
One idea is reading a book together. Of course, this can be hard if you are trying to keep a newborn awake, or even if you are trying to keep a 6 month old on task to eat. Give it a try and see if it works.
Remember, the schedules can be changed. Set your ideal schedule. But then experiment and move things around. Your schedule is not set in stone. You can change something that isn't working
Remember, the schedules must change over time. Not only can it change, but it will. It will even change in those first weeks of life. It will change when your baby has a growth spurt. It will change when baby moves to a four hour schedule. It will change as you add solids. Routines change often.
Have time together as a family. This can be done both through dinner and activities. It will help build your family culture.
Line up nap times as best you can. Odds are your older child only takes an afternoon nap. That one nap will be long enough that you can feed baby AND have baby sleep during that same nap. That means you get time alone with baby, your older kiddo is occupied for this feeding, AND you get a chance to nap or relax without a little one with you.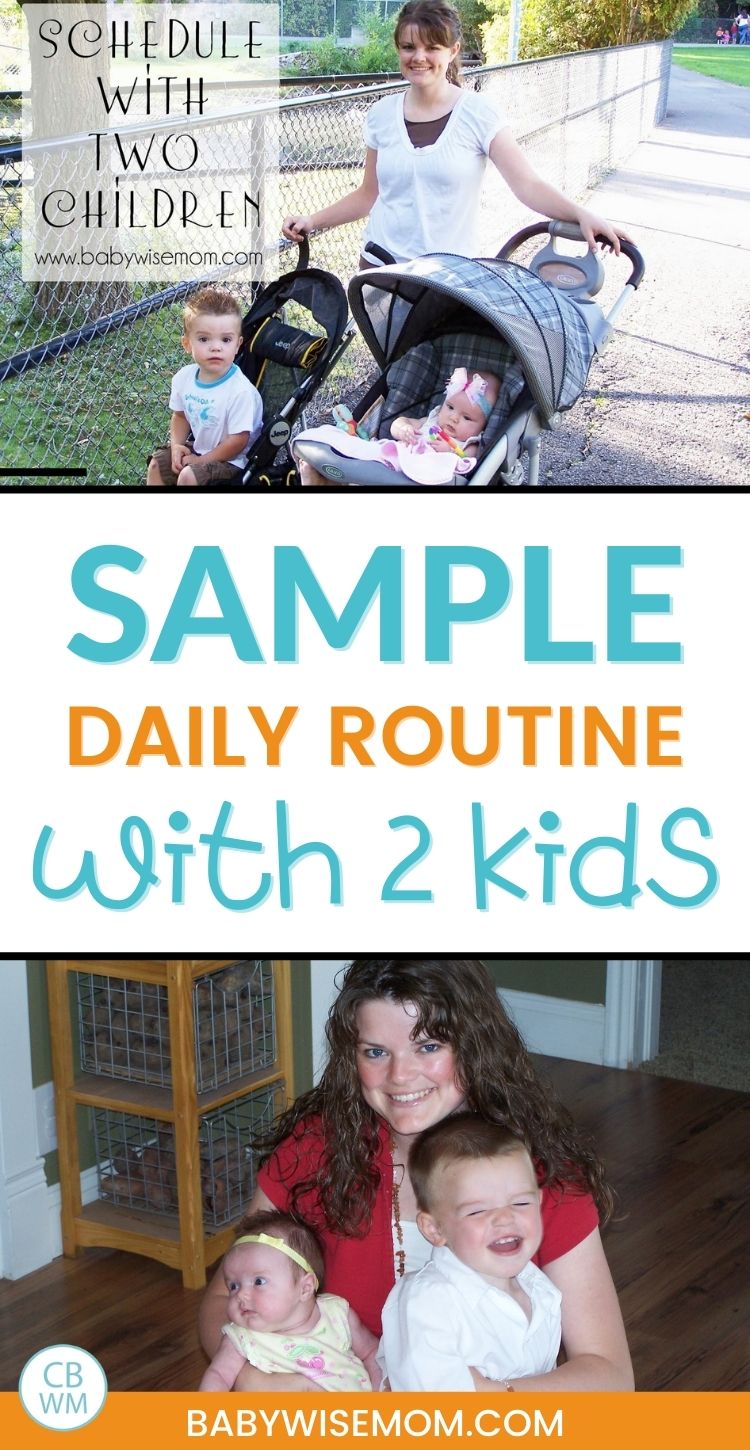 How to Do Bedtime Alone with Two Children
There will be times you have to do bedtime alone (one parent or the other or both). There are a variety of reasons this will happen (someone is working, running errands, or just out for fun).
This is not easy!
Here are some tips for that:
Get the older child's bedtime routine down to no longer than 30 minutes. This includes changing into jammies, potty breaks, teeth brushing, stories, hugs, etc. I say older child's because a baby doesn't try to drag it out like a toddler. This needs to be your norm every day.
If you bathe at night and are comfortable with it, try bathing the children together.
I would put the younger child to bed first. For one thing, baby doesn't try to prolong the situation like an older child does. For another, baby is usually less flexible and more dependent on bedtime being right on time.
Conclusion
I have found it is much easier to get a set schedule with the second baby.
You need there to be more predictability so you can be sure to attend to the needs of the entire family, so you stick to things better.
Good luck. And as they say, double the pleasure, double the fun!
Related Posts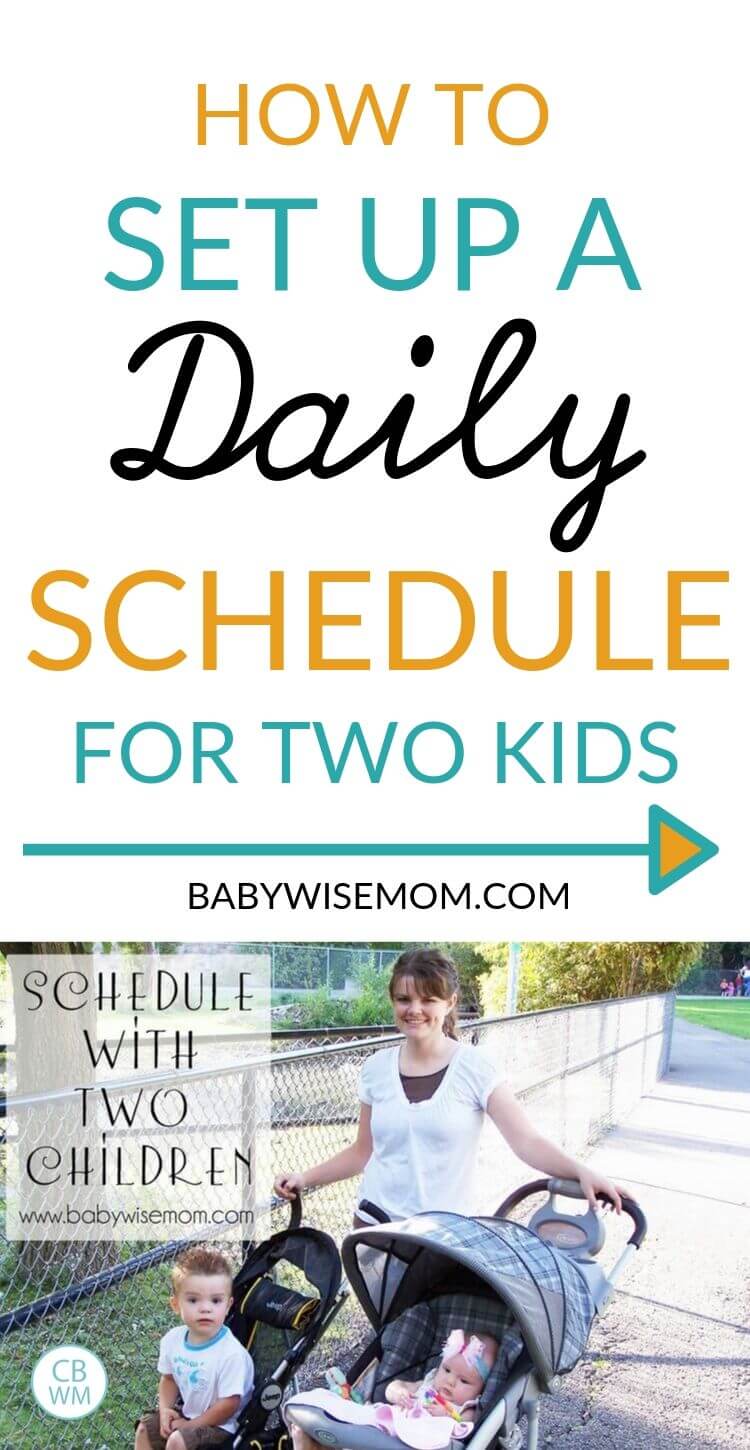 This post originally appeared on this blog February 2008