The best products to take to the beach when going with a toddler. These things will help you have a great time with your kiddo!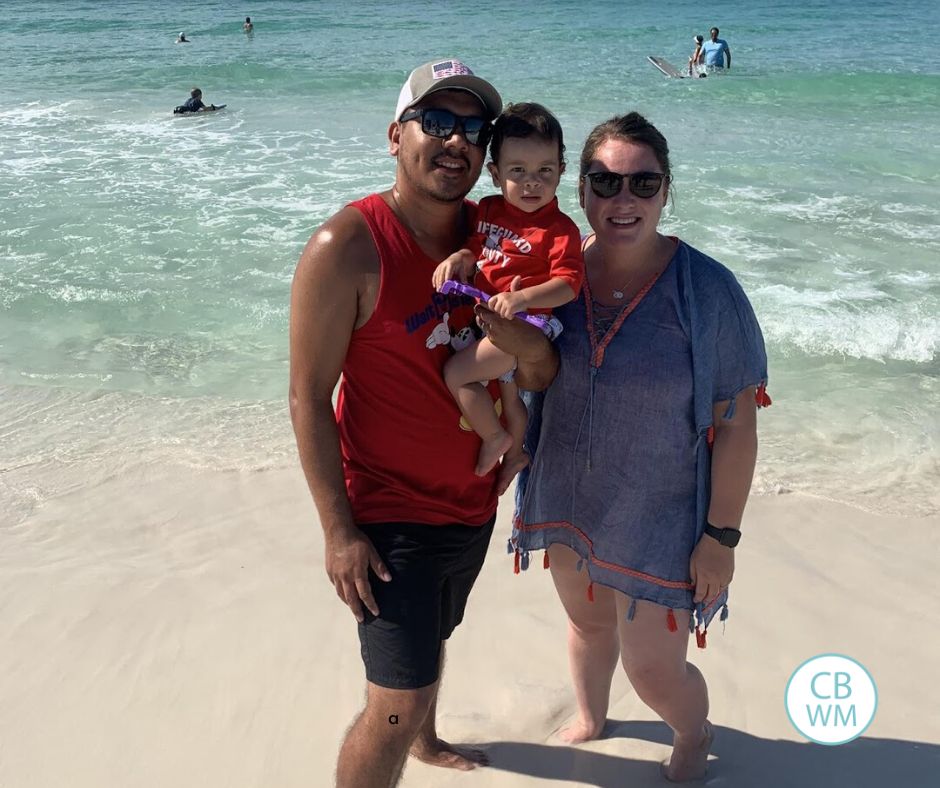 My husband and I love to travel! As a dating couple, we took a couple of trips together. We continued to prioritize travel once we were married from cruising in the Caribbean to Barbados to the city lights in New York and to breathing in the mountain air in Colorado!
I have been fortunate to travel with students to Costa Rica, London, Paris, Barcelona, Madrid, Rome, and Athens.
After having our son we spent a lot of time at home, due to the pandemic and newborn life, but eventually, the travel bug returned! We have taken our son to the beach, Disney, a couple of National Parks, and places throughout Cincinnati.
Taking a Toddler to the Beach
We love the beach! We try to make visiting the beach an annual thing. If not visiting a beach directly, we love to cruise and explore several beaches on one trip.
We took my son when he was 15 months in 2021 and he will be 27 months when we go in August this year.
Toddlers love routine and knowing what to expect so we followed his schedule even when we were at the beach. I think this is what allowed things to go very well in 2021 and hopefully, things go well this year too!
When preparing to go to the beach with a little one I did a lot of research and asked my friends what they took. Each child is different, but I found these items helped us.
Sport Brella XL
This provided us with lots of shade. We were able to set up two beach chairs, dig a large hole for our toddler to play, and pull the wagon in with some room to spare!
This allowed us to be out of the heat of the sun throughout the morning and a place for him to play in the sand without getting burnt. It seems fairly easy to set up, my husband does this while my son and I head to the water, and it is easy to take down. We pack extra stakes because the ones it comes with are not as great.
Water Jug and Neck Towels
I took a large jug of ice water and inside placed a zip lock baggie with cooling towels. I did this to refill all our water bottles, but it also kept the cooling towels cool in case we needed to cool off. We did not use the towels, but you never know with the Florida heat.
Sunscreen
Obviously, I packed more for reapplying, but we applied our sunscreen before heading out to the beach. This allowed us to play right away and not have to wait while sunscreen was applied. Straight to the fun while my husband set up the Sport Brella.
Fan
I just brought our stroller fan down to the beach with us to keep us cool throughout the morning. This was nice when Samuel would spend a lot of time inside the umbrella to keep a breeze flowing.
Spray Bottle
This did not have to be used, but a friend suggested this! We filled this with tap water from the condo to use on his face if he were to get sand in his eyes.
Beach Toys
We have a small bag that has a mesh bottom that holds his beach toys. We bought this at Marshall's a few years ago and it is nice because the sand just falls out the bottom once we place the toys inside. This keeps him busy to allow us to relax at the beach while he plays.
Portable Speaker
My husband has a portable JBL speaker that connects to our phones via Bluetooth. It is nice to play our beach playlist while enjoying the beach.
Backpack Cooler
We place our drinks inside here and some snacks for Samuel. I like to take fruit to the beach with us to help keep him hydrated- watermelon, strawberries, and grapes.
Beach Bag
Most of these things simply fit in our beach bag along with our towels. We have a simple mesh bag and we like it, but I would like it better if it had a longer strap instead of just handles.
Wagon
This made traveling to the beach and back very easy. We loaded the beach bag and other things inside and the wheels were durable and worked great over the sand.
Conclusion
This might sound like a lot, but it made our time at the beach enjoyable because we had everything we needed. Our condo was right behind us, but once we hit the sand at 9am we were good to go until we took a break for lunch and naptime.
I am starting to plan for our trip this year by creating lists of things we will need to pack and purchase at the grocery store once there.
I know thinking about traveling and all the things that go into planning can seem like a lot, but it is so worth it. We loved our beach trip last year and cannot wait to create lasting memories together this year!
BIO
Cortney Yousuf was born and raised in Ohio, where she now resides with her son and husband. Growing up, she loved to travel with her family. Not much has changed because she loves to explore new places! Cortney is a middle school teacher that has given her opportunities to travel to 6 countries, coach volleyball, and be a Chick-Fil-A Challenge judge.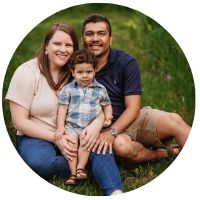 Related Posts