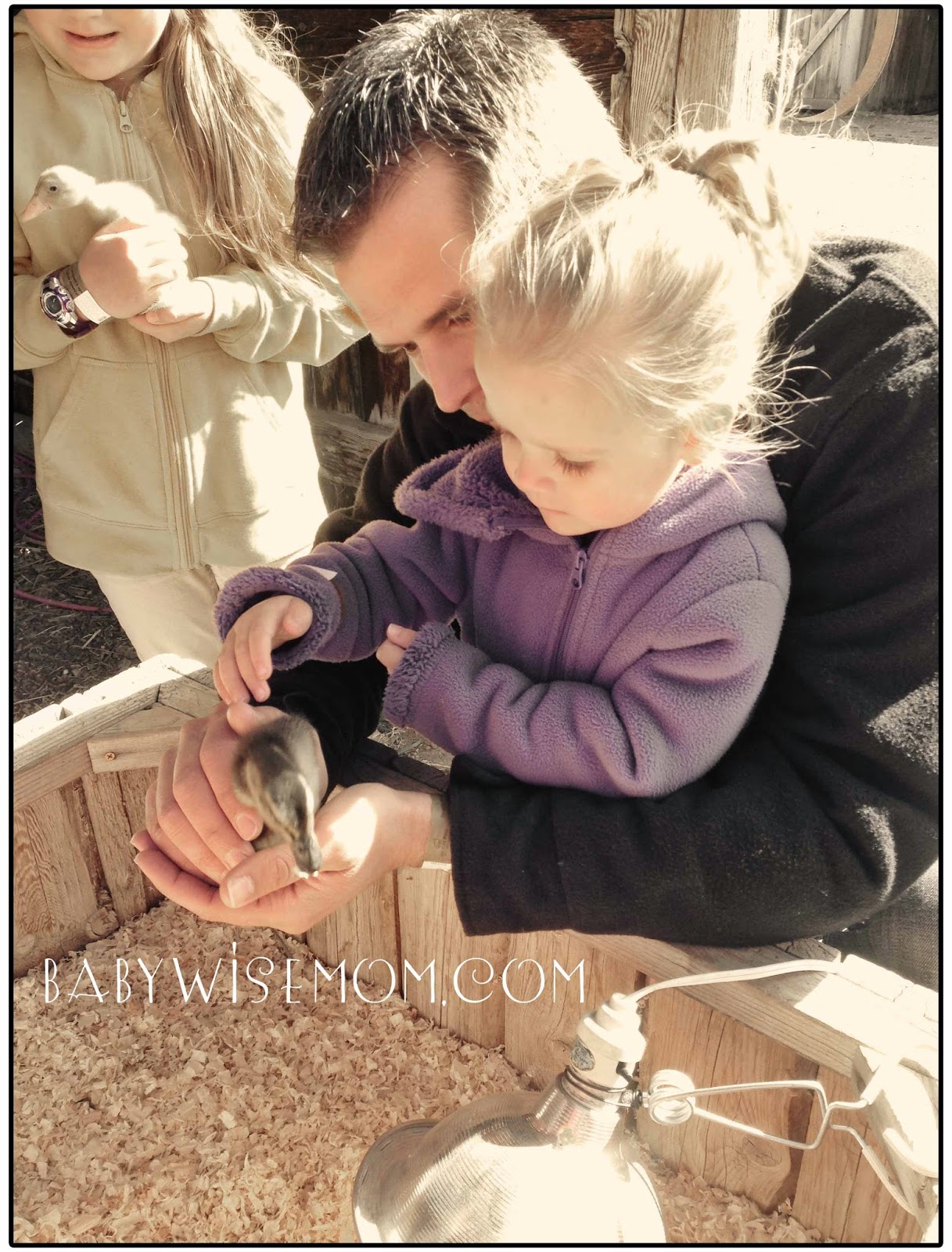 Brinley checking out some baby ducks.
This is a summary for Brinley from 31.5-32 Months old.
SLEEPING
Brinley is still napping each day for about 3 hours. She sleeps for about 12 hours at night. I still find a 1:30 nap start time is ideal for her emotional reaction to nap time, but also still have the internal conflict of nap vs. playtime with McKenna. There are only a couple of months left of school, and after that I think it might be easier to start at 1:30 because everyone will have been home all day.
Something to note, Brinley can definitely handle skipping a nap some days if needed. She is usually fine on that day, but also a little emotional for the next day or two after the skipped nap.
EATING
Eating is great. We really don't have an issue with her getting down anymore during a meal. She might sometimes, but it isn't multiple times a meal and not even once every meal. We have made a huge improvement there.
Like most toddlers, she has some meals where she eats a couple of bites and insists she is done eating. It isn't about what we are eating; she does it for foods she normally loves. This is totally normal toddler behavior. You have to kind of judge the moment. Sometimes they are doing it because they really aren't hungry. In that moment, you let them stop eating. In other moments, they are doing it because they have something they really want to do. In those moments, it is okay to require a certain amount of bites be finished before they eat. For example, this morning, Brinley suddenly decided she wanted to play play doh. She declared she was done eating. I told her she could play play doh after she ate her yogurt all gone. She ate it up and moved on to her play doh.
PLAYTIME
Play time is great. Brinley definitely loves to play.
BIRTH ORDER
According to Leman, the baby of the family loves to be the comedian, and that is true of Brinley (see
Birth Order: The Youngest Child). She also loves being "little," which I find surprising. I expected her to want to do everything like her siblings. She doesn't complain about them doing things she can't. She isn't upset that they go to school without her. My husband told her the other day that she was getting so big and she told him, "No! I am tiny." She also does not want to move into a big girl bed; she wants to stay, in her "baby bed." I have never had a kid want to stay in the crib before. I had plans to move her this month, but she is loving the crib so we will stay. I have warned her that when she turns 3, she has to move to her big bed.
FROZEN
The new obsession in her life is Frozen. She was too young to be obsessed a year ago with the rest of the world (and McKenna), so she is doing it now. That is double the obsession time for me! She loves to dress up like Ana. She loves to play with her Frozen mini figures and stuffed animals, and she loves to watch Frozen.
SCHEDULE
This is her typical daily schedule.
8:45 AM–Wake up/Breakfast
9:15 AM–Get ready
10:00 AM–TV time
10:30 AM–Independent Playtime
11:45 AM–Help get lunch ready/hang out with me doing stuff
12:15 PM–Lunch
12:45 PM–Learning Activity
1:00 PM–Sibling play with McKenna
1:30/2:00 PM–Nap
4:30/5:00 PM–Wake up and Free Playtime
5:30 PM–Dinner
6:00 PM–Family Time
7:30 PM–Get Ready for Bed
8:00 PM–Bedtime
HELPFUL BOOKS
This list contains affiliate links.
RELATED POSTS/BLOG LABELS: