34 Christmas picture books for kids. Find books that are funny with beloved characters as well as Christian Christmas picture books.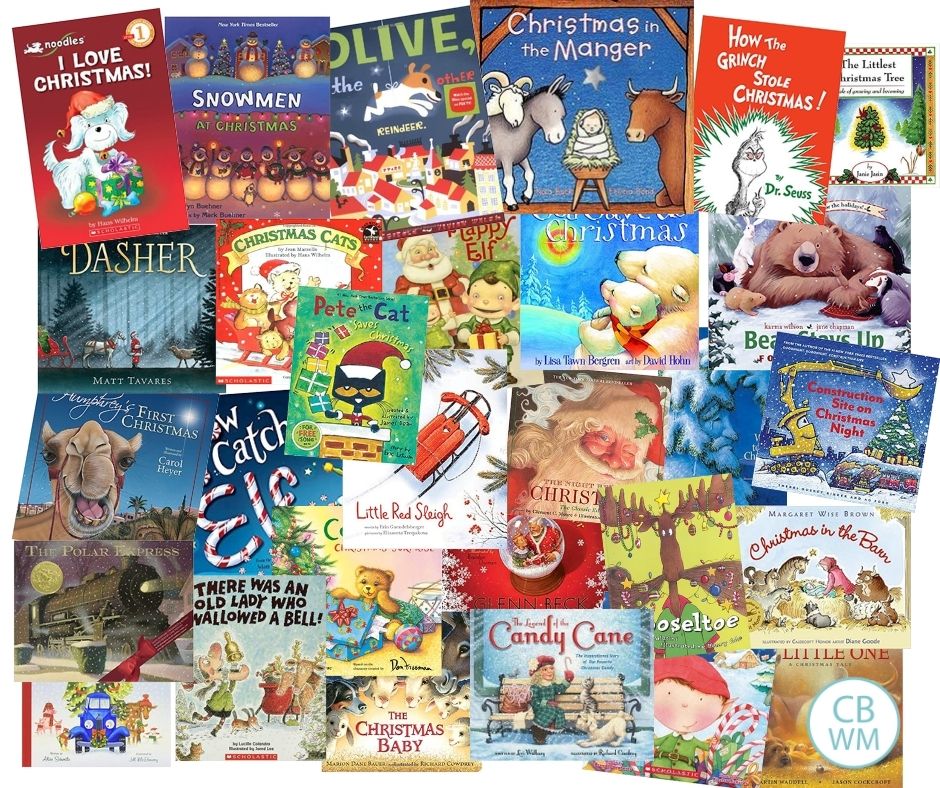 I love having seasonal books out for my kids at each holiday and season of the year. This post shares 34 wonderful picture books your kids will love to read this December.
A fun tradition many people have for December is a book advent. They wrap 12 books for a 12 days (or more if you want to do it each day of December). They unwrap one each night and read it.
You can wrap books you own or library books, and you can wrap up books your child has already read before, so don't feel like it needs to be 12 new books.
I mention this in every book list I share, but as you build your book collection, go slowly. You don't need to buy every book you think looks great out there. Swap with friends and borrow from the library. Buy 1-2 each season or holiday.
When you build slowly, you can vary reading levels in the books you get as well as interests in your books.
As in all holidays, most favorite characters have Christmas books. So if your little one is obsessed with Curious George, Fancy Nancy, Pinkalicious, or Clifford the Big Red Dog, be sure to search for those favorites in Christmas books.
On to the books!
This is the story of a shy dog. She heard the "Rudolf" song and thought it was all about her. She traveled to the North Pole. Santa was dubious but gave her a chance. Then encounter the dreaded Christmas fog and Olive helps them out of the mess.
This is a story about putting others first and follows the story of an Elf who shows this lesson.
This is the old familiar story of the old lady who swallowed a fly, but using a bell.
This is a story of our favorite cat Splat. He asks Santa for a ver big present, but worries he hasn't been good enough. He tries to remedy this by helping others with things that don't need to be done.
This story follows our favorite mouse who goes to the movies at Christmas. We all know how this goes from one thing to the next.
Mooseltoe by Margie Palatini
This is the story of a dad who was busy getting ready for Christmsas. He forgot to get a tree in all of the hustle and bustle. His family was sad, so he found a creative way to fix it.
This is actually just based on Cordurouy character but not written by Don Freeman. Corduroy has a fun Christmas time with his friends.
This is the story of a puppy who didn't like Christmas because no one had time for her. She found ways to help out and grew to love Christmas.
This tells the story of our favorite snowmen and what they do for Christmas. We learn how snowmen celebrate Christmas and even get a visit from Santa!
This is the story of bear and his friends. His friends try to get him to stay awake for Christmas. He stays up making gifts for his friends.
Little Blue Truck is a beloved character. I love getting holiday books that follow a favorite character my child has (or it can be a great time to introduce your child to a new character).
This is a classic Christmas story you will want in your collection! This is the story of learning about the real meaning of Christmas and forgiving those who have hurt you.
This is about a big family of cats and the little ones are anxiously waiting for Santa. This is a favorite of Brinley's because she loves cats.
Dorothy wants to be different and stand out among the penguins. She ends up getting to help Santa.
This is the familiar story of a boy who was doubting Santa being real, then takes a train to the North Pole.
This is the classic tale we all know and love about Christmas Eve. There are MANY versions of this story out there, so you can find one that you love! This one is very popular.
Bear was all by himself in the winter. He made some friends. They found some humans celebrating Christmas. They learn of Christmas and share what they learned with others.
This holiday book is perfect for those who love construction equipment like an excavator, bulldozer, crane, dump truck, and a cement truck. This is a book Brayden would have LOVED when he was little.
This is a sweet story of Dasher. We learn Dasher was once a circus reindeer who one day fulfills her dream and becomes a reindeer for Santa.
This is a fun story for the preschooler crowd. It has fun STEM concepts integrated, and is part of a full series of "How to Catch a…" books.
My kids love the Pete the cat books. Pete goes all out to save Christmas in this book!
Little Red Sleigh dreams of being Santa's sleigh. This is a heartwarming book for the 4-9 year old crowd.
This littlest elf at the North Pole finds he has a very special job he can accomplish in Santa's workshop. He runs into challenges and is reminded what Christmas is about.
This is a fun tale of a tree wanting to be a Christmas tree. The story is full of wildlife, so it is great for animal lovers.
The little tree was a small sapling in a tree farm. She wanted to get big enough to be a Christmas tree. She wasn't growing much. She eventually learns to be content with who she was.
Eddie had always wanted a new bicycle. Instead of a bike, his grandpa told him of a sweater. He learns about what is truly important in life.
This is a perfect book for your baby through preschooler. It is a rhyming book with sweet stories from the animals fo the manger.
This is one of several nativity picture books I will share. This is great for preschool through third grade. This is one of the best nativity books you will see.
This is a sweet story of the night Jesus Christ was born. The Illustrations are on point for the location, which I appreciate.
This is the story of a camel named Humphrey. He travels through the desert and doesn't understand what they are doing. He is a very self-centered camel who thinks only of himself. In the end, he is one of the camels who carried the wise men to baby Jesus. He was very changed just by meeting the baby and changed his selfish ways. This one is a tear-jerker and one of our favorites at our house!
This is a story of the night Jesus was born. It is a cute rhyming book. It has some inconsistencies with the story of the birth of Christ that might make you pause.
This is a story of the night baby Jesus was born told through the eyes of a cat. The cat lover in your home will love this one.
This sweet book explains the Christian symbolism behind candy canes. It discusses the miracle of Christmas and WHY we celebrate it.
This is another great Christian picture book for Christmas. It focuses on the true meaning of Christmas and on the theme that God loves everyone.
Conclusion
This book list can keep you busy for years to come. I hope you find Chirstmas stories here you will treasure as your children grow up.
Related Posts