9 Symbols to Help You To Remember the Meaning of Christmas. Christmas decorations are fun, but they help us remember the reason for the season if we pay attention.
It struck me one night. I was almost asleep and this poem just came to me. I couldn't fall asleep–the poem just kept nagging at me. I told myself I would write it down in the morning, but a voice in my head said I wouldn't remember this in the morning. It had to be done now. So I sat up, grabbed some paper, and began to write. The whole thing was down in minutes.
I am by no means a poet–I am a technical writer! It really just came to me and I am so glad I did. This is something I can use to teach my children about the symbols of Christmas. Decorations are fun and bring beauty and ambiance, but they are so much more than that. With Christmas decorations, there is meaning behind each traditional decoration:
Remember Christmas
by Valerie L. Plowman
Red reminds of the blood He spilt
to wash away and cleanse all of our guilt
White is for His actions, most pure.
Through sinless perfection, He did endure.
Green is for the life eternal
we can obtain through our Lord supernal.
The star shines like the one so bright
that twinkled above that first Christmas night.
The fir tree is for many things:
the tree of Jesse–the father of kings,
and for the needles pointing to the Lord–
that little babe we all adored.
The wreath shows one eternal round;
the begin' of the Lord cannot be found.
The lights remind us that this babe
is the light of the world, and born to save.
The candy cane is for the crook;
not one sheep or lamb the shepherd forsook.
The Christmas bells we love to ring
proclaim joy! The birth of a newborn king.
These symbols remind us that we,
more like the three wise men all now should be.
Earnestly seeking to find the new babe
who humbly in a manger laid.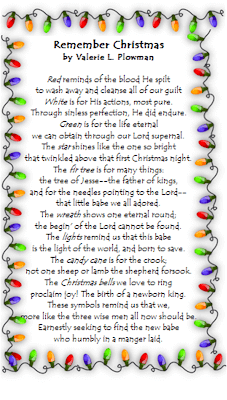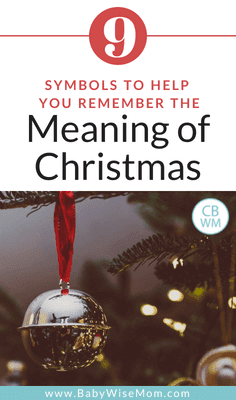 We are sorry that this post was not useful for you!
Let us improve this post!
Tell us how we can improve this post?