A list of inexpensive, budget-friendly stocking stuffer ideas for stockings for children. 30 different items you can use as stocking stuffers this Christmas.
Do you know what I reeeeaaalllly dislike in my house? The cheap little toys you get that end up breaking in a day. Kids don't play with them for long, then they get put in a random tote of toys until we eventually just throw them away in an effort to de-clutter.
A lot of those types of toys are obvious candidates for a stocking stuffer. You can fill a stocking up fast and inexpensively with those things! I can't bring myself to be the source of the cluttery toys, however.
I want toys that will last, but I can't bring myself to spend a thousand dollars on stocking stuffer items (I exaggerate…a little).
I go for stocking stuffers that are useful, inexpensive, and I won't want to throw away the next day.
Best Stocking Stuffers for Children This Christmas
Here are some stocking stuffers I always go to. These ideas cover baby on up through the early teen years (this post contains affiliate links).
Notebooks
Notebooks come in all sorts of sizes, so no matter the size of your stocking, you can find a notebook to go in it. Notebooks are also very inexpensive.
Check the dollar store and other local stores you like to turn to for inexpensive notebooks. Our dollar store also has nice drawing pads. Always price check against Amazon, also.
Coloring Books
Along the same line, if your child enjoys coloring in coloring books, those are fun stocking stuffers. Not all of my children have been into coloring books, so it isn't something I have always used, but I do have some who love to color in a coloring book.
Be sure to look at Amazon for some good deals on coloring books, especially the adult coloring book style. They have a lot of options for under five dollars.
Post-it Notes
I am not kidding. My kids think they are in heaven when they pull out Post-it notes. A whole pad they can use however they want to! You can get them at the dollar store or often somewhere like Walmart or Target for even less than the dollar store.
You can often find good deals on a package of post-it notes that you can then split up among your children. I usually buy this big pack from Amazon and divde it up among the family.
Tape
Yes, tape. Once again, thrilled children. This is tape they can use however they want. It is really a gift for me, because they don't use up all of my tape. I often find this is the least expensive at Walmart. We always do scotch tape and sometimes do duck tape.
Pens/Pencils/Highlighters/Markers/Crayons
More joy from my children. You can get a package of any of these for pretty cheap.
My kids love to get their own package of pens that they can use up and take wherever they want to. My kids love to get the "click" pens since that is what I typically use and don't allow them to steal from me.
If you have a toddler, triangular crayons are great for their little hands.
Calendar/Journal/Planner
You can get really inexpensive calendars, journals, and planners at the dollar store. There are also a lot of fun finds on Amazon, depending on what you want out of these things.
My kids love to have a planner anyway, so it makes a good stocking stuffer just in time for the New Year.
Stickers
Stickers are very inexpensive and a thrilling addition to the stocking.
Bath Toys/Bath Paints
Fun, simple bath toys can be nice for the stocking. If you haven't tried bath paints, you need to try it out!
Needed Items
If there are some items my child needs, I will totally throw it in there to help take up space. Yes, I have done socks and underwear in the stocking before. As long as it isn't the ONLY thing in the stocking, they don't mind. My kids all actually get excited about new socks.
This category could also be a pair of pajamas or some slippers. You could even do toothbrushes or a hair brush!
Fuzzy Socks
A tradition we have is fuzzy socks. On a cold winter Christmas morning, fuzzy socks are just the thing you love to put your feet into.
Chapstick and Lotions
Girls love to get these self-care items in their stockings. These double as needed items, but are practical. Boys don't usually find these types of things as exciting, but they can absolutely be tossed in the stocking. We have liked Lip Smackers in the stockings. Brayden likes something like a Blistex. Older tweens and teens might prefer something more "mature" like this lip balm.
Nail Polish
You can get a lot of nail polish for around a dollar. These can be great for a stocking stuffer, along with other nail things like nail stickers and nail files. We are currently loving the Sally Hansen gel nail polish that does not require a UV light.
Games
There are a lot of inexpensive, fun games you can add to a stocking. Card games are a great stocking stuffer. There are classic options like Uno. One of our favorite card games right now is Coup. There is no shortage of fun card games out there!
>>>Read: Fun Card Games for the Whole Family
Mini Puzzle
Many families love to do a puzzle together over the holiday break. If this is a tradition you have, you might enjoy a mini-puzzle in the stockings.
Small but Inexpensive Toys
When Brayden was little, he loved Hot Wheels cars. Hot Wheels cars are not expensive at all, but they are still great toys for toddlers on up to young kids.
If your child has a favorite type of toy that has some inexpensive options, those are great additions.
A small Beanie Boo or a small LEGO set are also great options. If you wanted to buy a big package of Hot Wheels to get them cheaper, ask a friend if she wants to go in on it together and split the cars up. Another idea is to save some for Easter baskets or birthdays.
Candy
I don't usually put much candy in the stockings. I sometimes do a candy-cane shape container full of a certain type of candy. Adding candy can b a great, inexpensive filler. Don't forget to consider gum in your list of candy options!
Some Christmas classics include peppermint or a chocolate orange.
Gerber Puffs
When I had babies, I would put a package of the Gerber Puffs in my baby's stocking.
Ornament
Adding an ornament to the stocking is a fun tradition if you don't have ornaments going on some other time already. We love to get a new ornament for each person each year that represents something significant about the year.
Scrunchies, Clips, and Hair Accessories
Hair accessories are always a great choice of something Santa can put in a stocking.
Hair clips are super popular among the tween and teen crowd right now.
Scrunchies are another great option. You can get packs on Amazon for very cheap. We have velvet scrunchies here, patterned scrunchies here, and a variety here.
If your little one is not into scrunchies yet, hair elastics or hair bows can make a great gift, also.
Bath Bombs
Bath bombs are fun for little ones and tweens/teens alike in the bathtub. Moms love them, too! You can purchase one set and divide it up among the people in your family.
Face Mask
I find as my tweens turn to teens, I more and more like to give gifts of things they use up of mine. Then they can use their own items rather than mine.
You can get a face mask for your tween or teen to enjoy. You can also do nose strips for under-eye masks.
Tie
Brayden is currently building up his tie collection, so a new tie every once in a while is a fun gift for him. You can get great deals on ties at places like TJ Maxx or Ross as well as Amazon.
Jewelry
Accessories are always fun. You can get earrings, necklaces, rings, or bracelets to add to the stocking. This unicorn necklace is fun for the little unicorn lover in your home.
Magnets
I love these tiny but mighty magnets. My kids all have magnetic boards in their rooms for hanging whatever they like on the wall and these work so well to hang up their stuff.
T-Shirt
T-Shirts often go on good sales and you can often find t-shirts for $5-10, They can make a great Christmas stocking stuffer for your tween or teen (or husband!). I often find fun graphic tees at Khol's or even Walmart.
Hot Chocolate Bomb
A really fun idea right now is the hot chocolate bomb. You can buy a set and divide it among stockings or you can buy a kit to make your own! This would be fun to drink Christmas morning.
Favorite Snacks
There are a lot of snacks out there that we love but rarely buy. A summer sausage, jerky, Lindor chocolates…tweens and teens love food and will get a thrill out of a special treat.
AirPod Accessories
For the tween, teen, or husband, AirPod accessories make great additions to the stockings. You can get an AirPod cleaning kit or an Airpod case for a very low price.
Big Item
I usually put one "big" item in the stocking. That is usually a movie or video game.
Conclusion
These stocking stuffer ideas can help you keep the magic of Christmas alive for your kiddos.
Related Posts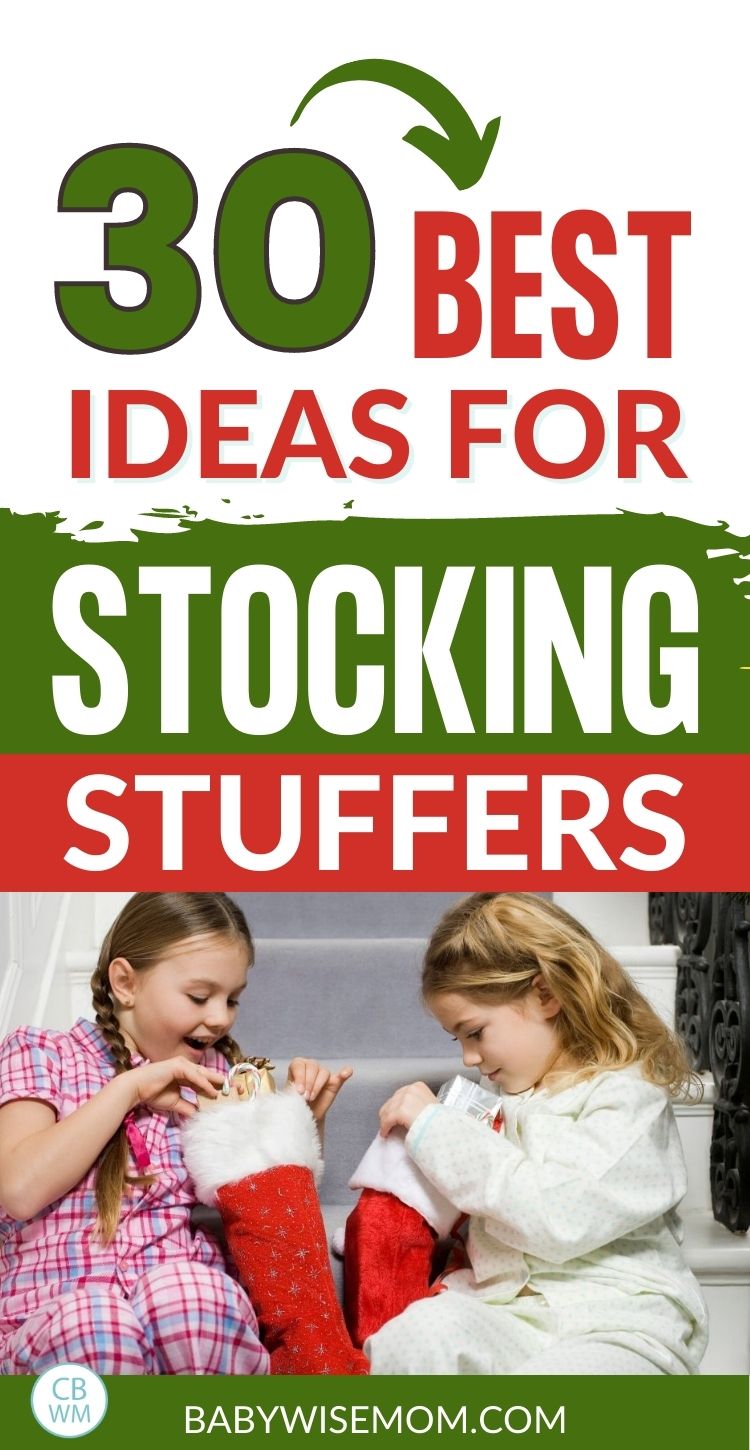 This post originally appeared on this blog December 2019