Discovery Cove is the most relaxing adventure you can have in Orlando, Florida. There are things to thrill you and ways to help you relax and enjoy the day.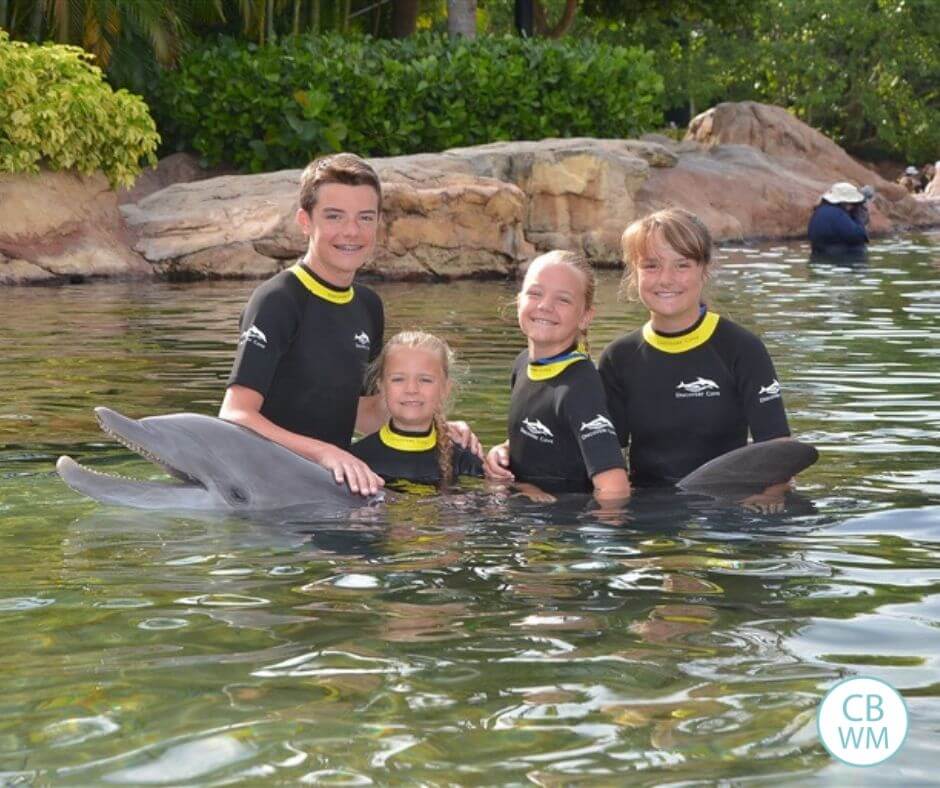 On our recent trip to Orlando, Florida, one of our very favorite things we did was spend the day at Discovery Cove. It is an amazing, unique experience and one you will want to add to your itinerary when you travel to Orlando.
We went to Discovery Cove after having spent 4 days at the Universal Resort theme parks, the oasis that is Discovery Cove is just what we needed. We felt like we were entering a chill, tropical island. It isn't as busy as other parks and the vibe is very beachy and relaxed. They restrict the attendance to no more than 1,300 people, and it just feels less crowded.
All of the theme parks in Orlando are within reasonable driving distance, so you can easily hit up a day at Discovery Cove even if your focus of the trip is Disney or Universal.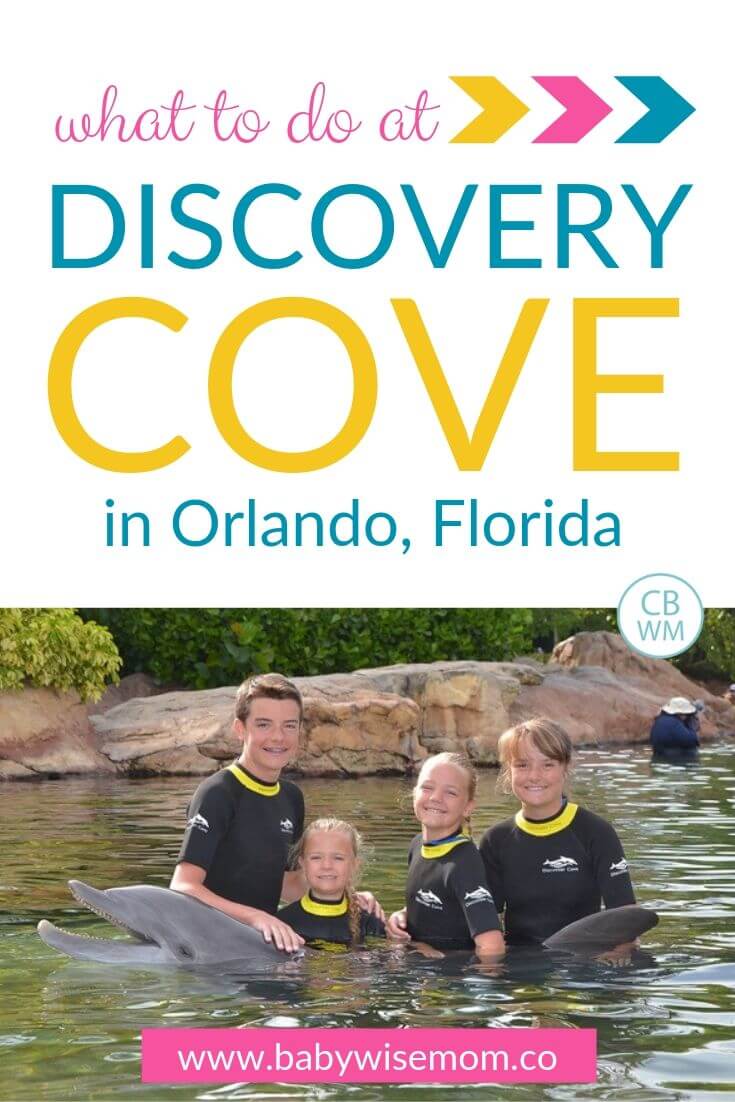 What To Do At Discovery Cove
There are so many fun things to do at Discovery Cove. Here are the highlights.
Eat
Obviously, you eat wherever you go, but at Discovery Cove, your ticket price includes all you can eat breakfast, all you can eat lunch, and snacks all day long. Discovery Cove is all-inclusive, so you get all the food you want.
This was a highlight of the trip for Brayden. He got to eat all he wanted. Dream come true for a teenage boy! Snacks included chips, soft pretzels, icees, cookies, fruit, ice cream, and drinks.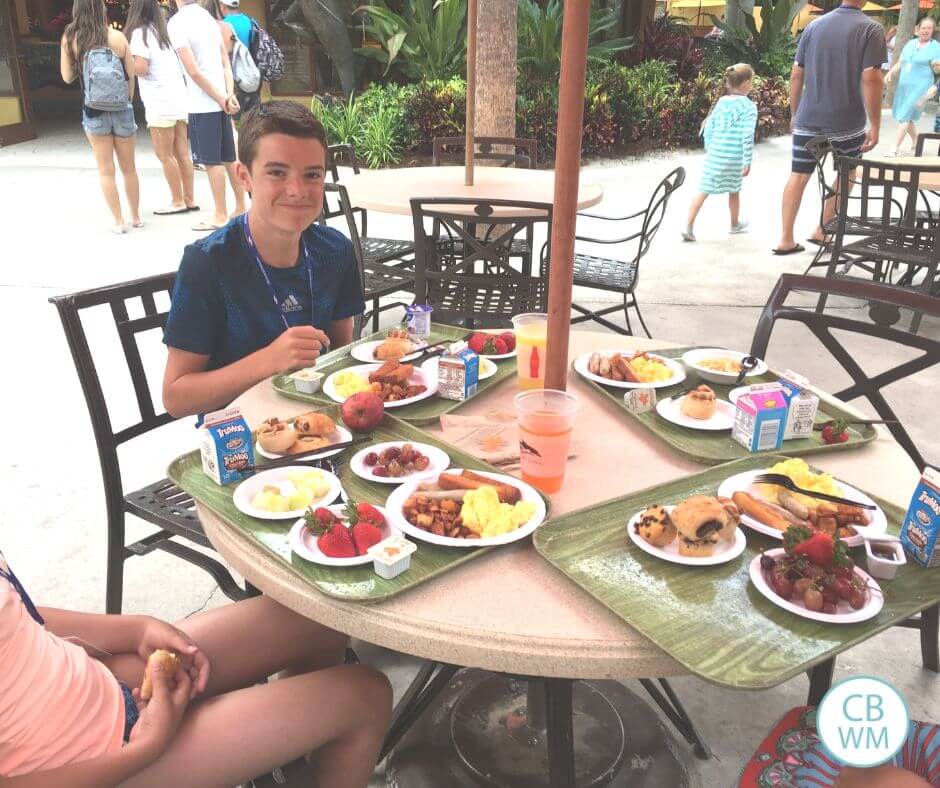 Dolphin Swim
The whole reason we went to Discovery Cove was so we could swim with the dolphins. This is not included with every ticket but is an add-on. It was a must-do for me and what I was most excited for. It was what the girls were all most excited for also (fortunately, everything else was so exciting that they didn't spend the week wishing time away up to this point).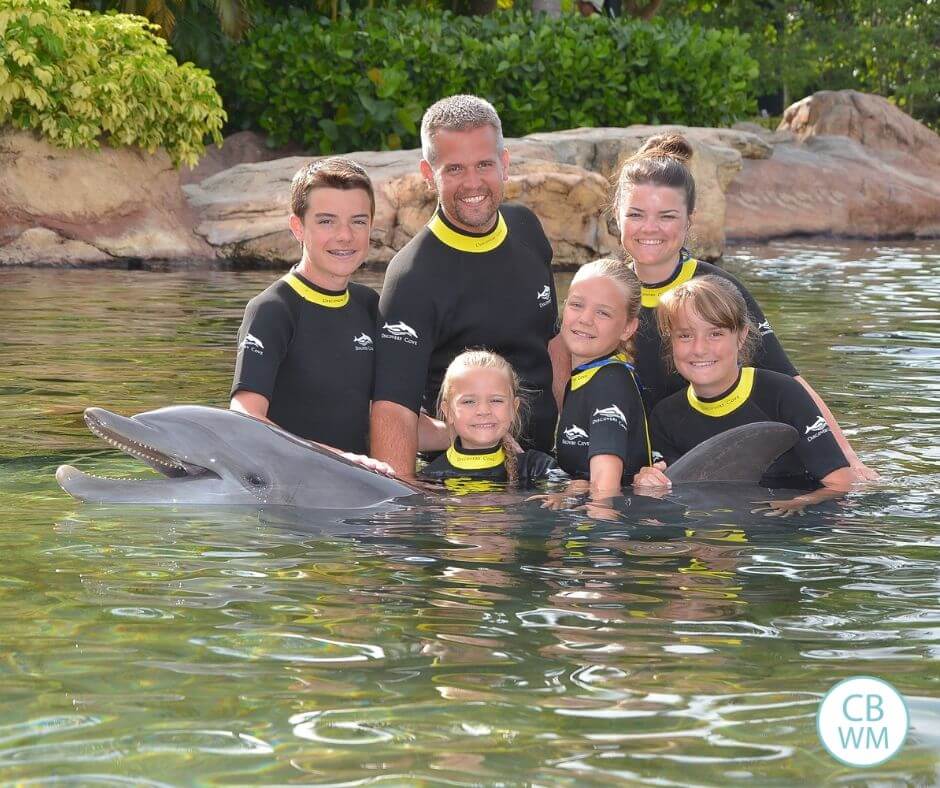 This was an incredible experience I would love to do again. We got to pet the dolphin, feed the dolphin, get photos with the dolphin (again, not included in the price), and get a dorsal fin tow from the dolphin. We were with Rosie.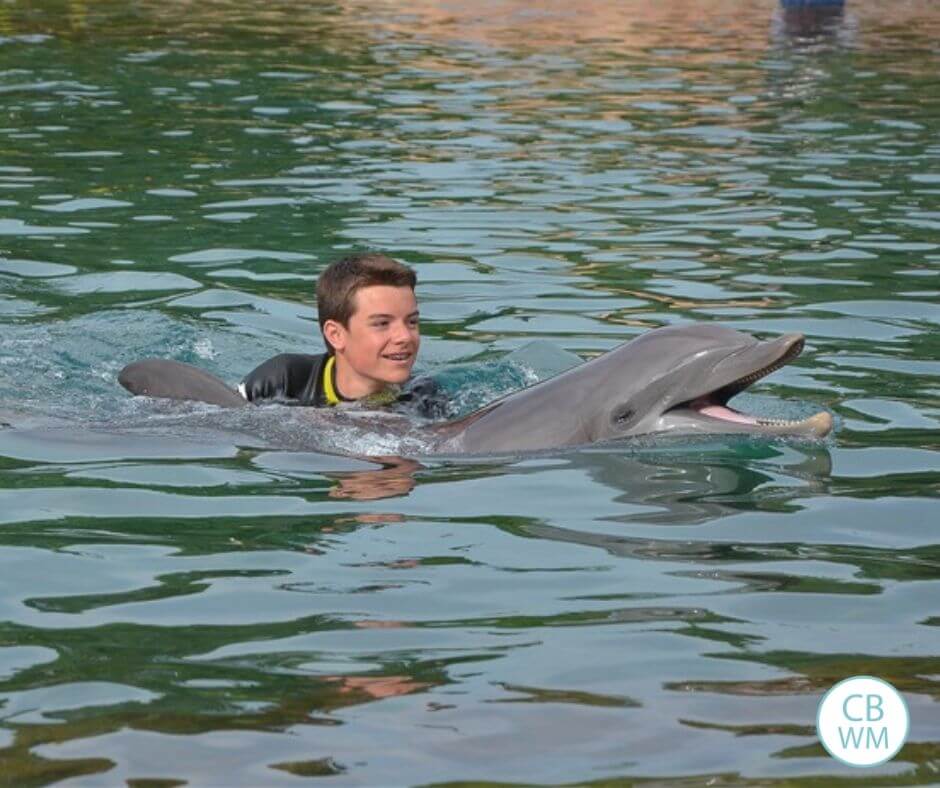 Of course we bought the photos! I had to buy the photos.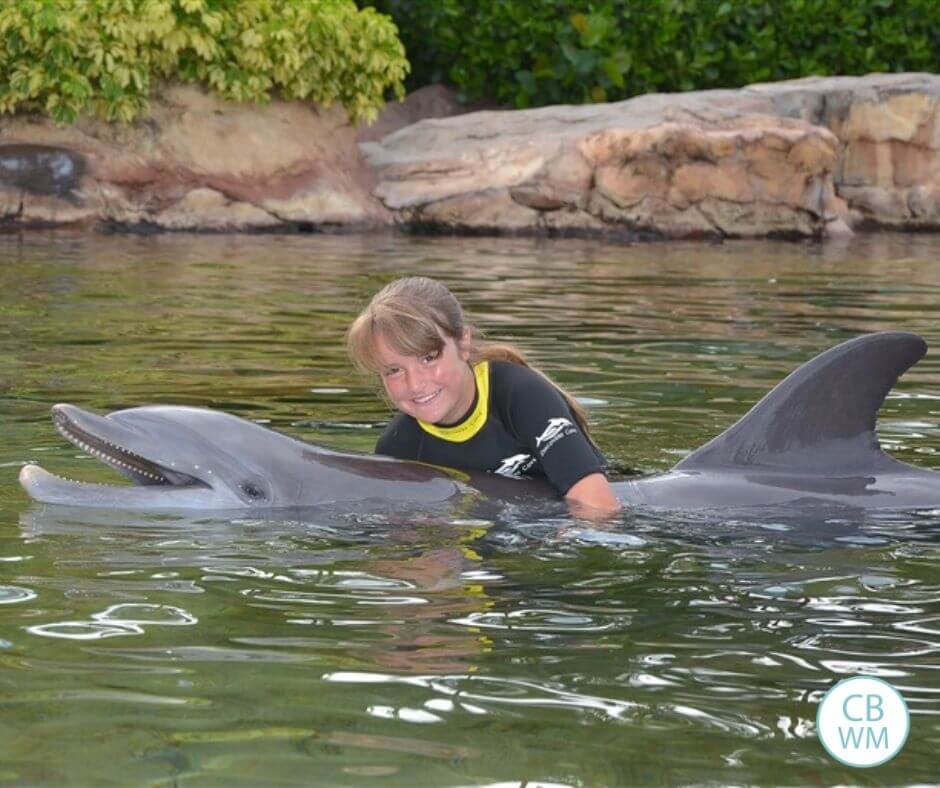 Kaitlyn and McKenna both left the experience wanting to be dolphin trainers when they grow up.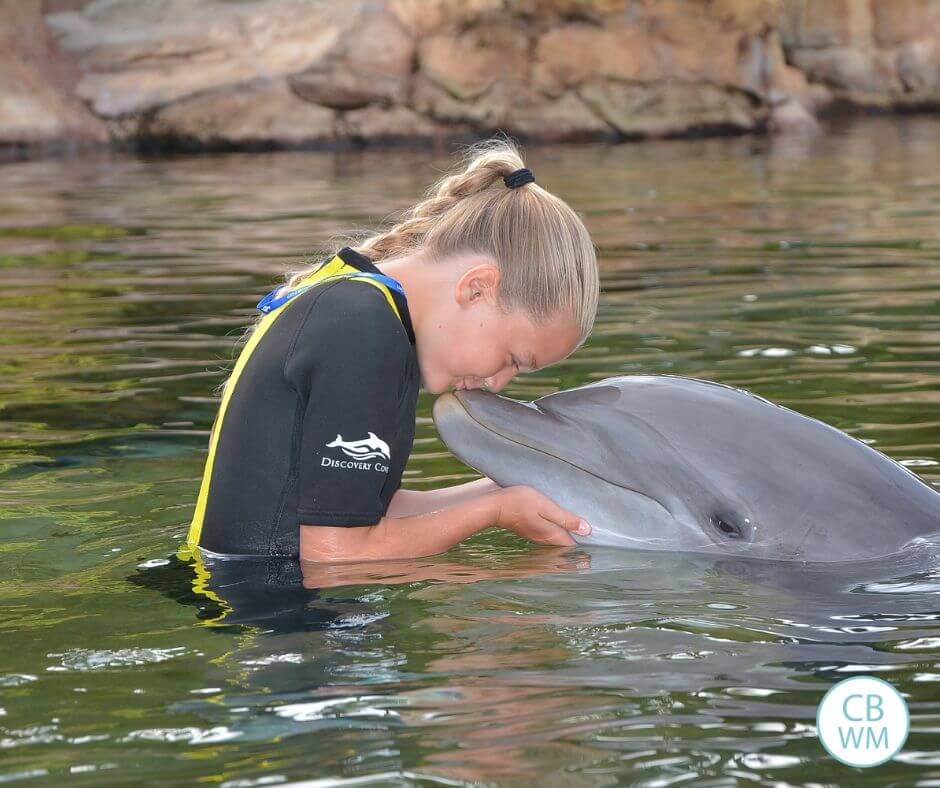 The swims are scheduled as you arrive for the day, so I would highly recommend you arrive as early as possible so you can get in the line-up. We were the first group out, so we were able to swim and then go about our day without worrying about making it back in time.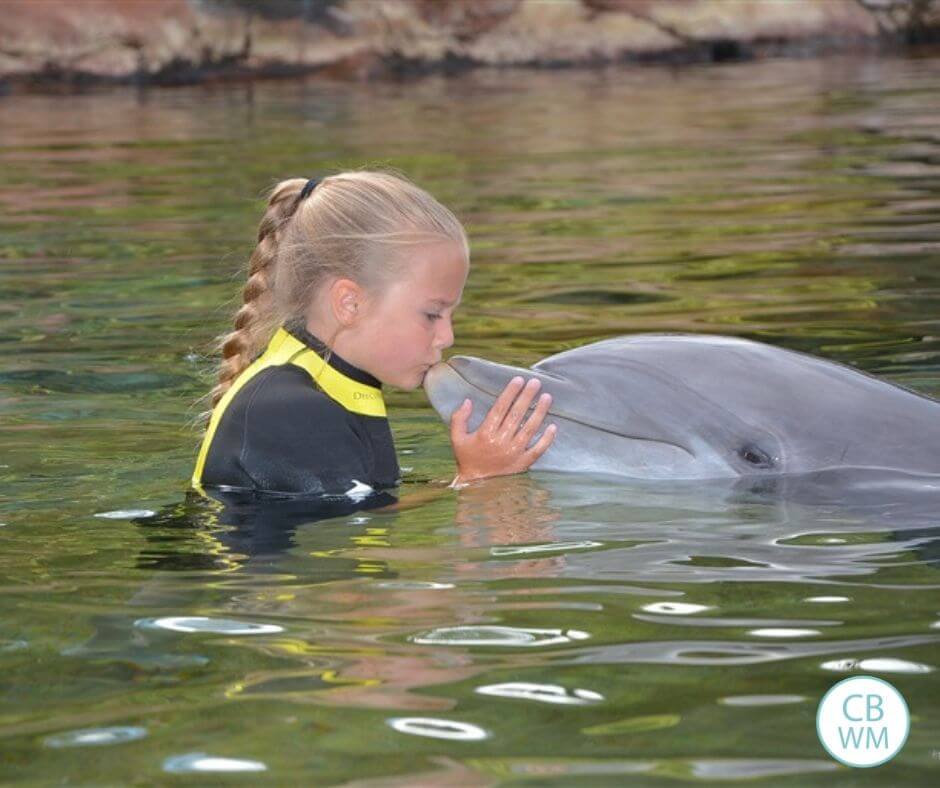 Explorer's Aviary
The aviary was not a place I expected to find that interesting. I have been to many aviaries in my time, so it didn't sound too exciting. McKenna was super excited about it, though and insisted she would have birds land on her. I was doubtful.
And I was wrong! The birds will land on you!
They had cups of fruit an food all prepared for you to get (for free) and hold to entice the birds to come visit. After the dolphins, this was the favorite part of the park for my girls.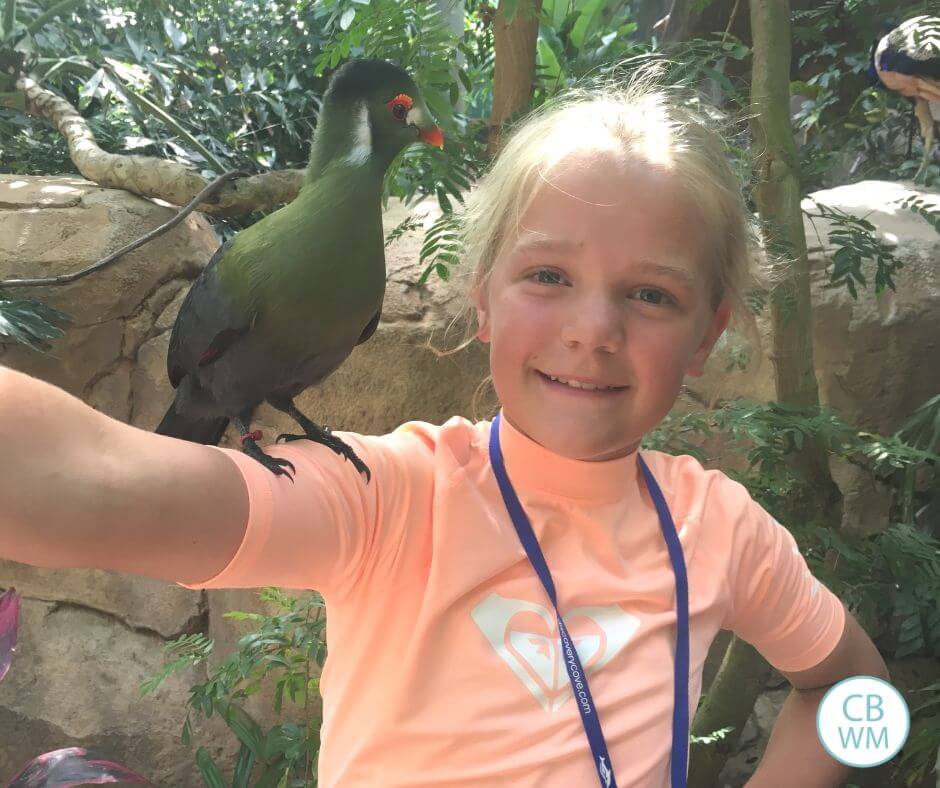 Wind-Away River
The river is a lot of fun. This is not a "lazy" river at all. I mean, moments are lazy, but there are many parts that are 10 feet deep and other parts you have to go under a waterfall to continue. As I noted when I talked about Volcano Bay, our family loves lazy rivers and we had fun here. They have life jackets for kids, which I wanted on Brinley for this since it got so deep and could get taxing.
There is also a warm bay surrounded by sandy beach for kiddos to play at so famlies can relax around it.
Snorkeling at The Grand Reef
The coral reef has thousands of tropical fish for you to observe as you snorkel around. Everyone has access to snorkel gear for free. It is a fun adventure that is easy to do.
Freshwater Oasis
You can also see freshwater animals. You go along through the water and visit the different habitats. This was cute and fun.
Pictures and Video of Discovery Cove
Here are some pictures and photos from our day there.
Other Upgrades
The Dolphin Swim is not the only event you can add on to your trip. There is also:
Seaventure: Underwater walking tour
Animal Trek: Private tour to meet birds and mammals
Shark Swim: Swim with the sharks
Ray Feeding: Feed the rays in the early morning
Trainer for a Day: Spend the day with a trainer (Kaitlyn is dying to do this now)
Amenities at Discovery Cove
You will get the following for free:
Lockers–and they are big enough for your stuff
Shower and changing rooms
Towels
Sunscreen (they provide sunscreen that is safe for the animals, so be sure to wait and us theirs)
Snorlkling gear
Wet suits and vests
Life vests
Lounge chairs
Hammocks
FOOD!
Discovery Cove and SeaWorld
Discovery Cove is a sister park of SeaWorld. When we purchased our tickets, we paid somewhere around $20 more per person to get tickets to SeaWorld and Aquatica for 12-14 days. So you can easily get 3 parks for the price of one out of the deal.
When To Visit
Since the park limits how many people can enter the park each day to such a small number of patrons, any day of the week is a good day to go. We wanted to go Saturday for that reason, but we needed to hit them first since we were getting our SeaWorld tickets with these tickets. So we went Friday and crowds were no issue.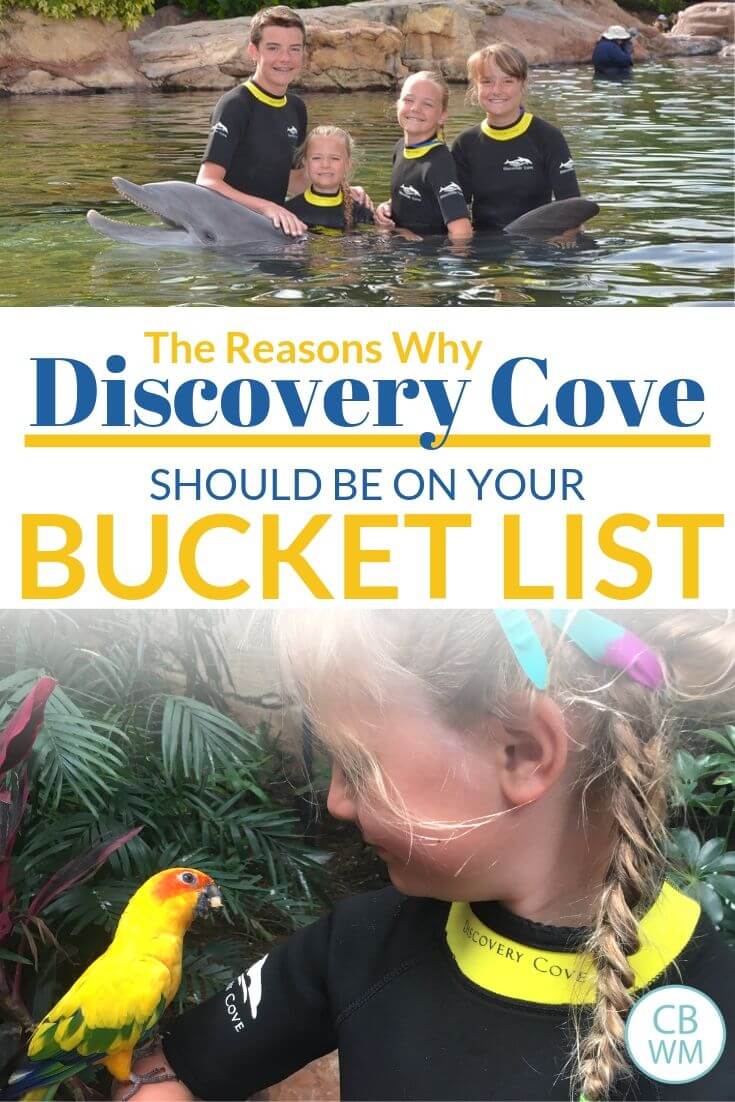 Where To Stay
When we went to Discovery Cove, we just drove there from where we were staying for Universal Studios. We took a Limo service from our hotel to Discovery Cove (it sounds fancier than it is. It was no more money than an Uber and we could arrange it ahead of time). It was only about a 15 minute drive from our hotel at Universal.
With that said, there is no shortage of hotels in the Orlando area.
Conclusion
Discovery Cove is incredibly relaxing and adventurous all at the same time. It is a pretty unique experience and one we would do again in a heartbeat! It is spendy, but when you consider everything you get included with your stay and the fact that it is pretty once-in-a-lifetime, it is very much worth it.
Related Posts