Get the inside scoop for going to Universal Studios Orlando Theme Parks. Universal Studios, Islands of Adventure, and Volcano Bay tips and ride info.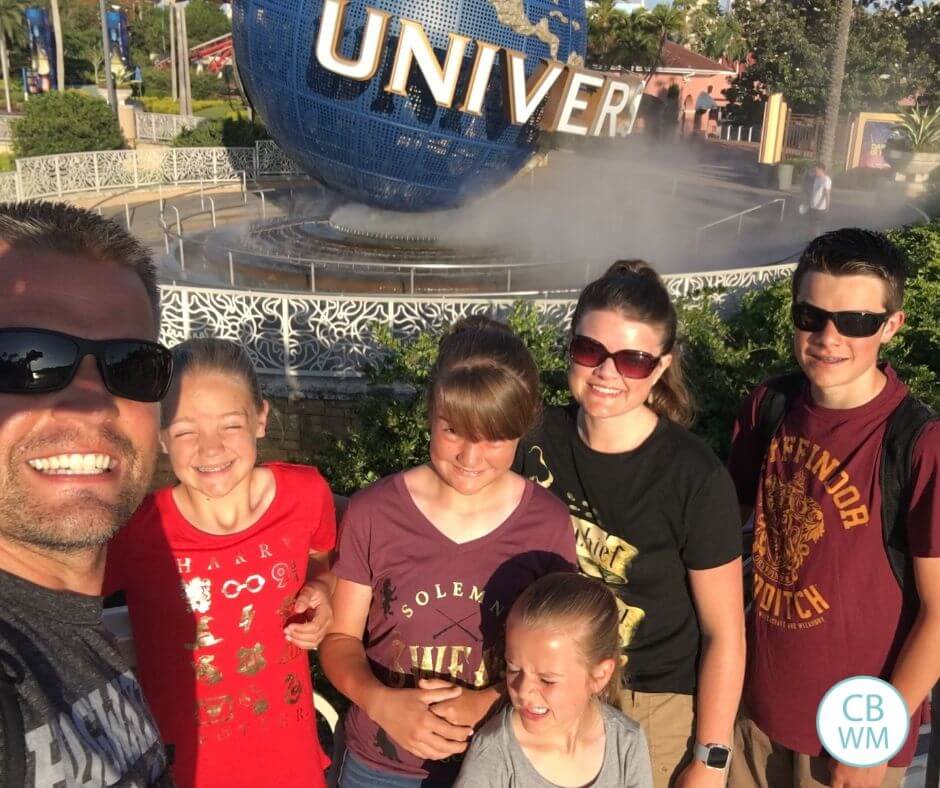 The Universal Orlando parks are super fun vacation spots for families. Universal Studios Trip. Our family spent 4 days in the various Universal Orlando parks and loved every minute. This post walks you through our tips for families visiting the Universal theme parks in Orlando.
Universal Theme Park Orlando Information
When you head to Univeral parks in Orlando, you have three park options to visit. You have Universal Studios Orlando, Islands of Adventure, and Volcano Bay. Universal Studios and Islands of Adventure are both theme parks with rides (including the Wizarding World of Harry Potter) and Volcano Bay is a water park.
What are the best ages for Universal Orlando theme parks
I would say best ages for Universal Studios and Islands of Adventure is 6 and older. For Universal Studios all three parks, most of the rides have a higher height requirement. There is a lot fo variance, but most are at least 40 inches tall with some as low as 36 inches and some as high as 52 inches.
My youngest when we traveled here was 6 years old and could ride everything she had interest in. She couldn't do the huge coasters but did not want to.
When we went to Universal Studios Hollywood several years ago, our kids were 2, 5, 7, and 9 and we had to do some splitting up with rides there (read my Universal Studios Tips for California). In Orlando, our kids were tall enough we only split a couple of times and that was more for interest in rides than for height restrictions.
So, you can have fun with little ones at Universal Orlando, especially if you have Harry Potter obsessed family members, but you might change your number of days based on your heights. I do feel like the content of most of the Universal Studios Orlando rides and Islands of Adventure rides are geared more toward an older crowd in most cases. Islands of Adventure does have a section for little kids.
How many days to spend at Universal Studios Orlando parks
Anytime you visit any park, you are faced with the tough decision of how many days you need to dedicate to the park. You want enough time to experience it all but you don't want to get bored or spend more time than needed and miss out on other experiences.
We were all tall enough to ride most everything and we are all obsessed with Harry Potter. Four days total (with one day at Volcano Bay and three in the Universal parks), was perfect for our family.
People often wonder if three days is enough for Universal Studios Orlando. We could have done it all in three days, also, but we were very happy to have that fourth day to just soak in our favorites.
If you have smaller children, they probably won't enjoy it as much and you will want to go for 1-3 days. If you do not care for Harry Potter, you can also be happy with 1-3 days.
How To Plan a Trip to Universal Studios Orlando
When we decided to go to Orlando, Florida, I started compiling a big list of ideas of things to do while we were there. You can see what we settled on for our full 10 days of fun in Orlando here.
Once I had it decided, I contacted my friend Carrie who is a travel agent with Key To the World Travel. I gave her my plan and made sure she approved (she did). She then helped us decide where to stay and to book all of our tickets. She was able to get us a better price or the at worst the same to all locations.
Where to Stay at Universal Studios Orlando
There are a lot of hotels very close to Universal. We decided to stay off-site at Holiday Inn and Suites Across from Universal Orlando. Carrie was able to get us a package deal for our hotel room and our park tickets. With our stay, we were able to get into each park each day one hour early. This was HUGE. I highly recommend getting tickets that get you in an hour early. You can get so much done in that hour and save yourself so much time from waiting in lines.
The hotel itself was okay. The first night we got there, there were not enough pillows for all of us. There were pillows on the beds but not the pull out couch, and they knew we would have 6 people. We called and texted them SEVERAL times and were told each time "We will get that right to you!" and they never did. We also heard from other families in the elevator about them not having enough towels.
One day we got back and the cleaning people had left behind two towels for all six of us. We didn't even mess around this time and just went straight to the front desk to get what we needed.
But it did what we needed it to do.
It was only a mile walk to Universal, which isn't bad at all. They also have a shuttle. We walked the first day. The only downside to that is that we then walked around the parks all day long, so we were super tired by the end. We walk a mile to school many days of the year, but we don't spend the bulk of the remainder of the day walking and standing in lines.
There are a lot of taxis you can get to and from Universal. The cost is actually cheaper than an Uber if you are close because of how they charge.
We ended up getting a limo service after a couple of days and realizing it was an option. It was the same price range AND they delivered us to VIP entrance. It was fantastic.
Tips for the Parks
Here are some tips for enjoying the parks as much as possible.
Beat the Heat
Florida is warm year-round and HOT for summer months. Something great about Universal is that so many of the lines for rides are indoors in the very nice air-conditioning. They keep it nice and cold, so you get to cool off frequently.
Not all rides or activities are indoors, so it is wise to have some indoor activities or rides in mind for the afternoon and early evening when things heat up. One great place is the Jurassic Park Discovery Center. It is nice and cool, has benches, and there are tons of fun activities for the kids to do.
Some cooling towels and hand fans are super helpful for staying cool, also. We used cooling towels every afternoon.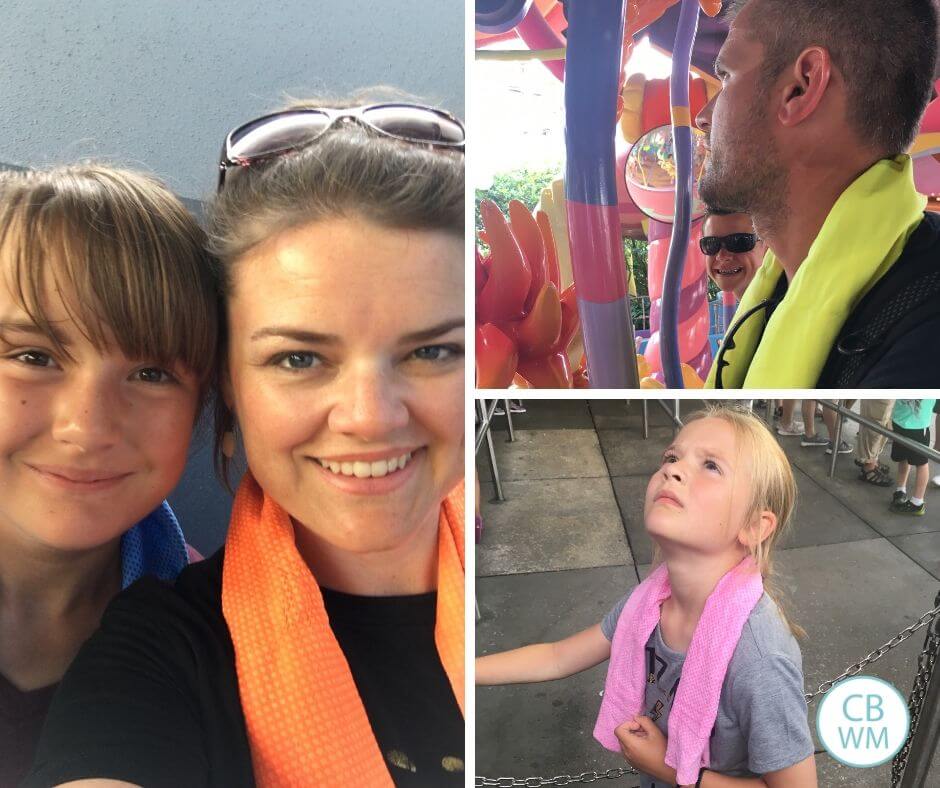 Prepare for Rain
There are times of year that it rains daily in Orlando. It rarely stays long, but it moves in fast. Ponchos are expensive in the gift shops. Bring your ponchos so you don't have to buy them.
Pack a Lunch
We always like to pack a lunch and buy dinner. There is only so much eating out you can do without starting to feel very "blah." Plus, the cost of eating out for a family of 6 is quite high.
Fun Lines
Universal has gone to great lengths to make the wait-times in line as enjoyable as possible. There is tons of detail to the line area and often video footage to watch. They are immersing you in the world of the ride you are about to enter and giving you context for what is happening in the ride. Time passes quickly.
Best Itinerary for Universal Studios Orlando
We arrived at Universal Studios Florida early for our early admission. Each day, they actually opened the gates about 15 minutes before the hour early admittance. This was great because we were able to walk back to Diagon Alley by the time rides opened. There will be a stream of people heading there. Do not fret! It will be fine. They will also show you the way your first time because the entrance is hidden. It is in London, so if you walk through London, you missed it. Look for the Night Bus as a hint.
We spend day one focusing on Universal Studios. We went through the whole park and rode every ride we had interest in. At the end of the day, we had some time and rode the Hogwarts Express to Hogsmead over in Islands of Adventure and spent the last couple of hours there.
Day two, we started at the Gringotts ride again (more on that below) and then headed over to the Islands of Adventure. We went through the whole park and rode every ride we had interest in there. Then we started returning to favorite rides in both parks and again ended the day in Hogsmead.
Day three was spent at Volcano Bay.
Day four was spent at the favorites of everyone at Universal Studios and Islands of Adventure. We would have enjoyed a second day at Volcano Bay, also, but we couldn't get enough of Harry Potter.
Many people wonder which rides to ride first at Universal Studios Orlando. I had read somewhere that the Harry Potter areas get really busy around 10 AM and stay that way until 2-3 PM. The last hour of the day is usually less busy. So we wanted to hit Diagon Alley very first.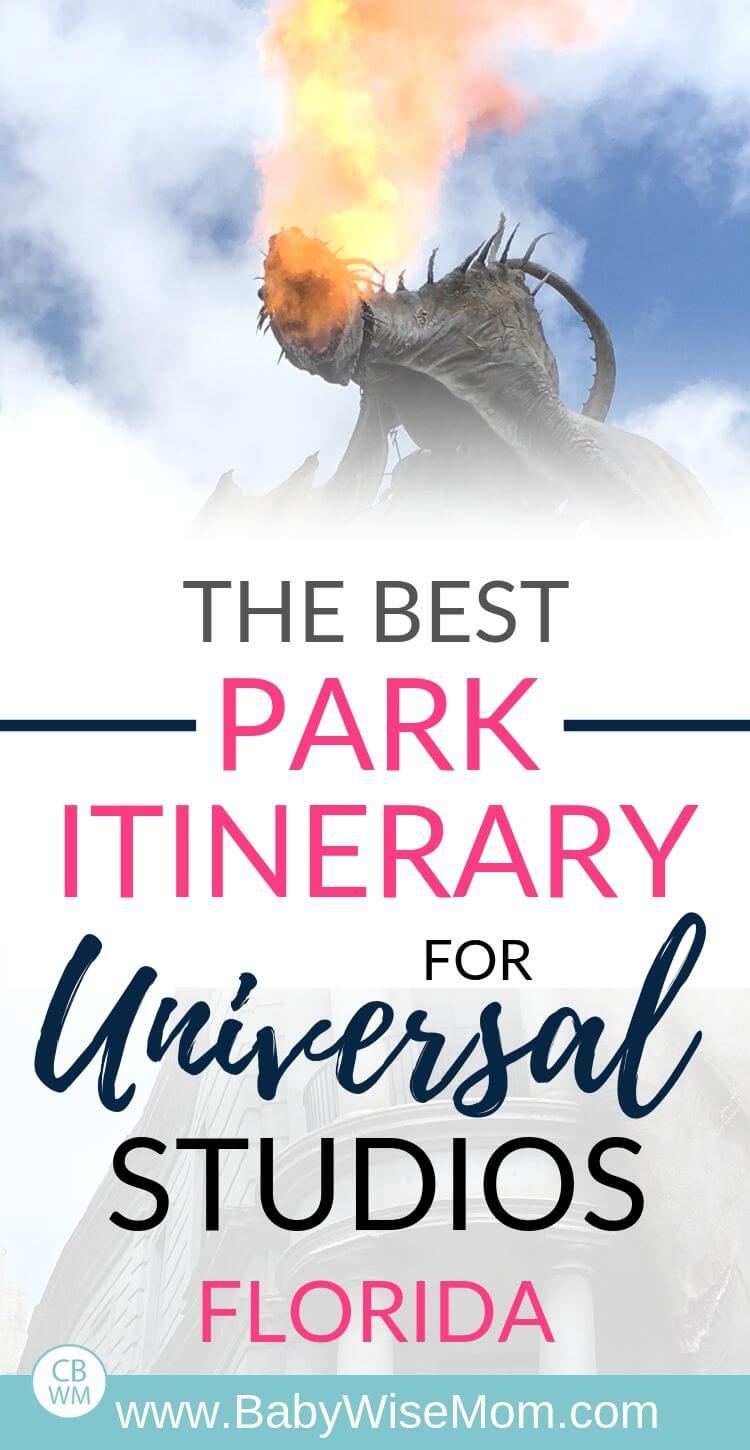 Diagon Alley
Walking into Diagon Alley is like entering a whole new world. Every detail has been attended to
Harry Potter and the Escape from Gringotts
42″ height requirement. The first thing you want to do is the Harry Potter and the Escape from Gringotts ride. You can essentially walk right on in this first hour of the day, but as the day goes on, the line is long. While we were there, the line would be about an hour long later in the day and stay that way most of the day.
For this ride, you are required to put all loose items in a locker. There are lockers right by the ride, and these lockers do cost money. So just head straight to the locker, put your stuff in there, and leave it for a while.
We started here first all three of the days we spent in the parks. By the third day, we rode this ride a few times in a row to hit it fast before crowds built.
Ollivander's Wand Shop
Ollivander's is kiddy-corner from the Gringotts ride. As soon as we exited the ride, we headed over to Ollivander's. They have a cute show where the wand chooses the wizard (an actual child in the room). You can then go in the wand shop and purchase wands if you choose to.
This line gets VERY long and is slow, so I highly recommend hitting this right after you ride Gringotts. This is something we only did one time while there.
Shops, Food, and Magic
After those two items, you can check out shops and food at your leisure. The best place to get Butterbeer Ice Cream is in Diagon Alley at The Hopping Pot–the outdoor shop where they have picnic tables.
There are several fun shops as well as a little Knockturn Alley. You also have the Leaky Cauldron, can try on robes, check out some of the Weasleys jokes, and watch shows.
You can also go around and practice your magic with your wands. They are fun, but they are much harder to use than I expected them to be. It is "realistic" to learning magic (if that were a real thing) in that it takes patience and practice. But considering this is a theme park and not an actual school, I think effort should have been made to make the magic easier to perform, especially since you have so many young kids. After spending as much money as you do on a wand, you want to be able to use it.
Something to note about Diagon Alley is that the temperature in there is significantly cooler. There is tons of shade that blocks the sun and keeps the whole area cooler.
Butterbeer
Anyone who had been to the Wizarding World of Harry Potter told us emphatically to get butterbeer and get it often. We totally budgeted and planned to get it twice a day each day. We loved it. They had butterbeer, frozen butterbeer, butterbeer ice cream, butterbeer potted cream, and butterbeer fudge. They also have warm butterbeer in colder months. We all had different favorite kinds.
Since coming home, we have been working on perfecting copycat recipes. We have perfected a frozen butterbeer recipe and found a great regular butterbeer recipe.
Men in Black: Alien Attack
42″ height requirement. If you still have time left in your locker in Diagon Alley, step out and head to your left toward Men in Black. This is another ride you cannot take your items on the ride with you and the lockers cost money (at least the bigger sizes that we needed to fit a backpack). So zip over and get Men in Black in and then go back to Diagon Alley and get your items out of your locker. I would even leave Diagon Alley to ride Men in Black and then return to peruse shops if desired.
This ride ended up being Brinley's (6 year old) favorite ride outside of Harry Potter rides.
Go Around the Circle
I would then just pick a direction and head around the circle that is Universal Studios and hit rides you want to ride as you go. Here are some notes on rides I think you should be aware of.
Animal Actors On Location
This is not a ride, but there is a fun show with animal actors. This show is at certain times of day, so if you want to see it, make sure you are in the area at a show time. We only went to it once, but our kids loved it.
E.T. Adventure
36″ height requirement. My kids were all not too sure about this, but they enjoyed it and McKenna and Brinley wanted to go back to ride it again. This ride opened later than other rides for some reason. It is right by Animal Actors on Location, so you could plan to hit it right after you saw that show. We were there when it opened and walked right on.
TRANSFORMERS: The Ride 3D
40″ height requirement. This was our favorite ride at the California location and still one of Nate's favorites at this location. As we waited in line for this ride, the experience freaked Brinley out. It is intense and scared her and she did NOT want to ride the ride. So if you have a sensitive child, you might want to try to hit this earlier in the day to avoid lines because then you don't watch the intense movies.
Once Briley rode the ride, she loved it and didn't mind anymore.
Despicable Me Minion Mayhem
40″ height requirement. This ride can get to be a long line. A lot of people will hit this ride very first when they enter the park. If you aren't big into Harry Potter, this isn't a bad idea. The ride is right at the front of the park. With that said, we rode it in the afternoon and the wait was only about 40 minutes, so not terrible for an afternoon wait time.
Race Through New York Starring Jimmy Fallon
40″ height requirement. This was my FAVORITE ride outside of Harry Potter. It has a fun wait — you are free to roam around and look at stuff rather than waiting in line. I love New York City, so this was a fun little reminiscent ride.
Fast and Furious
40″ height requirement. This was a fun one that seemed a little scary to Brinley until we rode it.
Revenge of the Mummy
48″ height requirement. This can be scary to some kiddos, but is FAR scarier at the California park than the Florida park.
Hollywood Rip Ride Rockit
51″ height requirement. This is an old fashioned coaster and Nate almost blacked out on this ride. It threw off his equilibrium and he got motion sick very easily for a couple of weeks after this! You need a locker for this ride.
Video
Watch this video to see some of what we did and little tips.
Best Itinerary for Islands of Adventure
Islands of Adventure is where you have Hogsmead. You will have a lot of fun taking the Hogwarts Express between the parks, so I would start your circle from Diagon Alley so you land back in London and King's Cross Station to take the Express over to Hogsmead. Make sure you take the time to take the Hogwarts Express from Hogsmead back to King's Cross station. The ride is different each direction.
I would hit Hogsmead and get your fill and then head out in a circle either through Jurassic Park or The Lost Continent. Jurassic Park has a really fun ride in it that gets you wet, so plan on hitting that on based on when you want to be wet. The Lost Continent way gets you to Suess land faster, so if you have little ones, this might be the way for you.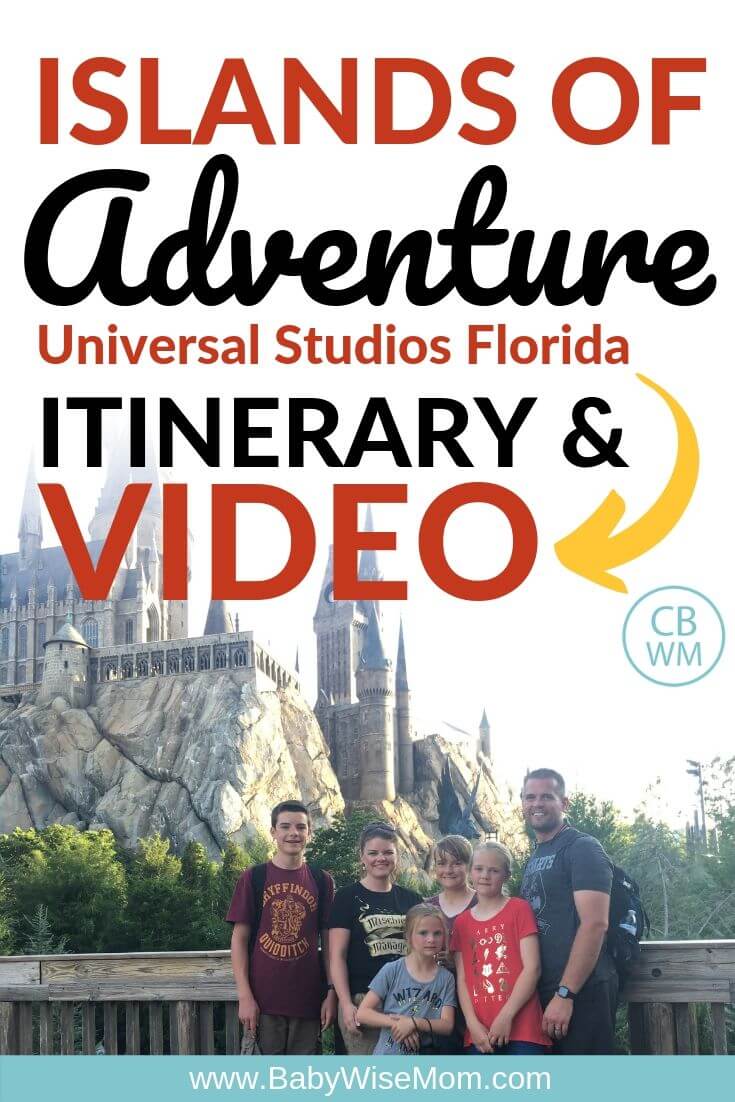 Harry Potter and the Forbidden Journey
48″ height requirement. This was Kaitlyn's very favorite ride. She rode it 15-20 times in the three days we were in the parks. The line was almost always essentially a walk on. We always spent the last 1-2 hours of the day in Hogsmead (as well as other points in the days). This ride is inside of Hogwarts. If you do stand in line, there is so much to look at and appreciate in the castle.
It was a little scary for Brinley (there are dementors), but as she rode it a few times, she liked it.
This ride can really make you motion sick, so people who are sensitive to that be aware of that. Nate could only go on it once in a row and had to space out when he rode it in the day.
You cannot take items on this ride and need to get a locker. There are free lockers by the ride.
Flight of the Hippogriff
36″ height requirement. This was Brinely's very favorite ride. It is right by Harry Potter and the Forbidden Journey. So Kaitlyn and McKenna would go on that ride and I would take Brinley on the Hippogriff ride. It was just a simple rollercoaster.
Hagrid's Magical Creatures
48″ height restriction. This ride opened TWO DAYS after we were there. Very sad. So we didn't get to ride it. But know it is there.
Shops and Magic
There is magic to be done in Hogsmead just as in Diagon Alley. There are also shops, including a sweet shop that will satisfy your sense of smell even. This is where to go for Butterbeer fudge, chocolate frogs, Bertie Botts Every Flavor Beans, and more.
There are also shows, including a light show at the end of the day that is pretty cool at Hogwarts.
Three Broomsticks
The Three Broomsticks has some great food, butterbeer, potted cream, and an amazing setting. It feels authentic, which is true of both Harry Potter areas. You are really immersed in it all. We ate at the Three Broomsticks two of the three days we were there. There is also an outdoor seating area behind the Three Broomsticks you can access through a little alley by the women's bathroom. We ate our lunch there or would just rest there in some shade if needed.
>>>Read: Cruise Tips with Kids!
Women's Bathroom
Chances are you will use the bathroom anyway, but in case not, you MUST go into the women's bathroom in Hogsmead. You will get to hear Moaning Myrtle.
Jurassic Park River Adventure
42″ height restriction. This was one of our collective favorites. There are optional lockers, but not required. You do get SOAKED. This is very nice for a hot day. This was one we hit at least once every day.
Skull Island Reign of Kong
36″ height requirement. This wait time can get long and I would not want my little one in a long line for this ride. The line is creepy. But if it is short and you can walk right on, the ride isn't creepy. This is one we just rode once.
Dudley Do-Rights Ripsaw Falls
44″ height requirement. This ride gets you wet. Honestly, if I went back, I would skip this ride. It was supposedly going to be a short wait, and it wasn't. You walk down inside into a non-airconditioned area that is humid and muggy with lots of people trapped with you. None of us were impressed by it.
Poseidon's Fury
This is not a ride. It is a little walking tour theatrical show. It is fun. Universal in California has a lot of shows and tours about special effects and how things are made in movies. Universal Florida does not have much of this, and this little show gives you some glimpse into that side of Universal.
Suess Island
This is a fun little kid land that has a bunch of the classic type of rides you see at your average theme park, like a carousel. The lines are not indoors, but it is a good spot to hit up with little kids. We did several rides there for Brinley's sake.
This is not all of the rides at the parks, just a few tidbits I thought were helpful to know about.
Video
Watch this video to see some of what we did and little tips.
Volcano Bay Tips
Going to a water park in Orlando is very much worth it. They have a lot of water parks to choose from. Volcano Bay is currently the newest park, so it is the one we chose to go to (we also had the ability to go to Aquatica owned by Sea World and decided to do Volcano Bay.
We have some water parks in Utah, but nothing that compares to Volcano Bay. It was really an amusement park merged with a water park.
Getting to Volcano Bay
Unless you are staying right on-site in a resort, everyone needs to take the free shuttle to get to Volcano Bay's entrance. So you will want to arrive to the shuttle area early to get right on the shuttle. A nice thing about this is that the crowds arrive in manageable waves and not all at once. But you leave the same way, so you can end up waiting in line to leave the park. That isn't really different than waiting in a line of cars, but just something to be aware of.
If you are driving your own car, you still need to park at CityWalk and hit the shuttle.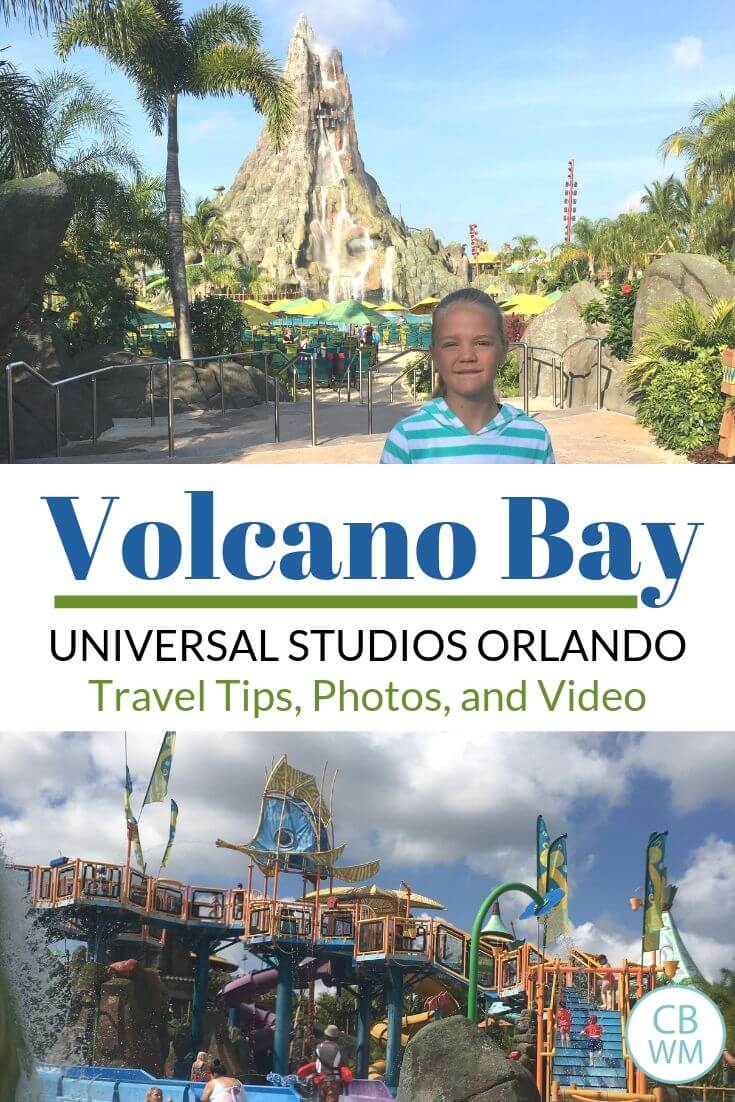 Shade and Seating
With the heat we had, we were concerned about getting a spot with shade at Volcano Bay. We had our one hour early admission, but we weren't sure what would be available.
Because of that, we rented premium seating. With that, we got a pair of lounge chairs, a lock box, and an attendant to bring us food and drink.
I don't think I would do that again.
First, there are lots of umbrellas with the regular chairs and even some trees. Second, there were PLENTY of seats available in our extra hour. Third, it took over thirty minutes of standing in line to get our premium seating in the morning, and we had already reserved it and paid for it. So it was time wasted. Fourth, as the day goes on, the sun shines right into your lounge chairs and you have zero shade.
The one big perk was that we had a lock box right there. So we didn't have to head to the lockers when we wanted our phone or anything like that. Also, at the end of this day a huge storm moved in and everyone had to leave at once. Most people crowded into the locker area to get their valuables while we opened our lockbox and were on the first shuttle out of there.
So if you are getting there an hour early, I wouldn't worry about seating at all.
TapuTapu
These were great. These are little wristband/bracelet/watch type of items that can be your locker key, wallet, and place holder in line. You can also use it to try to get people wet in the lazy river (we had fun with that) and other locations. You also use it to activate fun waterfalls and things in the Reefs for the kids.
The best part of this is the virtual line. You scan your TapuTapu and you see a time to return. Then you can do whatever you want and will be notified via you TapuTapu when it is time to go back. At one point, we checked in to a ride, went and ate dinner, and then headed to the ride when we were done eating. No time wasted.
Krakatau Aqua Coaster
42″ height requirement. This is the first ride we went on. This line gets long as the day progresses, so it is a good one to go to first. We had so much fun on this ride and did it a couple of times.
Honu ika Moana
48″ height requirement. This is another line that filled up fast. You can fit several people on these rafts. There are two slides over here, and they are different experiences. We felt the green was more mild than the blue, so maybe start green and go blue if you need to work up courage. Or start blue and go green if you need to be able to say "but the green one is less scary than the blue one! You can handle it."
Punga Racers
42″ height requirement. On these slides, you can have up to four people race down at the same time. This was a fun one. There is a spot at the end for people to sit, so if not everyone wants to ride, you can enjoy relaxing while you wait for everyone to come down. You go down these slides alone.
Maku Puihi Round Raft Rides
42″ height requirement. This is a six person raft, so we loved that! It was fun and thrilling.
Kopiko Wai Winding River
We always love a lazy river. We spent hours on this as a family and had a great time.
Waturi Beach
This is a fun wave pool to play in. We did this later in the day as crowds filled in.
Children's Play Areas
Thre is a Reef for big kids and a Tot Reef for little kids. Brinley had a grand time here and there was plenty of seating for parents, too.
Drop Slides
While I played with Brinley and watched Brinley play at the Reef, Nate and the other three kids headed to the drop slides. Thre are a few drop slides there and are thrilling.
Pool
There was also just your basic pool to hang out in. You could overlook the wave pool and watch riders come out of the Ko'okiri Body Plunge. It was a fun spot.
There were a couple of attractions shut down the day we were there.
So you can easily do it all in a day at Volcano Bay. If you are obsessed with water, you would have fun for a second day or at least half of a second day. I could see it being a nice afternoon activity when you are super hot and need to cool off.
Video
Watch this video to see some of what we did and little tips. I don't have as much of this park since my phone was mostly locked up all day.
Conclusion
We all enjoyed Universal Orlando a whole lot and talk about it fondly. Kaitlyn desperately wants to return and enjoy the Harry Potter ambiance again. It was a fun time all around.
Related Posts