When should you time your baby's solid feedings when you are following an eat/wake/sleep schedule? Read this post to find out.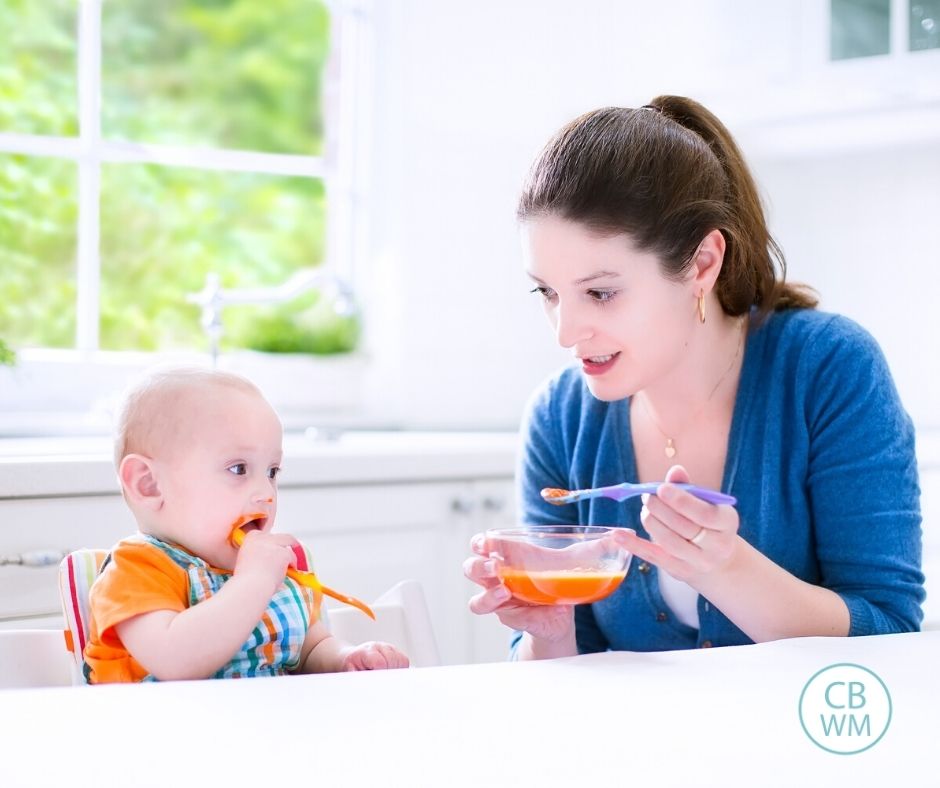 I really enjoy both the Babywise books and the Baby Whisperer books. They usually work really well together.
However, if you are familiar with both books, you will find yourself confused at some pretty key moments in your baby's life.
Feeding times for solids is one of those.
The Babywise books suggest you feed baby solids immediately following the liquid feedings in the day.
The Baby Whisperer books suggest you feed solids two hours after feeding the liquid feedings. So what do you do?
I will tell you what I did and why.
Feed Solids WITH the Liquid Feeding
I fed solids with the liquid feedings.
The reason I stuck with this is that maintaining this schedule is fundamentally in sync with what both books claim to be important from the very beginning.
Both books claim you want full feedings.
Both books warn against creating snack feeders who eat every 1-2 hours.
Both books discuss the importance of sleep.
Both books suggest you feed a baby every 2.5-3 hours, and most are eating every four hours by the time solids are introduced.
I cannot logically explain why Hogg suggests feeding solids two hours after breastfeeding.
I don't know how that makes sense for a 6 month old to eat every two hours but not a 6 day old. I don't know how that doesn't lead to "snacking" and I don't know how that creates a "full meal" situation.
I also don't know how that doesn't interfere with naps.
A 6 month old should be eating every 3-4 hours and napping 2-3 times a day. Naps should be 1.5-2 hours.
I suppose the way you do it is you wake baby up, feed solids, then nurse right before baby goes back down for a nap. Or you wake baby up, nurse, then feed solids right before baby goes back down for a nap. 
I don't feel like Hogg addresses these issues at all. Since I believe in the "whys" behind feeding when you do with newborns, I stick to those whys later on as well.
On Becoming Babywise Book Two states
"Experienced moms will tell you not to offer solids, then two hours later nurse, followed two hours later with more solids. This is creating a "snacker" and will disrupt your child's hunger and sleep-wake stabilization."

(page 30)
I completely agree with this. 
My very strong recommendation is that you feed solids with the milk feedings.
Feed your meal all at once–don't start doing what you have been avoiding for your baby's entire life (snacking).
Even if you are a full Baby Whisperer follower and not Babywise follower, I still strongly recommend doing this.
If you "start as you mean to go on" as Hogg puts it, then it seems you would want to go on as you meant to in the start.
Related Posts