These chapter books are perfect for beginning readers. They will get your kiddo hooked and wanting to read more and more!
Despite being very gifted linguistically, Kaitlyn was very hesitant to start reading chapter books. Whether it was that she was experiencing perfectionist worries that she wouldn't be able to read a bigger book or that it was she is an art lover and for that reason had an extra love for picture books, I am not sure. The way I got her into reading chapter books independently was to get her started on what I refer to as a gateway chapter book.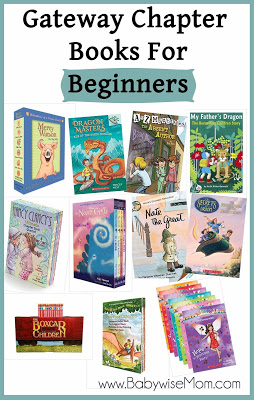 A gateway chapter book is an easy book to read. It is often also usually a series. I call it "gateway" because it is what gets a child addicted to reading. A book series is a great way to get a child hooked on reading–they get to know and love characters who can be counted on to be there book after book. As I have discussed previously, some people hold a belief that a book series is inferior quality, but I strongly disagree. Even if you are in that camp, however, you can't argue with the success rate of a book series turning a skeptical chapter book reader into a chapter book devourer. I have seen it twice with my older two children and I am just starting the journey with my third, who is six.
A book series allows a person to enjoy a book more (once he is on book two or later) and struggle less with getting to know an author's writing style. That can be a limitation, and at some point, you might have to nudge your little reader past one author and onto another (I had to do that with my oldest), but a series is a sure-fire way to get your child interested in reading independently.
Each of these series rate at about a grade 2-5 reading level. Series usually start at a 2 and get harder as you get further into the series. If you know your child's reading comprehension level, that will help you in knowing if these series can be started by your child independently or not. Any of these would make a good read aloud for a four year old or up; remember children understand at a higher level than they comprehend independently. My children started reading each of these series independently in first grade or second grade.
I will also add that while a chapter book series is a great way to get a child confident in reading chapter books, it doesn't mean your reader needs to stay in a series. Kaitlyn read a few Magic Treehouse books and then jumped to stand alone books. There are very few series she has latched on to and she typically enjoys the books that are the one and only. So Magic Treehouse served her well, but she quickly found she prefers to not read a series. This post contains affiliate links.
This is hands down my favorite gateway chapter book series. I can't even tell you how many books Osborne has written. I wouldn't be surprised if she couldn't tell you. This series is about siblings who go on adventures to different locations and eras. There is a historical fiction aspect to these books that I love. The books are mysteries, which always keeps kids engaged. Each book has a mystery and there is a larger mystery being solved throughout the books, so children are interested in reading the next book to see what happens. A great way to start these books is to read the first one out loud together. Then encourage your child to read one at some point, when you feel your child is ready to take that step. It is good to talk about what is going on as your child starts to read alone so you can be sure your child is understanding what he is reading. This series appeals to both boys a girls. We own the first 12 of these. Then we borrow from the library to continue on when the desire strikes.

Reading level is rated grades 3-7, but my children all started this in first grade.
This series is old enough that most of us parents today read them when we were children. These books are full of adventure and mystery. They are good, clean reads. The text is easy to read and comprehend. I love the aspect in these books of siblings sticking together and forming a tight bond. This series appeals to both boys and girls. These ones are worth owning.

Reading level is rated grades 2-5. 
McKenna, my third child, has always liked the girly books and not had much interest in animal books at all, whether a picture book or a chapter book. A few months ago, Mercy Watson suddenly became her favorite book. This surprised me quite a bit. One thing McKenna loves more than princesses is laughing, and Mercy Watson brings the humor in a big way. This book would appeal to both boys and girls. Any child who likes to laugh will like this series. McKenna got this box set for Christmas and she loves reading and re-reading these books.

Reading level is rated Kindergarten-3rd Grade. 
This is a fun series full of adventure. Brayden burned through this series one summer. It isn't classic literature, but it is a fun read. It is appealing to readers who like fantasy fiction. Kaitlyn has never gotten into them. I would say this can appeal to both genders, but by and large I have mostly only known boys to really get into them. These are books we have only ever checked out from the library.

Reading level is rated grades 2-5.
I definitely didn't give O'Connor enough credit. I very much enjoy the Fancy Nancy books, but I expected very little from these chapter books. Picture book gone chapter? Sounds like a disaster for sure. Fancy Nancy was one of McKenna's favorite picture books, however, so I thought it would be a good segue into the chapter book world. I was so very pleasantly surprised! These books are very well written. They are mysteries that involve the familiar beloved characters from the picture books. I am not really into girly books. This series is the perfect balance of a strong female protagonist who is feminine. I would definitely recommend them for adding to your home library. We own all of the books that have been printed so far. I would say these will appeal to girls.

Reading level is rated grades 1-5
Nate the Great by Marjorie Weinmann Sharmat
Nate the Great is a classic series. They were written in the late 70's, so many of us are probably familiar with them from childhood. The books are mysteries. They are well-written and fun. We have never owned these. Brayden had a short stint with them one summer, but mysteries have never been his genre so he didn't latch on to them. If you have a mystery book lover, it would be a series worth owning. Children tend to gravitate toward books where the main character is their same gender, so this will appeal more to boys although girls can enjoy them, too.

Reading level is rated grades 1-4. 
This is a fun story of adventure. It really appeals to children of both genders. This was a book Kaitlyn loved. It is a short series, which can be nice if you are worried your child will have a hard time leaving a series to branch out. 

Reading level is rated grades 2-4.
This is another mystery series. This one strongly appeals to both boys and girls. This was one of Kaitlyn's favorites as a second grader. They go through the letters of the alphabet (The Absent Author, the Bald Bandit, etc.). This is a series I wouldn't mind owning, but Kaitlyn had read them all by the time I heard about them. 

Reading level is rated grades 1-4. 
The Never Girls is a book series about four best friends who are whisked off to Never Land where they meet Tinker Bell and other fairies. I know, it sounds silly and like it will be sub-par. The stories are fun, however, and written well enough for your beginning chapter book reader. It is a great series for a girl who loves imaginary lands and princesses and fairies. And even though Kaitlyn isn't typically into princess books, she enjoys these books. They have an element of mystery to them and they feel intense for a young reader. We own the first four of these. I would say you might just borrow from a library, but you might own the first few to have them around to get started. That actually reminds me that typically at a library, the first several books in a series often have a long waiting list, but as you get further on, the library typically has the books on hand most of the time. So owning the first few can be handy. 

Reading level is rated grades 1-4. 
This is one of Kaitlyn's favorite series. You can see she really likes books with dragons in them. These books are written especially with new independent readers in mind. They are full of adventure and appealing to boys and girls. We own these books on Kindle. 

Reading level is rated grades 1-3.
This is a really fun series that merges princesses and superheroes. This was one of Brinley's favorite series when she first started to read chapter books.

Reading level is rated grades Kindergarten-3.
These books are perfect for kiddos who love to laugh. This was a favorite series of McKenna. It is full of silly events as Amelia takes everything quite literally.

Reading level is rated grades 1-5.
This series is super, super easy to read. This is not classic literature. The appeal of this series is it is a fun series that appeals to girls. Even beyond the other girly books out there, these series are comprised of a bunch of mini-series books of typically 7 (maybe always 7) books. They have a series on princesses. They have a series on ocean animals. They have a series on sports. They have a series on pets. There is just a wide variety so whatever your little girl has a particular interest in, you can find a series that caters to that interest. 
I talk a big game in letting kids read what they are interested in, but when I first saw this series, my nose was admittedly turned up. Kaitlyn has never been into girly books, so it was easy for me to walk away. McKenna, however, loves girly books. So we gave them a shot. They don't hurt to read and they are super fast reads, which is always rewarding for any reader.

Reading level is rated grades 2-5.
Related Posts