Get the best toys for 4 year olds. Find educational toys, STEM toyafs, creative toys, and more that your preschooler will love!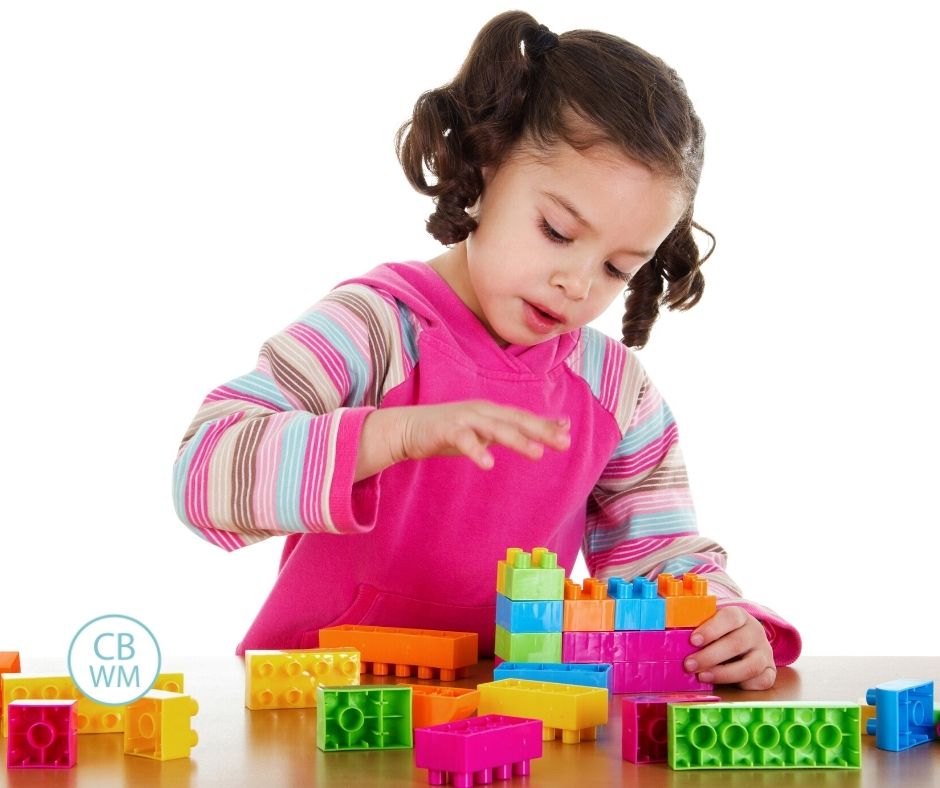 I think it gets easier to have an idea of what to buy for your child as he/she gets to age 4. You see a real personal preference for toys at this age that you didn't see in the younger ages as much.
Toys for this age group can provide a wide array of value. You can have toys that work problem solving skills, provide educational value, and offer creative play. They can be cooperative toys or toys that they play with alone.
Play is the way children learn and make sense of their world.
Here are my favorite toys for the four year old. These make the best gifts for 4-year-olds.
Reviewing and Building on Old Favorites
I always like to start these posts out by highlighting any toys recommended in a previous age group that are still great for the current age group.
This is a great thing about toys as kids get older–if you get the classic toys, they don't get old for years and years. Many of your favorites at age three are still going to be favorites at age four. So…
Old Favorites
Review past posts on best toys for kids up to this age. It really varies from child to child. The average four year old will still like cars, trains, trucks, tractors, lawnmowers, balls, baby furniture, kitchens and accessories, play-doh, Geo Mags, Little People, etc.
One thing McKenna got at this age was a Modeling Dough set from Melissa & Doug. this set of play dough tools from Melissa and Doug was great for her to play with. It is age appropriate so she wasn't just getting mad while using it.
Kaitlyn still loved her My Little Ponies-favorites from younger years. There are so many different sets and ponies you can get. She also loved the magnetic dolls from Melissa and Doug (They make everything from princesses 
to firefighters).
If you haven't yet tried out old favorites, give something a try!
Build On Favorites
If you already have some of those "old favorites," remember to slowly add to your child's collection if there is something he loves.
One example of that for us is Thomas the Tank Engine
toys. We slowly added new trains and new destinations to Brayden's set-up.
And it is good to note that my girls loved the trains as much as Brayden. You can add trains, toy food, aprons, new Little People sets etc. You might add to the baby doll collection, car collection, or dress up box…
Dress up was my kids' favorite form of pretend play. They would all play together and have a blast doing it. We always added Halloween costumes to their dress up options. It is also fun to buy little sets of shoes, dresses, hats, etc. A really fun one is a cape set. Dress up was also a huge hit with all of our children for many years.
At this age, we got McKenna some dress-up shoes.
McKenna loved Barbies and also LOVED Cinderella, so at this age, we got her Cinderella Fairytale Fashion Pack. This was the favorite gift! You should have seen her face when she opened this on her birthday! It is every dress Cinderella wears in Barbie size. She uses these with her Cinderella Doll Barbie, but obviously, you could use it with any Barbie since it comes with every dress.
Going along with the princess theme, she loved the Disney Little Kingdom dolls!
Board Games
Board games only get more fun as the child gets older. The four year old is able to play with much patience and understanding.
We love playing games at our house and have long built up our collection. I have some posts to help you choose a great game for your child:
Some of our favorite games for this age are Zingo, Candyland, Chutes and Ladders, Memory, and Hi-Ho Cherry-O.
This is also the age a lot of "Jr." games are now appropriate for. If you have a favorite game to play, check and see if there is a junior version. For example, I love Yahtzee and loved playing Yahtzee Jr. with my preschoolers.
Educational Toys
There are lots of toys geared toward learning. Children love to learn. You will see in the specific toys listed below that there is a lot of educational value in toys for your kids. Keep this in mind as you choose toys.
STEM toys provide a lot of value as do STEAM toys.
Puzzles
Keep puzzles in mind as you are choosing toys. Let me just say I don't think you can go wrong with puzzles by Melissa & Doug
. You also view my puzzle post here: 8 Different Styles of Puzzles You Should Get for Kids
Books
I always give books at each birthday and Christmas. There are more great books out there than you could ever own. For book help, see 15 Must-Own Picture Books
So far we have talked about adding to old favorites. Now let's discuss some new toys for your 4 year old.
Toy Camera
A camera is a great gift for a child who loves taking pictures. All of my kids have loved taking pictures and have loved their toy cameras. They were able to take pictures of whatever they wanted to.
Try this VTech camera that comes in both pink and blue.
Melissa and Doug Cupcakes and Cookies
The Melissa & Doug Bake and Decorate Cupcake Set is an absolute favorite in our house.
I know I have talked kitchen things and Melissa and Doug things in the past, but we love this so much I had to be specific for you.
I think one reason it worked so well for Kaitlyn is she loves to draw and decorate. Another toy food set we have and absolutely love is the Melissa & Doug Slice and Bake Cookie Set.
Building Toys: Lincoln Logs, LEGO, DUPLO, etc…
Building toys is a category that Brayden has loved since a young age and loved for all of his toy-getting years. At age four, he got a Lincoln Logs set. It was just one of the many building toys sets he loved to play with.
LEGOS were definitely his main favorite the longest, and all three of my girls have also loved LEGOS. DUPLOS are still a great toy for this age group, but many four year olds can start into simple LEGO sets also.
Magna Tiles are another fantastic building set that will last the test of time and be loved for years.
>>>Read: 7 Building Toys Your Children Will Love
Gears Set
The Learning Resources Gears set is a great STEM building set that is highly rated. It can be different every time you build and works math skills as your child does sorting, grouping, counting, designing, and constructing. They even use physics with this toy!
Marble Genius Marble Run Set
This marble set is a great engineering toy for kids to stretch their creativity. This has easy connectors so kids can work on it independently. It also has instructions through an app, which is speaking the tech language of modern kids.
Kids create a run and then put marbles in it and watch them go through it. This is a lot of fun and can be built on and added to over the years if your kids really love it.
Littlest Pet Shop
When Kaitlyn was four, this is Kaitlyn's greatest love. You can probably tell Kaitlyn loves animals, so anything with animals was a hit for her. If you have an animal lover in your house, Littlest Pet Shop toys are a great way to go for four years olds.
Hatchimals
Brinley is also an animal lover. She loved Littlest Pet Shop, but even more loved Hatchimals. The recommended age on this is 5; I would guess that is because these are small.
Figurines
Figurines are great for imaginative play. Even though Brayden had never seen a Star Wars anything, he managed to hear about Star Wars and love it. At age four, he got some Star Wars Figurines. Four is a good age for figurines–whether in the form of ponies and pets, princesses, or heroes.
McKenna was obsessed with Disney Princesses when she was a 4 year old. She loved her small Disney Princess figurines.
Other fun figurines include plastic animals. Calico Critters, and dinosaurs.
Imaginext
Along the same lines as action figures is the Imaginext line. This line is figurines that are based off of popular movies, such as the DC movies and Jurassic Park movies.
They have figurines, cars, and little playsets. Brayden had a space shuttle from them that he loved for many years.
It is definitely worth looking through to see if there is something that would interest your child.
Playmobil Large City Zoo
As we are on the topic of figurines, the Playmobile brand is another great brand to check out for such things.
When Brinley was a 4-year-old or 5-year-old, we got her a Playmobile zoo (again, she loved animals). She loved it and had a lot of fun with it. It had lots of animals (she also loved plastic animals) and was a fun setup for playing with animals.
Jewelry Box
For Kaitlyn's fourth birthday, my parents gave her a Jewelry Box similar to this one. She loved it. A jewelry box is very fun to put treasures in.
Brayden had a wood treasure chest similar to this one. He also enjoyed storing his treasures there.
Stamps
If you don't have stamps yet, age four is a great time to get them. Stamps are great for building muscles in the hand–not to mention fun. We have this Melissa & Doug Animal Stamp Set
Another great art toy that is similar to a stamp feel that Brinley absolutely loved was Do A Dot Markers!
Roller Blades
Just before turning four, Kaitlyn took ice skating lessons. She enjoyed it so much we thought roller blades would be a fun idea. These Roller Blades are adjustable as trainers and then in-line skates.
This idea won't work for every four year old. Don't stress if your preschooler isn't ready for this. I had two that were at age 4 and two that were not.
Easel
I shared in the 3-year-old toy recommendation post how much we love our easel. An easel is a great toy for little artists. It allows creativity and also works fine motor skills.
A big easel can take up a lot of space, however, and it can also be expensive. A great affordable idea that is space-saving is a table easel like this one from Crayola. It has the marker side and chalkboard side and is easy to store.
If your 4-year-old enjoys art and drawing, consider chalk, crayons, pencils, paper, and coloring books as gifts. If you have a child who loves to color but would have fun mixing it up, this Bento Box Crayon Set is fun.
Playdoh Kit
Another fun artistic toy for preschoolers is playdoh kit. There are so many playdoh kits you can purchase online. A good one at this age is a play dough kit of tools. This are more open-ended, so your preschooler can play wiht these in the way he wants to.
They also have the bonus of working fine motor skills. And of course, make sure you have playdoh on hand or some sort of modeling compound.
Stuffed Animals
Stuffed animals are a fun toy for kiddos this age. Beanie Boos have been a huge hit with all of my girls. A newer item that Brinley got into was the Cutetitos. They are very interesting. They are animals that come in a wrap. They often have a unique smell, also. There is something about wrapping up that little stuffy kids love.
Side note: I have always found Beanie Boos to be much more expensive on amazon than in local stores. For that reason, I purchase them at one of the local stores in my area.
Melissa & Doug Examine and Treat Pet Vet Set
For kids who love animals and stuffed animals, a vet set is a great option. It provides imaginative play. This set is great with a stethoscope, pets, cast, syringe, thermometer, and even the cone of shame.
Musical Instrument Toys
Any three or four year old would love the Saxoflute. Brinley got this one Christmas and it continues to bring her much joy. This is one of those things you may or may not want in your home, and if you have younger siblings who nap, it might not be your favorite. It is fun and educational on many levels, however! 
Outdoor Bikes, Scooters, and Ride-on Toys
I love for my kids to want to play outside and work gross motor skills and get tired. 4 years old is a great age to get a scooter of some sort. You might want one that has three wheels as your child learns, or your child might have enough coordination for riding a two-wheeled scooter. I always trust the Razor brand for scooters.
Tablet
This can be a good age to get your child a tablet if you are interested. One good option is a Fire tablet for kids. This is a great option because of the parental controls and the protective case around it. It is also a relatively inexpensive tablet option.
Another option is an iPad mini with a kids case. This is a little more than twice as much money, but many people find the iPad lasts longer than the Kindle or they prefer Apple products.
If you do introduce a tablet to your 4 year old, I recommend that you think through and set clear rules and boundaries and keep them.
Conclusion
Whether you are looking for a birthday gift, a Christmas gift, or just need to expand your 4-year-olds collection, these toys are all great options.
Related Posts
This post originally appeared on this blog October 2011