Best Toys for Baby: Ages 7-9 Months. Great toys and activities for baby ages 7-9 months old.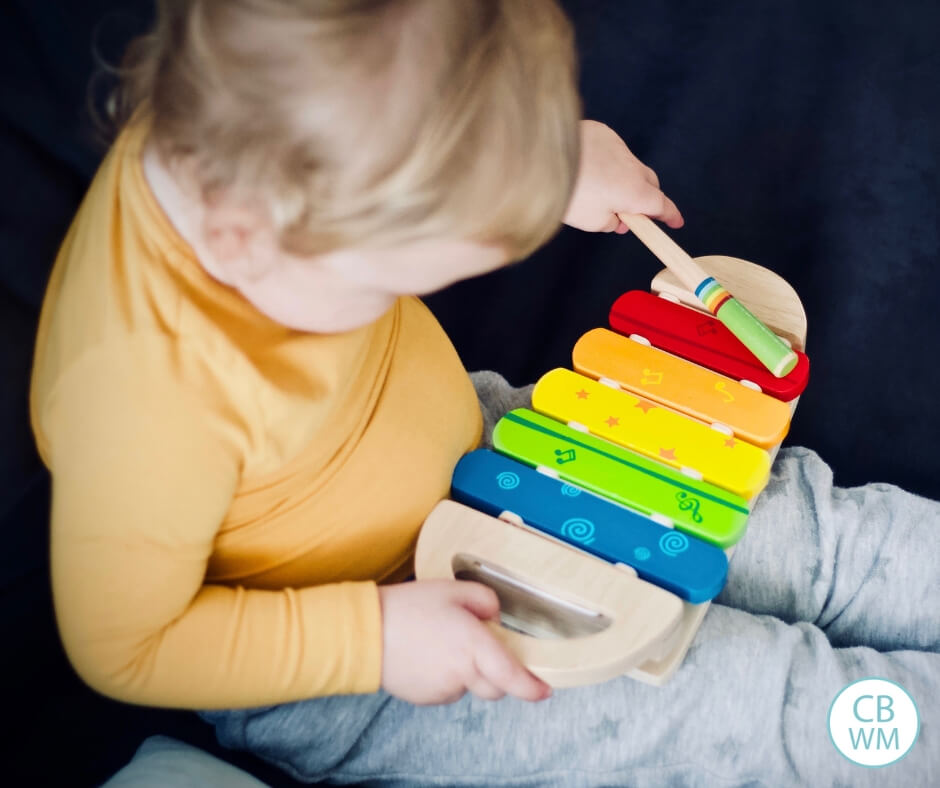 As we think of the best toys for babies in this age range, I again take us back to the 0-3 month and 4-6 month lists (see Best Toys for Baby: Ages 0-3 Months and Best Toys for Baby: Ages 4-6 Months). With our list for 0-3 months, many things can still apply, but your baby will outgrow many during this time period if he hasn't already.
At best, some toys can be turned to every few days, but not every day. Also, your baby might return to some of those toys he left behind in the 4-6 month range. For example, maybe he grew tired of the gym, but now finds it fascinating as he can view it from a different level, from sitting up to perhaps even standing up.
This seems to be a period when baby starts to show a lot of boredom and frustration if you don't changes his toys to match his changing abilities, so be sure to be mindful of that (see Out With the Old, in With the New (toys) ).
Household items: This is a good time to introduce things around the house that are safe and acceptable for baby to play with. Remember, everything is new so it doesn't take much to fascinate baby. A spoon you use to mix things with might be interesting to her. Measuring cups are a classic hit. You can set her on the floor with some pots and pans along with some spoons and let her play.
Anything She Can Hold: Especially during the early part of this age range, baby will like anything she can just hold in her hand easily. This can be anything safe for her.
Leapfrog Music Table: If I could only buy, say, five toys for my child, this would be one of them. They love it starting young and continue to love it as they get older. Brayden, now 3.5, still plays with it from time to time. For Kaitlyn, 19 months, it is still a favorite. LeapFrog Learn & Groove Musical Table
Baby Einstein Neptune Activity Toy: This is a fun little toy I got for Kaitlyn's first Christmas. She was 8 months old. Baby Einstein Baby Neptune Activity Toy
Fisher Price Stacking Rings: This toy is a classic. Your child won't be able to stack these correctly for a while, but she can practice. This is something that can be fun as they grow older, also. When Brayden was learning spacial relationships, I would tell him to get the biggest ring, or the smallest ring. When he was learning colors, I would tell him to find the yellow ring, etc. He really enjoyed these games. Fisher-Price Rock-A-Stack
Nesting Cups: This toy
was Kaitlyn's favorite toy from about 7 months until 17 months. As she got older, the way she played with it changed, but she just loved it. It was a great church toy because she would just sit on the floor and concentrate on it for about 45 minutes strait. Nesting Cups
Shape Sorter: This is another toy baby isn't going to be able to master in this age, but he can start to play with it. If it is something that carries his interest, you will be surprised at how good he gets at it. Brayden was able to put shapes in holes between 7-8 months–though he wasn't able to distinguish which shapes to put in which holes yet. There are many different types of shape sorters available: Shape Sorter
Fisher Price Roll-a-Rounds: These toys fascinate babies. The balls have things in them, then baby can put the ball into things and watch what happens. It is like a shape sorter, but with only one shape, which is realistically better for baby at this age. We have the Jungle and the Gumball machine, both of which are still of interest to both kids to this day. I have also heard of kids loving the Dinosaur. Fisher Price Roll-a-Rounds
Stuffed Animals: By this age your child has likely shown an interest in certain animals. Brayden was in love with monkeys. For Kaitlyn, it was doggies. If your child has shown an interest in a certain animal, now might be a fun time to get that stuffed animal. Something random for each of my children is that they both have a favorite stuffed animal, and it is a giraffe. Neither has ever shown a particular interest in giraffes when reading books. They like to look at them at the zoo, but not so much that I would think the giraffe is the way to go. My mom got Brayden a Ty Beanie Baby giraffe when he was young. It comes in blue, pink, or brown. Kaitlyn loved Brayden's so much that when my husband and I were in Washington DC this past spring, I got her a giraffe at the Museum of Natural History. It is The Petting Zoo brand and is the Bright Eyes collection.
Flap Books: In addition to the books listed in the previous two posts, I love flap books. They are great starting at this age because baby is really in that peek-a-boo mode. These books are of interest for a very long time. They really aren't the type of book you leave baby alone with, but they are fun for baby to look at. They are currently Kaitlyn's favorite type of book. Dear Zoo is a really cute lift the flap book.
Teether Books: Kaitlyn also liked this book at this age. It crinkles, they can chew on it, what isn't to love 🙂Teether Books
Touch and Feel Books: This is a great time to try out touch and feel books. One of our favorite series for this book is the "That's Not My…" They are great touch and feel books. There is a long line to suit your child's interest: monkey, train, truck, dolly, mermaid, dinosaur, kitten, princess, dragon, plane, bunny…so many to choose from! We have puppy and dolly and really like them both.
Keys: At this age, Kaitlyn really liked those inexpensive, plastic keys. Keys
Piano: This is so simple, but fun for baby: Little Tikes Baby Tap A Tune Piano
Please be sure to include your child's favorite toys in this age range!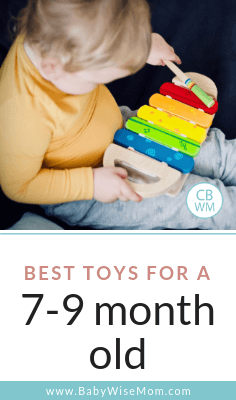 Related Posts:
Reader Advice/Thanks:
lsmith said…
These "baby's favourite toys" posts are great!At this age, my daughter's favourite toys were a bead roller coaster [Bead Roller Coaster] from IKEA and she loved board books, especially those featuring other babies. If we'd had a musical activity table, I'm sure she would have loved that too! But we didn't get it until her first birthday.
December 10, 2008 1:58 PM
Plowmanators said…
Thanks for your additions lsmith! Those roller coasters are fun. We don't own any because my parents do and the doctor's office has them; I like to keep some things like that novelty items 😉
December 18, 2008 2:26 PM
blessedwife_mom said…
I totally agree with the Stack a Ring toy's versatility and ability to engage a baby. While my baby is still too young to understand how to put the rings back, she has loved this toy from 5 months of age (which is when I purchased it). It's so easy to just take a few rings on the go, and when we're home she can play with the whole toy. The best thing is that it "grows" with the baby and it's affordable!
December 10, 2008 2:15 PM
Plowmanators said…
Thanks for your "second" blessedwife_mom!
December 18, 2008 2:27 PM
Nathan and Rachel Greenfield said…
Noah (just turned 7 months) is really into balls, I bought him the Leap Frog alphabet ball and he really enjoys pushing that around. He can't press the individual letters yet, but enjoys the music it makes whenever it's rolled. he also really likes:- tupperware- Fisher Price puppy (beware- it's super noisy and way sensitive to the touch so it NEVER finishes a song if you so much as breathe on it!) We don't bring it out too often because it's so obnoxious, BUT it's great every few days and his face just lights up- Johnny Jumper[Johnny Jumper]- he just LOVES this thing! I love it because it keeps my little mover stationary for a while.Yesterday, I showed him a youtube video of a baby laughing to see what he would do and he LOVED it. I thought it was pretty funny. I have loved every stage (even newborn) but now my interaction with him really makes me laugh. I love it!
December 11, 2008 9:28 AM
Plowmanators said…
Thanks for your ideas Rachel. We have some toys we try to hide away also 🙂
December 18, 2008 2:29 PM
Find the best toys for your child's age or for a specific occasion or location.
We are sorry that this post was not useful for you!
Let us improve this post!
Tell us how we can improve this post?