How to Help Your Baby Sleep Better With Swaddling. Swaddling baby is a great way to get great sleep for your newborn baby through older baby.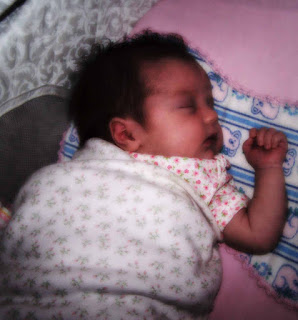 Swaddling can be a great thing to do for your baby to help have better sleep. It helps baby stay asleep longer. It also helps baby fall asleep without startling herself awake. Swaddling before each nap and before night sleep is a great part of a sleep routine to help baby recognize that sleep is coming up.
Some babies won't swaddle. Brayden wouldn't. He fought it like crazy. Kaitlyn did swaddle, and I think it made sleep training and sleeping much easier on her. I would watch Brayden sometimes and he would fall asleep only to wake up after a couple of minutes because his arms went flying.
With that said, if I had to do it all over again, I would definitely give more effort to trying to get Brayden to sleep while swaddled. Swaddling can really help a sleeping baby stay asleep. I had such success with my three daughters that I think swaddling could have helped my chronic 45 minute sleeper to sleep better.
Swaddling Concerns
In Chapter 8 of Happiest Baby on the Block, Harvey Karp discusses common worries parents have when it comes to swaddling. One of those is that baby will become dependent on it.
He says that by four months, the baby won't need to be swaddled anymore (page 112). I will point out that Brinley, my youngest, was swaddled until 5-6 months old, so don't feel pressured to drop the swaddle sooner than baby is ready.
For us, swaddling Kaitlyn was something she was done with around three-four months old. It wasn't hard to stop the swaddle at this time, and she actually slept better once we stopped (though I believe it did help her sleep better when she was younger).
Another concern mentioned in the book is that swaddling prevents baby from being able to reach her hands.
Karp says your baby doesn't have the ability to do this until three-four months old (page 113). Kaitlyn wanted one hand out at a rather young age (I think somewhere around 4-6 weeks), and it was so she could suck those fingers. He does say it is fine to leave a hand out if your baby is happy that way (page 112).
So, since baby likely won't have the motor control to get to her hands before she is able to drop the swaddle anyway, it doesn't need to be a concern.
Swaddling Tips
Karp has a method for swaddling that he calls the DUDU wrap. It is an acronym for Down-up-down-up. To do this, you need a square blanket. Chapter 8 is full of diagrams illustrating the wrap, but if this is something that is of interest to you, I would again suggest the DVD might be the better option.
With Kaitlyn, I swaddled with a blanket, but with McKenna and Brinley, I used swaddle blankets. Swaddle blankets were easier. Another nice bonus is that other people could swaddle baby. Kaitlyn was pretty dependent on me because did it perfectly.
Karp lists things that can interfere with the success of a swaddle (pages 118-119):
Swaddling too loosely
Swaddling with bent arms
Letting the blanket touch baby's cheek
Allowing finished swaddle to pop back open
The blanket really helps prevent that.
Swaddling Frequently Asked Questions
Calm babies might not need to be swaddled at all (page 120)
You can start swaddling any time during the first three months (page 120)
Karp suggests at two-three months you try swaddling with one arm out. If she gets fussier, continue wrapping for a few weeks. If she stays happy, she doesn't need it anymore. Kaitlyn, however, was ready for one arm out long before she was ready for both. Karp says most babies are ready to be weaned by three-four months, though some like to be swaddled up to a year old.
To determine if your baby is too hot, "…feel her ears and fingers. If they're hot, red, and sweaty, she's overwrapped. However, if they're only slightly warm and she's not sweaty, her temperature is probably perfect" (page 122).
Dropping the Swaddle
Despite the benefits of swaddling, the day does come that you have to stop swaddling. The exact age depends on your baby. Some moms swaddle up to about a year old. Others stop the swaddle closer to the 2-3 month mark. The age is for you to decide.
---
Read: Dropping the Swaddle
---
A friend of mine who swaddled her son made the comment that she stopped swaddling at 3 months because there are so many things they work on developmentally while in the crib. This is very true (often to the frustration of the parents!). My youngest was swaddled even past six months old, though, and she didn't suffer any developmental delays, so do not let fear of delays cause you to drop the swaddle earlier than you would otherwise.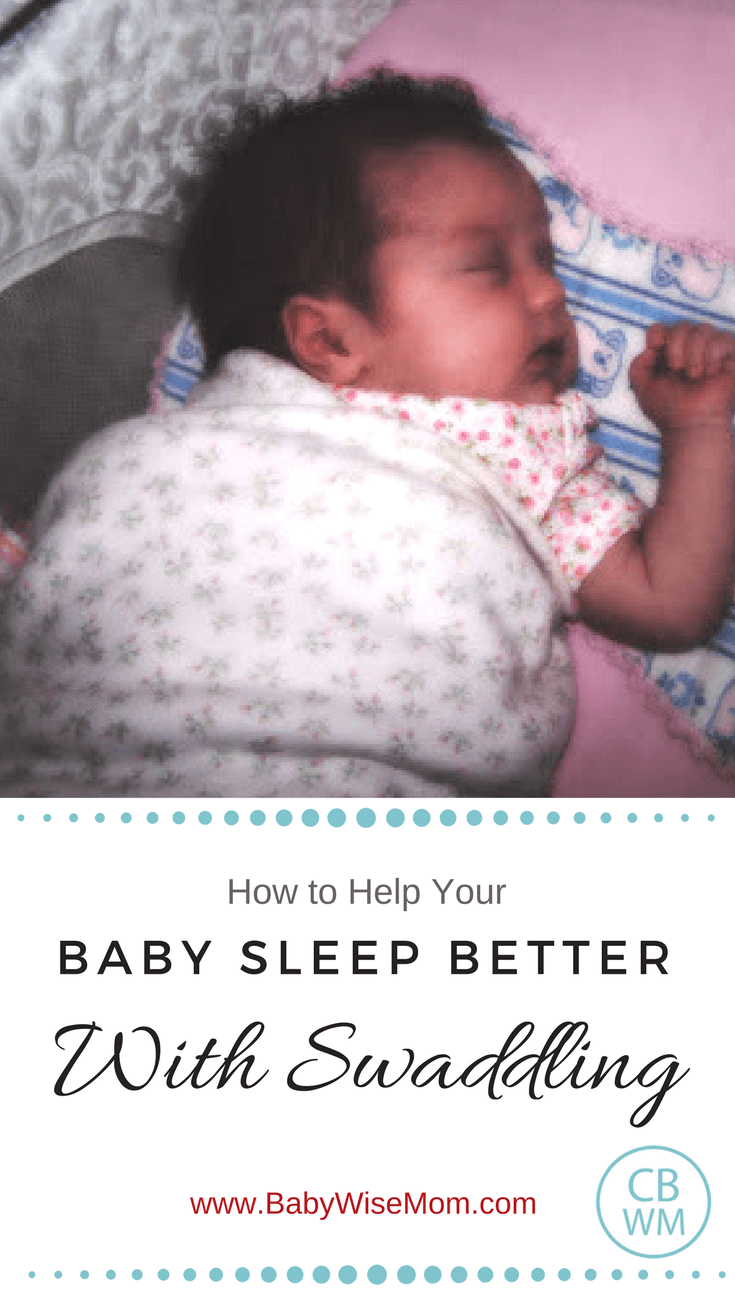 You will have some sleep re-learning to do once you stop swaddling. You can make it easier on you and your baby if you do some things:
Really pay attention to your child and listen to your intuition. When Kaitlyn was 9 weeks, I tried stopping the swaddle. Prior to this she did not cry for naps. The first two naps of no swaddling, she cried over 30 minutes before falling asleep. I decided she wasn't ready. I waited until she was a little older than 3 months old. This time there was no crying and no problems. She was ready.
You might be able to slowly wean from swaddling. At six weeks, I took one arm out of the swaddle for Kaitlyn. After I stopped the swaddle, I still wrapped the trunk of her body for a couple of weeks.
Something to watch for is improved arm and hand control. Swaddling helps prevent the jerky arm movements that wake a child up. Once they have better control over their movements, it is unnecessary and can even start to get in the way of physical skills they work on while in their beds. Once I thought Kaitlyn was getting close to this step, I made sure she had a lot of opportunity to play at her gym where she could practice those skills. The age when improved arm and hand control happens of course depends on the baby, but I would say between 2 and 3 months old, and likely closer to 3 months.
Conclusion
Swaddling is a great tool to help baby sleep better. Give it a try and see if your baby gets better sleep.
Other Swaddling Posts:
Swaddling Tips from Moms:
sara said…
Hey Valerie,
Just a little trick that I learned with baby number two – I swaddle her in two blankets and she never gets out! She was constantly breaking out of her swaddle during the first few days, so my husband suggested the double swaddle. I use two thin receiving blankets so she doesn't get overheated and it works like a charm, and is way cheaper than buying special blankets. Thought I'd share that cause I know alot of people say their baby doesn't like to be swaddled when really they just can't keep them wrapped up.
June 3, 2011 4:33 PM
Plowmanators said…
Thanks Sara! Great tip!
June 14, 2011 5:06 PM 
Amanda said…
Interesting that he says a baby cannot reach their hands before 4 months old. I have a picture on the Babywise group on babycenter.com of my son sucking his thumb at 9 weeks old. And he'd been doing it for several weeks at that point, basically whenever his pacifier fell out the thumb went in. He was an excellent self-soother, and I'm sure doing Babywise from the start helped that.
Jenny said…
Glad to see posts regarding Dr. Karp. I purchased this book and thought it was great. I can say that swaddling helped us tremendously in getting our LO calmed down. I was nervous to stop swaddling for fear she would start waking up. But she did not. We stopped a couple of weeks ago when she turned 5 months. She too liked one arm out to suck her thumb. Thanks for the post…
Abby's Mom said…
Swaddling worked wonders for us! Abby slept so much better swaddled. We swaddled her at night and for naps until she was 10 months old!!
Reader Swaddling Questions:
From another post:
Lindsay said…
This blog is SO great! I have a random question about bundling, if any of you have any info or thoughts… Is it fine to bundle baby as long as he/she likes? My babe is 4 months and still has to be bundled. Last week he took all of his naps unbundled and slept fine–but so far this week he has had to be bundled or he won't fall asleep. How do you know when to stop bundling? Will I run into sleep problems later if I keep bundling him now? Or do they just grow out of it?
February 7, 2008 11:37 AM
Lindsay said…
OK, thanks- you have already answered my question in a November post. I just didn't see it!
February 7, 2008 2:01 PM
Plowmanators said…
I am glad you saw it–I was just going to link it for you.
February 7, 2008 3:11 PM
Ashley said…
This blog really is great! I'm always reading and re-reading things! I have always swaddled my 9 week old, but I find it to be a pain. Would you suggest keeping out one arm to ease her into not being swaddled any longer? Or should I wait until she is 3-4 mos. old?
Plowmanators said…
Ashley, at that age, Kaitlyn had one arm out. I would say it is worth a try. Try it and see if she is okay with it. If not, go back to a full swaddle and try again later. If so, you are one step closer 🙂
Rhea said…
Hi, I loved Happiest Baby on the Block and my son, Noah, really took to all of the techniques – especially the swaddle. We have not been doing CIO and I'm starting to feel drained as we near the 12 week mark. Dr. Karp says to begin to teach them to self-soothe at this age and putting them to bed slightly awake. I've been trying to do that, but it's not really working for me. I want to start to let Noah CIO, but almost every time he fusses really hard he gets out of his swaddle and it ends up covering his face with his legs out. I can't imagine that I would be advised to leave him like that so I don't know what to do. I've tried leaving him unswaddled and I just don't think he's ready – he can't seem to keep himself to sleep for very long. The only thing I can think to do is to continue to reswaddle until he falls asleep. Has anyone else had any experience with this struggle – if so, any advice?
Plowmanators said…
Rhea, what are you swaddling with? I would suggest you try a swaddling blanket if you aren't. There are lots of brands out there. If he is super strong, you might like the miracle blanket or the woombie.
We are sorry that this post was not useful for you!
Let us improve this post!
Tell us how we can improve this post?