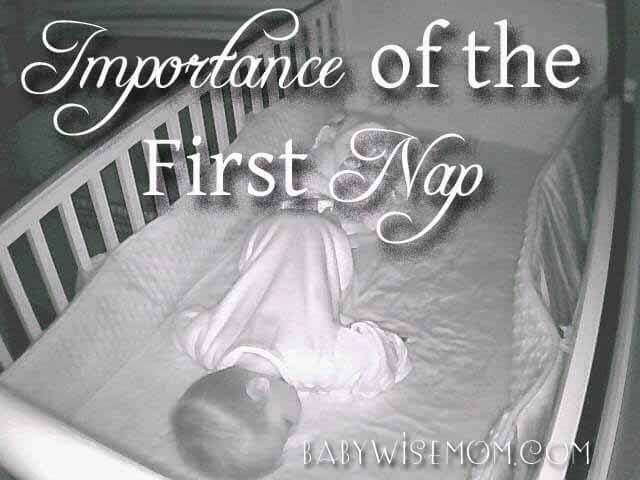 The morning nap is usually the first nap to become consistent in a baby's life. Even though it is not the last nap baby keeps around, it is the most important nap of the day for a new baby. This nap sets the precedent for the rest of the day. This is the nap you want to figure out first. You really can't get the rest of the naps right until this nap is figured out.
Healthy Sleep Habits, Happy Child
discusses more reasons this nap is so important. Weissbluth says "…the morning nap has more REM sleep than the afternoon nap; this suggests that in some infants, the morning nap may be viewed as a sort of continuation of night sleep" (page 29).
This explains why the first nap of the day is usually quite soon after waking in the morning. For most people, this is very counterintuitive. I remember talking to a friend on the phone one day as I put Brayden down for his morning nap. She was shocked he was going down for a nap and asked what time he got up in the morning.
The first waketime of the day is often the shortest waketime of the day. The first nap of the day, if timed right, is usually the longest of the day. It is usually the most reliable for parents. When sleep training, many babies won't even whimper at this nap if waketime was timed correctly.
Even for babies who are ready to drop to one nap a day, the morning nap remains in tact and the child plays through the afternoon nap. It is a reliable nap.
Timing the nap is important. For a newborn, this waketime will be the shortest of the day. She might even just wake up, eat, and go back down for a nap. Expect waketime to be 30-45 minutes. It will slowly increase over time. The rate of the increase varies from child to child.
By 4 months, your child will usually be up to at least an hour. Perhaps a little more. It continues to increase over time.
One thing to note, if your baby is on the younger side when going to a four hour schedule, the morning waketime will not necessarily be two hours followed by a two hour nap. It could be as much as 1 hour waketime and a 3 hour nap or a 1.5 hour waketime and a 2 hour nap.
For help on optimal waketime length, see the optimal waketime blog label.




We are sorry that this post was not useful for you!
Let us improve this post!
Tell us how we can improve this post?