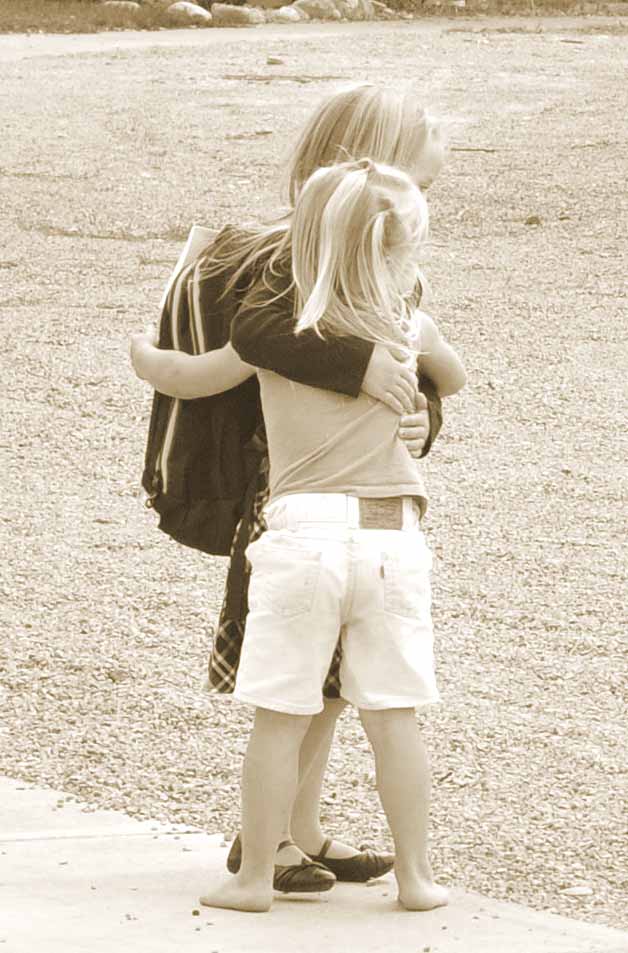 Kaitlyn and McKenna greeting each other
after the first day of school
This time period had two major events for Kaitlyn. One was the birth of her new sister. The other was the start of Kindergarten.
EATING
Eating is the same but not flawless. She is still picky about her food. We made a rule that she is not allowed to say "I don't like it" when she comes to the table. If she does (or anyone does), she leaves the table for five minutes.
SLEEPING
As you may have read previously on the blog, we moved Kaitlyn out of sharing a room with McKenna and into sharing a room with Brayden. The Brayden and Kaitlyn combo works really well for room sharing. We read to Kaitlyn, she goes to bed, and by the time Brayden is done reading his book with us, she is more often than not fast asleep. When she isn't, they are both good about just going to sleep.
We needed to move her out because she was getting so very tired. She was not getting the sleep she needed. She quietly told me one night how tired she was and that she wished she could sleep alone. Kaitlyn is such a peacemaker that she didn't make a big deal out of it; I knew that since she said something, it was a real problem for her. So we made every effort and moved her in with Brayden and we are glad we did. It works well, also, since they are on a more similar schedule.
EXTRA CURRICULAR
Swimming Lessons
We continue to take swimming lessons. Kaitlyn is a great swimmer and is doing very well with her lessons.
Dance Class/Tumbling
Dance class started back up! Kaitlyn loves dancing. There is also a tumbling class.
Piano Lessons
Kaitlyn started piano lessons this Fall. She has loved it and has amazed me with some very natural talent at it.
With Baby?
Some of you have asked how I do things like this with baby. I will write a post on it, but wanted to address it until then. I put a lot of thought and effort into making sure I could impact the baby as little as possible with the extra activities. For some things, my husband takes the kids while I stay home with the baby for now (like swimming lessons). I hate missing things, but it is a short time frame before the baby will be able to go to swimming lessons.
For other things, we carpool. Kaitlyn's dance class is one thing we carpool with. There is a girl on our street in her class. We choose a class time that my husband could drive the girls to on his way to work from lunch break, and my neighbor picks them up from dance class. I works out very well.
I also planned piano so my husband could drive if I couldn't.
Another thing I do is get someone to watch my baby–most often my mom.
NEW BABY
Of all of our children, Kaitlyn was the most "go with the flow" with the addition of a baby to the family. Brayden always gets a bit of anxiety–though it is short lived. McKenna was fine on an emotional level but very, very excited about it. Kaitlyn adores Brinley and loves to hold her and play with her, but she is very calm about it all. It is almost like to Kaitlyn, Brinley has always been here.
KINDERGARTEN
Kaitlyn is loving and thriving in Kindergarten. She has a great teacher who works to challenge her. She was named citizen of the month her first month in school. Kaitlyn is a "sweetheart" who is always helping.
At home, we often get the "Kindertude" as I now call it. I remember Brayden doing this and my friends all telling me it is what their kids did as Kindergarteners. They now are in a big school and think themselves to be about the smartest, most important person to grace the planet. It doesn't last forever. It can be frustrating at moments, but it passes. We just remind her that she is not in charge and that she has a mommy and daddy who are.
SCHEDULE
Half of this was summer and half was school. I will do school since that is where we are now.
7:00–wake up. Eat breakfast. Get Ready. Free Play until school.
Go to school.
Come home from school.
12:00–Lunch
1:00–Learning Activities Time
1:30–Play with McKenna
2:00–Independent Playtime
3:00–Practice piano and homework if she has it. Time with Mommy.
4:00–TV time
5-5:30–dinner. Family time
7:30–start getting ready for bed
8:30–in bed
GOOD BOOKS
RELATED POSTS/BLOG LABELS
We are sorry that this post was not useful for you!
Let us improve this post!
Tell us how we can improve this post?