Understanding what the Christmas symbols stand for. You can teach these to your children to help them think about more than gifts at Christmas.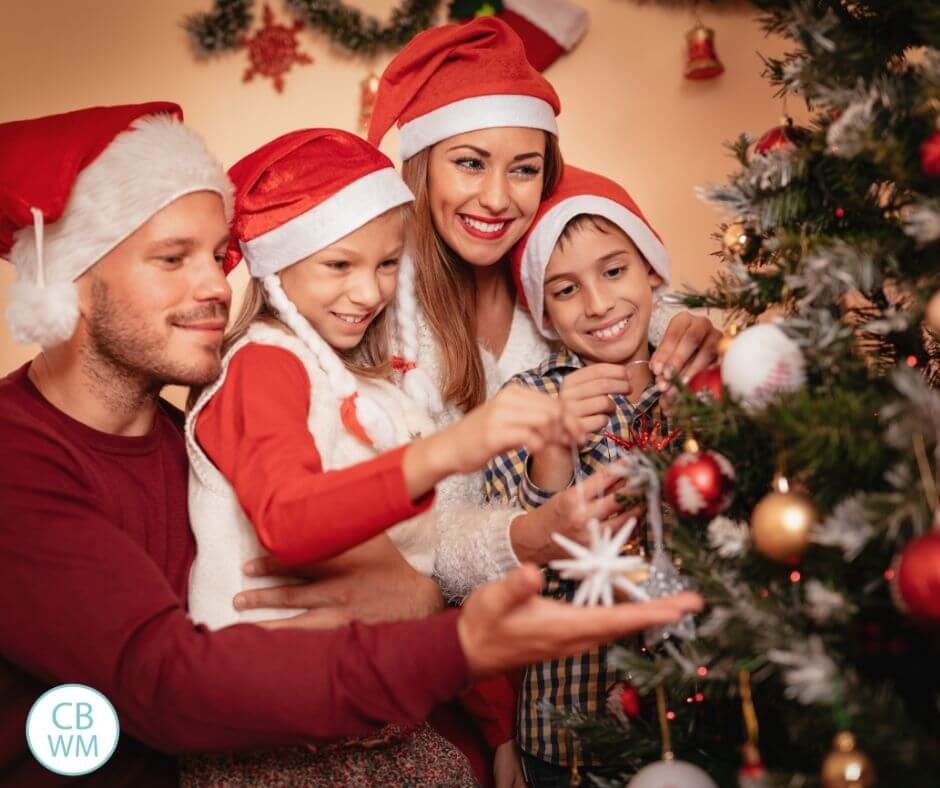 I have always loved to decorate my home, and at holidays, it is no exception.
I am big into intentional decorating and using symbolism when I decorate, so decorating for Christmas is extra exciting for me.
Most of the decorations we use as a society for Christmas are actually rooted in symbolism. The colors, shapes, and choices of common decorations are not all random.
Here are the common decorations used at Christmas and what they symbolize.
Christmas Symbols
These are symbols to note this Christmas season. Talking about these can help you and your family keep in mind the meaning of Christmas.
Red
Red is for the blood of Jesus Christ, spilt to cleanse the sins of men. The red reminds us that the birth of the Savior, the person we celebrate Christmas for, is significant because of what he did with his life. He gave it for you and me.
White
White is for purity. Jesus Christ was pure, perfect, and without blemish.
Green
Green is for everlasting life. Green is a color of life, and green in the bleak of winter means life year round. This translates to eternal life. We have green in Christmas trees. When you decorate your Christmas tree, talk about what green means.
Star
The star is probably an obvious one for those who are familiar with the story of the birth of Jesus Christ. It is to symbolize the new star that came out the night of Christ's birth, a sign that baby Jesus was born. The Christmas star reminds us of the sign of the birth of Christ.
Evergreen Tree
Just as green symbolizes everlasting life, the evergreen tree can be a symbol of that, also. It is more than that, though. A fir tree, or Christmas tree, has needles that point up, toward Heaven.
Wreath
A wreath is a circle, and just as eternity has no beginning and no end, a circle has no beginning and no end.
Lights
We have lights because Jesus is the light of the world.
Candy Cane
The candy cane symbolizes the the crook of the shepherd.
Humble shepherds were the ones the angel visited to announce the birth of Jesus to.
They also herd sheep. The symbolism of lambs and how they tie to Jesus Christ is so vast that an entire book could be written on the topic.
You can also turn the candy cane upside down to make a "J" for Jesus, and the colors of red and white on the can are by no accident nor coincidence.
Bells
Bells announce things and are joyous. Just as bells proclaim things, we can proclaim that Jesus Christ was born.
Gifts
We give Christmas gifts in honor of the wise men who brought gifts to Jesus. It is also a fun way to celebrate the birth of Jesus.
We give gifts to others as a way to give a gift to Him. It is good to keep in mind that loving and serving others is the greatest gift of all.
Poem
Many years ago, I literally woke in the middle of the night with this poem in my head.
I wanted to go back to sleep (McKenna was baby at the time, so I wasn't really in a "I want to wake up in the middle of the night to write a poem" state of mind).
I felt very strongly that I needed to write it down then, however. Here is the poem: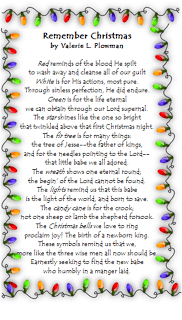 Remember Christmas
by Valerie L. Plowman
Red reminds of the blood He spilt
to wash away and cleanse all of our guilt
White is for His actions, most pure.
Through sinless perfection, He did endure.
Green is for the life eternal
we can obtain through our Lord supernal.
The star shines like the one so bright
that twinkled above that first Christmas night.
The fir tree is for many things:
the tree of Jesse–the father of kings,
and for the needles pointing to the Lord–
that little babe we all adored.
The wreath shows one eternal round;
the begin' of the Lord cannot be found.
The lights remind us that this babe
is the light of the world, and born to save.
The candy cane is for the crook;
not one sheep or lamb the shepherd forsook.
The Christmas bells we love to ring
proclaim joy! The birth of a newborn king.
These symbols remind us that we,
more like the three wise men all now should be.
Earnestly seeking to find the new babe
who humbly in a manger laid.
That year, we gave out the poem plus a bag of goodies for each item to our friends and neighbors as gifts. This is a fun way to help your child really internalize the symbols more AND to do some service.
You can get a free copy of the printable poem here.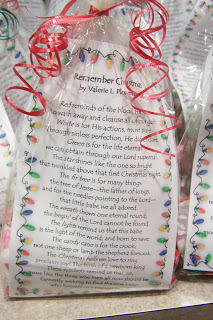 Red: We used Christmas M&Ms
Green: We used Christmas M&Ms
White: We used white taffy
Star: We used

starburst candy. You could also buy a star ornament for each person–or even cut a star out of paper.

Fir Tree: I found some cute tree suckers at Dollar Tree. It had a star and lights (or ornaments) on it, so it could work for many things for you.
Wreath: I went with chocolate cookies that are round. They also sell jelly filled chocolates at Christmas time. You could do a doughnut and even put green dyed coconut on it.
Lights: I just put lights around the poem, but you could get a strand of lights out or use little flashlights.
Candy Cane: I used a candy cane.
Bells: I put a little bell in each bag.
Related Christmas Posts on this Blog: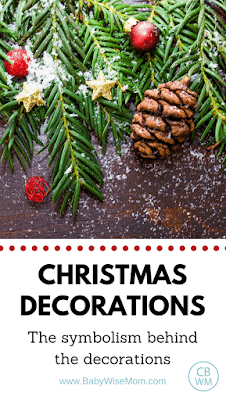 The ladies of the BFBN also have some great Christmas ideas. Be sure to check those out: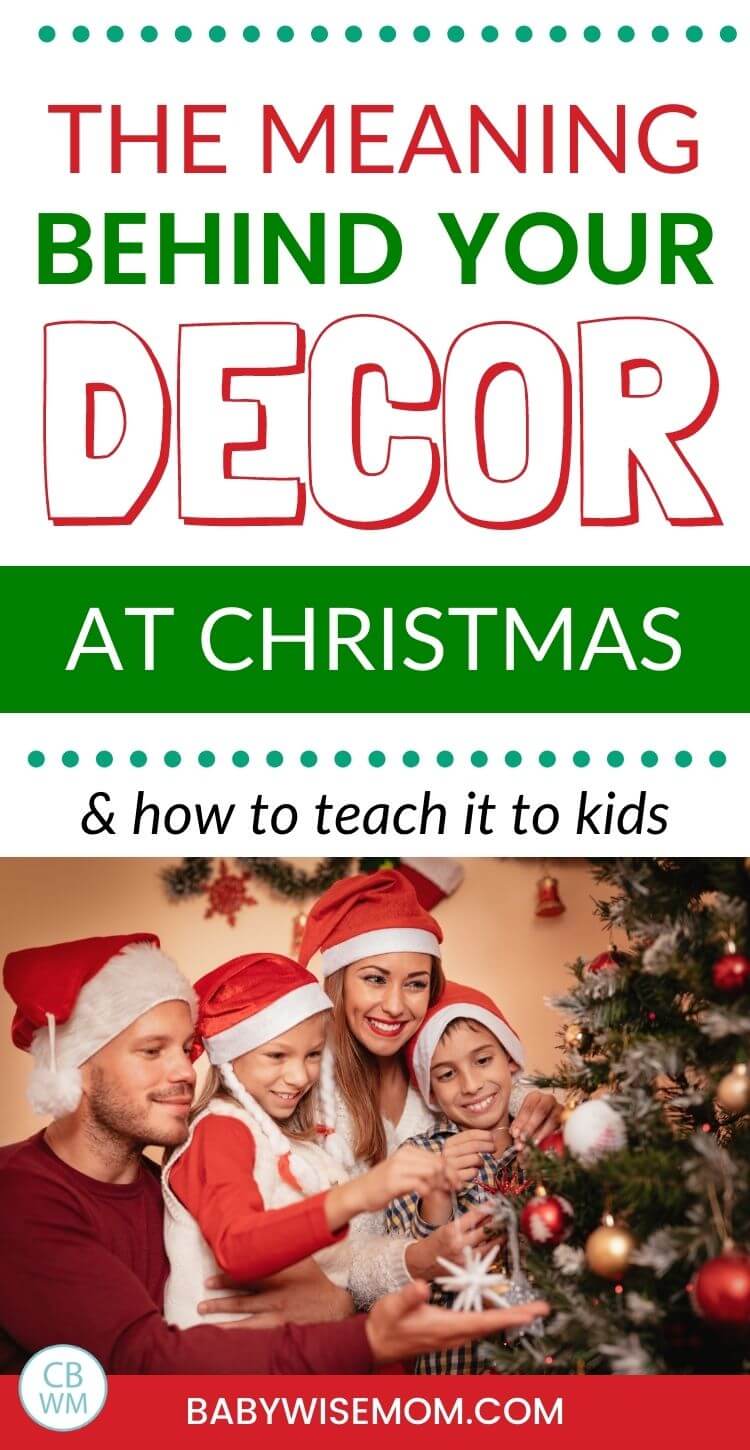 This post first appeared on this blog in December 2018